It might be no surprise for fans to hear that Liverpool are the smallest team in the league. Here's a look at several players measuring six feet or over who could bolster Jurgen Klopp's squad.
Not only do the side have the shortest team in the division, they're also the second lightest.
Recent research by the Tomkins Times analysed this issue in more depth, and part of Tomkins' conclusion was that:
"This season Jürgen Klopp improved Liverpool's 'football'. But once it reverted to a battle, in the winter, the Reds were ill-equipped."
Most fans would agree with this summary, and it's obvious from watching the team regularly that they lack some kind of bite.
Whether this be height, grit, muscle, or just plain nastiness there is a gap which needs to be filled.
With taller players in the side it will be more difficult for the teams further down the league, and those further down the divisions, to bully the Reds and stifle their natural game.
It's not all about height, or weight, as many teams have proven over the years, but when presented with two players of exactly the same skill-set but differing height, the taller of the two would be chosen.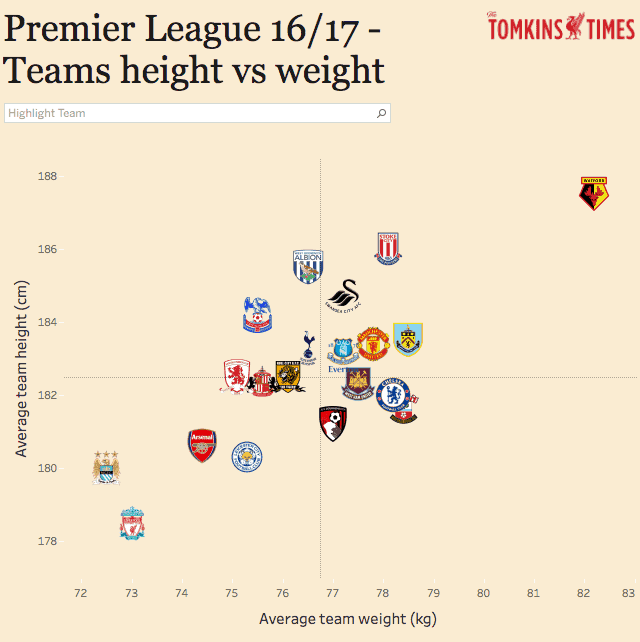 Taller players are more likely to win aerial battles. This conclusion can be reached without forking out thousands on UEFA coaching badges or one of those similarly overpriced scouting courses seen in the football magazines.
Although jumping ability, athleticism, and strength are also part of this battle, as is the ability to actually head the ball into the right area once the battle is won (preferably to a team-mate), height is a big factor when it comes to winning this type of duel.
And not all headers won are necessarily duels. They can come in the form of interceptions where the header prevents the ball ever reaching an opponent, or in attacking hold-up play where the challenge is merely reaching as opposed to dueling.
Height advantage can also come into play in other areas: sticking a foot out to intercept a ball, lunging to get on the end of a ball across the six-yard box, or making that last ditch block.
Smaller players can make up for lack of height in other areas. Quickness, for example, can make up for the lack of reach and allow the player to get to the same cross as his lankier team-mate.
But size does have an effect on certain aspects of the game, and these happen to be the ones Liverpool are bad at. Here are some players who might help solve the problem.
Fabinho – Central Midfielder / Right Back – Monaco – 6'2" (188cm)
https://www.youtube.com/watch?v=gwPFMtU3Xh0
Monaco's right-back turned midfielder is straight out of the Roberto Firmino mould of of Brazilian footballers.
His rise has gone unnoticed back home in Brazil due to the fact he played no senior football there before moving to Europe and, like Firmino, he's remained relatively under the radar even in the "next big thing" culture where players are judged primarily on their performance in video games.
But no Monaco player can go unnoticed in a season where they're scoring almost three goals per game, conceding less than one per game, and also making progress in the Champions League. They'll meet everyone's favourite video game talent factory, Borussia Dortmund, in the semi finals.
Fabinho brings his all-round defensive and attacking traits from his days as the archetypal modern full-back into a midfield position where he's added clever passing and good tactical awareness.
Of all Monaco's burgeoning stars, the Brazilian midfielder could be the best catch this summer for any clubs who rely on others to do the real scouting for them.
Kasper Dolberg – Forward – Ajax – 6'1½ " (187cm)
https://www.youtube.com/watch?v=TL3kuYsL1o8
The 19-year-old Ajax sensation is a great all-round forward who also happens to reach the heights required for inclusion here.
He'll be one of the most sought after strikers on the continent once he's served his time and completed his development in the Netherlands, and he's already been capped for Denmark.
He combines good technique, vision, and movement with his physical attributes, and can lead the line as a target man while also operating in the channels using his pace and dribbling ability.
Sead Kolasinac – Left Back – Schalke – 6' (183cm)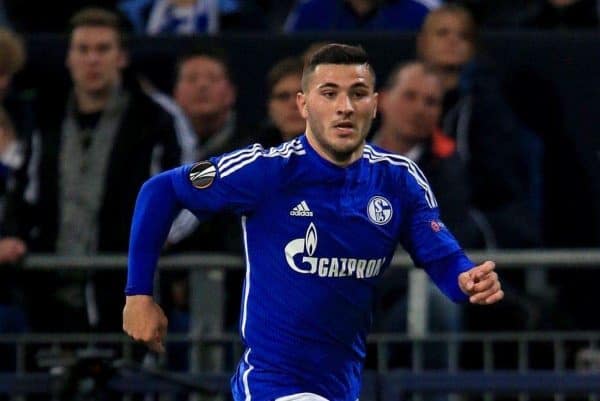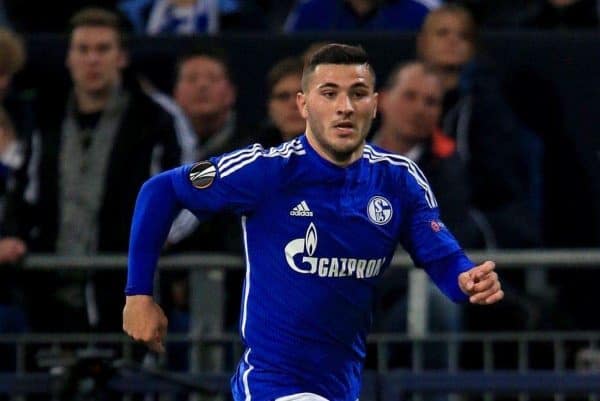 He plays in the Bundesliga. He's available on a free transfer. He's a left back. He's surely a dream signing for Klopp's Liverpool.
The German-born Bosnian international offers a stout, resolute presence at left back, and given his height he's also handy in the air which can be helpful for winning those far post crosses which smaller full-backs often see sail over their heads.
He'd fit the the Klopp system with his desire and work rate, and also has three goals (one headed) and five assists for his side so far this season.
Julian Brandt – Attacker – Bayer Leverkusen – 6' (183cm)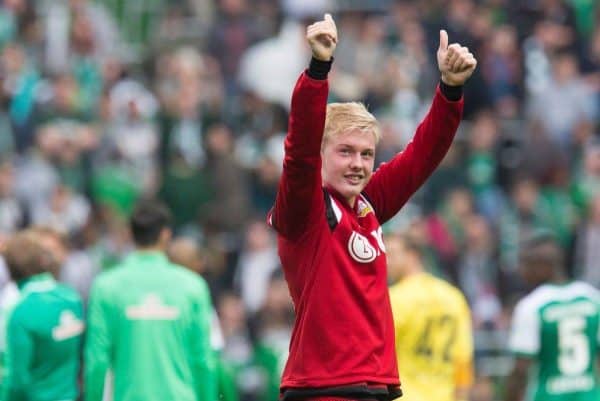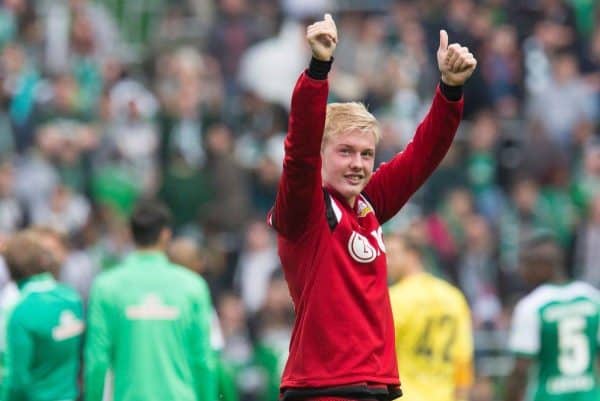 20-year-old Brandt is the type of attacker Klopp would love to have in his side.
It's for this reason that the young German is regularly rumoured to be one of Liverpool's top targets this summer.
He plays predominantly from the left wing where he can cut inside onto his stronger right foot, but can also play in the other attacking midfield or wing positions behind a striker.
Given his height you could also imagine him doing a job as the central forward in a similar manner to Firmino.
Jairo Riedewald – Defender/Midfielder – Ajax – 6' (182cm)
The three defensive positions Liverpool should be looking at this summer are left-sided centre back, left back, and defensive midfield.
Riedewald has played all three at some point in his career, and could offer the Reds' defence what fellow Surinamese-Dutchman Georginio Wijnaldum has offered in midfield.
While some of the other names linked with the club in fantasy football land, such as Jonathan Tah and Jose Gimenez, would be good options when it comes to bolstering the defence, Riedewald would offer a ball-playing option which would be handy against certain teams.
His pass success rate is around 90% both in the Eredivisie and the Europa League, and unlike the German pair he's left footed, which can be vital for balance in a defence.
Since returning from a bad ankle injury at the end of the 2015/16 season, he's struggled to cement a regular starting place in the Ajax side under Frank De Boer's replacement Peter Bosz, despite (or maybe because of) his versatility.
It could be the perfect time to pounce for the promising left-footer who could add some class to the defensive ranks.
Anderson Talisca – Attacking Midfielder – Besiktas – 6'3" (191cm)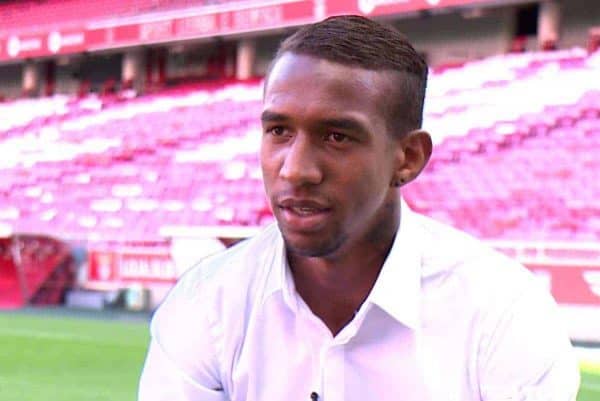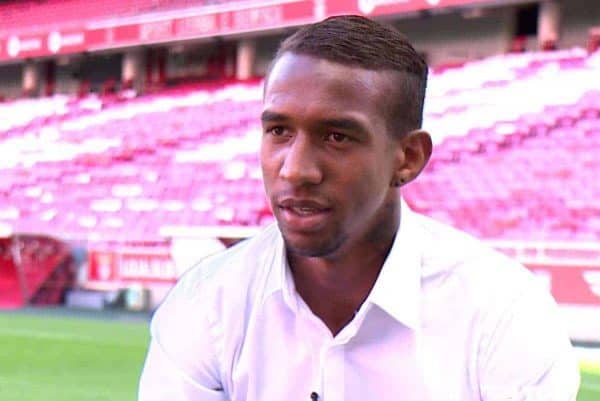 The wildcard of this list could perhaps be the most suitable signing of the lot for Liverpool.
He's a left footed set piece specialist who plays in the attacking midfield positions, mainly through the middle, but could also be effective from the right.
He could offer the right flank a similar threat posed by Philippe Coutinho from the left, or he could operate in the middle of the park as one of the forward thinking midfielders.
Coaches at Bahia, Benfica, and now Besiktas have experimented with the player in order to get the most from his dangerous left foot, but you could imagine him playing in Adam Lallana's position for Liverpool where he joins up with the midfield in defence, but has licence to roam in attack.
Salomon Rondon – Forward – West Brom – 6'1" (186cm)

Liverpool have tried many 'plan B' type strikers, but they almost always come with a downside.
They're either injury prone, don't have the required work rate, or are more like a plan C or D where the whole system needs to be changed for them to function.
Rondon doesn't fit any of these negatives. He's played the fifth most minutes of any striker in the league this season (2,294), works hard off the ball, and would offer different dimensions to existing systems rather than dictating that there be a new one just for him.
Plan B strikers are all about being different, but too often they force a team into abandoning their strengths altogether, as they resort to lumping the ball forward aimlessly or crossing randomly in hope that their super-target-man will pluck the ball from thin air.
Rondon is a plan B player whose individual qualities would add something new to the team, but also one who wouldn't compromise existing philosophies.