Liverpool have enjoyed a series of excellent performances against Saturday evening's opponents, Arsenal, at Anfield in the Premier League era.
The Reds take on the north London outfit at home for the 103rd time in the two clubs' history at the weekend, looking to move ahead of Arsene Wenger's side in the race for the top four.
Liverpool have not lost to Arsenal at Anfield in the league since 2012, and since the Premier League's inception in 1992, have recorded a host of impressive victories over their capital city rivals.
Ahead of Saturday's crucial clash, the Reds released a package of their 10 best Premier League wins over the Gunners at home, in anticipation of another.
Kicking off the top 10 is the 1-0 triumph from 2006, when Didi Hamann's hopeful long-range strike was palmed into the path of Luis Garcia to follow up and seal the three points.
They then take a step back by 10 years, when John Barnes and Steve McManaman combined in a scintillating showing to secure a 2-1 win.
A young Robbie Fowler played a key role in a 3-1 victory in 1995, benefiting from Stan Collymore's creativity to thwart David Seaman for a hat-trick against the Gunners.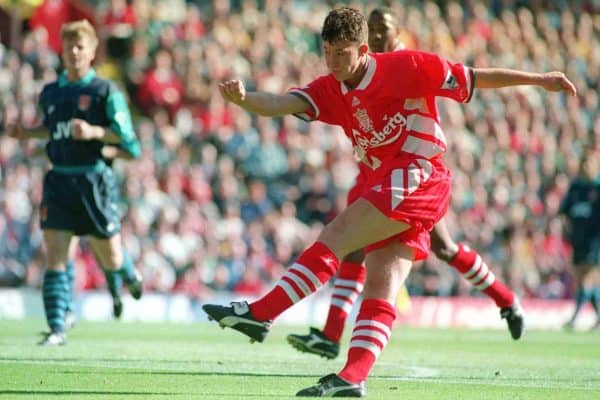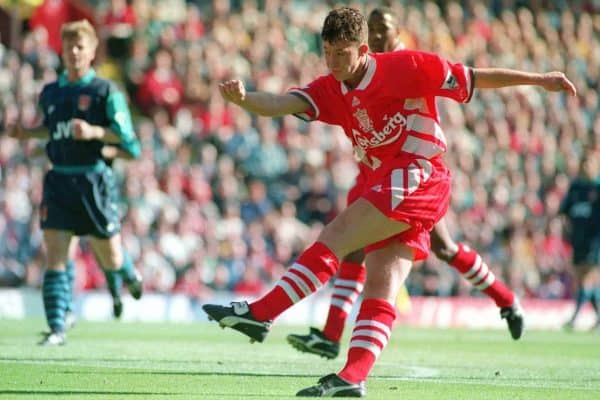 Speaking of hat-tricks from God, Fowler's historic showing from 1994 comes in at No. 6, scoring three times in just four minutes and 32 seconds—a record broken 22 years later by Sadio Mane, then at Southampton.
Neil Mellor's incredible last-minute half-volley in 2004 seals the No. 5 spot, while a youthful Reds' 4-0 thrashing of the Gunners from 2000 makes it to No. 4.
Liverpool's top three is peppered with excellent goals and sensational performances, capped off by the remarkable 5-1 win under Brendan Rodgers in 2013/14—something Jurgen Klopp will be hoping to emulate this time around.