With Arsenal midfielder Alex Oxlade-Chamberlain emerging as a summer target for Liverpool, Jurgen Klopp could welcome an intriguing prospect.
Oxlade-Chamberlain is believed to be among the options being considered as Klopp seeks to bolster his attacking line ahead of the 2017/18 campaign.
While it had been previously reported the Reds were prepared to pay £35 million for the 23-year-old, this is seemingly not the case.
Instead, a fee of around £25 million has been mooted, with Oxlade-Chamberlain an alternative to Bayer Leverkusen winger Julian Brandt.
Klopp had described reports of a move for Oxlade-Chamberlain as "nonsense," but this now seems to be little more than a deflection tactic, with the Gunners utility man on the radar.
Arsenal's No. 15 is certainly a divisive player, but would he be a good signing for Liverpool?
Alex Oxlade-Chamberlain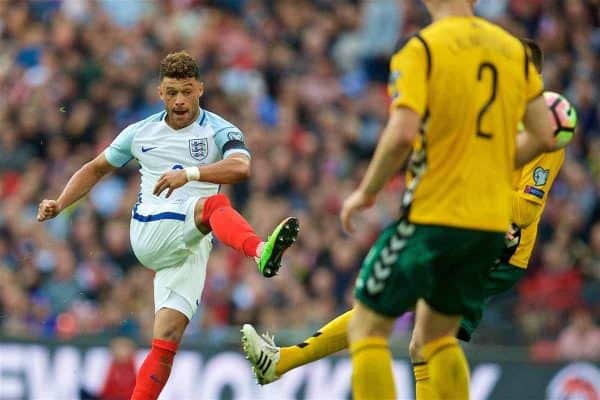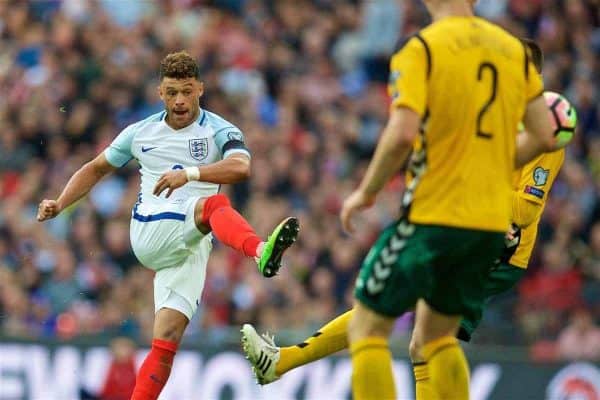 Given Oxlade-Chamberlain has made 233 senior club appearances and earned 25 England caps, it is something of a surprise that he is still only 23 years old.
Having joined the Southampton academy when he was seven, he established himself in the first team on the south coast in 2010, having made his debut before his 17th birthday.
It took just one impressive season for the Saints for Oxlade-Chamberlain to garner interest from the Premier League, having scored nine and assisted nine in 34 games to help secure promotion to the Championship.
That season in 2010/11 saw Oxlade-Chamberlain line up alongside Jose Fonte, Morgan Schneiderlin, Jason Puncheon, Adam Lallana and Rickie Lambert—future Premier League staples.
Both Liverpool and Man United had approached Southampton over a possible deal after that breakthrough campaign, but it was Arsenal who won the race, signing the 17-year-old for £15 million.
"He has done extremely well during his development with Southampton," Arsene Wenger said on his arrival.
"And we are looking forward to him progressing even further and fulfilling his huge potential with Arsenal."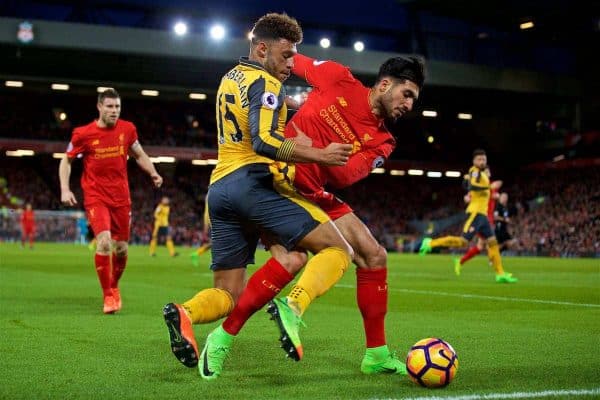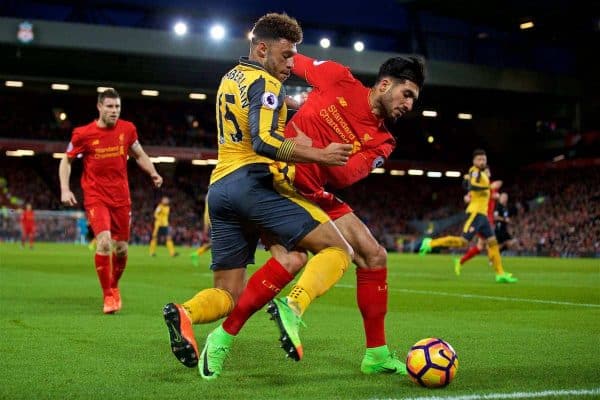 While he has certainly established himself as a regular at the Emirates Stadium, Oxlade-Chamberlain is yet to truly fulfil that potential under Wenger.
He's yet to carve out a particular role for the Gunners, shifting around into various positions both in midfield and attack, contending with a series of injury issues.
And this summer, he is among a group of Arsenal players heading into the final year of their contracts, along with Per Mertesacker, Kieran Gibbs, Carl Jenkinson, Aaron Ramsey, Mesut Ozil and Alexis Sanchez.
With Wenger's future still in doubt, clubs could look to capitalise this summer, with this uncertainty spreading throughout the squad.
Strengths, Weaknesses & Style of Play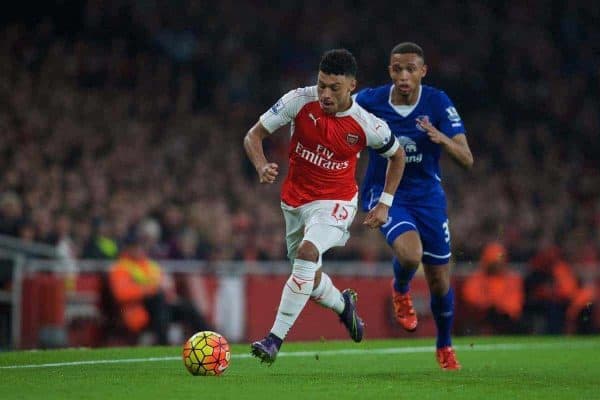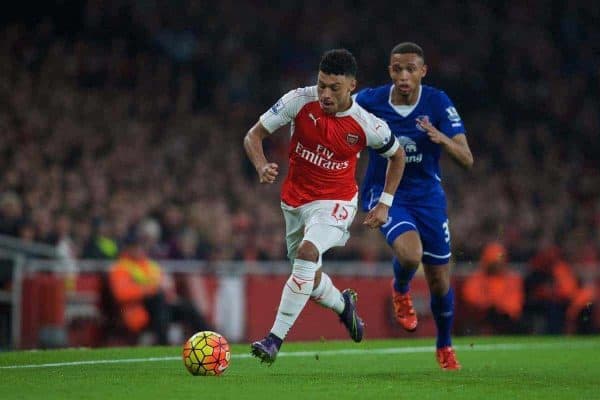 Oxlade-Chamberlain is a very interesting, multi-faceted player, and this has worked both to his advantage and disadvantage while on the books at Arsenal.
The 23-year-old has played in eight different positions this season alone: right-back, defensive midfield, central midfield, left midfield, right midfield, No. 10 and on either wing.
This tactical flexibility is mirrored in his style of play, with Oxlade-Chamberlain both industrious off the ball and technically sound in possession.
He's quick, skilful and boasts a strong work ethic, making him an invaluable squad option for Wenger over the past six seasons, interchanging with the likes of Ozil, Ramsey, Sanchez and Theo Walcott.
This season, he has averaged 1.9 key passes, 3.9 successful dribbles and two tackles per 90 minutes in the Premier League, which would rank him third, first and seventh in the Liverpool squad respectively.
He has shone against Bayern Munich in the Champions League and Man City in the FA Cup semi-finals, developing into a more mature, well-rounded player this season.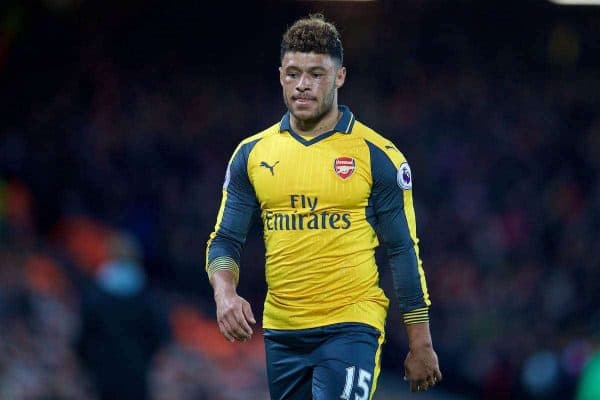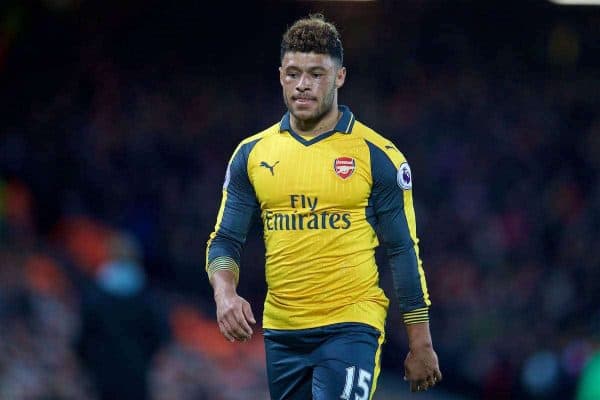 However, that he is yet to define himself in north London does serve as something of a red flag—this season, for example, he has not made more than 12 appearances in one position.
This can be attributed to Oxlade-Chamberlain's versatility, with Wenger relying on him to turn out wherever required, magnified by the Frenchman's proclivity for tactical reinvention.
But it also highlights the Englishman's troubling fitness issues, having continually struggled with knee and groin injuries in particular.
This season has seen him make his highest tally of appearances in the Premier League, with 26 so far, having made 16, 25, 14, 23 and 22 in previous campaigns.
Despite playing 190 times for the Gunners since joining in 2011, he has averaged just 51.8 minutes on the pitch over these.
Naturally, this is not an uncommon situation at the Emirates, with many of Wenger's regulars suffering fitness problems during their time at Arsenal, and it could be that Oxlade-Chamberlain simply needs a change of scenery.
Where Would Oxlade-Chamberlain Fit in at Liverpool?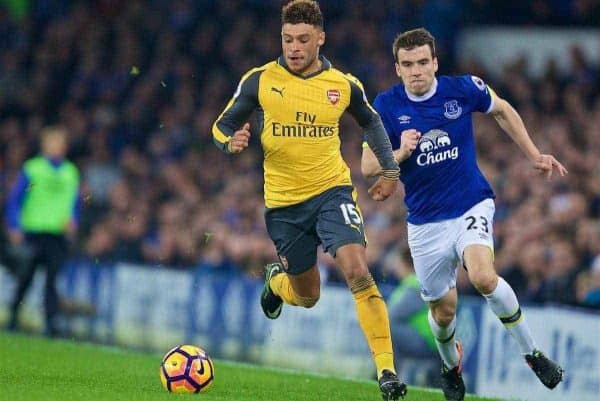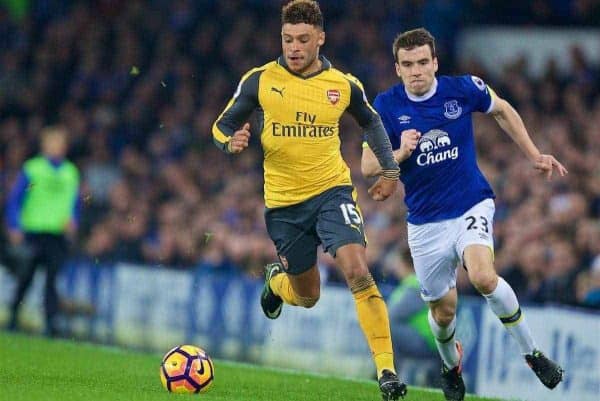 Given his age, versatility and relative value in the summer market, Oxlade-Chamberlain would represent a solid acquisition for the Reds ahead of 2017/18.
He is still young enough to develop his game under Klopp, while his ability to suit a variety of systems and roles could provide the German with a useful option during a busy campaign.
While he emerged as a pacy, incisive wide player, Oxlade-Chamberlain would arguably suit Liverpool best in a role similar to that of his former Southampton team-mate, Lallana.
His industry would suit the Reds' pressing game, while his ability to transition into attack would provide the likes of Sadio Mane, Roberto Firmino and Philippe Coutinho with much-needed support.
This would also aid the dynamic in midfield if Lallana is absent, with combinations of Klopp's other midfield options currently providing little in terms of attacking thrust.
Any move for Oxlade-Chamberlain should, however, hinge on the midfielder's fitness, with injuries to the likes of Mane, Lallana, Coutinho and Jordan Henderson all hampering the Reds' progress this season.
Signing an injury-prone player, regardless of cost or potential, would be a questionable move, and Klopp must be assured of Oxlade-Chamberlain's fitness before sanctioning a deal.
If he does arrive fit and firing, Oxlade-Chamberlain could be an excellent signing for Liverpool—but it is certainly a big if.