Jurgen Klopp has described himself as a "football romantic," relishing the emotion of Liverpool's Anfield anthem, You'll Never Walk Alone.
Klopp is in a unique position as a manager as all three of the clubs he has taken charge of so far—Mainz, Borussia Dortmund and Liverpool—have all adopted the anthem.
For the Reds, You'll Never Walk Alone is a pre-match ritual, spurring the side on to perform, and reminding them of the club's storied history.
And Klopp, speaking to Spanish publication Marca this week, believes it encapsulates all that is good about football.
"Maybe I'm the luckiest manager in world football because I had three teams [who sing it]," he explained.
"I'm a football romantic and I like tradition in football and all that stuff.
"In Germany, only two clubs sing 'You'll Never Walk Alone' before the game and that is Mainz and Dortmund.
"That's not because of me, as that had started already before I was there.
"Now I've come to the original place, if you want, and it never stops feeling really special.
"It never stops creating goosebumps. That's how it is. It's fantastic and that's what I love most in football."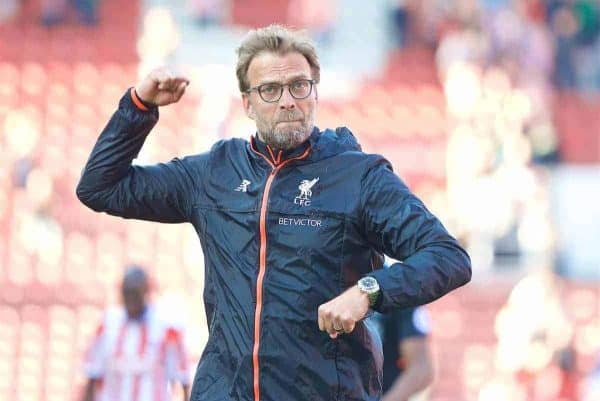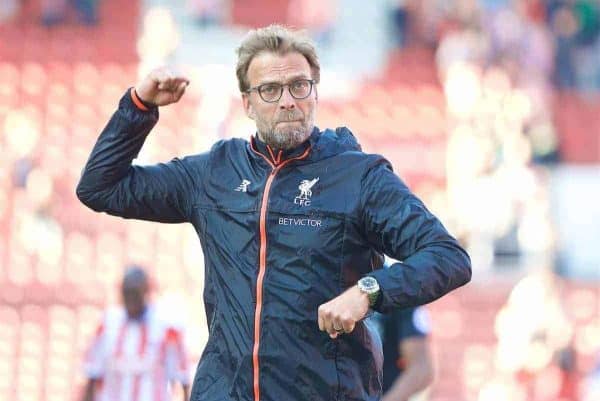 Describing himself as a "football romantic" is particularly apt, with Klopp one of the most emotional managers to ever prowl the touchline at Anfield.
And continuing to discuss his philosophy in football, Klopp highlighted Liverpool's duty to entertain and uplift.
"The world around is serious enough. I like that we all give ourselves the opportunity and the possibility to enjoy something like this," he added.
"And to come here, even when we know it's not the most important thing in the world.
"We all want to win with all we have and if we win then we celebrate together and if we lose then we suffer together.
"In life you suffer problems alone, but here you know you can enjoy and suffer along with a lot of people, and with 30 million other fans around the world.
"It is a strong feeling of a great community, one which doesn't solve all problems, but which helps."
Klopp has clearly found himself in the perfect role at Liverpool, as there is no place better than Anfield during You'll Never Walk Alone.