Crystal Palace left Anfield with three points for the third season in a row, with Reds' old-boy Christian Benteke putting a firm dent in Liverpool's Champions League hopes.
Liverpool 1-2 Crystal Palace
Premier League, Anfield
April 23, 2017
Goals: Coutnho 24; Benteke 42, 73.
Simon Mignolet – 6
The Belgian had little to do, with Liverpool bossing possession and Palace happy to let the Reds have the ball.
Perhaps could be partially blamed for the goal, as any defender and keeper should be when such an easy goal is conceded off a set piece.
Had no saves to make.
Nathaniel Clyne – 6
Clyne is dependable in a good way in that he regularly puts in similar performances, but how often do you walk away saying he's played well? Or even really well?
It's quite often just an average or 'yeah okay' performance and again here there was little end product or drive to help break down the stubborn opponent.
Joel Matip – 6
An injury doubt pre-match, Matip recovered to continue in defence. He was the better of the back four, but still not great.
Dejan Lovren – 4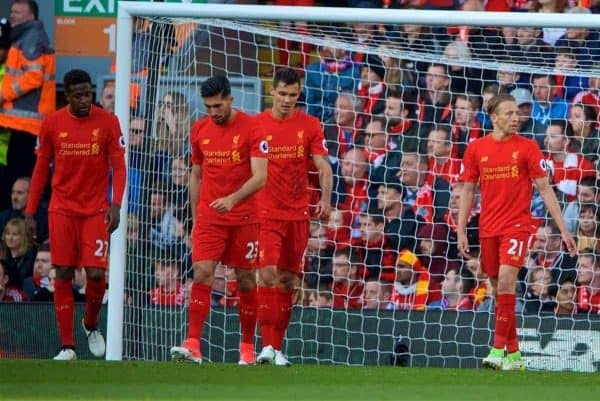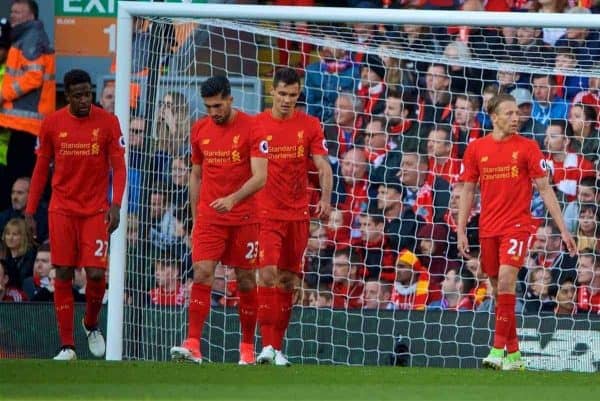 A couple of sloppy passes early on had Klopp gesturing to his centre-back and it got no better from that point.
So slow and out of position for Benteke's first goal, Cabeye easily raced away from him to cross, while Lovren somehow did a full run around the Palace midfielder.
Just as culpable for the second goal, which arrived from a corner which was given away after some awful defending that saw him outmuscled by Townsend and lying on the floor as the winger raced forward.
Lovren all over the place at the back.. involved in both goals conceded.. 2-1 Palace..

— John Arne Riise (@JARiiseOfficial) April 23, 2017
James Milner – 5
It's no surprise that almost every goal LFC concede is from the left side of their defence, with opponents regularly targeting the Lovren-Milner combination. It's by far the weak point in Liverpool's side.
As has been the case since the turn of the year, Milner's play was very predictable, cutting inside and offering little in the attacking third. Must be fairly easy to defend against.
Lucas Leiva – 6
An injury doubt pre-match, Lucas was passed fit and continued in the holding midfield role – a role that really isn't needed in a fixture like this.
This type of game struggles to justify his selection, with more creativity and drive from the middle. Little wrong, but not enough right.
As above, needs to offer a little more goal threat in these types of games where teams sit back and defend deep. Some tidy play, but ultimately not a lot else.
Emre Can – 6
Needs to offer more, especially in the latter stages. Much like the other two midfielders.
A trio of Lucas-Wijandlum-Can is not suitable for these types of games at home and never will be.
Could be blamed for his marking on Benteke for the second goal, but depends if he was man-marking or zonal marking.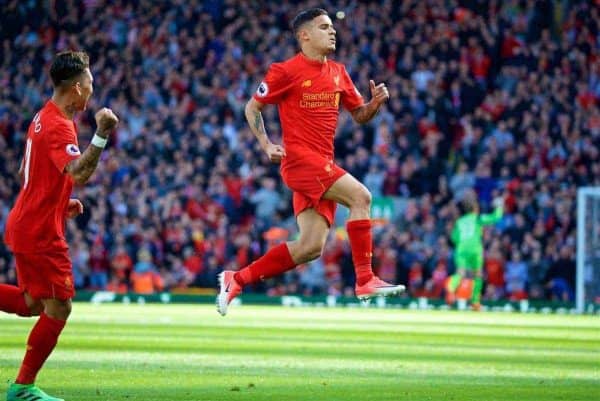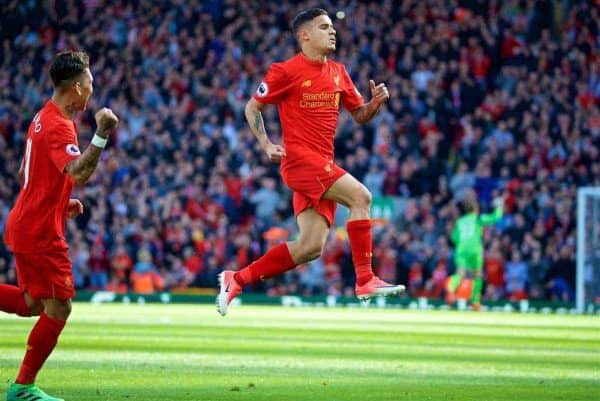 Curled a beautiful free-kick over the wall from 25 yards to opening the scoring – the first shot on target in the match.
Denied a clear penalty when Kelly fouled him early in second half and continued to be Liverpool's most likely to score. At times in the second half, he was the only one really driving the team forward.
Roberto Firmino – 5
A rare off-day for Liverpool's top goalscorer and match winner of the last two weeks. Failed to influence the game and struggled when he did get a rare chance.
Should perhaps have got on the end of Lucas' excellent through-ball in the second half. Struggled with Palace's narrow defence, and never as effective from the right.
Divock Origi – 6
Some decent hold-up play but very little end product and offered very little goal threat, which isn't ideal for your centre-forward!
Very little done right, but then he had very few chances or opportunities either, otherwise, he'd be lower than 6.
Subs
Trent Alexnader-Arnold (on for Name 78′) – 6
Offered energy and some pace. Not easy for him to come into the game 2-1 down and change position twice in 12 minutes.
Alberto Moreno (on for James Milner 82′) – N/A
Ran around like Speedy Gonzales.
Marko Grujic (on for Nathaniel Clyne 84′) – N/A
Ran around up front in the Steven Caulker role. Booked for a late lunge, at least attempted to make something happen.
Manager – 6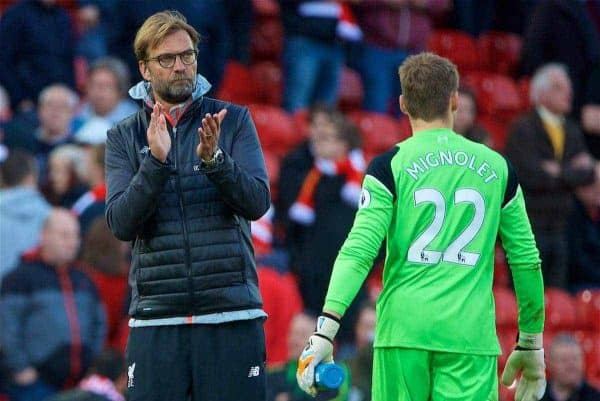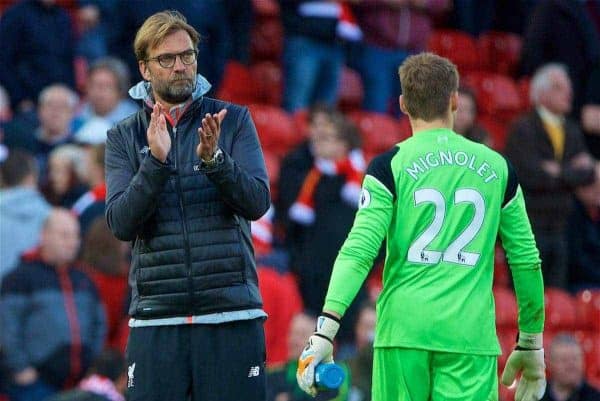 Klopp's options for the starting XI and bench were severely restricted by injuries, meaning an unchanged side from last week at West Brom.
Some may question why Harry Wilson, who has over 20 goals for the Reds' under-23s this season, wasn't an option on the bench as somebody who could come on who had an eye for goal.
Being forced to bring on Moreno and Grujic, showed how slim the options were.
Perhaps the bigger question is why the Reds have been so plagued by injuries this season?
Klopp though can feel let down by his players – with indivudual errors (Hi Dejan) once again the undoing.