Liverpool midfielder Lucas Leiva has admitted he could leave the club in the summer, with the Brazilian set for talks with Jurgen Klopp next month.
Lucas is one of the players with question marks over his head as we close in on the end of the 2016/17 campaign, having played a peripheral role under Klopp this term.
The 30-year-old has made 26 appearances in all competitions, with only nine starts in the Premier League, though he has been in largely impressive form whenever called upon.
His transition from defensive midfielder to makeshift centre-back has been commendable, and when moved back into his natural role this month, he has proved his quality.
But given his relative lack of game time, Lucas has stressed that he was not guaranteed to see out the final year of his contract at Liverpool.
"There is no doubt about my commitment to Liverpool, I just need to wait until the end of the season, work hard and make a decision together with the club," he said this week.
"I have been here long enough and if the time comes for me to go somewhere else I think I will leave with the feeling that I did everything I could.
"I am getting to the stage of my career where I think I can help a lot, off the pitch of course, but on the pitch as well.
"Playing time [will play a part], I wouldn't like to just be around. I feel I have many years that I can still play at the top level.
"I need to analyse and see what is best for me and the club and then I am sure we will make a decision together."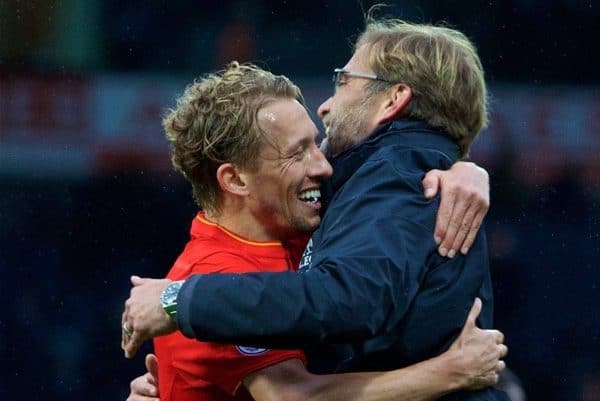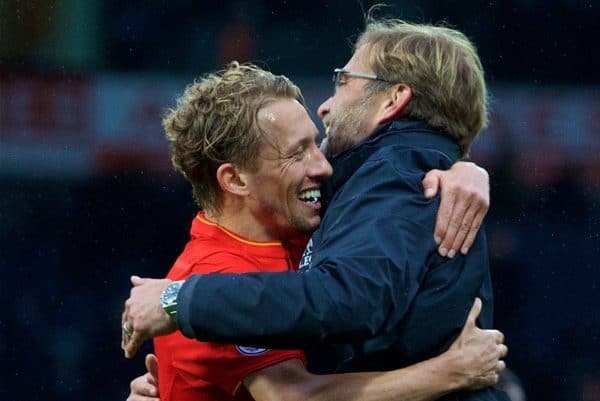 As he continued it seemed that, given the choice, Lucas would prefer to remain on Merseyside, with the defender highlighting his versatility.
But as he attested, this would rely upon Klopp trusting him with increased game time in either midfield or defence next season—which could come with qualifying for European football.
"I don't really know what will happen, I just need to focus on the last five games," he added.
"The last few games I have played I feel very good. I have played centre-back and midfield, so I give some options to the manager and when he needs me I always try to deliver.
"We have a lot to play for and it depends on us. It is in our hands. I want to finish the season a high."
Lucas is still a valuable member of Klopp's first-team squad both on and off the field, and he has been hailed by his team-mates for his influence.
However, there does remain a lingering feeling that Lucas' 10th season at Anfield could be his last.