Simon Mignolet shone again in Sunday's 1-0 victory over West Brom, but has his impressive form been enough to keep his place as Liverpool's No. 1?
The Belgian was in commanding shape once again as Jurgen Klopp's men recorded their first victory at the Hawthorns since 2011.
Roberto Firmino gave Liverpool a slim lead on the stroke of half-time after a lacklustre opening 45 minutes, but the Merseysiders could have thrown away two points with 10 minutes remaining if it had not been for Mignolet, who produced a fine save to deny Matt Phillips.
It was the second successive game in which Firmino had scored the winner for Liverpool but it was also the second game in a row where Mignolet was forced to produce heroics.
There's no doubting his form of late; which has been impressive. But is it too late for Mignolet, who had already notched up three unconvincing seasons for Liverpool?
Positive Signs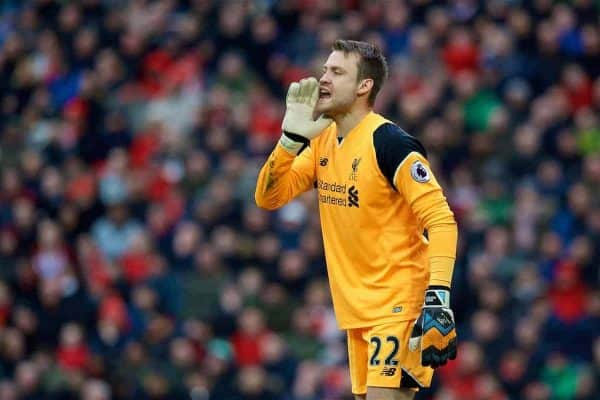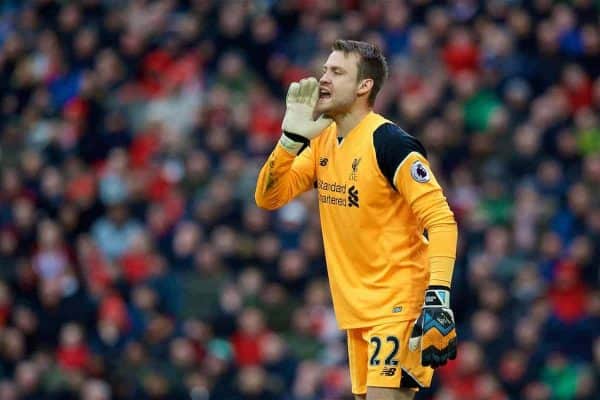 Since the turn of the new year, Mignolet has been one of Liverpool's most consistent performers and you'd have to look back several months to find his last major error.
That has always been the worry with Mignolet: that he would produce a solid display for 89 minutes and throw it all away with a costly mistake in the dying stages.
However, that part of his game seems to have diminished greatly since the arrival of Loris Karius, and competition for the No. 1 spot has only spurred Mignolet on to improve.
He kickstarted his Anfield career with a penalty save against Stoke but he suffered a career low when he saw six goals swept past him against the same opponents during Steven Gerrard's last game in 2015.
Last week's stalwart display against Stoke was arguably his best of the 2016/17 season, but he may have topped it with an even more crucial save at the Hawthorns this Sunday.
Against the Potters last week, Mignolet was forced to produce two important stops while Liverpool held a slim lead, and he was in a similar position on Sunday when only Firmino's 46th-minute goal separated the two sides.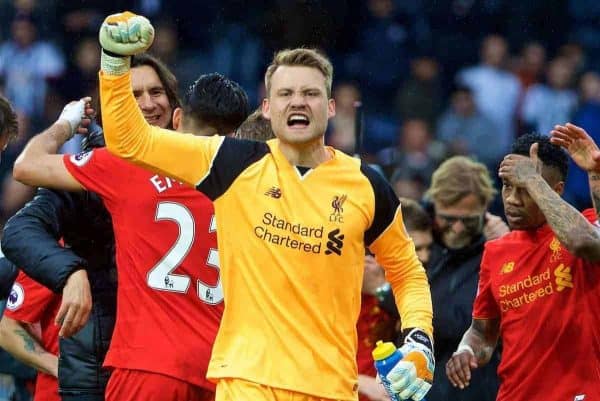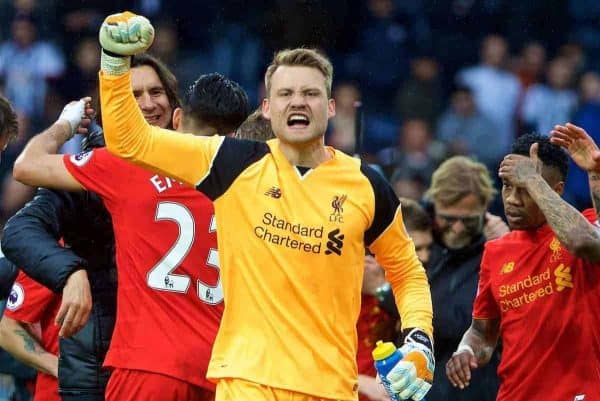 The delight from Mignolet was clear to see in his post-match interview following the victory.
"When you come away to West Brom, you know what to expect but you have to deal with it. They throw everything at you, including the goalkeeper but we did well, we defended it," he said.
"I'm happy to help the team out, that's my job. I'm pleased with that but like I say, everybody did theirs today."
Not only did Mignolet make himself big in front of West Brom's oncoming Phillips, he was quick off his line and looked full of confidence as he made the block in the one-on-one situation with 10 minutes to spare.
He then faced an onslaught of set-pieces and dealt with every single one as West Brom's four corners did very little to trouble Liverpool.
Mignolet was as much to thank for the victory as Firmino for the second week running and it was only the fifth clean sheet of Liverpool's Premier League season—with two of those coming in 2017.
Where the Doubts Have Emerged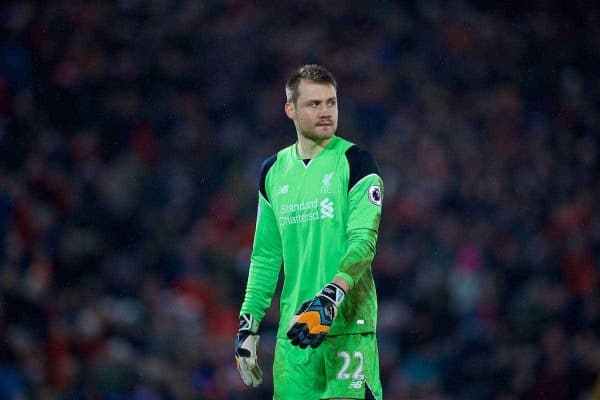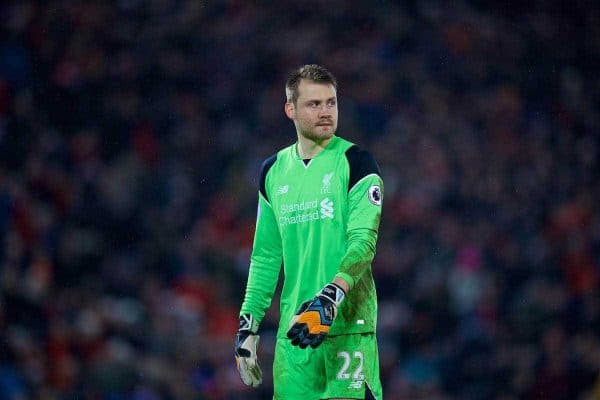 While Mignolet's heroics of late must be applauded, you also cannot ignore three seasons riddled with mistakes which have proven to be hugely costly for the Reds.
At the start of the 2016/17 campaign, Mignolet lost his place to Karius, with Klopp seemingly not convinced with the calibre of his previous custodian.
Between 2013 and 2016, Mignolet conceded more Premier League goals than any other 'keeper in the top six teams throughout those seasons.
Aside from his dismal display against Stoke in the 6-1 defeat, there have been a number of horrible performances from the Belgian which spring to mind including the 2-2 draws with West Brom in 2015 and Champions League opponents Ludogorets in 2014.
It has been a while since Liverpool felt confidence in their 'keeper and Mignolet has certainly faced challenges of his own prior to 2016/17.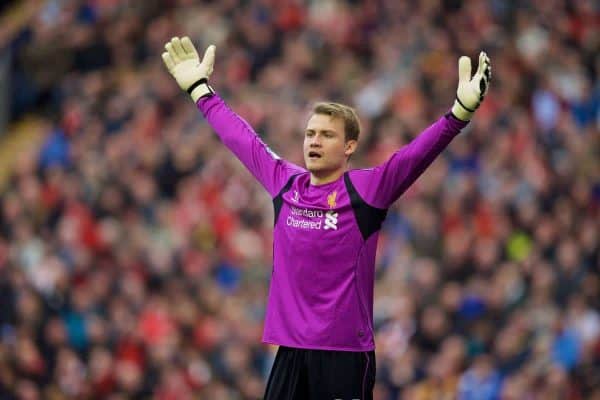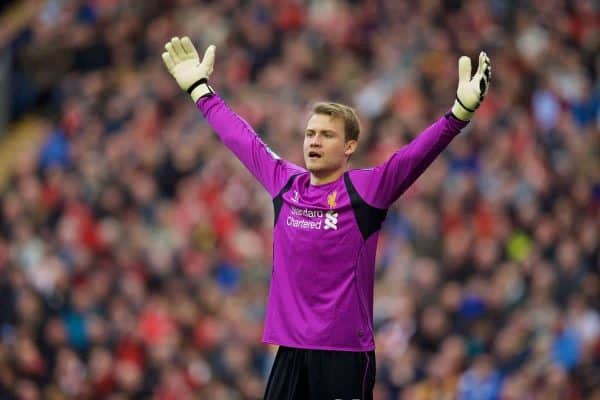 He was dropped by Brendan Rodgers in December 2014 following a period of really poor form and only earned his place back through injury to Brad Jones.
Similarly to this season, the setback seemed to spur him on to some encouraging displays for the rest of the season.
But Mignolet was back to his old self six months later when he shouldered plenty of blame in the 6-1 defeat to Stoke.
While Mignolet's performances have earned him praise lately, history suggests a mistake is just around the corner—but how costly will it prove to be this time?
Or has Mignolet improved once and for all and got rid of the traits which have put him under such scrutiny?
The Future of Liverpool's No.1 Spot?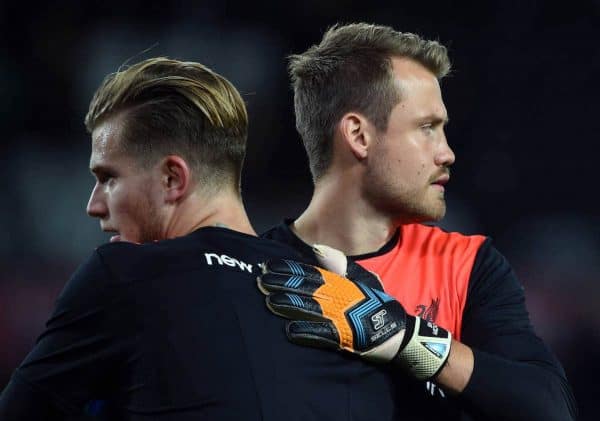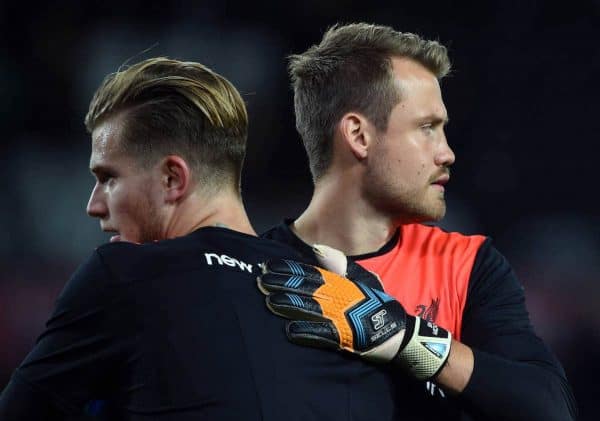 Despite a fairly encouraging season for Mignolet, 2016 still saw plenty of downfalls. He looked shaky on set-pieces, hesitant in one-on-one situations and weak from goal kicks or opportunities to set up a counter attack.
There were improvements for sure, but still not enough of the consistently strong performances required from a 'keeper in a team hoping to compete regularly in the Champions League.
This year has certainly given the argument for his inclusion a boost but with young Karius sat patiently on the bench, Mignolet doesn't look like the preferred long-term choice for Liverpool's No. 1 spot.
However, Mignolet's performances have turned the desperate need to bring in a new goalkeeper in the summer into less of a priority than it was a few months ago.
The Reds should certainly look to upgrade on their risky Belgian, but Mignolet has shown Klopp he is capable of maintaining the No. 1 spot until Karius is ready and therefore transfer focus can afford to be elsewhere.
But if Liverpool maintain a top-four finish, they will need a 'keeper of Champions League quality for the long term—and Mignolet has not shown he is of that calibre across all four seasons of his Liverpool career.