"You will always find people helping." Jeff Goulding reflects on the 28th anniversary of the Hillsborough disaster.
Many of you will have never heard of Fred Rogers. I hadn't either, until I was searching for the origins of a quote I'd read, about how you deal with children who have been exposed to real world horrors on the nightly news. The quote went something like this:
"When I was a boy and I would see scary things in the news, my mother would say to me, 'look for the helpers. You will always find people who are helping'."
I think of these words whenever I reflect on the tragedy of Hillsborough. They feel especially poignant on anniversaries and remembrance days. This piece is for the survivors of that terrible day. The helpers.
Turns out these words are attributed to a man who devoted his life to public service broadcasting in the United States and children's entertainment. Of course this piece is not about an American TV icon, it's about the power of those words and what they tell us about those heroic souls who, when others would run for safety, choose to say and help.
On reading them I am struck by how these people, sometimes ignored, help us make sense of the world, when it seems at its bleakest. I can;t help but feel that their contribution should be celebrated. It should echo in eternity.
In order for me to explain I need to first go back to a tragedy from my childhood. In 1972, in the Bogside area of Derry, the British army shot 26 unarmed civilians, who were marching for civil rights. Fourteen of them died. Many of the dead were running away, others were tending to the wounded. It was horrific and barbaric. Inexplicable in many ways. How can human beings carry out such atrocities?
I knew nothing of this tragedy at the time. I was just five years old and my parents would have certainly shielded me from the news. I came across the story much later and it sickened me, leaving me with a sense of anger for sure, but most of all it shattered my belief in life. This was a horror perpetrated by people we were supposed to trust. These were soldiers sent into Northern Ireland on the pretext of 'keeping the peace' and instead they had fanned the flames of conflict.
Innocent life, yearning for freedoms I take for granted, was snuffed out on the streets of Northern Ireland. What followed was a now familiar pattern of cover up and vilification of the victims and their families. The families of Hillsborough know it only too well. If you allow it to, things like this can undermine your faith in humanity and leave you in a state of existential crisis.
Then you see the helpers.
In the case of the 'Bogside Massacre' it was one particular helper who restored my belief in the potential of humanity. In this case it was a Catholic Priest, father Edward Daly. He passed away in 2016, but his image, leading survivors to safety and waving a blood-stained white handkerchief, on that day in 1972, will echo through the ages. It is a symbol of astonishing heroism and selflessness, but above all lit is one of love and empathy.
You will always find people helping.
Of course Father Daly is just one of many heroes who came to the fore that day. People who put their own lives in danger in order to render assistance to their neighbours and kin. Isn't it always this way? How right was Mister Rogers' mother to comfort her son by pointing to the basic goodness that exists in the majority and refusing to focus on the dark hearts of the few. Do we not then owe an eternal debt of gratitude to those people who help us maintain our sanity and compassion in the face of ever-present madness and cruelty?
The helpers and the survivors.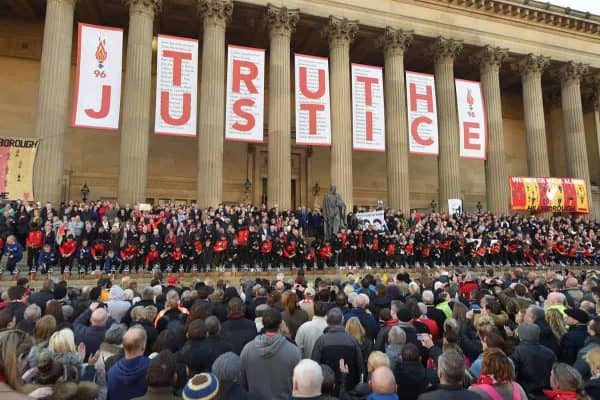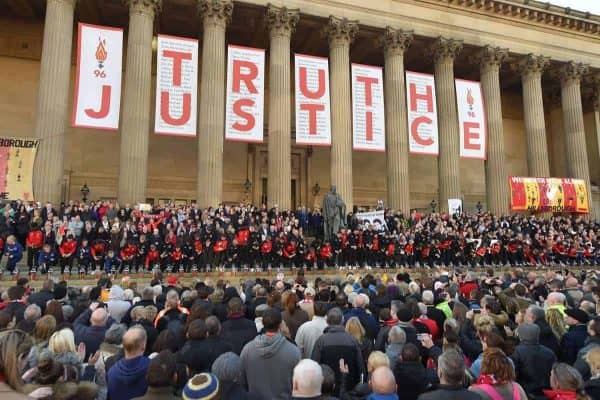 In Liverpool this week we have been remembering those who lost their lives in the Hillsborough stadium disaster. We have done so for 28 years. We always will. Like Bloody Sunday before it, the tragedy that unfolded in the Leppings Lane, on the 15th April 1989, and the subsequent cover up and demonisation of the victims and survivors, was a scandal of epic proportions. It has tested the faith of many of us.
Of course some have carried a heavier burden during those 28 long years than others. For the families of the dead, they have not only lived with the immeasurable pain of losing a loved one, but have also fought a daily struggle for truth and justice that will have tested even the strongest amongst their ranks.
We will continue to honour them and remember the lost ones. However today I want to say a few words about the helpers on that day. Those who have endured the guilt of survival for more than a quarter of a century. A burden some of them found impossible to shoulder, eventually succumbing the gnawing pain of not knowing why they lived and the 96 didn't. We may never know their number, but we can be sure they are legion.
Every mocking chant of "Murderers", often sung by those too young to know the horror of Hillsborough, cuts deep into the hearts of those who came home. It reinforces their own sense of guilt and continues their trauma. Those callous newspaper headlines and the throwaway lines, erroneously linking the disaster with hooliganism perpetuate feelings of anxiety, self-doubt and depression.
This is of course only one of the many demons spawned by the Hillsborough disaster, but there are thousands fighting it every day. If only we could grant them the peace they so richly deserve. Of course, that's easier to write than it is to achieve. Instead I can only offer my thanks.
Thank you for staying in that hell and fighting for the lives of your fellow supporters, while those who should know better failed you all so comprehensively. Thank you for standing by the bereaved through the decades of poisonous lies and calumny. Thank you for giving everything you had in the fight for truth and justice and for bearing witness when the pain of retelling must have been enormous.
Mostly though I want to thank you for being the helpers. I always look for the helpers and you were there. You have helped me and countless others find a sense of hope whenever our mind's eye can't help but see the scary things. You are the best of us.
Finally, your struggle for survival is as much a source of pride to us, as the fight for truth and justice and your heroic efforts to rescue others is. When I struggle to rationalise the insanity of Hillsborough, I look for you, the survivors, the helpers and you are always there.
Had you not lived the pain of Hillsborough would be so much harder to bear. May you never walk alone.