Dejan Lovren's new £100,000 per week, four-year contract extension raised more than a few eyebrows among Liverpool fans on Friday morning.
Fresh from being directly at fault for the two goals conceded against Cyrstal Palace, the Croatian centre-back has been rewarded with a new lucrative contract.
The 27-year-old says "I am pretty sure we will see each other in the Champions League" and "I want to be remembered as a player who gave everything on the pitch just to fight for this club."
The new contract was announced on Liverpool's official website like a high-profile signing, with a full photo shoot, two interviews, a 'career in photos' and even a quiz on the centre-back.
Most fans though are struggling to see the positives with the new deal:
"Why are we offering these wages for an average centre back."
– Gerard Walsh on Facebook.
April Fools Day has been and gone hasn't it ?

— David Wright (@Allwrighty) April 28, 2017
I'm gutted to be honest. 4 more years of crap defending and silly errors. What a time to be alive!!! FSG/Klopp clueless! #FSGout https://t.co/bGiqFbARW4

— David Fitzmaurice (@Fitzie77) April 28, 2017
WTF LFC must have very deep pockets, seriously the amount of mistakes this numpty makes I wouldn't give him over 0.50p a week

— Mark Herridge #MECFS (@markaherridge) April 28, 2017
First Sakho news, now Lovren… from henceforth, we shall come to know April 28 as 'Erratic LFC Centre Back Day'. https://t.co/3QQWZv1Ktn

— Chris Bascombe (@_ChrisBascombe) April 28, 2017
"Yet again Liverpool rewards players for mediocrity, first it was Mignolet and now Lovren just signed a contract extension after a horror show last Sunday. And people wonder why LFC is not moving forward."
– Emmanuel Gidudu in the comments.
Pathetic from the club on the Lovren deal.

— the unbearables (@UTFR92) April 28, 2017
I find it genuinely unbelievable we'll pay Lovren nearly £100k p/w yet we won't pay Emre Can a similar amount.

— LFC Fans Corner (@LFCFansCorner) April 28, 2017
Lovren's LFC career summed up in 30 seconds pic.twitter.com/TCZT4FlTbI

— . (@VirgilDanDijk) April 27, 2017
"God help us this guy causes 85% of our conceded goals"
– Dudukani Magongoa on Facebook.
Club is a joke, doesn't take winning seriously! We wont win anything with that shower of shiet of a defence we have. #LFC

— Tee (@TheTwelfthM4N) April 28, 2017
I don't think i'll ever rate Lovren, just doesn't have the football brain required to be a good centreback.

— Tom McMahon (@tomjpmac) April 28, 2017
Is this some kind of late April fool joke or what?

— Prynce Emmanuel Onyedikachukwu (@InspiredPrynce) April 28, 2017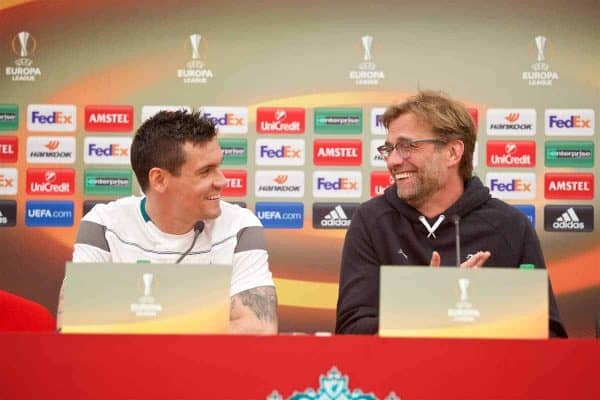 There were though some more positive reactions:
I actually like this guy. But he needs to improve. https://t.co/MMsvMEbEbZ

— Saugat Acharya (@acharya_saugat) April 28, 2017
"Good option for us… He always turns up in the big games and considering the lack of CB's in the world we need to keep hold of what we have and SIGN VAN DIJK."
– Roshan Gembali on Facebook.
"Good news…. I think Lovren would make a solid no3 cb for LFC and we should be keeping players like him to pad out the squad and add a bit of depth."
– Chris Lee on Facebook.
Lovren signing a new deal is good news, he is an okay defender (if you ignore last few weeks) and will be immense back up.

— Matt (@themattrd) April 28, 2017