More points, more goals, more wins, more cleansheets – this season's top four finish was an improvement on the disappointing eighth place last time out. Here we take a look at where Liverpool have improved this season.
The 2016/17 season has been Jurgen Klopp's first full campaign as Liverpool manager, with last summer's transfer window being the first chance he's really had to make his mark on the makeup of the squad.
Improvements have come throughout the pitch, with new signings Joel Matip, Georginio Wijnaldum, and Sadio Mane improving the side considerably.
Mane was vital to the club's early season form, while Wijnaldum has scored some big goals including the important opener against Middlesbrough in the final game of the season.
As well as new blood there have been improvements from existing players including Adam Lallana, Simon Mignolet (eventually), Emre Can, Philippe Coutinho, and Roberto Firmino.
As you can see from the table below the club have improved in every area of their league play.
The only area where they've regressed is in the cup competitions, but they still managed to reach the semi-final of the League Cup where they were dumped out by a stubborn Southampton side.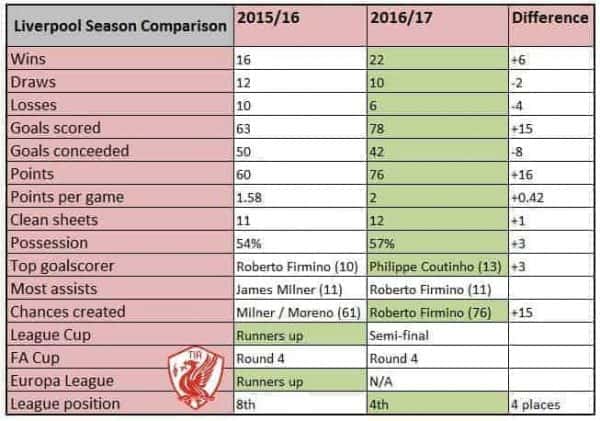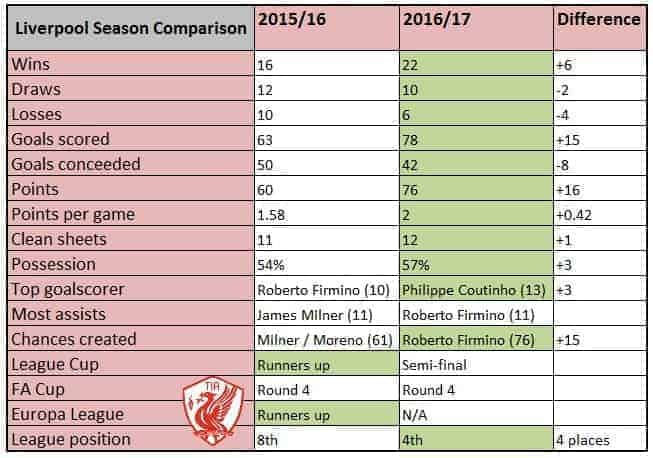 Heading into next season Klopp's side will be looking to progress further, but if that's to be the case they'll need to do well in this summer's transfer window.
The prospect of Champions League qualification through the playoffs can mean that higher profile, higher quality players can be signed this off season.
But it will also mean that the club have more games to deal with and a much more congested fixture list, so they'll need depth as well as quality.
Despite the obvious improvement Liverpool are yet to win a trophy under Klopp, and it's now five years since they last lifted a trophy.
The manager will be looking to put this right next season, while also maintaining the club's Champions League status.