Philippe Coutinho's new five-year commitment to Liverpool in January came as the result of convincing talks with Jurgen Klopp on his future prospects.
Coutinho signed an improved, £150,000-a-week deal at the beginning of the year, serving as a major boost following speculation over his future.
The 24-year-old had been regularly touted with a move to Barcelona, with his Brazil team-mate Neymar leading the campaign to bring the No. 10 to Catalonia.
And while this has not subsided, Liverpool are now increasingly confident of holding onto their prized asset, who has scored 13 goals and assisted nine in 35 games this season.
According to Tony Barrett, writing for JOE.co.uk, Klopp made a "sales pitch" to Coutinho ahead of his contract extension, explaining his long-term role.
This was partly revealed in last weekend's 4-0 win away to West Ham, with Coutinho deployed in a new, deep-lying role in the Reds' midfield.
It proved hugely successful, with Coutinho levelling his output for chances created (six) for any Premier League game since he arrived at Liverpool in 2013.
But Barrett claims that this won't be a fixed role for the playmaker in the future, with Klopp looking to strengthen his squad in the summer to suit Coutinho's qualities.
Therefore, the addition of another midfielder, namely RB Leipzig's Naby Keita, and another winger, would allow Klopp to tailor his role depending on the demands of a particular game.
He could play wide when the situation dictates, but also centrally in tighter, more compact clashes.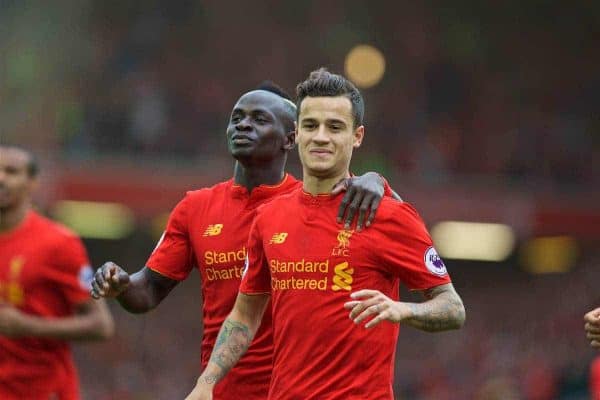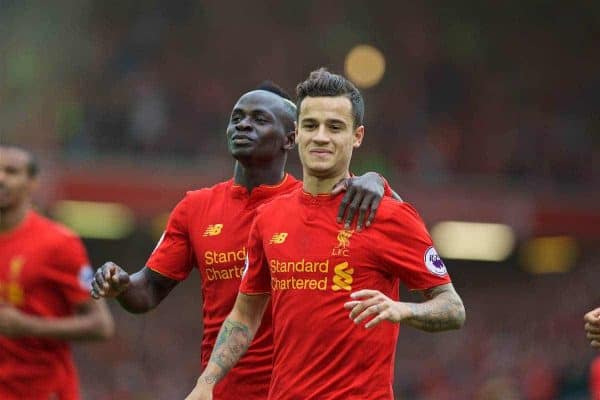 Coutinho is arguably Liverpool's most important player, with his creativity, tenacity, flexibility, technical quality and end product making him a devastating outlet.
Along with Sadio Mane and Roberto Firmino this season, he has formed one of the Premier League's most devastating attacking lines, and they will be able to test themselves in Europe next term.
This star status is something Klopp believes wouldn't be guaranteed at one of the continent's top clubs, as he relayed to Barrett.
"Stay here, and they will end up building a statue in your honour," he told Coutinho.
"Go somewhere else, to Barcelona, to Bayern Munich, to Real Madrid, and you will be just another player. Here you can be something more."
This is an emphatic statement of Klopp's belief, and if Liverpool secure their place in the Champions League next season, Coutinho can take another step.
The Reds can ensure this with a victory at home to Middlesbrough on Sunday, and Coutinho will be central to their hopes at Anfield—just as he will be for the foreseeable future.