Philippe Coutinho has threatened to become world class in recent times, but as he hits the middle part of his 20s, now is the moment to achieve that goal.
Coutinho celebrated his 25th birthday on Monday, an age at which a footballer can no longer claim to be in the category of 'young'.
Year upon year since joining Liverpool in 2013, the Brazilian has improved, with his all-round game maturing and his influence on the team increasing noticeably.
Last season he registered a career-high of 14 goals, which considering he missed roughly six weeks of action is an excellent return.
His finishing was vastly improved, with many of his strikes as ruthless as it gets, and some understated leadership skills also came to the fore on occasions.
Despite this, Coutinho cannot yet claim to be in that world class bracket that separates truly special players from very good ones.
To do that, he must find his top level from next season onwards, in order to be thought of as one of the true elite attacking players on the planet.
The next step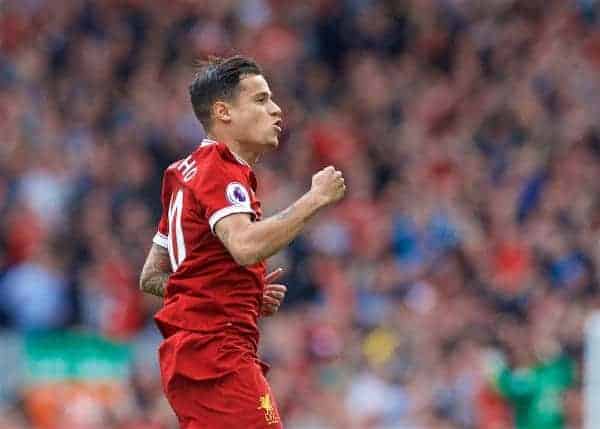 Everybody has their own definition of world class, but the general consensus would be to describe it as someone among the best in the world at their sport, who produces brilliance on a reliable, regular basis.
Coutinho has come close to fitting this description over the last 12 months or so, with some sensational performances at either end of 2016/17 helping Liverpool finish fourth in the Premier League.
The Reds' wizard-like forward has become their go-to guy in moments of adversity, with so many important, and wonderful, goals coming at key times.
Perhaps the one thing preventing Coutinho from being among the very best, however, is an ability to drift out of matches when the chips are down, and generally find a level of consistent excellence.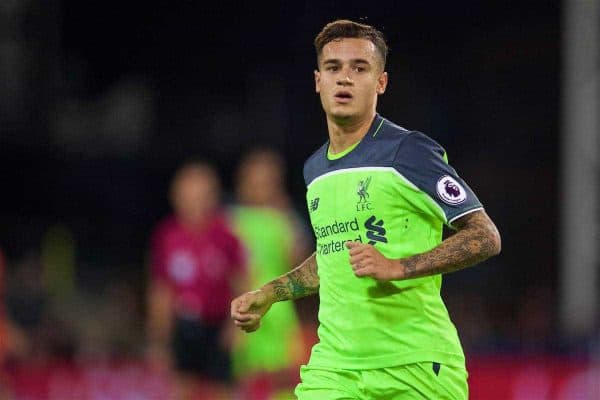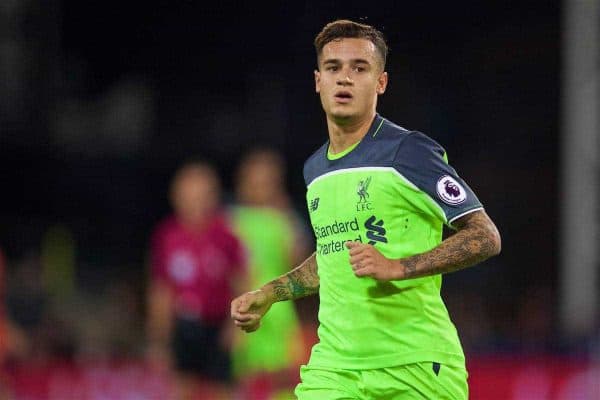 He can cut a disconsolate figure when Jurgen Klopp's side aren't purring, or when the likes of Roberto Firmino and Sadio Mane are not around to wreak havoc alongside him.
The true greats can be relied upon almost every week, give or take the odd rare off day, and this is something Coutinho has to work on.
He has the ability to be as good as any player in the Premier League, and become one of the first names on Brazil's team-sheet—it would be a travesty if he fell short.
Around 25, or somewhere very close to that age, is a point at which so many greats of the game have started their peak years.
Other examples

You don't need to stray away from Liverpool to think of a couple of perfect example of players becoming world-class at that point.
Steven Gerrard was just five days short of his 25th birthday when he lifted the 2005 Champions League trophy, and although the 2004/05 season was one that saw him become a world-renowned superstar, he wasn't yet at his very best.
He actually became even more formidable the following year, scoring 23 goals in all competitions, and producing one of the all-time great FA Cup final performances.
In the next two or three years that followed, few players in world football could lay claim to being better, with his level of consistency, match-winning potential and ability to get the most out of his team-mates exactly what Coutinho must aspire to.
The same applies to Luis Suarez, who suddenly exploded in 2012/13, having celebrated his 25th birthday at the start of that year.
It is the near title-winning campaign a year later that 'El Pistolero' will forever be remembered for most, but he was almost as majestic in 12/13, netting 30 times and producing some moments of footballing genius.
That season signalled the start of his prime, and in the five years since, he has grown to become one of the finest players of the last 30 years. Once again, Coutinho should use his former teammate as inspiration.

Away from Anfield, there are plenty more legendary figures who spring to mind.
Ronaldinho, a player Coutinho idolised growing up, went from an entertainer with unrivalled levels of skill to the best in the world once he reached his mid-20s.
The level that he reached between 2004 and 2007 was absolutely astonishing, with everything falling into place at the right time.
Thierry Henry is another who wowed the masses plenty of times before he was 25, much like Coutinho, but it was around that age that he became one of the most unplayable strikers of his generation.
Between the ages of 24 and 29—01/02 to 05/06—the Arsenal legend scored a remarkable 166 goals, compared to 63 in the five years that preceded it.
Man United's treble-winning side is not one we like to praise, but it saw Class of '92 alumni Paul Scholes, Ryan Giggs and David Beckham announce themselves as world class.
They had been superb before it, and were undoubtedly huge names, but at 24/25, they found themselves on another level.
Generally, 25 to 29 is seen as the peak age for the majority of footballers; some will be at their best at 21, others at 34, depending on style of play and injuries.
Which means Liverpool supporters should be excited at the thought of what is about to come from Coutinho.
Next Liverpool legend?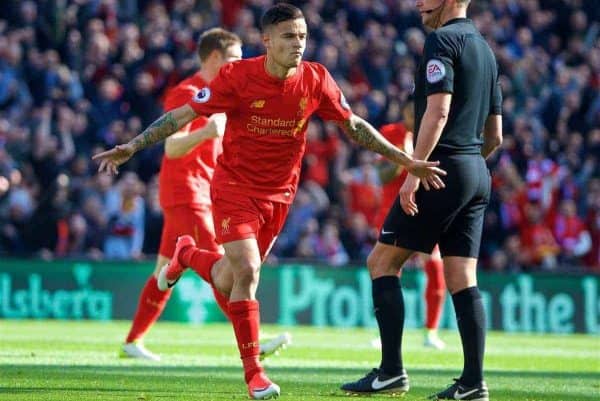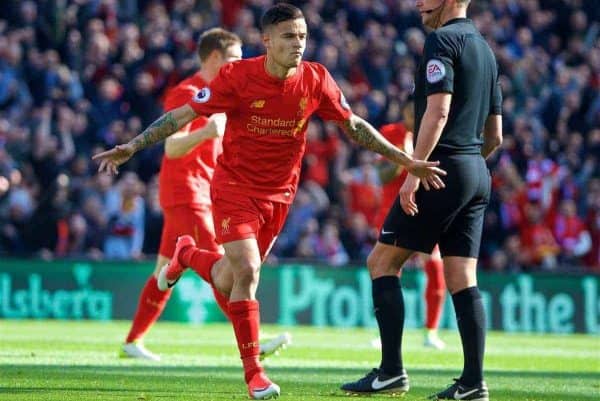 The 21st century hasn't exactly seen Liverpool blessed with a plethora of individuals who can be considered Reds legends.
A sprinkling of names spring to mind, most notably Gerrard, Suarez, Xabi Alonso, Fernando Torres, Jamie Carragher and Sami Hyypia, but they are few and far between.
Coutinho is someone who can have that honour bestowed upon him one day, and be a player we talk about for many years to come. Much of that may depend on how long he remains a Liverpool player.
He has come a long way since arriving as something of a gamble four-and-a-half years ago, fine-tuning all departments of his game and becoming arguably the best player at the club.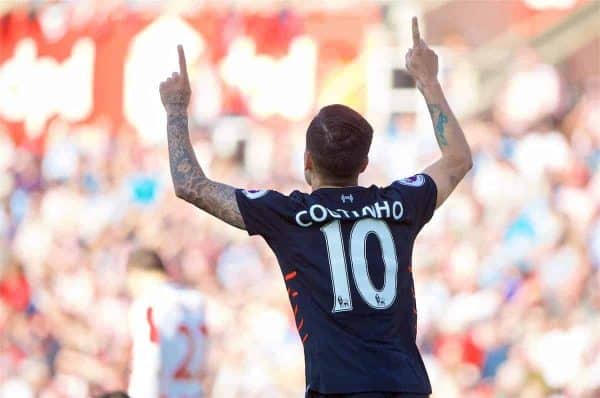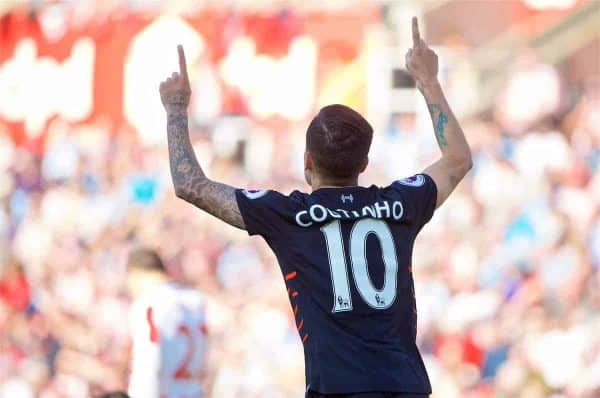 His finishing has improved tenfold, his decision-making is becoming more reliable all the time—we're not seeing as many hopeful shots fly into the stands—and he is coming to the fore at big moments.
There are plenty of supporters, writers and pundits who feel that Coutinho already deserves the tag of world class, but he remains just short of that for the time being.
He couldn't be more perfectly set to join the illustrious company of the current greats of the game, however, with the South American appearing happy at Liverpool and ready to have the team built around him in a more central role.
The only thing stopping Coutinho from being one of the world's best is himself, or serious injury. Now is the time to emulate Gerrard, Suarez, Ronaldinho and others, and reach that genuinely elite level at 25.