Shortly after landing in Hong Kong on Monday, Liverpool boss Jurgen Klopp sat down for a chat with Rick Olivares for This Is Anfield.
Jurgen Klopp's brand of football has been described as heavy metal. Incessant. Relentless. And intense. Just like the man himself.
In Hong Kong for a few hours on Monday, the Liverpool manager didn't betray any signs of jetlag or tiredness. His trademark laugh could be heard even outside the room where he met up with select members of the Southeast Asian press in an event organised by Standard Chartered.
"Good morning," he boomed, even though it was 12:30 in the afternoon. "Sorry, I am still on Liverpool time."
He smiled that toothy grin of his.
"Hong Kong," he postulated for a moment. "It's a lot like England except it's warmer. I wish I could have a lot more impressions but I've only been inside the airport to the bus and to the hotel. That's it."
If that put a damper on local media looking for a good quote or cheer, Klopp quickly made up for it.
"It doesn't mean though that not being here doesn't mean I know about it. It's an interesting and historical place to be in. I know the history of the place and its role in the world.
"I am excited to be here but the little problem is we are in the middle of the pre-season so we have to work here. I am afraid that I am not going to see a lot of the things you should see when you are here."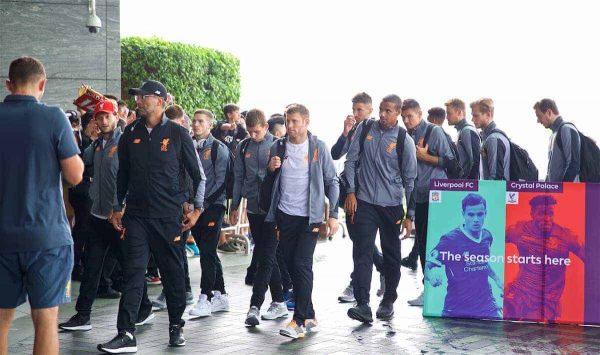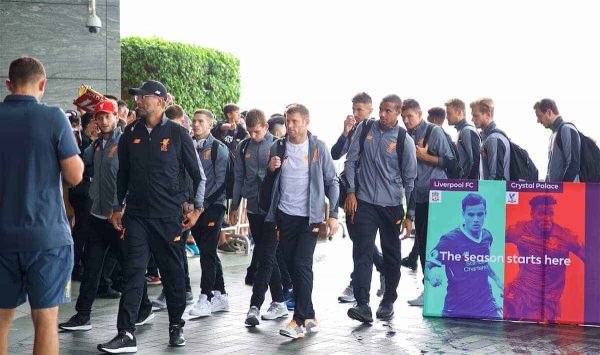 Then the boss settled down for business.
"The only thing I want to say is… no questions about transfers, no questions about football, no questions about players. So start!"
Laughter.
From the moment he stepped into Liverpool, the German tactician has charmed media and fans with his honesty, enthusiasm, Klopp-isms – if there is such a word. Quotable. Loquacious. His pre-and post-match pressers have been interesting, to say the least. One thing is for sure. He has the few of us interested and locked in from "good morning."
Incredibly, he is far easier to understand than previous managers Kenny Dalglish and Brendan Rodgers.
"The reason why I said, 'good morning' is we are operating on Liverpool time. It's 8:30 in the morning back home. It's complicated enough to do the things we have to do in a different time zone. So we try to make it a little easier for our bio-rhythm."
These pre-season matches far from England; does he think they will help his side come Premier League (and Champions League time)? The sojourn into the Far East is oft looked at derisively by some as a money-making scheme; one to please the sponsors.
Maybe. Maybe not. The trip is also used for the team to bond away from the comforts of home.
"I hope so," he laughs. "In the pre-season, you do things to make it more difficult than the season. During the season, you play against good teams in difficult circumstances. So hopefully, it helps.
"The camp is very intensive a day before, two days before. We train really hard. When you feel fantastic. But it isn't likely you will be fantastic 365 days a year. So we try to learn from it. To bring out best performance on the pitch.
"It will be difficult. I can tell you whatever I want but I have no idea because it will be my first time in Asia. I don't play games here. I'm really interested in what happens after the games to see how we can make it work."
The German has obviously revitalised Liverpool Football Club, its massive fan base, and even put rivals on notice. The man has been an agent of change. I am curious though… is Liverpool – the club and the city changing him.
Jurgen nods. Maybe a tad perplexed. He mulls his answer then slowly says, "I turned 50 a few weeks ago."
He paused for effect.
"A lot of things and people have tried to change me in the last 50 years but I am who I am. It's too late to change me. I am quite happy."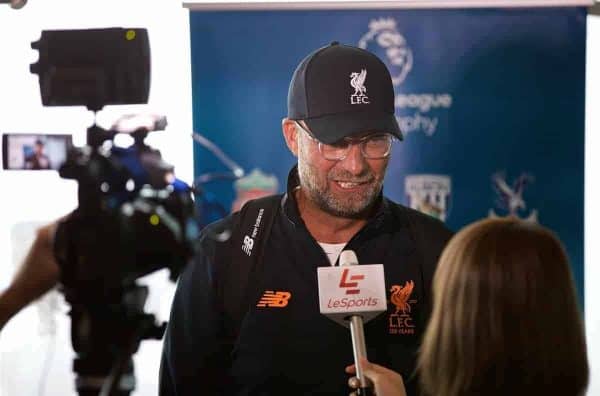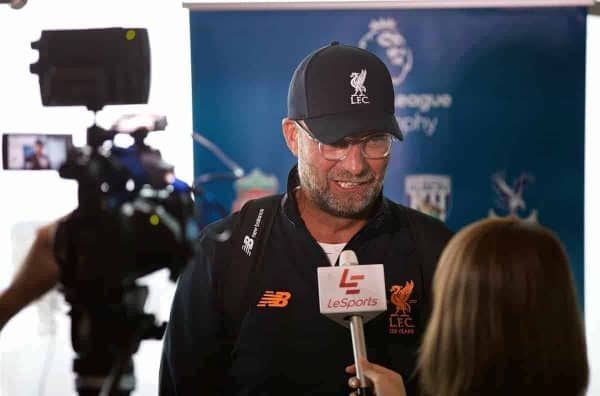 "Liverpool is a wonderful city. It much nicer than you imagine. If you hear about Liverpool, you think about the music and football. And of course, it is very famous for its music. But if you go there, there is more to the music and football.
"You should really see the city. There is a nice mood to it. But for me, maybe because of my face and being a manager in England, it is not really easy to go out and feel the city even if I work there."
Then he pauses, like telling an anecdote to some friends. "Two days ago, we tried to go out with my coaches. So after dinner, we went to another bar, not a party but have a few drinks because the next day we're going to Hong Kong so we can sleep on the plane if we want. At the end of it, we needed security around us and that's not how we wanted things. But that's life."
"That's the last of it," he said of his unannounced jaunt in the city proper. "Promise."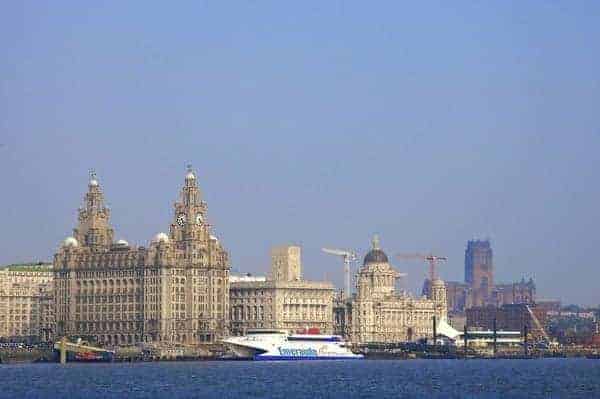 "But, I liked the city even before I came there but it is easy to like there because of the people — they are easy to deal with, they are funny – maybe not all of them but a big percentage. And I am completely fine. Nothing can change me now. Neither me or change Liverpool."
Is there a time table to winning the title?
"Hopefully, soon. It's not that I say this year is too early, or next year is too early. It is what we do during the season. We know the quality of the other teams.
"If we can improve the kind of play last year – and what was already good in a lot of things — then we can have more points. If we have more points, then it is more likely.
"It is only twice in my life that I have been a champion and I can say that in the season (we won) we have no idea if we can get it. We (in Liverpool) are really ambitious but we aren't naive."
It is the same approach when it comes to a spot on his first eleven. "I am performance based; that's all." Pragmatic the man is.
Yet as quotable as he is, Klopp surprisingly doesn't have any social media platform.
"I would have never thought I'd feel like young — like I am 20 — when I am 50. I am 50 but I am not old. But I am definitely too old for social media."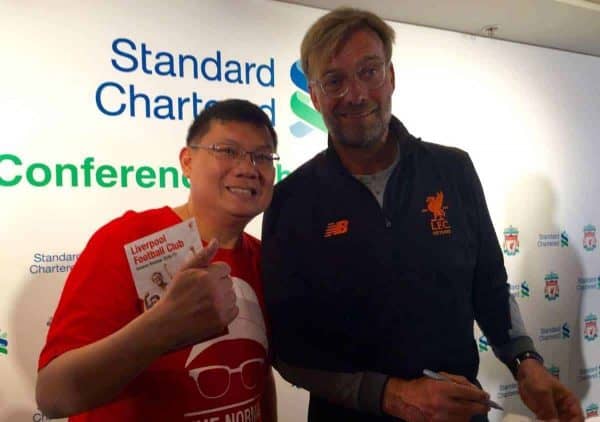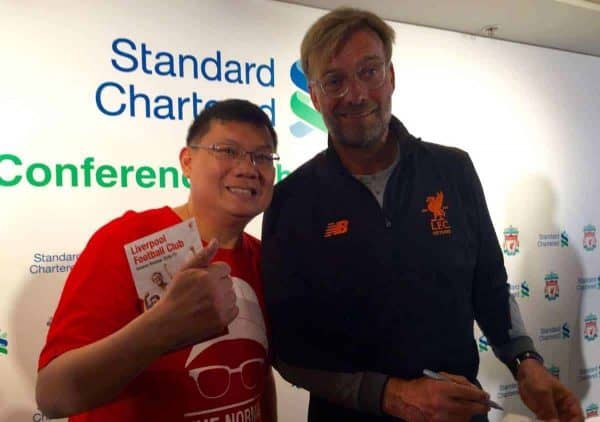 Hammering in his final point, Klopp doesn't mince his words, "I am nil-point-nil interested in telling people what I am doing every second. I cannot imagine people sitting on the toilet and sending a picture. I will never understand this until the end of my hopefully long life!"
As usual, Jurgen Klopp does his talking on the pitch.