After five months out with a mysterious foot injury, Jordan Henderson has looked off the pace in the opening two games of the season. Sam McGuire discusses the captain's role.
Liverpool being involved in a high profile match without their captain is now becoming the norm. While Jordan Henderson may have been on the pitch physically against Hoffenheim on Tuesday, he was somewhat of a passenger for the hour until manager Jurgen Klopp replaced him with James Milner.
The 27-year-old missed the vital run in at the end of Klopp's debut season in charge, forced to sit out of matches against Borussia Dortmund and Villarreal, while he could only watch on from the bench as Sevilla overturned a halftime deficit to win the Europa League final.
The start of last season saw him return from injury and take up a new position in the team. He was tasked with a role consisting of him being Liverpool's defensive midfielder and deep lying playmaker rolled into one.
He initially had teething problems there; while he was quick into the tackle and diligent in his defensive duties, his passing from deep areas left a lot to be desired. The occasional Hollywood pass papered over the fact he was passing up, no pun intended, the opportunity to thread incisive balls through into the feet of the attackers on a regular basis.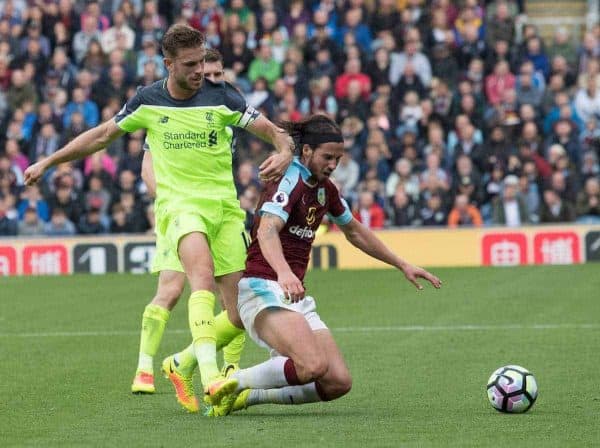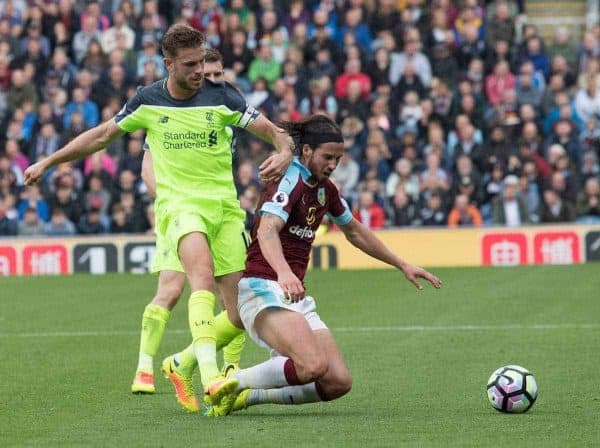 However, Liverpool, anchored by Henderson, were rampant and looked set to rival Antonio Conte's Chelsea for the title.
But he was then ruled out with a bruised foot towards the end of February, an injury that was initially reported to only keep him out for a week but eventually curtailed his season.
Liverpool were without their captain as they hobbled over the finish line to ensure a place in the top four and a Champions league playoff match to navigate.
His return in pre-season was hyped. In the final few months of the season Liverpool looked blunt and the opposition controlled the middle third. People pointed to the Henderson shaped hole in midfield as one of the reasons.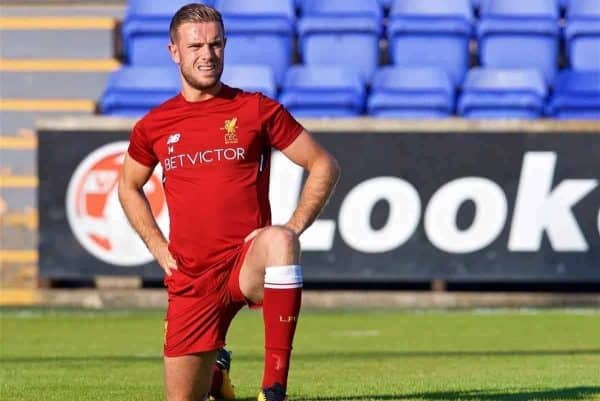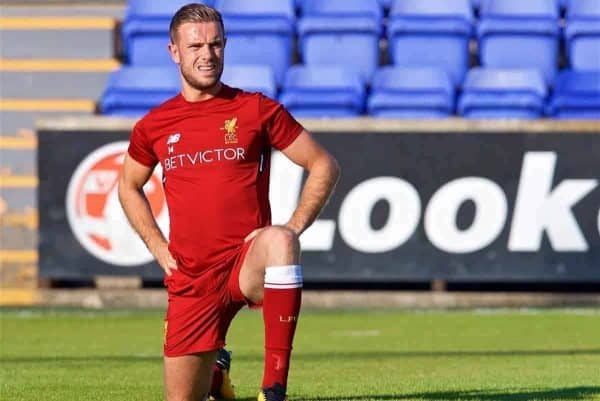 The Reds had their skipper back at the heart of their midfield, Mohamed Salah had arrived from Roma to bolster their attacking options, Philippe Coutinho looked to be taking his rightful place in a withdrawn role and the arrivals of Virgil van Dijk and Naby Keita looked to be on the horizon.
Henderson appeared to be ticking along nicely in those friendlies – bar a pretty woeful penalty in the Audi Cup final. He had a full pre-season under his belt and was set to reclaim his position at the base of the midfield with Emre Can returning late to training after his spell with Germany at the Confederations Cup.
But then Liverpool went into their opening game of the season against Watford, of course, without Keita and Coutinho in their midfield ranks. RB Leipzig have so far resisted the temptation to sell, and Liverpool's No.10 is agitating for a move to Barcelona.
Saturday's opening game saw the home side control the midfield. Henderson and co looked overrun in the middle third, and the captain switched off defensively as Tom Cleverley drove into the penalty area to help set up the second Watford goal on the day.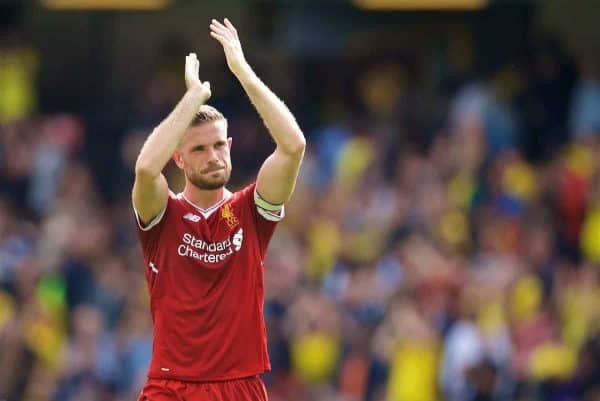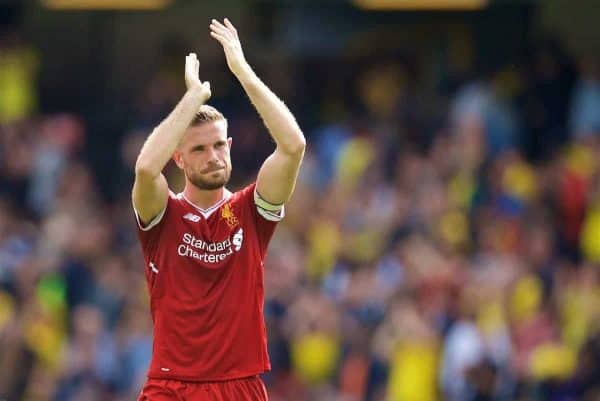 It was basically everything Henderson's return was supposed to prevent. Was he rusty? Definitely. Is he still returning to match fitness after months out? Of course. But after a full pre-season in training, it was alarming to see him play as though he was carrying a knock.
And he looked even worse against Hoffenheim on Tuesday. The former Sunderland man wasn't his usual energetic self, in fact, he was far from it. It was almost as though he was a passenger for the most part.
Players were running off of him, he was slow to get into areas of the pitch he needed to be and his passing was erratic. Liverpool's centre backs were exposed by a huge hole in front of them as the home side attacked. It wasn't until Henderson left the pitch after 63 minutes that Liverpool wrestled back control of the match and weren't relying on Sadio Mane or Mohamed Salah to produce a moment of magic.
Subbing your captain with half an hour remaining in an important Champions League qualifier away from home is indicative of either Henderson's fitness being an issue, or his performance being extremely poor.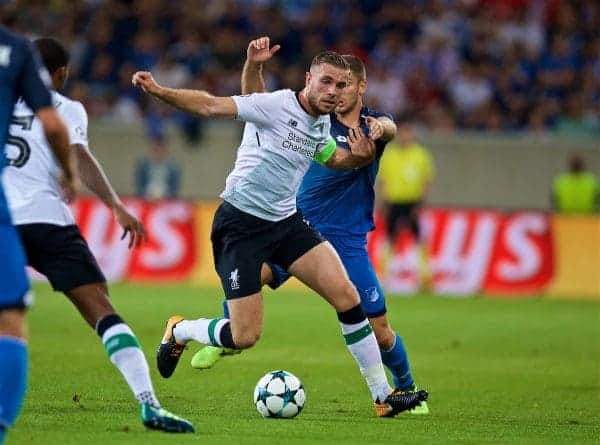 There's an argument to be made that Hoffenheim had tired by that stage and James Milner could have replaced anybody in that midfield and there would have been an upturn in the performance. But that's subjective.
You could also claim Klopp was protecting his skipper after months out. Maybe so. But it's alarming to note just how better Liverpool looked without him labouring in midfield.
There are still question marks over his fitness, meaning it's near impossible for the Reds to rely on him. Since he took the armband off of Steven Gerrard he's yet to play 30 games in a season, and of the 6,930 minutes on offer in the Premier League over the past two seasons he's appeared in just the 3,501 of them.
Daniel Sturridge has been in the Liverpool squad more times than Henderson in the last two seasons (65 for Sturridge vs. Henderson 59).
So, when do Liverpool admit defeat and transition Henderson from a key first-teamer into a squad player, similar to Sturridge?
It would be naive to build a team around the current captain, but if he's available he can have an impact. The longer Klopp waits the harder it becomes for the Reds to build solid foundations.