Forget press conferences for new signings, Liverpool spent Wednesday morning announcing a new shirt sleeve sponsor, Western Union bank.
The new logo will appear on the left arm of the kit, and is reported to be worth £25 million over the next five years.
The club say that Western Union shirt-sleeve patch will be available free to all fans who have purchased an official 2017/18 shirt, not that many will be rushing to go get that added to their kit.
Here's how supporters reacted to the announcement on social media and our forums…
https://twitter.com/SamMcGuire90/status/895202254826995712

Extra sponsorship is great – however that hideous logo has tarnished my favourite #LFC shirt in years. https://t.co/kasRa2AW9G

— Ben Webb (@BenWebbLFC) August 9, 2017
Was waiting to see who we signed/stayed before getting my @LFC shirt. After this huge @WesternUnion logo I'm really regretting my delay.

— Taintless Red (@TaintlessRed) August 9, 2017
I totally understand the club's plan to get a sleeve sponsor but the WU is too damn big. It's garish, make those letters smaller atleast.

— Taintless Red (@TaintlessRed) August 9, 2017
That sleeve sponsor is vulgar. We've ruined what was a classy strip.

— Aaron Cutler (@aaron_cutler) August 9, 2017
Best Liverpool kit in years ruined by a bloody sleeve sponsor. The only positive is that the 25m us used imminently towards transfers

— LFC-DAN (@Kenn1Dan) August 9, 2017

https://twitter.com/harikriss/status/895207650756972545
"Football shirts now nothing but billboards? How garish…"

– Peter Collins on Facebook.
Football shirts are going to end up like Formula 1 cars. #LFC

— LFCZA ?? ???? (@LFCZA) August 9, 2017
A shirt sleeve sponsor? ? why didn't I see that coming

— Anfieldheaven (@Anfieldheaven) August 9, 2017

https://twitter.com/KylePercy/status/895207915447083008

This will easily lose more money from jersey buys because of how bloody ugly it is. https://t.co/5MKPKhvzTp

— Ceallach Ní Uiginn (@KellyHigginsLFC) August 9, 2017
"Do we get that if we buy a shirt? Should have bought one last week… that looks shite. Don't think I'll bother buying one now."

– Andy Roberts on Facebook.
They ruined the kit ?

— H (@Humza_lfc) August 9, 2017
Great way to ruin a nice kit ??

— Sav. Charalambous (@sav_lfc) August 9, 2017
Looks disgusting!!!!!!

— JC LFC (@JitChohan) August 9, 2017
Ugly

— KK (@K_is_for_KJaM) August 9, 2017
State of that logo

— A A R O N (@AaronTWR) August 9, 2017
"Tacky—are we really that desperate for 25 million? It just compromises the whole look of the jersey!

– Corey Murphy on Facebook.
https://twitter.com/Positionista/status/895205242630963200

Definitely keeping my one without this garbage sponsor on it

— A (@Nabylicious) August 9, 2017
So glad I bought one last week WITHOUT that hot mess on the sleeve.

— Kimberly Robertson (@krobertson245) August 9, 2017
very unsurprising as Liverpool now have two bank sponsors on their kit yet they fail to actually spend any money

— claire from the bon appétit test kitchen (@aontaigh) August 9, 2017
FSG thinking about how much they've ruined the home kit with the sleeve sponsor pic.twitter.com/ILQKYUXRTP

— Klopp (@BundesligaLFC) August 9, 2017

https://twitter.com/RepublicOfAlba/status/895207590367555592
"At least it's not Tinder!

– Nikola on the forums.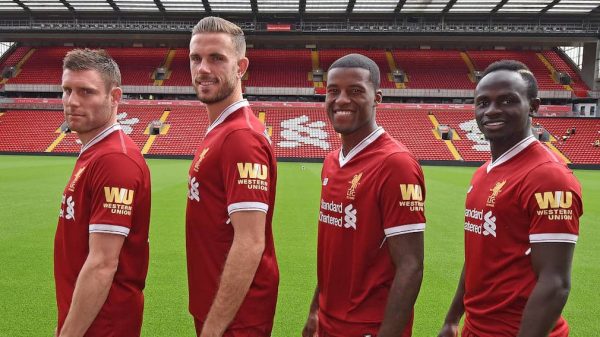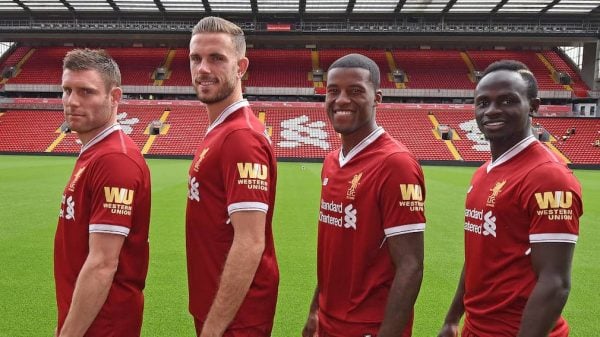 However, some did recognise the commercial benefits of Liverpool securing another shirt sponsor…
"I honestly don't see how anyone is surprised or angry with this, it's more money into the club and let's be honest, I'm sure I'm not the only one who is surprised things like this haven't happened sooner!? Just look at the South American leagues shirts, covered in sponsors!"

– Marc Carter on Facebook.
(At least) two EPL clubs were known to have exclusivity deals with their main shirt sponsor – clearly none of those were Liverpool.

— Dave Phillips (@lovefutebol) August 9, 2017
The reported deal value – £25m over 5 years – would make sense given sleeve values were estimated at c.20% of main shirt sponsor agreements.

— Dave Phillips (@lovefutebol) August 9, 2017
"Why all the moaning. Normally a Prem badge there so no response diff apart from extra income. PSG have sponsors on back of shirts already. Many EFL teams have multiple shirt sponsors."

– Darren Wigley on Facebook.
What do you think of Liverpool's new sponsorship deal? Have your say in the comments section.