The media praised Liverpool's impressing attack, and for delivering under pressure as the Reds sealed a Champions League return with a 4-2 win over Hoffenheim.
Champions League football is back.
A stunning attacking display from Jurgen Klopp's men sealed a thoroughly deserved return to Europe's elite stage.
A brace from Emre Can and Mo Salah strike saw Liverpool race into a 3-0 lead after just 21 minutes, which Mark Uth reduced when he pulled one back seven minutes later.
The brilliant Roberto Firmino netted a thoroughly deserved goal to restore the three-goal cushion, before Sandro Wagner headed a consolation effort as the Reds saw out the game and sealed qualification.
It was a magnificent night at Anfield, where Klopp's men showed those waiting in the group stage what they are capable of producing, and the media were full of praise for the performance.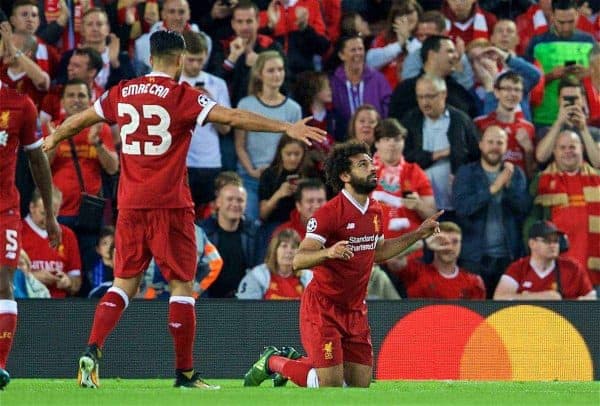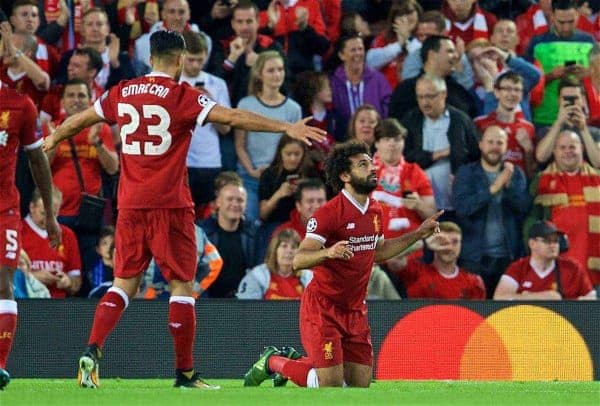 Where else to start? There was heaps of praise for the Reds' attacking play in post-match reports, with some journalists amazed by the continued proficiency despite Philippe Coutinho's absence.
Summarising the performance for Goal.com, Melissa Reddy, declared the performance worthy of Liverpool's illustrious European history:
And this was how it is supposed to be; five-times conquerors of Europe's premier competition not only restored to their rightful place, but doing it in a manner befitting of magical nights past on this turf – under the lights – on this stage.
Richard Jolly, writing for The National labelled Liverpool's attack "irresistible":
There are times when they look irresistible, when their understanding seems instinctive and the pace of their play unstoppable. An electric start was reminiscent of last autumn when they seemed to overwhelm opponents.
ESPN's Glenn Price felt Liverpool's "gung-ho" style overwhelmed Hoffenheim and is "the best way" for the Reds to play:
It's a gung-ho approach that might be the sole reason for Klopp's side being able to beat opponents after less than a quarter of a match being played.

[…]

It's probably the best way for Liverpool to set up in games at the moment, both domestically and in Europe.
The Mirror's David Maddock praised the Sadio Mane-Firmino link-up in particular:
The pace and strength of Mane, combined with the movement and artistry of Firmino is a thing of beauty when it dovetails so perfectly as it did here.
The Independent's Jack Austin even pondered whether Coutinho should be sold given how good the attack remains:
With all the furore around Philippe Coutinho's future, it would be easy to forget how good Liverpool's attack is without the Brazilian. Salah looks like he already on the same wavelength as Firmino and Sadio Mane at the top of the pitch, with their relentless running terrifying their German visitors at times.

[…]

With all these positives, it begs the question of whether the £138m Barcelona are willing to hand over for Coutinho be better invested?
Certain reporters also complimented Liverpool for delivering a big performance and a crucial result when needed most, and were impressed with numerous other aspects of the display.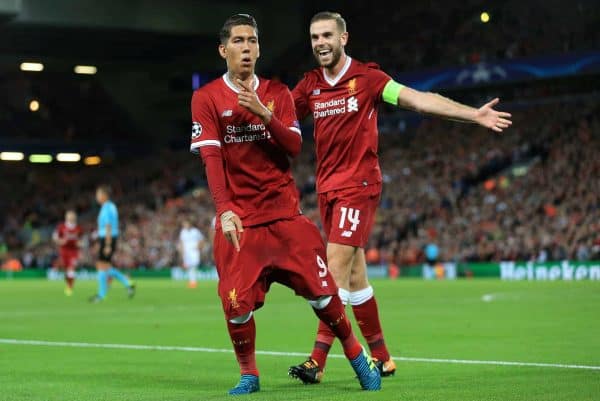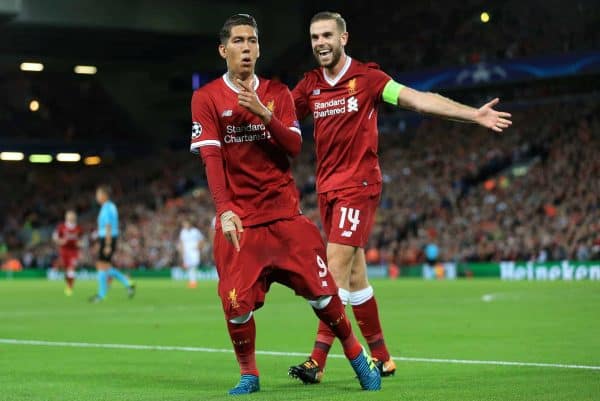 The Liverpool Echo's James Pearce praised Klopp's team for holding their nerve:
When the stakes were high, when everything the Reds had grafted for throughout last season was on the line, they delivered.
ESPN's Steven Kelly noted the return of the "frenetic high press":
All the forwards look capable of scoring at the moment, and there was a welcome return for a frenetic high press that the visitors simply could not cope with.
The Mail's Jack Gaughan wants to see the Reds produce an electric start regularly in Europe this season:
Liverpool's early dominance should be something that Klopp looks to replicate as the European season progresses.

They really need to play on the crowd and disrupt the rhythm of their visitors to prosper. They're at their best at a blisteringly high tempo and should capitalise more often in the opening thirds of matches at home. This bodes well.
However, Simon Hughes, also writing for the Independent, felt it was a performance that showed the good and the ugly of Liverpool:
This was a portrait of Liverpool in the period 2012-2017: so exhilarating in attack, you fall in love with them all over again; then so brittle defensively, you doubt whether they have the foundations to win anything.
Meanwhile, Price thinks the all-out-attack style means defensive issues will continue to linger:
However, it's also a contributing factor as to why Liverpool have never had a consistently sturdy defensive throughout Klopp's reign.
Numerous reporters assessed Champions League qualification as the next step on Liverpool's journey to re-establishing as a domestic and European force under Klopp.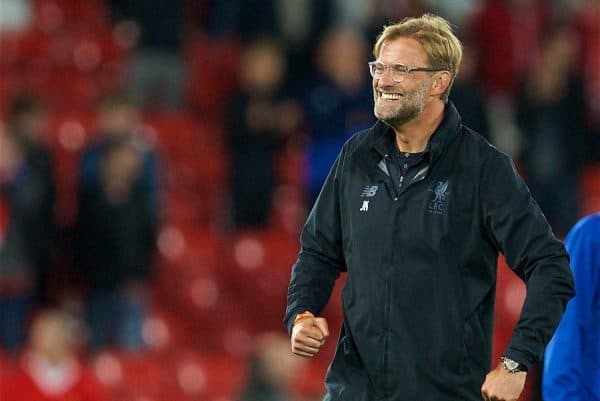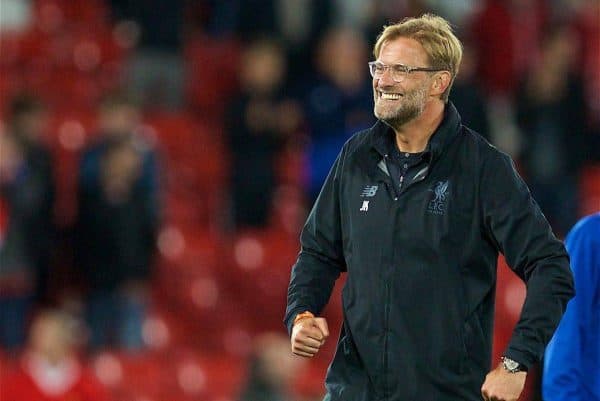 The Liverpool Echo's Andy Kelly wrote:
Klopp's men finished not just a two-legged tie against a decent German team in Hoffenheim in their first ever European tie. But finished a journey which started almost the second Klopp walked into Anfield almost two years ago.

This feels like the end of that beginning and now it's about re-establishing Liverpool as a true force in European football.
Reddy believes Liverpool have taken the next step by securing a return to the elite stage:
Despite the distraction of Philippe Coutinho wanting to leave for Barcelona, the Merseysiders showed their focus is on restoring themselves as a continental giant.

All of Klopp's tenure thus far seemed to point to this very juncture, where these "special nights" become the norm.
The Guardian's Andy Hunter labelled reaching the groups "a significant step forward":
After an arduous season to reach the play-offs and a pre-season overshadowed by Barcelona's relentless pursuit of Philippe Coutinho, plus their own dead-ends in the transfer market, a return to the European elite marks a significant step forward for Liverpool under Klopp.
The Telegraph's Chris Bascombe assessed qualification as vital for Liverpool to prove they belong among Europe's elite:
While the economic benefits are undoubtedly significant, there was more at stake here. It was not just about the money for Liverpool.

This time it is more about prestige, status, and proving they truly belong with those clubs once considered peers. To repel the attempts of Barcelona to derail progress, it is necessary for Liverpool to occupy the same stage.
The watching journalists discussed how the Reds may fare in the competition, with mixed feelings over Liverpool's potential progression and readiness to compete on the big stage.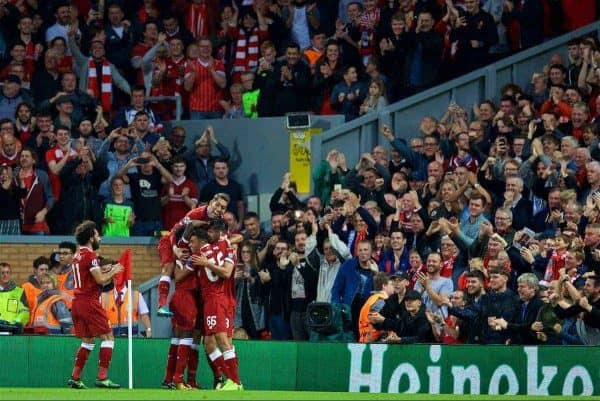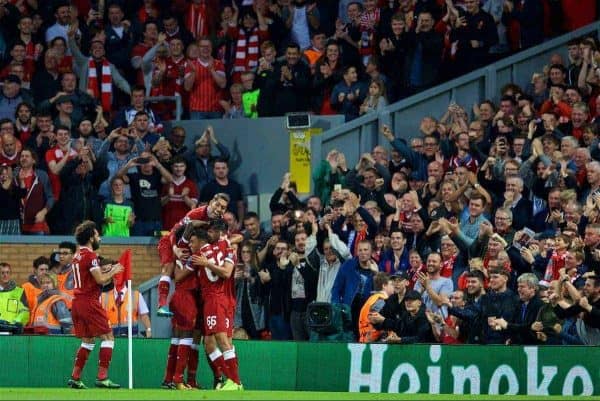 Reddy feels plenty of qualifiers will want to avoid Liverpool:
The work has only just began, but there will be several teams wary of and wanting to avoid Liverpool, especially considering their explosiveness in attack.
But the Mirror's Steve Bates feels the Reds will struggle unless they improve defensively:
But they won't last long in the Champions League group stage unless Jurgen Klopp somehow manages to sort out his porous defence.

[…]

Overall, it didn't affect the result – but when the group stages begin such lapses will be fatal.
Price questioned whether Liverpool can produce such stunning form when the season is in full flow:
Under Klopp, Liverpool have proven their ability to beat any team on any given day. But so far, they have never had to do so when competing on multiple fronts in a season.
And Bascombe feels work must begin instantly on assembling a squad capable of competing:
The remaining days in this transfer window cannot be spent dining out on this notable and pivotal success, but focused on ensuring they build on it.
Reporters provided thoughts on who shone at Anfield, on a night in which numerous impressive individual performances were produced.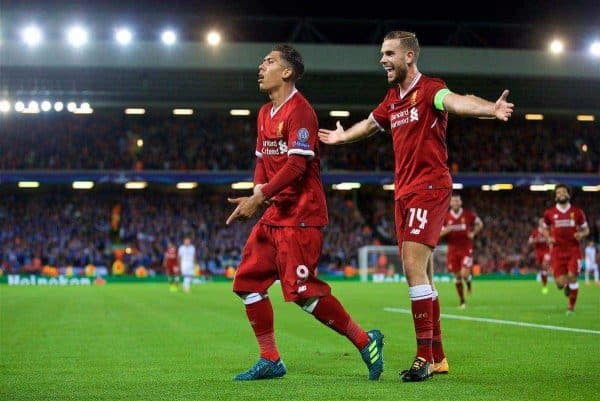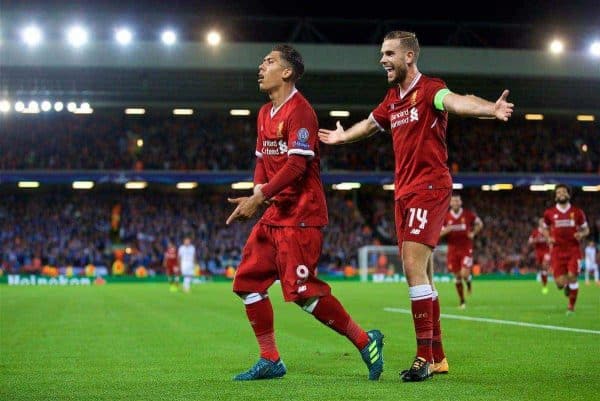 ESPN's Kelly eulogised over Firmino's display:
Simply brilliant at times. His marksmanship may often be wayward but who cares when he played a major part in all four goals. He caused big problems all game. Finally given a chance even he couldn't miss, to tie up the game.
Pearce praised Mane and noted how the Senegalese has stepped up in Coutinho's absence:
It was a night when Sadio Mane strengthened his status as the darling of the Kop with an exhilarating display.

At a time when Philippe Coutinho's attempts to force a move to Barcelona could have derailed the Reds, he has stepped up and filled the void.
Hunter felt Moreno "repaid Klopp's faith":
In fairness to Alberto Moreno, who was roundly criticised for his first leg display, he repaid Klopp's show of faith in keeping the same starting line-up by helping set a relentless tempo.
Bates waxed-lyrical over Trent Alexander-Arnold's display:
Trent Alexander-Arnold is a baby in Champions League terms – but he looks born to play on the European stage.

[…]

The youngster didn't score this time – but his attacking runs deep into enemy territory thrilled Anfield.
Austin felt Can showed he can develop into a regular scorer from midfield:
However, his two goals at Anfield on Wednesday night showed what he can become for the Reds. They were late, well-timed runs to fill space he saw in the box. He scored a few screamers last season but these are the type of goals he would rather be scoring on a more regular basis.
And finally, the Echo's Kelly thought Gini Wijnaldum rediscovered form:
His manager was never in any doubt though and the Dutchman repaid him with one of those games where we wonder why he's not like this all the time.

[…]

Tidy and controlled in midfield, he did what he does best in putting in a real shift yet providing a huge boost to Liverpool's attacking play. A real total performance.