The media were impressed by Liverpool's all-round performance and felt Jurgen Klopp showed his ruthless streak in the Reds' 4-0 demolition of Arsenal.
Liverpool picked up from where they left off against top-six rivals last season, producing a dazzling display to thrash Arsenal in the first heavyweight clash of the campaign.
Roberto Firmino headed home the opener on 17 minutes, before Sadio Mane handed the Reds a deserved 2-0 lead at half-time with a sensational curling finish.
Mohamed Salah made it 3-0 with a stunning breakaway goal, finishing coolly after picking up the ball in his own half, and Daniel Sturridge added gloss to the scoreline heading home a fourth.
It was a breathtaking display from the Reds, who were too good for Arsene Wenger's side, and it ensures momentum is maintained going into the first international break.
Here's how the media assessed the victory, with a frustrating lack of credit for the Reds in some sections as the bulk of reports centered on Arsenal's ineptitude.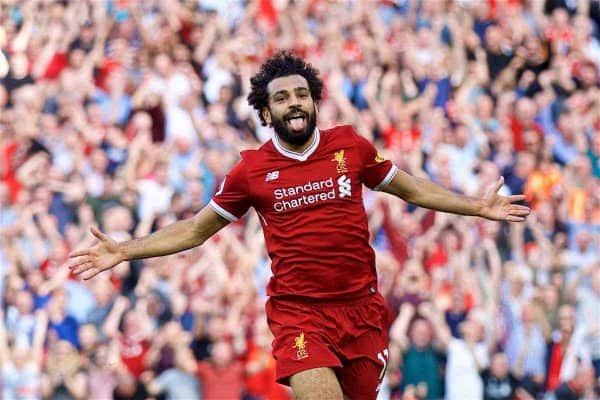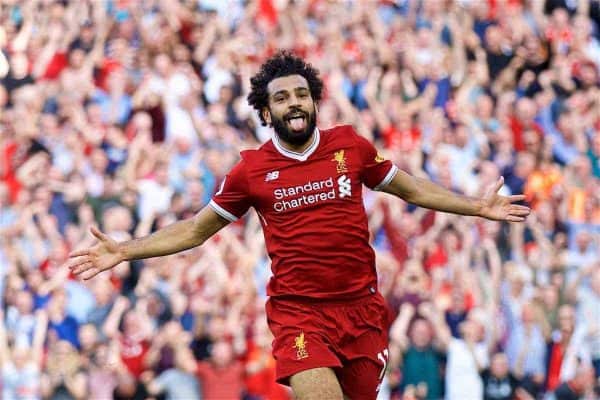 Post-match reports did however feature plenty of praise for the Reds' attack after another sensational showing which ripped the Gunners apart.
Writing for Goal, Melissa Reddy complimented the fluidity of the front three, and feels few teams could contain the Reds:
They had zero solutions for the dynamism of Sadio Mane, Roberto Firmino and Mohamed Salah; the trio's dazzling darts and fluidity completely flooring markers.

[…]

Not many teams will be so tactically bankrupt as Arsenal were against them, but plenty will nevertheless struggle to contain their blurs of attacking brilliance.
The BBC's Phil McNulty believes Mane is fast becoming as important as Luis Suarez once was:
This season, in combination with Firmino and new boy Salah, he is moving into the highest class and performing in a manner that is drawing comparison with Suarez.

[…]

He possesses the 'X Factor' of unpredictability without Suarez's unpalatable excesses, as well as lightning pace and tactical discipline.
The Guardian's Daniel Taylor felt the attacking display showed why Philippe Coutinho's potential exit shouldn't cause panic:
Liverpool without Philippe Coutinho have been portrayed in some quarters as a flower without sunlight. It simply isn't true.

Whatever happens with Coutinho, Liverpool are entitled to think optimistically when Sadio Mané, Roberto Firmino and Mohamed Salah are capable of playing with this kind of vibrancy.
The Independent's Jack Austin questioned whether Coutinho would even get in the team now:
Salah has slotted in perfectly and with Jordan Henderson, Emre Can and Gigi Wijnaldum driving through from midfield, leaving the question at the moment being is there room for Coutinho to start?
Though the attack once again took majority of plaudits, the watching journalists were impressed with numerous other aspects of Liverpool's performance.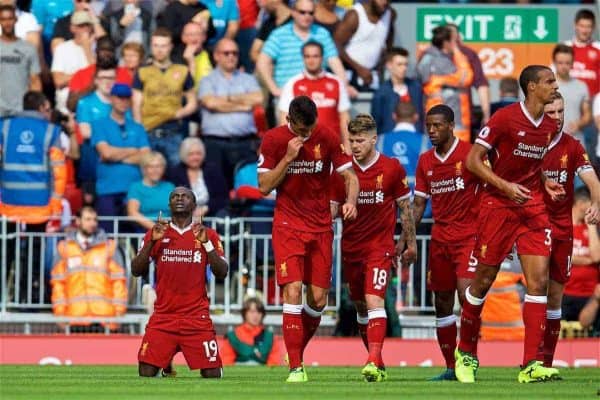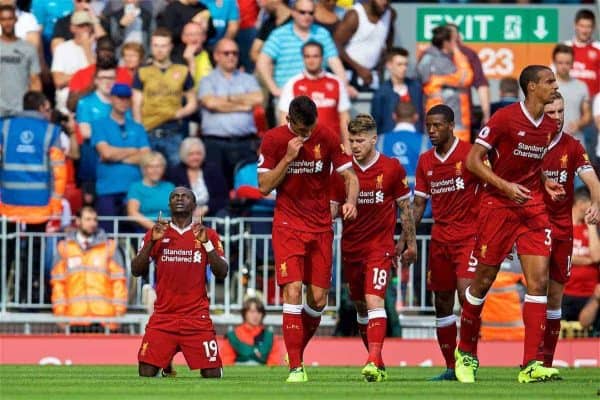 The Mail's Martin Samuel felt the Reds were superior throughout, and played every bit like a Klopp team:
Split the game into quarters and there was not one in which Liverpool did not score, not one in which they were not the superior team.

[…]

Liverpool were everything Klopp wishes them to be – energetic, hard-working, ferocious in transition.
The Telegraph's Jason Burt thought Liverpool out-fought and out-played Arsenal:
They were too quick and aggressive and incisive for Arsenal to cope and therefore laid down their own marker as to what this season could hold.
The Liverpool Echo's James Pearce felt the Reds' electric start proved key:
Once again Klopp's men flew out of the traps. They played at a tempo and an intensity that Arsenal simply couldn't live with.
The Mirror's David Maddock assessed the Reds' intelligence and speed in possession as key to exposing Arsenal:
Klopp wants his side to move the ball as swiftly as possible, and that means reading the game quicker than the opposition, and finding the right ball split seconds before the opposition see them.

It worked like a dream here, their reading of the game just too much for Arsenal, with Gomez stealing the ball and playing intelligent passes for the first two goals, Salah the third.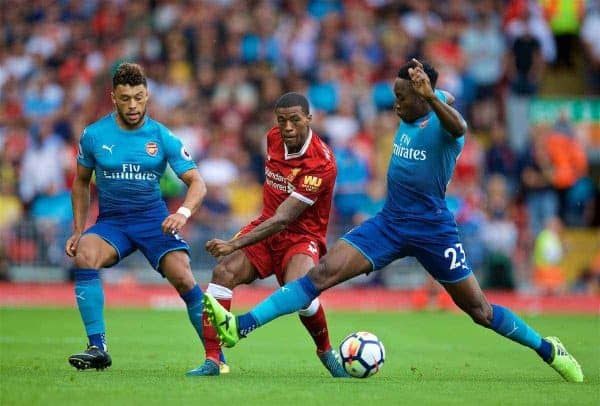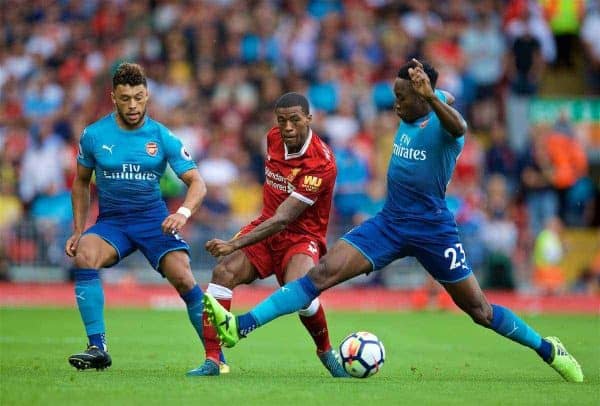 The Guardian's Paul Wilson noted how Liverpool's midfield dominance provided the catalyst for the rout:
Their three-man back line was under pressure all the time because Liverpool had the numbers in midfield. There was no way Aaron Ramsey and Granit Xhaka could stem the red tide; in fact both Arsenal midfielders had experiences they would prefer to forget.

[…]

Arsenal's front men found themselves isolated, whereas Liverpool's were constantly supplied by Emre Can, Henderson and Wijnaldum.
The Echo's Andy Kelly reserved praise for the Reds' defence, who he thinks have responded well after a tricky start:
For all their defensive shortcoming – so analysed in the first few weeks of the season – those who are already here have actually delivered some good results in the last few weeks of last season the start of this.

[…]

There's plenty to work on with this Liverpool defence but there is already talent there.
For This Is Anfield, Karl Matchett waxed lyrical over Liverpool's counter-attack play:
The pace and the power in transitions, accelerations into space and—most impressive of all—continually making the right decisions on the ball when in those positions, make Liverpool an incredibly impressive outfit to watch on the break.
Reporters discussed the big pre-match talking point that was Simon Mignolet's exclusion from the squad – which Klopp said was for a "rest" – and Loris Karius' performance in deputising.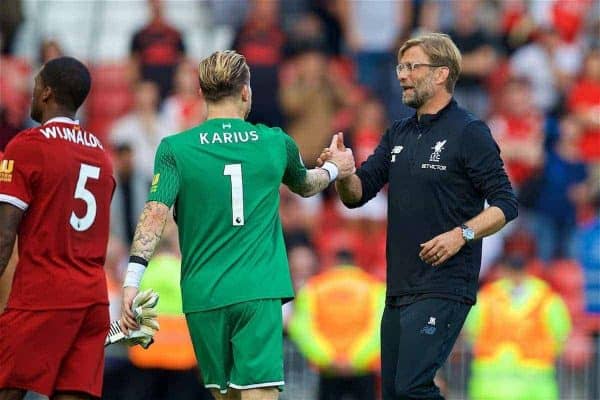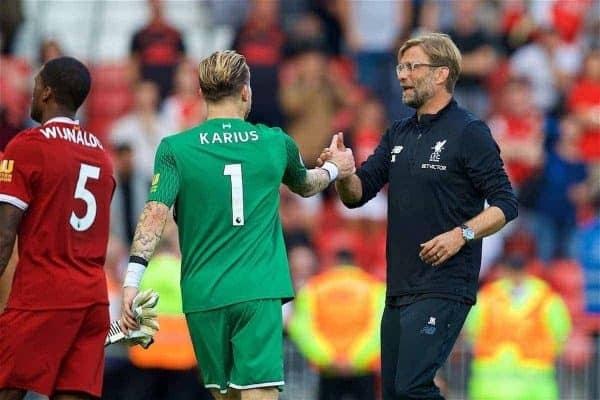 Maddock understood Klopp's decision, highlighting Karius' quick distribution:
To play such a fast breaking game, he needs the keeper to move the ball with intelligence.

Karius clearly had instructions to do that and a couple of times almost lost it, but that is why he is in the team, and the crowd will have to accept those hairy moments.
The Mirror's David Anderson thought the decision provided a reminder of Klopp's ruthlessness:
But his axeing of Simon Mignolet for Sunday's trashing of Arsenal shows he can be as ruthless as any cold-blooded assassin.

[…]

Never mind that Mignolet saved Liverpool against Hoffenheim in the first leg of their Champions League qualification play-offvictory when he kept out that penalty — Klopp feels he does not suit his evolving, fast playing style, so he was out.
The Independent's Simon Hughes pondered whether Karius' rumoured role as the 'cup football' 'keeper is why he started:
Whatever the rights and wrongs of his non-inclusion against Arsenal, Karius is expected to be Liverpool's cup goalkeeper this season and there are suggestions from inside Liverpool that the German's involvement will extend to Champions League football.

This would explain why Karius was chosen here.
ESPN's David Usher was among many reporters unconvinced by Karius:
Surprisingly recalled to the side, the German had very little to do but still somehow managed to make the crowd nervy by repeatedly taking too long to clear the ball and inviting pressure on himself. He did make two excellent punches to clear potential danger though.
Given news of Mignolet's axing broke in Belgium on the eve of the game, Hughes also pondered whether the 'keeper's Anfield future could now be in doubt:
It is fair to conclude that Klopp will want to know why his call to 'rest' the goalkeeper was reported in Belgium the night before a big game, especially when that goalkeeper happens to be from Belgium.

[…]

And if he is, the disclosure might make Mignolet's position as Liverpool's first choice goalkeeper weaker – not only when you take into account the circumstance involves his presence not being deemed essential against a major rival, but also when you consider also how highly Klopp places trust amongst the ingredients of his relationships.
With the season now set to pause for the first international break of the season, some reporters took the chance to reflect on Liverpool's start to the season.
Pearce feels it been an extremely positive beginning, especially with the tests faced on and off the pitch:
With seven points out of a possible nine and the Reds safely through to the group stage of the Champions League, Klopp will reflect on the opening stages of the season with real satisfaction.

They have handled everything that's been thrown at them this summer – from the Philippe Coutinho saga to the loss of Adam Lallana and Nathaniel Clyne to injury.
The Independent's Ed Malyon believes Liverpool have already shown they can win the title – providing the defence is strengthened:
If they can attack like this then they will be one of the best teams in the league to watch but they will also pose a danger to every team they come up against.

It is up to Jurgen Klopp now to strengthen this backline before the window closes. It is their only barrier to a title challenge and must be addressed.
As always, the media provided thoughts on the best performers at Anfield, with praise coming in for almost every Liverpool player.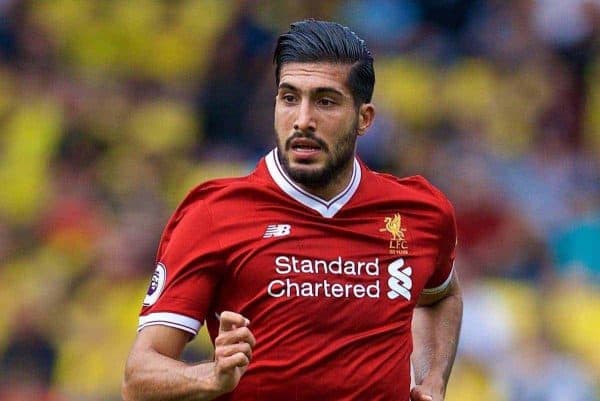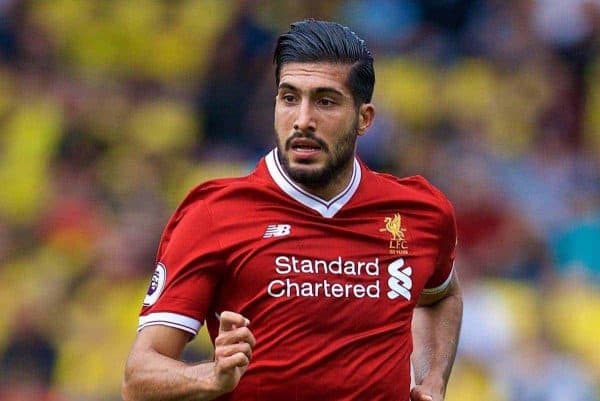 Pearce labelled Emre Can's display "the most complete" of his Reds career:
Can was outstanding – delivering arguably the most complete performance of his Liverpool career. The Reds need to sort out his contract situation as a matter of urgency. Whatever he's asking for, he's worth it. He deserves to be among the club's highest earners.

Can has blossomed under the guidance of Klopp and he's still only 23. Losing him for nothing next summer would be disastrous.
Usher assessed Jordan Henderson as man-of-the-match:
Set the tone for the performance with his relentless pressing high up the pitch. He almost opened the scoring after winning the ball and then exchanging passes with Sadio Mane; but was unable to hit the target under pressure from Petr Cech. On a day when most were outstanding, Henderson's passing, covering play and leadership made him Liverpool's best player.
This Is Anfield's James Nalton reserved praise for Joe Gomez's "perfect" performance:
Gave Alexis Sanchez nothing on his return to Arsenal's side, and demonstrated the strength in depth Liverpool have in this position.

[…]

Showed good pace and strength, and other than one free kick given away in a dangerous area, he was perfect.
And finally, Nalton also awarded some well-earned praise to Klopp:
It was a perfect display in both attack and defence, and Klopp and his team have to take the credit for this along with the players.