After a summer of avoiding transfer speculation and off-field drama, Steven Scragg is simply looking forward to watching Liverpool play football again.
Mid-July, Facebook conversation with Kev.
Kev: "What's your prediction for the coming season?"
Me: "More of the usual mate. Somewhere between third and sixth, with periods where we're world beaters, offset by isolated outbreaks of looking amateur."
Conversation killer.
Weather terminology used within football synopses are the future. I'd go for the retro 1970s/80s British Isles backdrop, with the classic stick-on weather features. Michael Fish mode, insisting there is no hurricane to worry about, then 24 hours later surveying a scene of trees embedded in suburban roofs in quaint Cotswold villages.
It's all just a little bit of history repeating.
I've broken my usual summer silence twice in the name of This Is Anfield during the close-season. Firstly, to preach the need for Liverpool supporters to enjoy the football-free part of the year, to chill out a bit, and secondly to frown at the club for detaching itself a little too much from its local, and match-going, fans.
The aggravation of pre-season isn't for me. Angst over not signing one player or another isn't for me. Hyperventilating over whether our star player is going to leave for Barcelona, or not, isn't for me.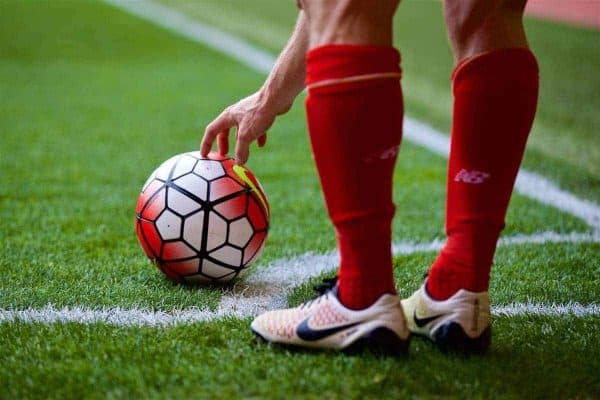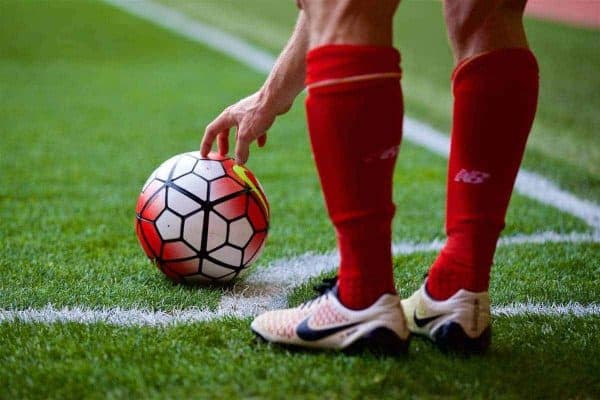 What is for me however, is football. The actual, competitive, game of football. Liverpool FC, going out onto a green, rectangular patch of grass, and contesting three points. You can keep the shadow puppets, you can keep the sideshow, you can keep the political 'FSG out' toing-and-froing, just give me the football.
Show. Me. The. Football.
We stand upon the cusp of a new season, and that is exciting. It doesn't matter who has left the club. It doesn't matter who hasn't joined the club. The players we do have is all that matters, once the whistle blows to start the game at Vicarage Road, against Watford on Saturday. Go out there, and win that game. It's as simple as that.
Football doesn't have to be angst-ridden. Football doesn't have to be endured. Embrace it, touch it, smell it, lick it, cherish it.
By the time the end of May rolls around, it will be gone once again, and you'll spend the summer watching the World Cup, panicking that our star player will move on, and getting angry, because we aren't buying every player we tap up.
I was glad to see the back of last season. I've chilled out this summer. I chill out every summer. Now, I'm ready for the new season. This is my cycle of footballing events now, and it has been this way for a good few years I suppose.
Season of unfulfillment ends: happy to see football disappear for the summer. Summer madness kicks in among the common or garden Liverpool support: eager for the football to resume so supporters stop moaning about transfer inactivity.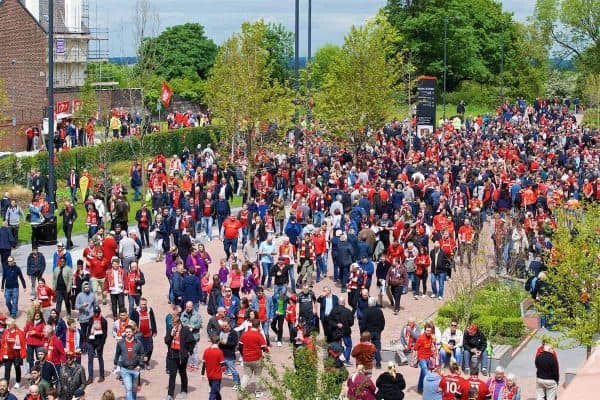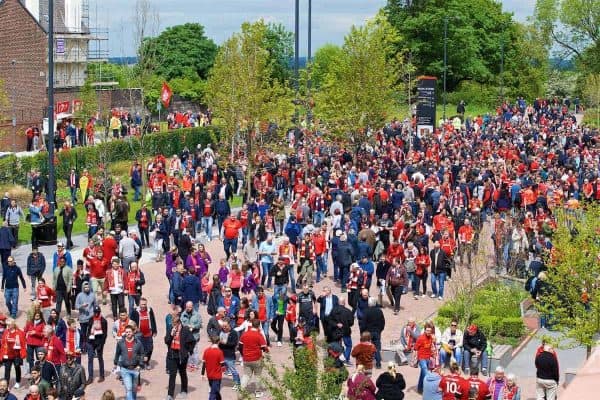 I tend to be OK with the absence of football, until the Football League kicks into action, the weekend before the Premier League. That last week before the first game of the season is an uncomfortable and itchy one. It was better when all the divisions kicked off together.
The drip, drip nature of European preliminaries, and lower-league opening days, combined to the staggered start of the opening weekend of the Premier League due to the needs of Sky and BT, means that the old fever-pitch excitement of the opening day has been diluted over the years.
You used to get a sense of trepidation on the opening day, a slow buildup which reached a crescendo where you felt your head was about to fall off.
Now, it just feels like you're the last one to be picked for five-a-side in P.E., as you watch everyone else get to play for a week, before you're allowed your turn.
But then, finally, it's back. A ball is being kicked around a football pitch. A chance is created. A goal is scored. Your head falls off. The scorer is one of those players you aren't completely convinced about. You look at him with a slightly tilted head, and through the subtle narrowing of the eyes.
Have you been wrong about him after all? Maybe it doesn't matter that we didn't buy that pacy midfielder that Tottenham Hotspur signed instead. You begin to talk yourself into believing that the squad isn't as threadbare as you thought it was.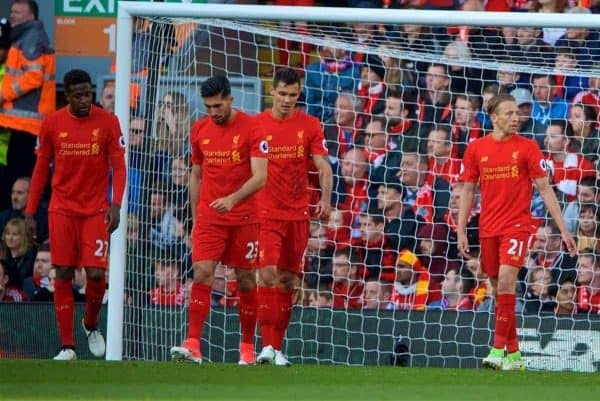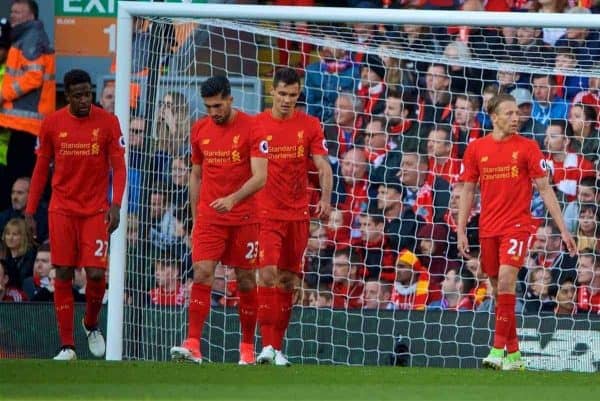 Then we concede from a set-piece. You curse our hereditary failings, and your soul sinks a little. The shoulders tense, and you start to perspire.
It's mid-August, it's humid, and you're dressed like you've just stepped through the 'Nothing to Declare' doors at JLA, after a week or two in the Iberian heat. We're not good enough for a shot at the title. Not with Lovren and Mignolet there.
Lovren rises like a salmon in the opposing penalty area, and we're 2-1 up. You celebrate. You burst out laughing. You scratch your head and look at your feet. Lovren would be great, if he just didn't switch off at sporadic and inopportune moments when under pressure.
Mignolet ponders whether to come for a cross or not. He doesn't come for it, and you curse him for it. The ball goes out for a corner. He has a surprised look on his face.
Mignolet ponders whether to come for the corner or not. He comes for it, he scuffs an attempted punch, and the ball drops in the penalty area. Chaos ensues, and it's almost 2-2. We get away with it, and he has a surprised look on his face. You curse him for it.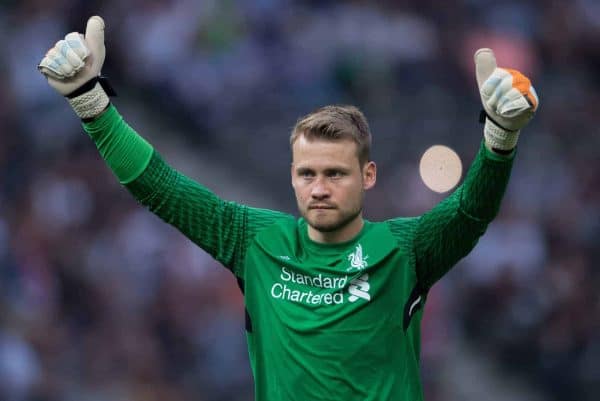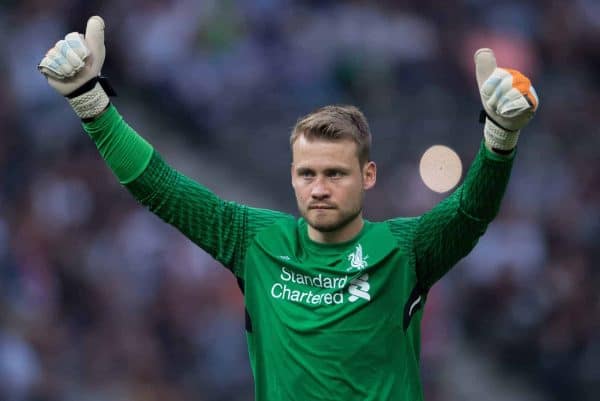 Two minutes later, Mignolet saves a penalty. You celebrate like we've scored a goal. He has a surprised look on his face.
Mignolet never looks anything other than surprised.
We hold on. We win. You head home, and you watch the footage of Jurgen Klopp going nuts on the touchline, in equal degrees of pleasure and pain.
Football is back, and you can't wait to do it again.
For me, the summer is a period of suspended animation when it comes to football, but come the opening game, the switch is flicked somewhere within my soul, and the passion pours out.
That itchy week, this itchy week, between the Football League kicking off and the Premier League doing likewise, brings everything to boiling point. It is anything but chilled out.
The coming nine months will be weird, wonderful, wacky, and at times woeful. Don't bother yourself with what's passed by since May. Now is the time, and it can't come quickly enough.