Southampton chairman Ralph Krueger has issued a statement over Virgil van Dijk's future, insisting the centre-back won't be sold this summer.
Van Dijk handed in a transfer request earlier in August, with the Dutchman believed to be targeting a move to Liverpool.
But with the Reds forced to publicly withdraw their interest in Van Dijk in June, they are waiting tentatively to be given the green light to make another approach.
This seems unlikely to be the case, as Krueger stressed on Wednesday that Southampton are "adamant" their captain won't leave.
"Virgil is not for sale in this window and it's not personal," he told Sky Sports.
"It's not about him, it's about an overall much, much, much bigger picture—a change of course for Southampton.
"The first summer I was here five players went out and six went in, not counting academy. Second summer three went out, seven came in, and third summer five went out, five came in.
"Now it is one out and two in, and this is who we want to become.
"We want to mature, we want to be a team that can profit from synergies that create a much more attractive football and a better product for the fans, and gives us a chance to get back into Europe.
"That's one player in this whole equation of 25 and it is the visible one.
"But for us it's the principle and it's the path and it's the statement we need to make to get to a new space as a club.
"We are very, very adamant about carrying this through.
"The new partnership has completely and wholly backed our strategy and plan and on September 1 people will see how serious we were and are."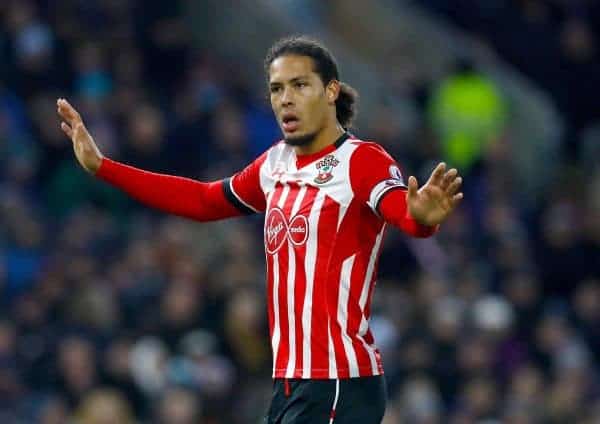 However, Krueger did seem to undermine his sentiment elsewhere, telling the Southern Daily Echo that there is no such thing as a definitive stance.
"I will tell you one thing—over the years we have spoken I don't give definite answers where there isn't a definite," he said.
"With all the knowledge I have today and all the information I have on my plate right now my answer is we are carrying our strategy through the summer and that's it."
Liverpool were reported to be facing competition from Chelsea, Man City and Arsenal in their pursuit of Van Dijk.
But with City now chasing a deal to sign West Brom's Jonny Evans, and Chelsea widely claimed to value Van Dijk at just £50 million, the Reds could be considered favourites.
But whether Krueger's stance is steadfast remains to be seen, but it is likely that this will develop over the next two weeks.