With Liverpool falling to a 5-0 loss to Man City, Steven Scragg is yet to start blinking again, since the wheels fell off so emphatically at the Etihad.
From occupying a promising position to get back into the game, to an unfortunate sending off, onward to a feeble rearguard resistance, and ultimately contriving to create a blunted attacking threat.
On a more balanced day, we'll beat Man City this season.
Georginio Wijnaldum being outmuscled, and outwitted, for the ball in the buildup to the opening goal aside, Liverpool were the aesthetic equal, or even superior, of City up until Sadio Mane was sent off.
Whether you agree with Mane's red card or not—and for the record, I don't agree with it—it was still no excuse for how the remainder of the game panned out.
Primary Targets Beyond the 37th Minute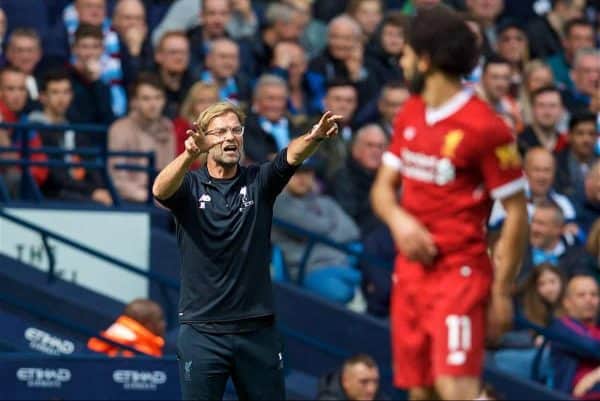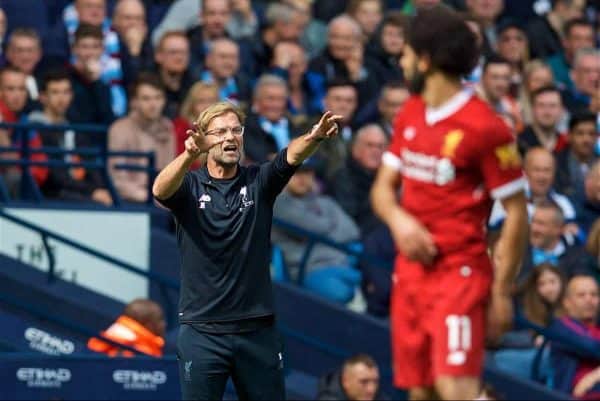 Get to half-time without conceding further goals.
Regroup effectively at half time, making substitutions which will make the game difficult for our opponents, and simultaneously retain a sharp point to the forward line, in an attempt to take any chances that do arise.
Do not gift Pep Guardiola any repetitive patterns of space; keep the back line focussed; don't give up the fight.
We didn't nail any of the basics of being down to 10 men. A free header on the six-yard line, dead central to goal, sixth minute of first-half stoppage time, and it's 2-0. In that one, fleeting moment, 'Mission Unlikely' became 'Mission Improbable'.
The removal of Mohamed Salah at the interval subsequently turned 'Mission Improbable' into 'Mission Impossible'.
Salah's removal was a double-faceted mistake. As brilliant as Roberto Firmino is, he isn't the type of player to single-handedly take the game to the opposition in the way Mane and Salah can.
Firmino is an ethereal threat, rather than a sensory punishing one; the stealth of this Liverpool side, not the bludgeoning pace-setter. Firmino complements Mane and Salah perfectly.
Take Mane and Salah away from the equation, however, and Firmino can only do so much.
Firmino will continue to produce an opening, but without Mane or Salah there to take advantage, then it's an empty gesture. Salah's withdrawal should not have come until a third goal was shipped.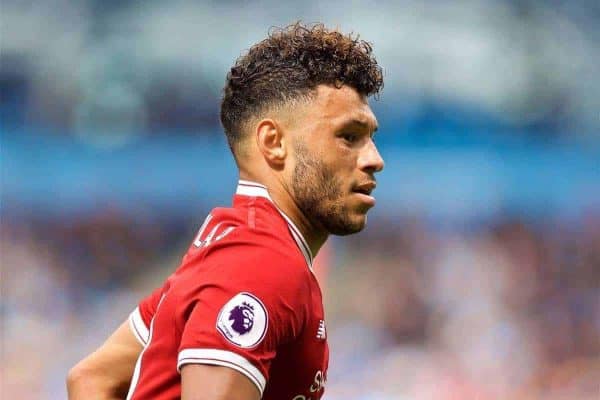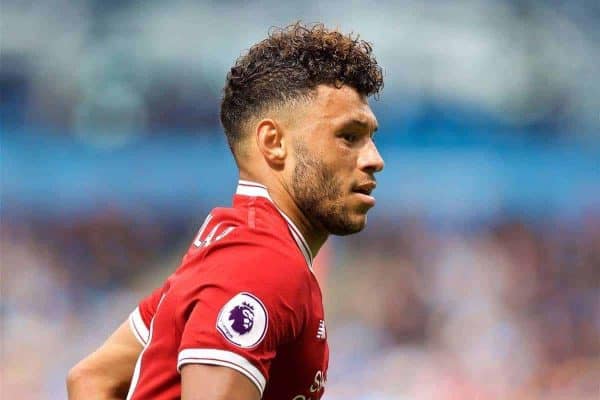 The second part of this mistake came in the introduction of Alex Oxlade-Chamberlain: as thankless a debut experience as he could possibly have been handed. He needed a more 'upbeat' introduction than the one he was afforded here.
No positives could be gained from the half-time swapping of Salah for Oxlade-Chamberlain.
In one fell swoop, we negated the remaining realistic collective threat we posed our opponents, and gave a new signing a potential inferiority complex.
The space we handed City was criminal. Giving any Pep Guardiola side a one-man-advantage is said to be the most suicidal gesture in football.
We really didn't need to be making our task any harder than it was by spiking our own guns at half-time.
Tonight Matthew, I'm Going to Be Harald Schumacher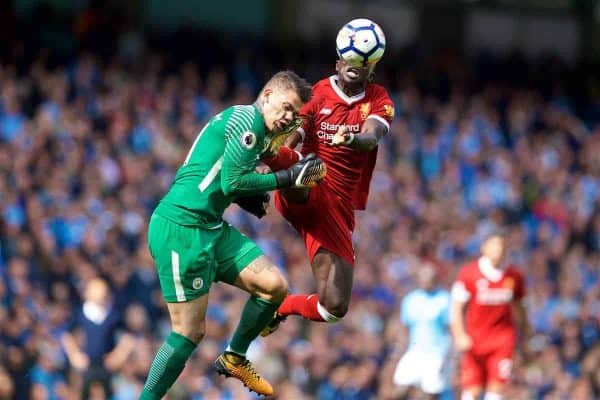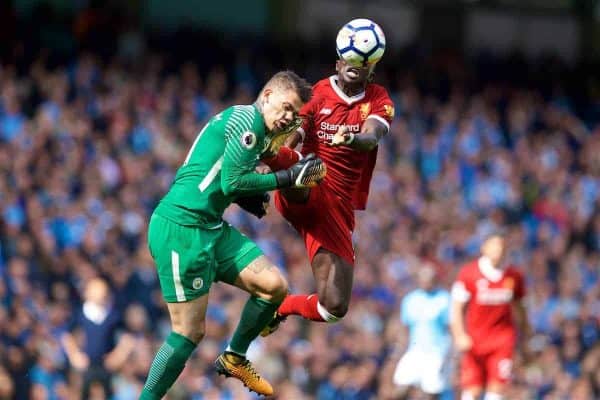 Dependent upon your point of view, Mane did, or didn't deserve to go. Eyes definitely on the ball, foot certainly high and contact unmistakably made.
Harald Schumacher vs. Patrick Battiston, except in reverse, according to anyone with an anti-Liverpool mission statement.
Ederson, a goalkeeper venturing outside his penalty area, taking the risk of intercepting an onrushing goal threat. He came, he lowered his head in an attempt to reach the ball.
A risky manoeuvre. It wasn't a pretty coming together. There was no malice intended.
Mane was trying to bring the ball down in the same manner that he has on countless occasions. If he puts his head to that ball, then it runs on ahead of him.
Mane doesn't attempt that style of ball control out of fear of hurting himself. It is an attempt to keep the ball close. The referee calls it wrong.
Every wrong step we take for the rest of the game springs from the events of the 37th minute.
There's a Time and a Place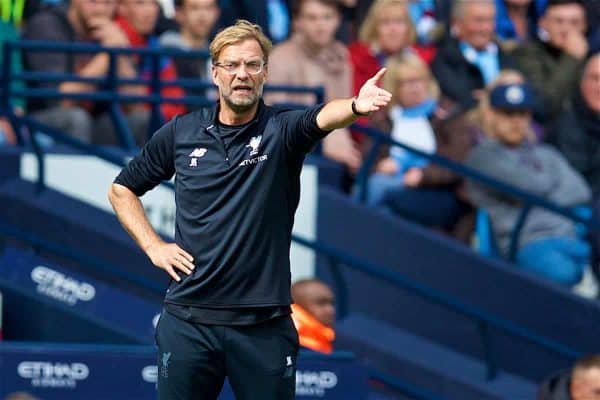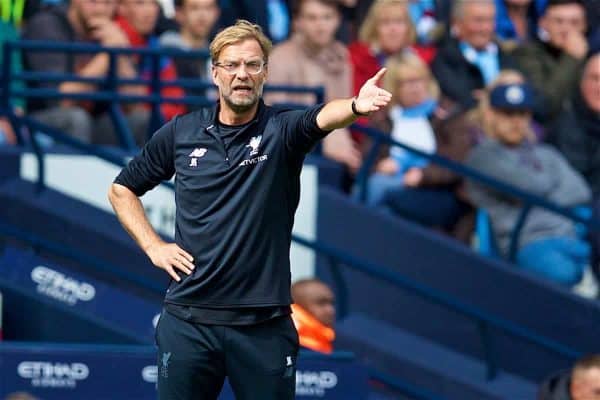 Yes, Jurgen Klopp had to make landscape considering, tactical selection decisions. The Champions League proper kicks in on Wednesday night. Sevilla are on the horizon.
Yet, Man City away is no place for Ragnar Klavan. When do we start to blame the defensive system, as much as, if not more so than the individual components?
Scapegoats are for the unobservant, but there is a time, and a place for certain players.
Which leads us to Philippe Coutinho: when and where is the time and place for Coutinho?
Sevilla? Burnley? Beyond?
Profligate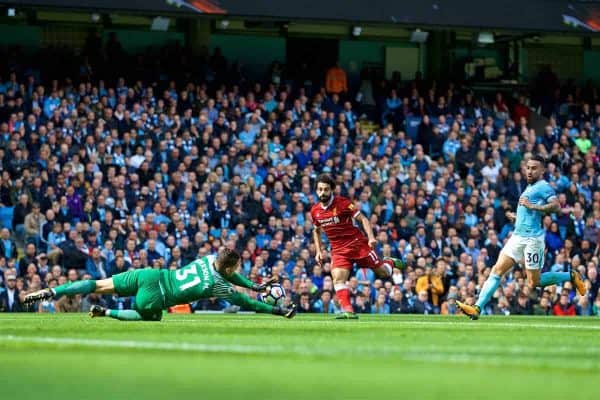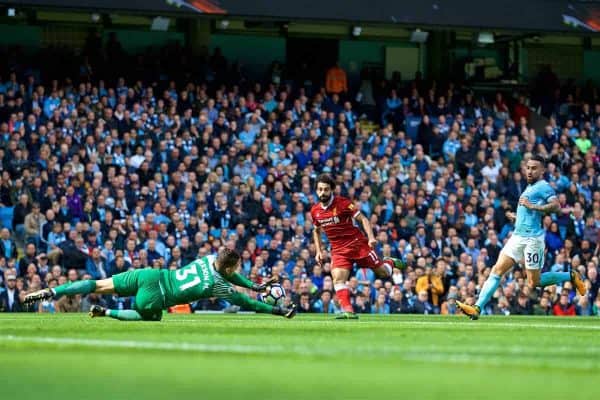 At 1-0, and with a full complement of players, Salah once again missed when in a one-on-one situation with a goalkeeper. This is happening on too regular a basis for comfort.
While Salah is a wonderful footballer, he needs to be more clinical. This miss was as big a turning point in the match as Mane's sending off.
Up to the 37th minute of the game we moved the ball well, we created the better situations, and danced a better fight than Guardiola's side did.
As worrying as it is, that the wheels fell off as cataclysmically as they did, you can't attach much bearing of the remainder of the game to our wider contemporary position.
We offered two, arguably unrelated, visages. Fluid, yet profligate with chances and situations with 11 men on the pitch. Questionable constitution, and application with 10 men on the pitch.
The one consistent issue on both sides of the coin was the ease with which we were opened up for the goals we conceded.
Get Angry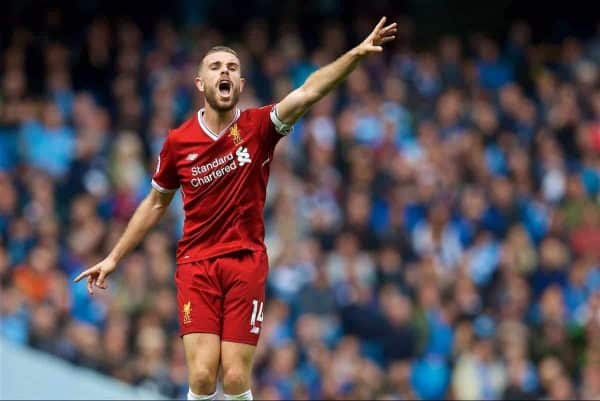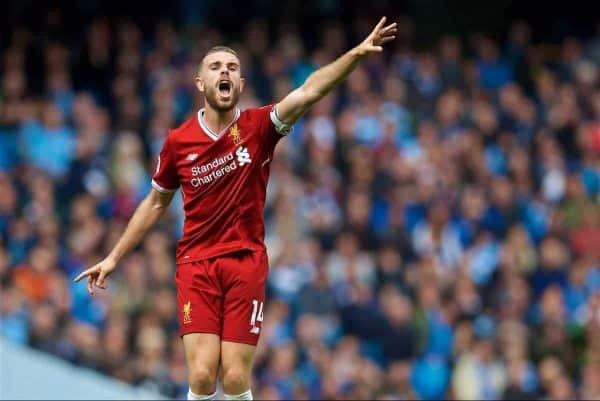 I'd like our players to feel angry about this loss. I'd like them to feel short-changed.
I'd like them to feel a burning desire to redress the balance, both in the games ahead, and when Man City come to Anfield in January.
Remember the mistakes, remember the sleight of hand, remember that for 37 minutes it was a game where we had designs on taking something from it.
Channel the anger in a positive manner. Don't lick your wounds for long. Get yourself up, dust yourselves down, and make someone pay in the best possible way. Lessons must be learned.