With Sadio Mane facing the next three games out through suspension, Jurgen Klopp is considering three options to replace Liverpool's key winger.
Mane was sent off for a high challenge on Man City goalkeeper Ederson in last weekend's 5-0 loss at the Etihad Stadium, with the Reds' subsequent appeal rejected.
This means the Senegalese will miss Saturday's clash with Burnley in the Premier League, as well as the midweek trip to Leicester City in the League Cup, and then again in the league.
Having already scored three and assisted one in seven games for Klopp's side this season, Mane's absence could be significant.
But speaking to reporters at Melwood on Friday afternoon, the German insisted he has the options to navigate the absence of his No. 19.
"It was clear before the season there would be moments when he cannot or should not play," he said.
"That's how we reacted in building the squad [in the summer], so we have options.
"Roberto [Firmino] already played left wing, of course Phil [Coutinho] can play there, Alex [Oxlade-Chamberlain] can play there.
"More options, that's all good. We can change the system; we can do a lot of things.
"It's always difficult to replace top-class players in really good shape, but we did it last season, and I think in most of the games we did really well, so that's it."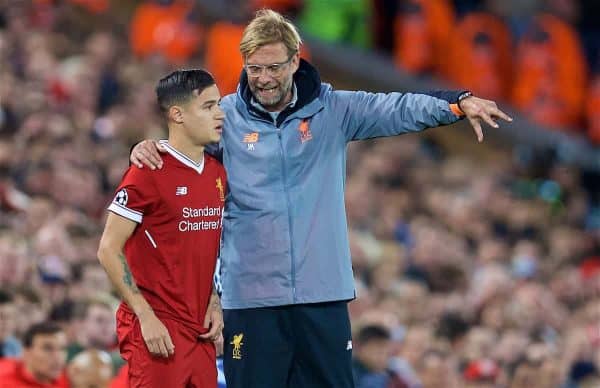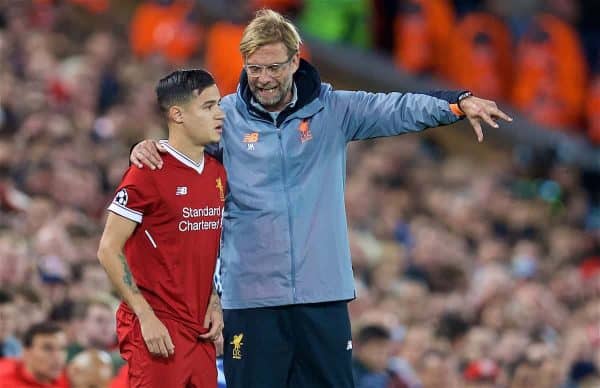 Klopp's assertion that Liverpool managed well without Mane last season is questionable, with his absence through injury and international duty damaging their chances.
But he clearly has more options to replace him this term, particularly with the arrivals of Oxlade-Chamberlain and Mohamed Salah.
The most interesting candidate for Saturday, however, is Coutinho, with the Brazilian potentially set to make his first start of the season filling in for Mane.
"You can build up, get minutes, when you start," Klopp said when asked if Coutinho is fit enough.
"That's not the moment when we talk about the lineup for tomorrow, but he should be ready.
"It was really nice how the crowd welcomed him [against Sevilla], nobody was 100 percent sure about this. I'm really happy how we were, as the Liverpool family, sensitive.
"Yes, he trained outstandingly in the few sessions we've had so far together, since he's back.
"In the game he was not perfect, but that's how it is after a long break, and it helped him.
"For sure, he's ready to think about [starting]."