Liverpool experienced a rollercoaster ride in their opening Champions League group game, with defence undoing attack in a 2-2 draw with Sevilla.
Liverpool 2-2 Sevilla
Champions League Group Stage, Anfield
September 13, 2017
Goals: Firmino 21′, Salah 37; Ben Yedder 5′, Correa 72′
---
Firmino Hit and (Penalty) Miss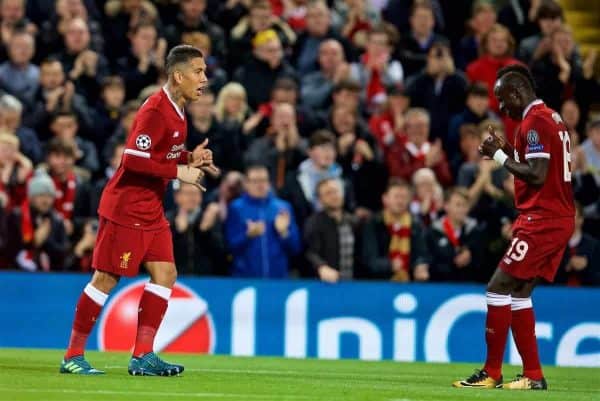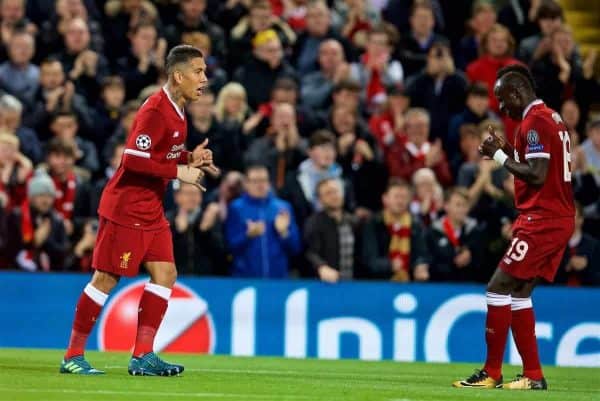 It was almost a complete performance from the complete striker.
A poor spot-kick marred an otherwise good display where Roberto Firmino was able to act the target man, the poacher, the defender from the front, but sadly not the penalty taker.
Flanked by the lightning quick Mohamed Salah and the direct Sadio Mane, Firmino was the fulcrum of the team's attacking play, winning headers, linking play and scoring.
The team could have, and perhaps should have, scored more goals in this game, and in the end his missed penalty could have cost the side maximum points.
Sevilla manager Eduardo Berizzo said after the game that the miss gave his team strength to recover, and they came into the game after that.
But this shouldn't take away from Firmino's all-round performance which was impressive, as is regularly the case.
Karius Composed, Calamitous or Just Unlucky?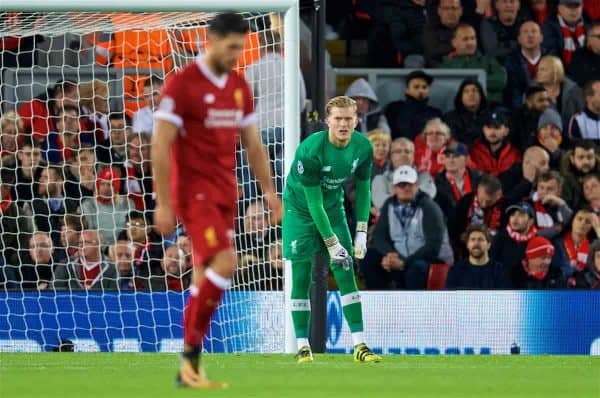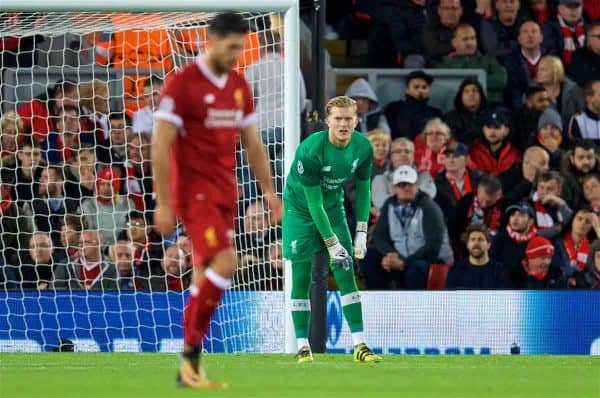 Other than the goals—which he could do little about due to the quality of the cross for the first and the failure of those in front of him to deal with the second—Karius had little to do in the way of saving shots.
The Kop were determined to put pressure on him as he stood in front of them during the first half, impatiently making noise in his direction as he failed to release the ball quickly enough for their liking on one occasion.
The low hum from the stands when the ball approaches a Liverpool goalkeeper would be enough to make even Manuel Neuer nervous, but Karius got on with his job.
He collected or punched a couple of high balls, sprang counter-attacks with quick throws and generally dealt well with the footballing aspects of a goalkeeper's game.
The second goal conceded was effectively a penalty kick in open play as Joaquin Correa split the Liverpool centre-backs with one touch and finished past the sprawling German 'keeper.
He will get some stick for facing two shots and conceding two goals, but those in front of him need to make these attempts more difficult rather than giving strikers free shots at their team-mate between the posts.
Matip on the Charge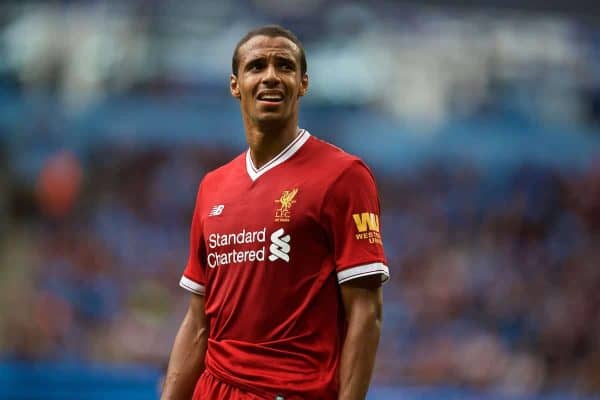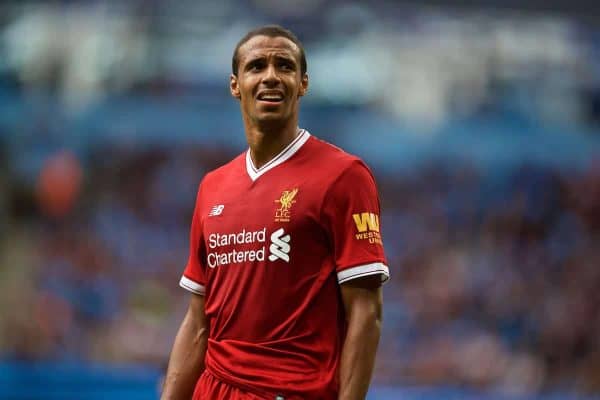 No one is sure where he was for the Sevilla goal, which isn't necessarily a criticism.
It's just that while Dejan Lovren made his whereabouts perfectly clear with a failed clearance, Joel Matip, who you might have expected to cover that area, was somewhere else and can only be found after the fourth or fifth replay.
Where the former Cameroon international could be easily found, however, was careering towards the opposition goal as defenders backed off him, under the impression that they only had to mark attacking players to stop Liverpool attacks.
They were wrong.
It recalled some of Kolo Toure's adventures in a Liverpool shirt, which led to the Ivorian gaining something of a cult status at the club despite his short time on Merseyside.
But Matip's play summed up his side's as a whole: great going forward, but often missing during important moments at the back.
Moreno Makes Amends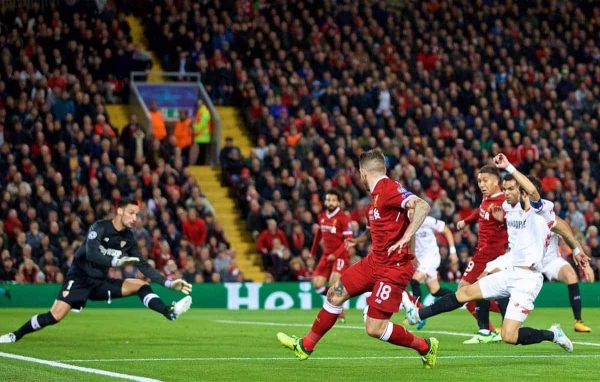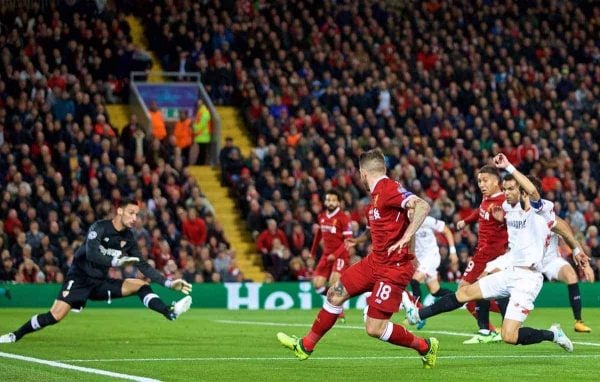 Having been made the scapegoat following Liverpool's loss to this opposition in the Europa League final in 2016, former Sevilla player Alberto Moreno made sure that he was on the top of his game on Wednesday night.
His pace is a weapon down the left-hand side, and he'll often use his bursts of speed to cut inside as well provide an overlap for Mane.
He drifted inside to play a one-two with Jordan Henderson to produce the side's excellent equaliser, crossing to Firmino who'd got ahead of his man and the goalkeeper to tap in.
At times in the second half he appeared to forget he was on a yellow card, which he picked up after careering into Gabriel Mercado at top speed.
But as it turned out it was Liverpool's other full-back, Joe Gomez—who had also put in a decent performance—who picked up a careless second yellow.
Moreno looks to have recovered from the criticism he regularly receives, often unfairly, and is now looking like Liverpool's first-choice left-back, despite new signing Andy Robertson impressing when he's been given the chance.
The Standing Spion Kop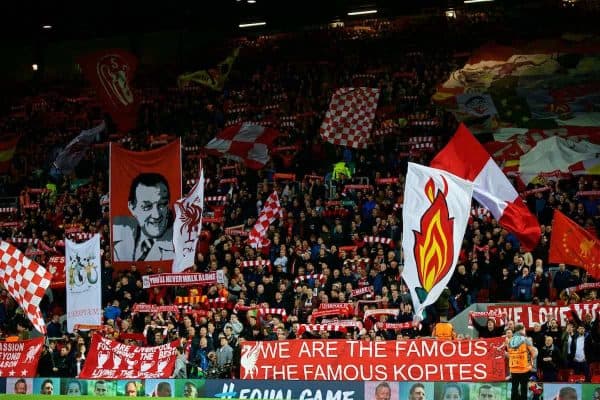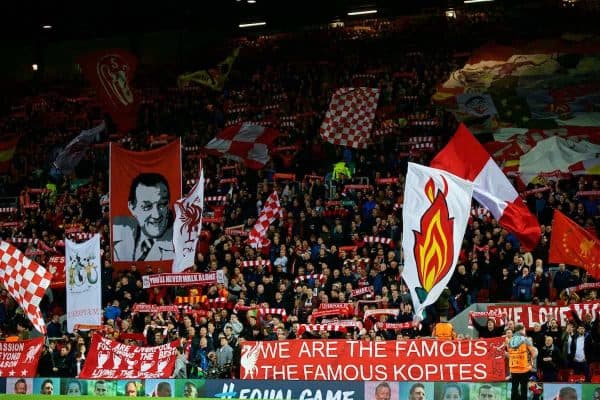 In a climate where safe standing and rail seating is on many an agenda, it was notable that the entire Kop stood for the entire game, as they probably will for all the Champions League matches and other big games this season.
Liverpool are rightly at the forefront of any discussion surrounding this issue, but based on this game it seems that the majority of the club's core support would prefer to stand if possible.
They voted with their feet.
Supporters group Spirit of Shankly recently ran a poll in which 88 percent of voters were in favour of introducing some sort of standing facility in the ground.
For more information on this issue read the following reports by the Guardian's Liverpool reporter Andy Hunter here, and here.