A decidedly mixed start to the season has seen the Reds both celebrate big wins and suffer heavy losses, so which players have improved their credit early on?
Ten games into the 2017/18 season, now is a logical cut-off point to assess how Liverpool's campaign has started and look at which players have seen their stock risen, or sink, so far.
Jurgen Klopp's men been on both sides of heavy beatings against rivals—winning against Arsenal, losing to Man City—and while they have made strides in Europe, they're out of the League Cup domestically.
Naturally an amount of rotation in those three competitions has ensued, but Klopp has also had a clear 11 or 12 players who have featured most frequently.
Here are the four on each side of the divide: who have impressed most and who have more work to do.
Up: Philippe Coutinho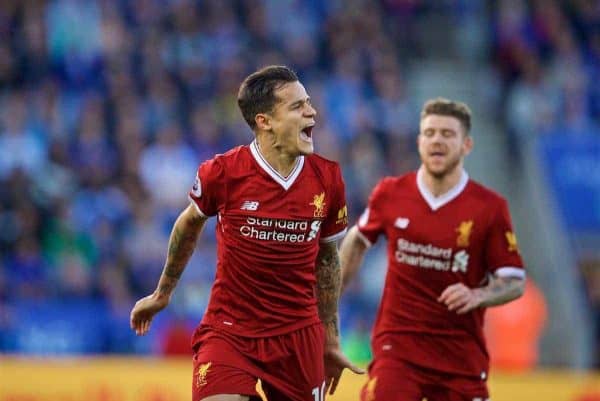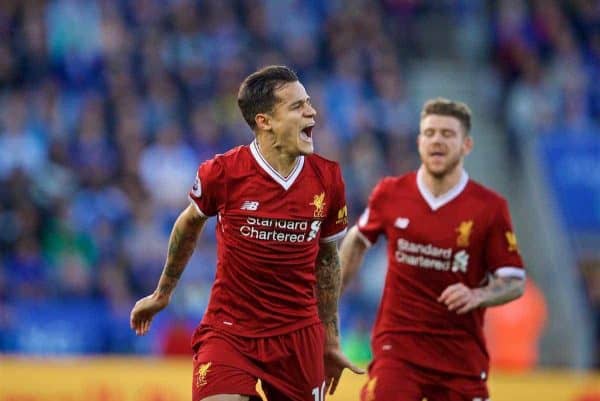 After Coutinho's move to Barcelona failed to materialise, there was mixed anger and resentment among a group of fans that the Brazilian had wanted to leave in the first place.
Any fears that lingering animosity might be translated into the stadium was quickly assuaged when the No. 10's name was given a big cheer as he was named on the bench against Sevilla—and his on-pitch displays have done the rest.
Coutinho was majestic against Leicester in both games, giving the Reds utter dominance in his 45 minutes in the League Cup and a pivotal three points in Premier League action.
Already he has a goal and assist to his name despite minimal involvement this term and the assumption will be he continues this upward trajectory to play a big role going forward in 17/18.
Down: Gini Wijnaldum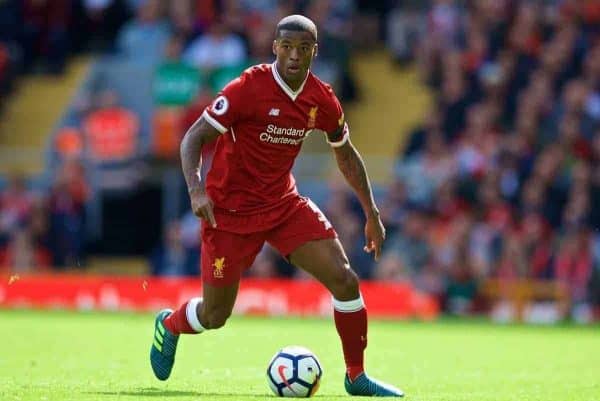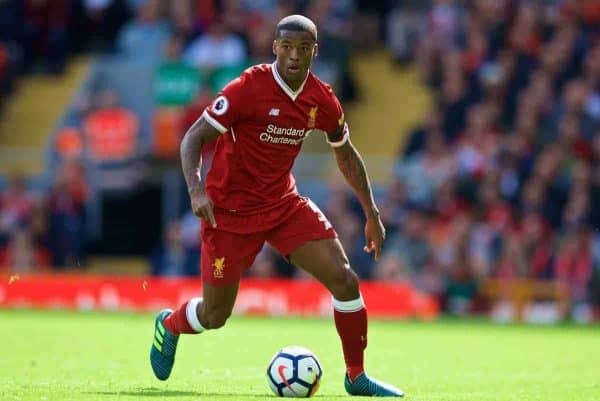 It isn't all smiles for the regular starters though, with Gini Wijnaldum's form continuing to be erratic.
The former Newcastle man has earned a reputation of underperformance in away games, being labelled a ghost in some quarters, and it will doubtless take a few matches of improvement to shake such a tag.
Liverpool can't afford to carry players right now and if Wijnaldum doesn't precisely hit the notes of being individually terrible, he certainly mirrors the form of the team.
If the Reds are looking good, he's a pivotal part of forward momentum. But when things aren't going so well, Wijnaldum has failed to help turn things around, a key attribute for a starting midfielder.
He's likely to continue as one of the first-choice players for now, so turning around his form on a more regular basis is imperative.
Up: Alberto Moreno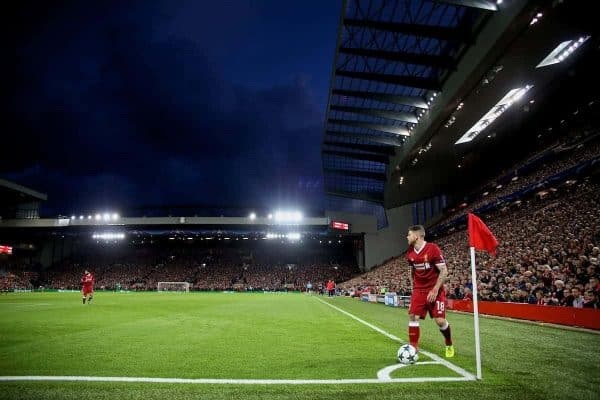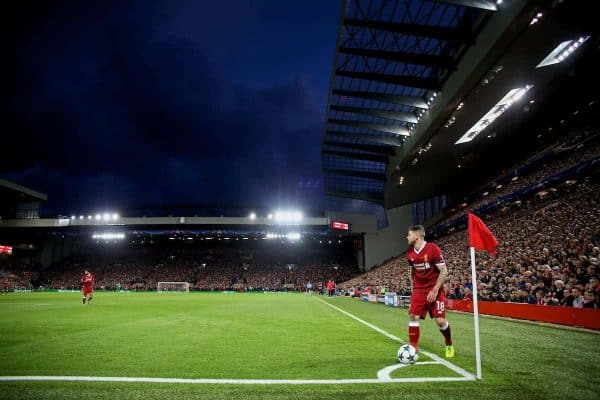 From being a point of anger and ridicule, to Jurgen Klopp's first-choice left-back: it has been quite a reversal of fortunes for the Spanish defender.
Alberto Moreno isn't infallible, nor has he been perfect every time he steps on the pitch. Indeed, there are those who will now refuse to see his uses, such have been his past errors.
But that's irrelevant. Moreno is in possession of the shirt for big games right now, and is contributing to team performances.
On the overlap he can be electrifying and already more than once he has been a critical addition to the attack alongside or beyond Sadio Mane and Mohamed Salah.
Competition for places and earning back the manager's trust is clearly working wonders for Moreno, as it is for the Reds' full-back options in general.
Down: Alex Oxlade-Chamberlain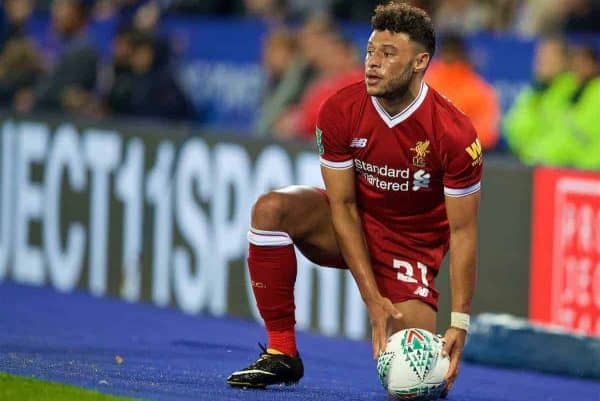 It's very early days, but it has been a tricky start for Alex Oxlade-Chamberlain after joining from Arsenal and the only way is up.
The former Gunners man has already been deployed on both flanks, as impact sub late in matches and with a start in the League Cup, but he looks short on confidence and sharpness—Liverpool fans certainly haven't seen anything like his best form yet.
A succession of poorly executed dribbles, crosses and passes against Leicester in the cup game saw him derided on social media, but it's not indicative of what Oxlade-Chamberlain's overall contribution will be.
He has work to do to win a regular place, particularly with Coutinho coming back and Sadio Mane now free from suspension, but the midfield in particular has at least one spot up for grabs.
Klopp has done particularly well to get underperforming players back to a higher level of consistency and confidence, and the latest Reds signing is another who will benefit from the boss' approach.
Up: Joe Gomez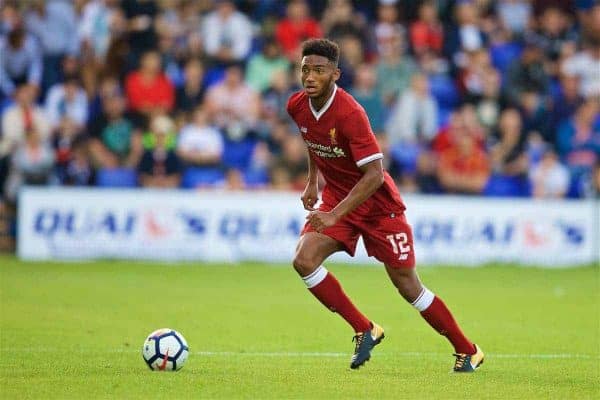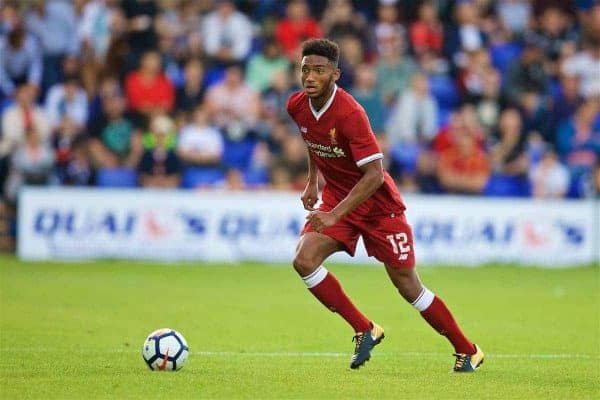 Moreno has seen off Andrew Robertson for left-back, for the time being at least, but on the right it's an ongoing rotational situation.
Trent Alexander-Arnold has won the admiration of fans—and rightly so—for his impressive displays and Champions League goal despite his inexperience, but Joe Gomez also deserves noting.
It's Gomez who has marginally inched ahead in Klopp's thinking, perhaps merely due to slightly more experience or the fact he's more defensively resilient.
Against Sevilla it was Gomez who got the nod to star, suggesting he may have been slightly ahead in the order of preference, but between the two youngsters they have filled in for Nathaniel Clyne admirably.
Sure, Gomez has made the odd error of judgement—mis-timed challenges, his late red in Europe, a few instances where he has been turned too easily—but it's easy to forget this is his first sustained run of competitive matches in two years.
He is playing very well, for the most part, and is deservedly in the reckoning for game time on a regular basis.
Down: All three senior centre-backs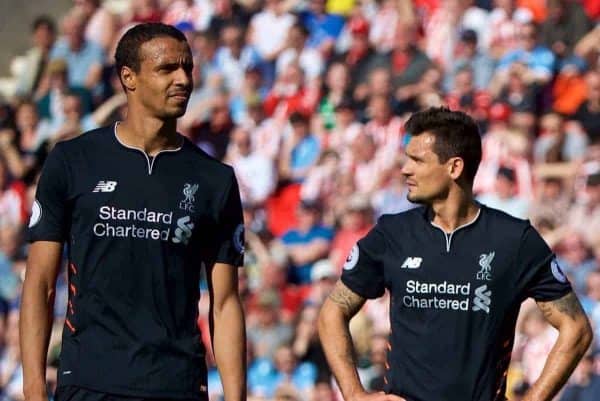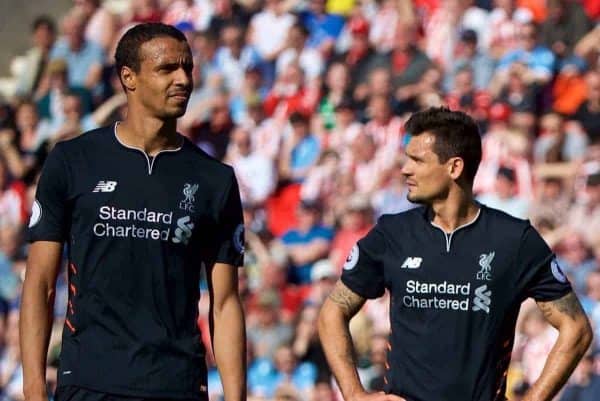 There are no surprises when Liverpool make costly errors at the back, a fact which is the most damning element of Klopp's reign thus far: he hasn't fixed what was clearly broken upon his arrival.
A failure to add to the central defensive pool in the summer leaves the Reds with three seniors: Joel Matip and Dejan Lovren, the first-choice pairing, and backup Ragnar Klavan.
The Cameroonian is usually the most stable and reliable of the trio, and he has played well in certain games (such as Sevilla for most of the 90 minutes), but a recent downturn in form has seen him err as much as the more-maligned Lovren.
Where Lovren's antics are usually made pertinent, of course, are that he does so in critical areas and with greater regularity (again, such as the Sevilla match early on).
There's no way around it, Liverpool have to work with what's left, at least until January.
But the fall-out from the transfer window and the ensuing form of this trio mean the Reds' centre-back stock as a whole has rarely been lower. Someone has to step up and lead.
Up: Daniel Sturridge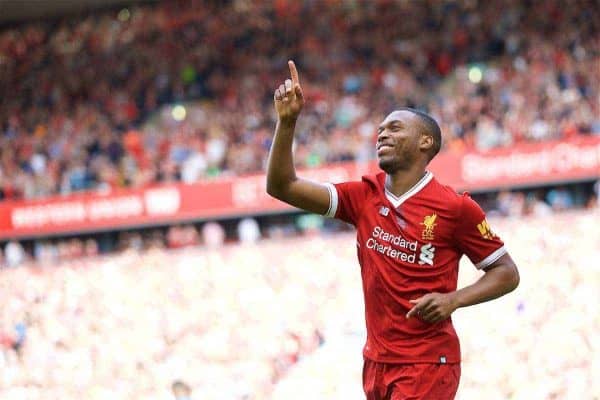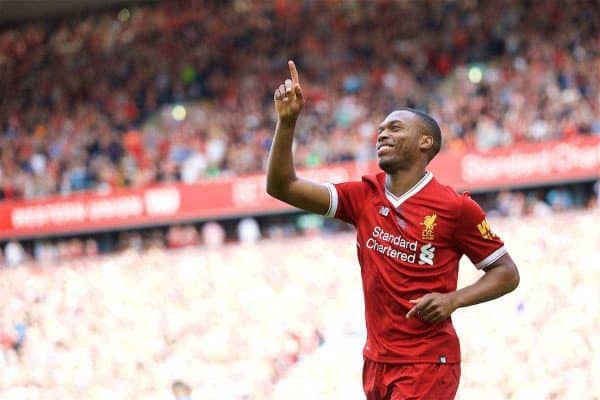 There seems to be an acceptance-from fans, if not the striker himself—that Sturridge can play a crucial secondary role now for Liverpool: off the bench to impact, and an irregular starter to rest Roberto Firmino.
Whether he can find the consistency in form and fitness to change his importance in the eyes of the manager remains to be seen, but the fact is that Sturridge has at least twice put in telling displays for the Reds, showcasing depth which was previously missing.
He can score, he can create, he can help control a match.
Sturridge has always been an all-round, technically superb talent. Where he once was rapid and predatory he now may be more considered and involved outside the box, but he will remain a source of goals.
The No. 15 deserves more chances to show his importance to this team, be it in the XI or with minutes as sub.
Down: Jon Flanagan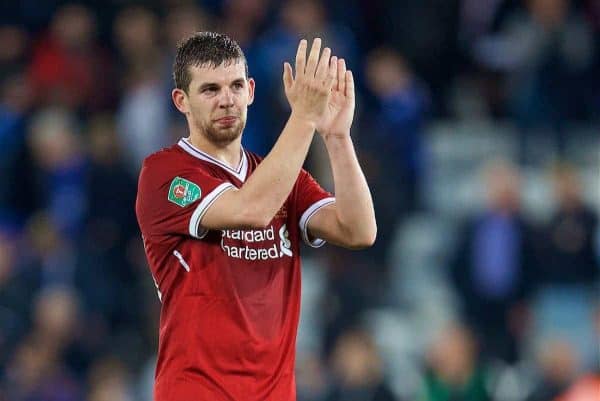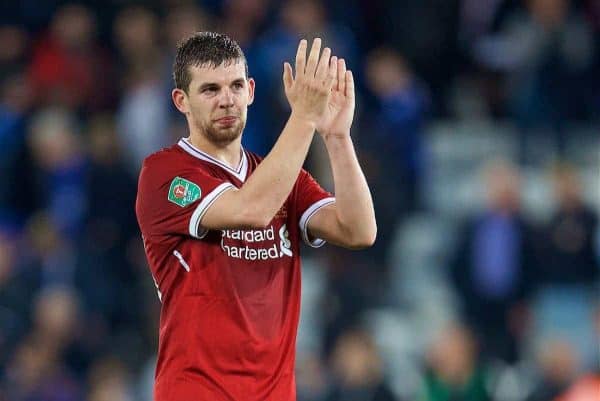 Most players who haven't been hugely involved this season were given a run-out in the League Cup, but while the likes of Danny Ward impressed, Jon Flanagan struggled.
The full-back is at-best fourth choice on the right, third-choice on the left, and he failed to really grasp the chance to stake his claim as the Reds were knocked out.
A lack of pace was exposed more than once, and he has rarely been the kind of player to contribute enormously to build-up play.
Game time will be hard to come by from now until January, with the Reds out of domestic cup action until the FA Cup third round.