An influential performance from Philippe Coutinho helped Liverpool see off Leicester City on Saturday, as the Brazilian allayed fears that he will 'down tools' since being denied a move to Barcelona.
"'Monumentally angry' Philippe Coutinho will refuse to play for Liverpool in the Champions League," screamed one report less than three weeks ago.
The summer soap opera that was Coutinho's continuous on-off move to Barcelona was painful, but he eventually stayed put on Merseyside.
Despite the 25-year-old being retained, there were some fears that he would cut an unhappy figure, having not been granted his dream move, and be outcast by Jurgen Klopp in Mamadou Sakho-esque fashion.
Despite a few understandably rusty, quiet performances on his return to the side, it appears as though there was no need to worry.
Coutinho roared back to form in the nervy 3-2 win at Leicester over the weekend, in a display that confirmed where his focus now firmly lies.
King Power masterclass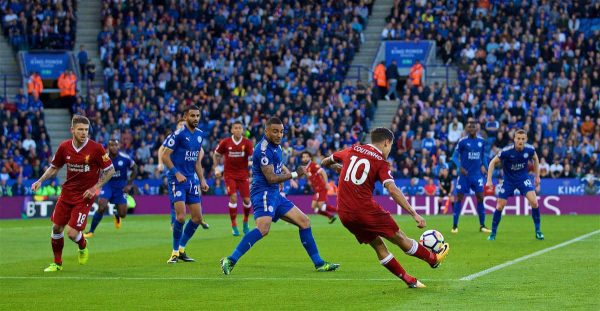 With Sadio Mane still absent through suspension, Klopp used Coutinho in the left-sided role that he had hoped to move away from this season.
Although a deeper, more central berth needs to be his position moving forward, Liverpool's No.10 was still majestic in the front-three, and never showed any sign of unhappiness at being used there.
The influence that he had on the eventual result was enormous, and while there have been more memorable Coutinho performances in the last four years, this was particularly pleasing after everything that went on in the summer.
From minute one he looked up for the fight, and there was a tenacity to his game that you don't see if a player is disinterested.
Coutinho's superb cross allowed Mohamed Salah to head Liverpool in front, and in the process, he became the leading Brazilian assist-maker in Premier League history, with 30.
A trademark 30-yard free-kick then doubled the lead in stunning fashion. There are very few better in world football in that area, when you exclude the once-in-a-lifetime genius of Lionel Messi and other set-piece masters such as Miralem Pjanic and Hakan Calhanoglu.
16 – Philippe Coutinho has scored more goals from outside the box than any other player in the @premierleague since his debut. Skill.

— OptaJoe (@OptaJoe) September 23, 2017
Every time Coutinho had the ball at his feet, you felt as though something would happen, and he found another gear after a promising 45 minutes on the same pitch in the League Cup last Tuesday.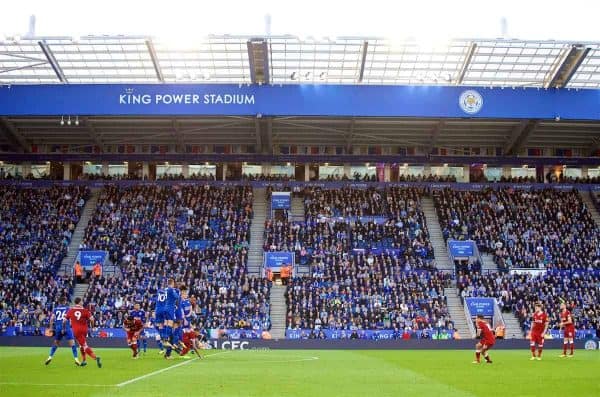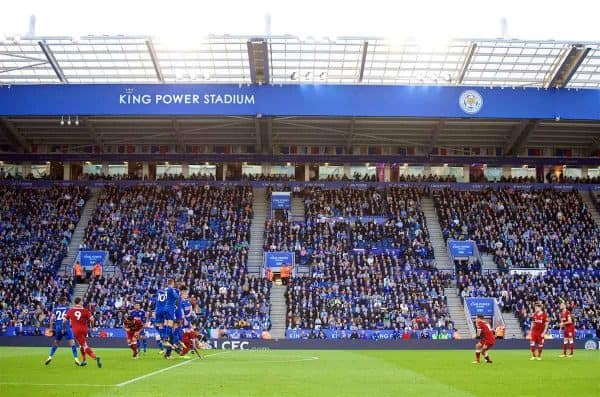 After the game, Klopp said he felt the supporters forgiving the diminutive South American has been key, and that it has allowed the situation to reached its conclusion.
"It's not about Coutinho's character but it says a lot about the relationship with our supporters and Phil Coutinho," he said.
"Because when he came on (against Sevilla) for the last 15, 20 minutes, nobody knew how Anfield would react.
"Maybe we don't agree always in each moment, like people are, but when you have a short minute to think you remember we are family.
"That's how they reacted, they really loved it and that helped Phil a lot. He can play football, he can be concentrated on football, he can perform."
The manager is spot on, and we should now feel excited about what Coutinho may produce between now and the end of the season.
Memorable 2017/18 campaign?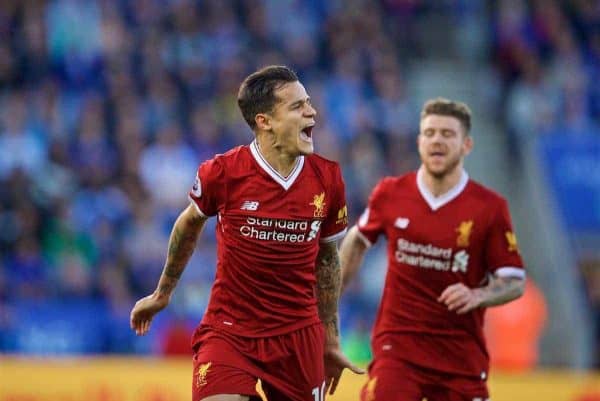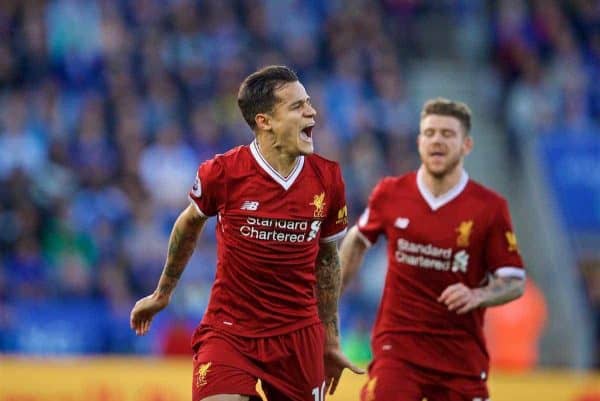 With all the Barcelona nonsense a thing of the past (for now), Coutinho can concentrate solely on football for the foreseeable future. That is such refreshing news for Liverpool fans – and a nightmare for their rivals.
As he showed against the Foxes, he is one of the Premier League's best players when on-song, and he is coming right into his prime.
There is so much more maturity about his general decision-making and consistency, and he now has an aura that all great players possess.
It would be wrong to assume that he will stay at Liverpool forever – he may well be gone this time next year – but these next eight months or so can be special.
With Klopp expected to use Coutinho deeper, we are now on the verge of finally seeing him deployed in a competitive game behind the trio of Salah, Mane and Roberto Firmino.
On paper, that has the potential to be Liverpool's most exciting attacking unit for many years, with Coutinho the architect behind the fluid front three.
The Brazil international has the kind of vision that many players can only dream of, and with the pace and movement of Salah and Mane ahead of him, and a telepathic understanding with compatriot Firmino, we could be in for quite a treat.
The quarter have only lined up together once so far, in pre-season against Bayern Munich and that didn't turn out bad!
It is easy to forget that Coutinho still hasn't won any silverware at Anfield, and if he could inspire the Reds to glory of some kind, it would be the perfect way to sign off, if he is to leave next year.
While a Premier League and Champions League charge look a little unlikely right now, due mainly to Liverpool's continued hapless defending, if Coutinho and his fellow attackers click, you just never know.
Legacy on the line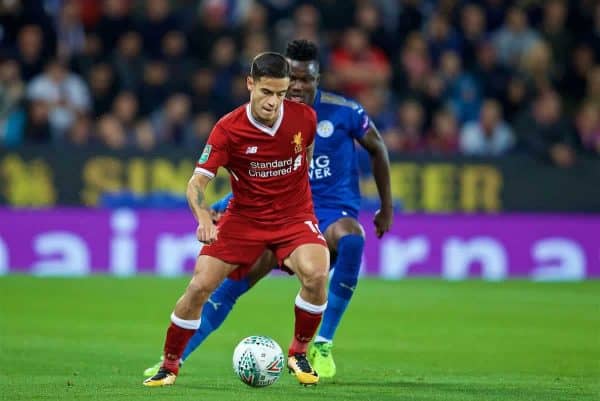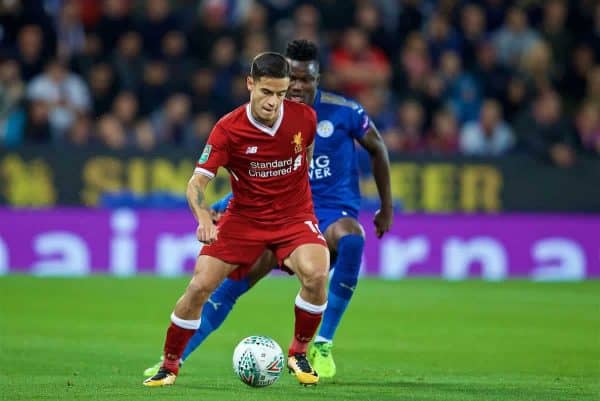 It would be a mighty shame if Coutinho's sublime performance at the King Power proved to be a one-off.
For all that has been written over these last few months, a lot of it has been made-up and he doesn't come across as an individual who will down tools.
Luis Suarez ensured he will forever be remembered as a Reds great, having responded incredibly after a summer of discontent in 2013, and Coutinho can do the same.
Admittedly, he is unlikely to be quite as unplayable as Suarez was in 2013/14, but a career-best campaign in 2017/18 will see him remembered very fondly.
The Barcelona saga has acted as a giant hindrance to Klopp, Coutinho, the team and the supporters, but now that it's over, we can watch Liverpool's most gifted player shine without the weight of the world on his shoulders.
Hopefully, Leicester was just the start.