A delighted Jurgen Klopp hailed his Liverpool side for battling to a vital 3-2 victory away to Leicester City in the Premier League on Saturday evening.
Goals from Mohamed Salah, Philippe Coutinho and Jordan Henderson proved enough to secure the three points at the King Power Stadium, despite the Foxes' best efforts.
Shinji Okazaki stabbed home a controversial strike on the cusp of half-time, while Jamie Vardy nodded his sixth goal against the Reds, but then failed to beat Simon Mignolet from the spot.
After a run of four games without a win, including a 2-0 loss to Leicester in the League Cup third round on Tuesday night, this result was key for Klopp's side.
And speaking after the game, the German insisted Liverpool are still "in a good way."
"We like to work together with each other. We have a fantastic atmosphere at Melwood, where we work together," he told reporters.
"There are a lot of people, 100-and-something people working there, and we all really want to be successful because we like the constellation and how it is there.
"We like the mood, we like all the people. In modern football that's maybe rare, I'm not sure, but we want to be successful together.
"That means we always feel bad together when it's not that good. We've felt quite average the last few days, and today much better."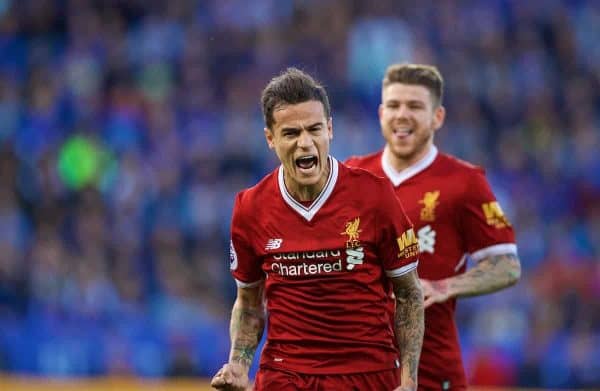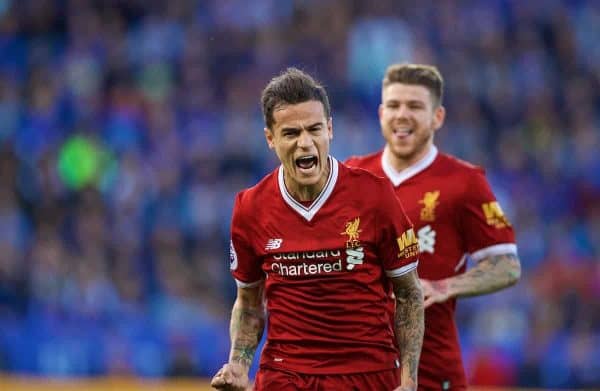 Klopp was full of praise for Coutinho in particular, with the Brazilian scoring his first goal of the season with a stunning first-half free-kick.
Managing Coutinho's fitness after a long spell out has been an issue for Klopp in recent weeks, but he stressed that his No. 10 is ready for his first 90 minutes in the near future.
And the manager believes Mignolet had a "good game," particularly with his stop to deny Vardy's penalty, which Klopp felt should not have been awarded.
Liverpool have little time to celebrate, as they travel to Spartak Moscow in the Champions League on Tuesday night, looking for another productive outing in Europe.
After Saturday's victory in the East Midlands, Klopp said he was hoping his players can build on their display and push for a more positive run of form this autumn.