Emre Can has pledged his commitment to Liverpool, despite his spell with the club currently looking set to end when his contract expires in 2018.
The midfielder's representatives have been in talks with the Reds since last summer, but so far no breakthrough has been made regarding his future.
Can is reportedly seeking assurances over his long-term role under Jurgen Klopp, along with parity with the club's high earners, such as Dejan Lovren and Adam Lallana.
There have also been reports of a request for a release clause in his new deal, similar to when at Bayer Leverkusen, which prompted his £10 million move to Merseyside in 2014.
Whether the two parties eventually agree terms remains to be seen, but for the time being, Can is focused on his performances for Liverpool.
"I made forward steps in my three years here. It is my fourth season now in Liverpool and I played a lot of games. I am really enjoying being here. It is a great club," he told reporters this week.
"Of course I can play better sometimes, I know that, but I think my development has been good so far.
"I try to be better and I train hard for that. Why should my commitment be any different?
"I have a contract playing for the club, I earn my money here and I love to play for Liverpool.
"I don't think about setbacks, or injury, when I am going out on the pitch. I only think about how I am going to help my team.
"[Injury] can always happen, but on the pitch I only think about how we can win the game."
On the teams aims, the German midfielder said: "If you play for a big club like Liverpool, the goal always has to be to win and you have to win titles [trophies]. That is our aim. Hopefully this year we will do that."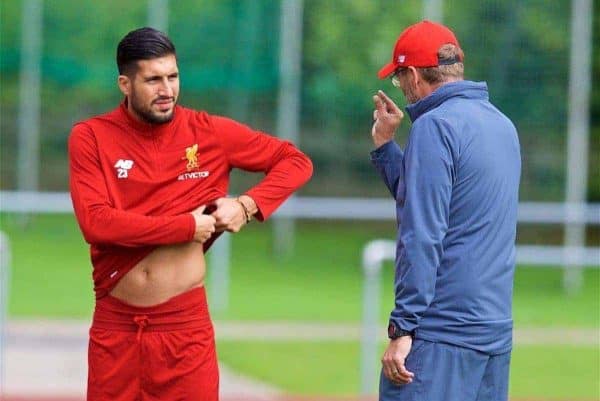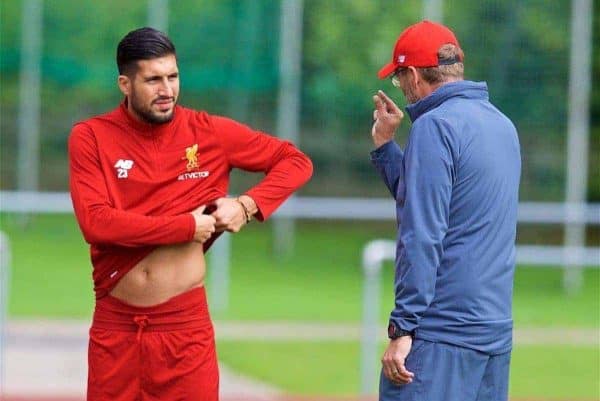 So far there has been nothing in Can's performances to suggest he has one eye on a move elsewhere, despite confirmed interest from Serie A giants Juventus.
This is the focus Klopp has taken, keeping his sights on the short term and insisting there is "not a shadow of a doubt" that the 23-year-old is committed to the cause.
"What I can say, in general as a club, and how I understand it, we have to still create a situation where players want to be part of it with all they have," Klopp told reporters on Friday.
"In this moment, we have this. Nobody thinks about January, nobody thinks about June or July.
"Everyone wants to now be part of this but there will come transfer windows and we will see what happens.
"I always said if players come [to us] early enough then always we will find a solution, that's not a problem.
"We have to do as a club everything until the players give me signs that they are somewhere else or whatever.
"I don't think about it. If I start now asking Emre every day: 'How is it going then…?'. So far there is not a shadow of a doubt that he's 100 percent here."
Can has scored two and assisted two in 11 games for Liverpool so far this season, starting in eight of his appearances and averaging 83.4 minutes on the field per game.
He is clearly a key figure under Klopp, and the hope is the Reds continue to progress in 2017/18 and convince Can his future lies at Anfield.