As Fenway Sports Group mark the seventh anniversary of taking over Liverpool, the occasion provides an opportunity to discuss their reign.
John W. Henry and Tom Werner arrived to liberate the Reds from the miserly Tom Hicks and George Gillett on October 15, 2010, completing a £300 million deal.
Then known as New England Sports Ventures, or NESV, they changed their name to FSG five months later, and the moniker has become a buzzword on Merseyside since.
In their seven years in charge, FSG have overseen just one trophy win, the League Cup under Kenny Dalglish in 2012, and have presided over the reigns of four different managers.
They have certainly made some major errors in their time in charge, notably their proposal of a £77 ticket at Anfield in 2016, but they have also made major developments off the field, too.
But while record kit deals and a new-look stadium underline Henry and Werner's positive work, with Jurgen Klopp's side sat eighth in the Premier League table on their anniversary, can they be considered a success?
We spoke to This is Anfield regulars Matt Ladson, Henry Jackson and Jack Lusby to debate FSG's seven years with Liverpool.
Do the positives outweigh the negatives over FSG's seven years?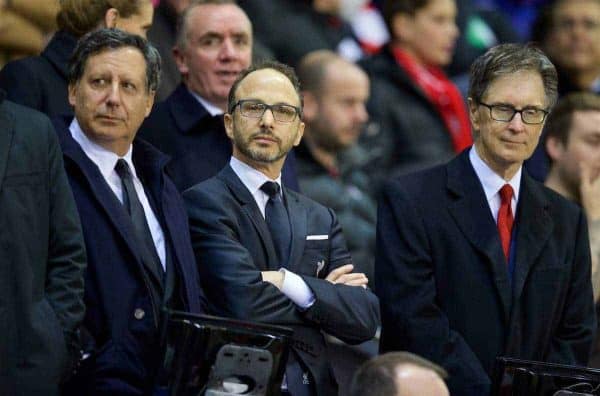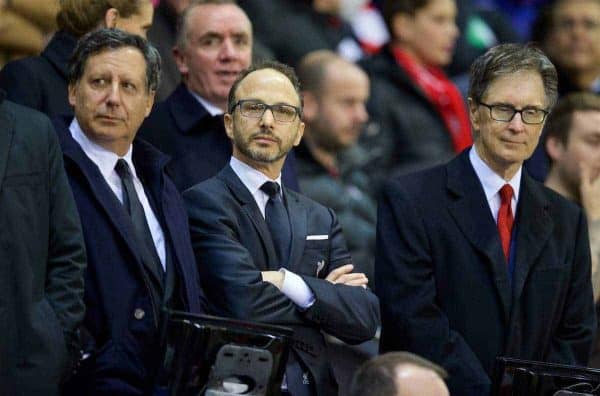 MATT: Yes. If you deny that I'm not sure you've been paying much attention over the last 10 years, or realise the absolute mess they inherited from Hicks and Gillett (go read Epic Swindle by Brian Reade then revisit this question).
They've delivered on a two-decade problem of the Main Stand, finally increasing Anfield's capacity and matchday revenues.
The new training ground at Kirkby and the appointment of a sporting director model, plus a world-renowned coach, have stabilised the football operations side.
Let's not forget that when they purchased the club, Roy Hodgson was manager, Christian Poulsen and Paul Konchesky were regulars in the team—and then there was that debt that meant to the threat of administration.
I would say, though, that I expected more from them by now.
HENRY: I'd say so, yes. It hasn't exactly been an earth-shattering seven years from them, but they stabilised matters when the club was in a grim state of affairs, and that shouldn't be forgotten.
They don't seem at all engaged with the club, which is a shame, but they get more criticism than they deserve. They are good at off-field matters, in particular generating income, and the new Main Stand is superb.
One trophy in seven years is really poor, though, and they have to shoulder a share of the blame for a lack of progress on the pitch.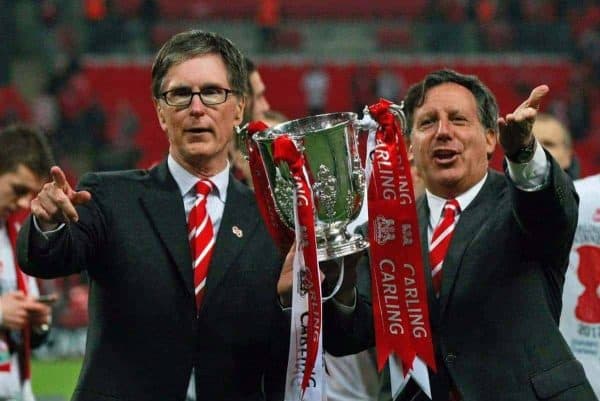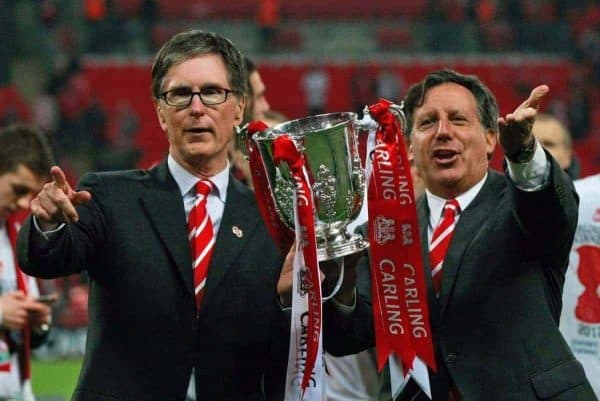 JACK: For sure, yes. Somehow it has taken less than seven years for some supporters to forget the shambles Henry and Werner inherited from Hicks and Gillett.
There have been more managerial changes than many would have wished for—though turfing Hodgson was essential—and one trophy in seven years is a paltry return for a club the size of Liverpool, but there are clear signs of progress.
Perhaps most notably these have come off the field, with the commercial and operational aspects of the club improving significantly, while the redevelopment of Anfield is hugely impressive.
But on a basic level, to have shifted from Hodgson and the worst football I've seen my club play in my lifetime to Klopp and a side capable of reaching finals and challenging for the title is the biggest positive.
How would you rate their involvement in the transfer market? Should FSG be doing more?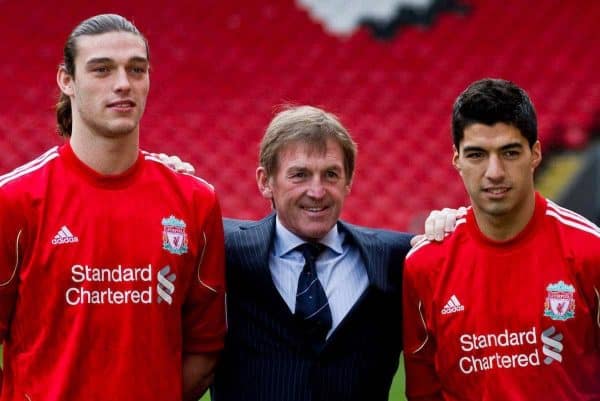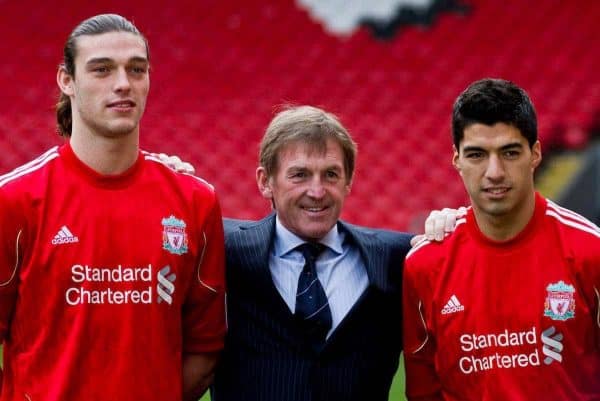 MATT: This is where there are question marks. Have they done enough? Probably not (which could also be said of the stadium expansion, yes 'phase one' is complete, but 'phase two', the Anfield Road End, doesn't look likely anytime soon).
However, if Jurgen Klopp doesn't want a second-choice option, they can't force him to take it.
I'm not sure how anyone can claim they haven't backed managers when they spent £20 million on Dejan Lovren and Stewart Downing! Honestly lads, terrible business.
If anything they've been too happy to back the managers on occasion and needed more football knowledge to advise them against it!
Similarly, had things played out differently this summer and we'd signed Virgil van Dijk and Naby Keita, I'm not sure there'd be much attention on FSG right now.
That magical £200 million would have been spent (something nobody at the club actually stated or briefed on, but was merely an opinion of one journalist in a newspaper).
HENRY: Without question, yes. While I fully believe they gave Jurgen Klopp lots to spend this summer—they were willing to splash out huge amounts on Van Dijk, Keita and Thomas Lemar—they have been tentative on far too many occasions throughout their tenure.
At times, it has felt like they have made money available rather begrudgingly, and a lack of interest on their part has been on show. Boston Red Sox take precedence by a million miles.
It is too much of a coincidence that so many transfer windows have left us feeling flat since they bought the club.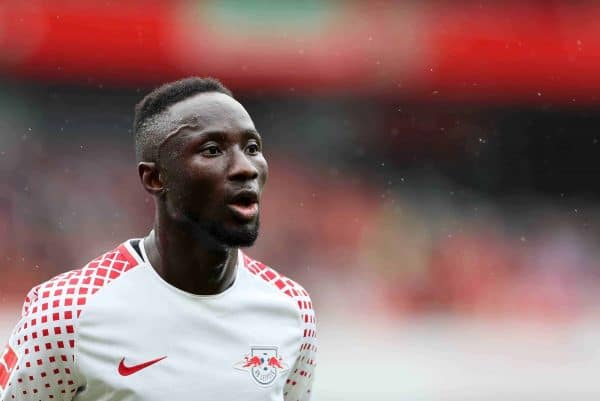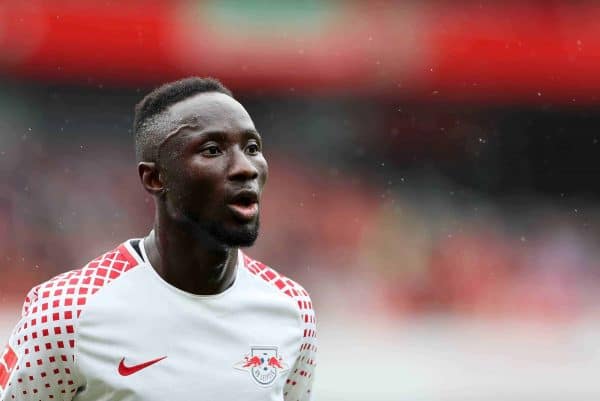 JACK: It's difficult to gauge: Liverpool have signed 47 players on a permanent basis since taking over and they've included some top-class talents, but they've also missed out on myriad.
Whether the failure to sign the likes of Henrikh Mkhitaryan, Willian and Alex Teixeira can really be blamed on Henry and Werner is questionable, though a more front-footed approach was needed.
They've addressed that in recent years, and this summer they were willing to pay through the nose for players Klopp was desperate to sign; albeit with little success in doing so.
Furthermore, they have provided Liverpool with a much-needed stubbornness in negotiations when selling players, which is often overlooked in terms of their net spend.
Liverpool still can't compete with the likes of Man City and Chelsea, but it's never been our way.
Would Jurgen Klopp really be performing better under different owners?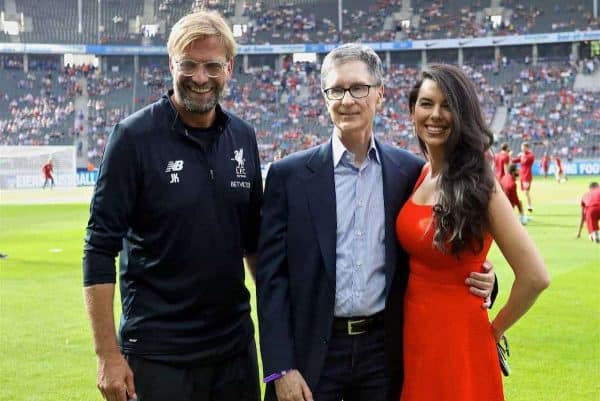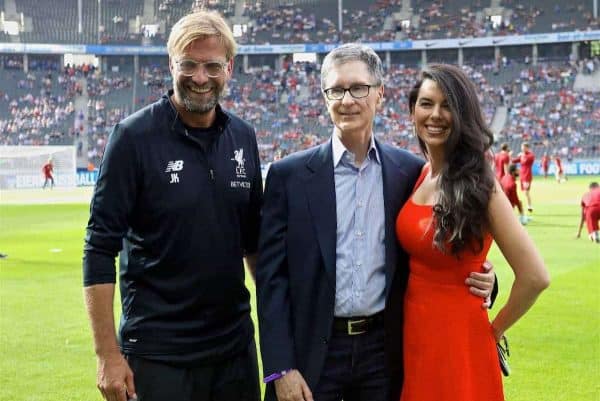 MATT: Probably not but extremely difficult to say. Jurgen didn't spend big at Dortmund and he doesn't seem like he necessarily wants to now either.
Liverpool as a club have often found 'another way' of doing things; we don't have the financial power of other clubs.
No doubt somebody can find that paragraph from Paul Tomkins the other year on supporters wanting what Klopp delivered at Dortmund but not understanding the process and time involved to get there.
Patience in football (modern society) is a very rare commodity.
HENRY: I don't think so. We all know that Klopp is not someone like Jose Mourinho, spending money at will and not nurturing youth, so in a lot of ways he is perfect for FSG.
He will have told them which players he wants, and in fairness, they have given him the funds to sign them. Unfortunately, many of the moves have failed to materialise, but that is not solely their fault, contrary to popular opinion.
I don't believe Liverpool would have got many of their failed deals over the line with another owner in charge, even though FSG aren't without their faults.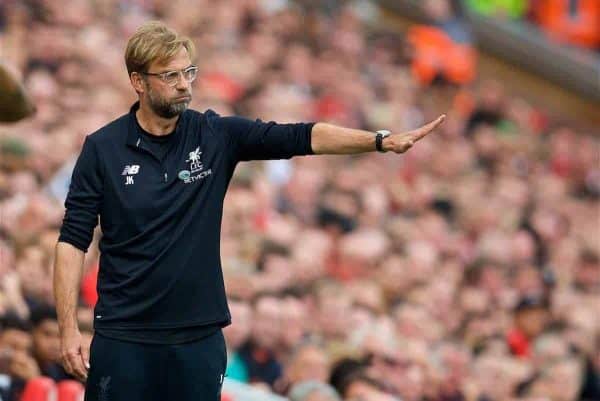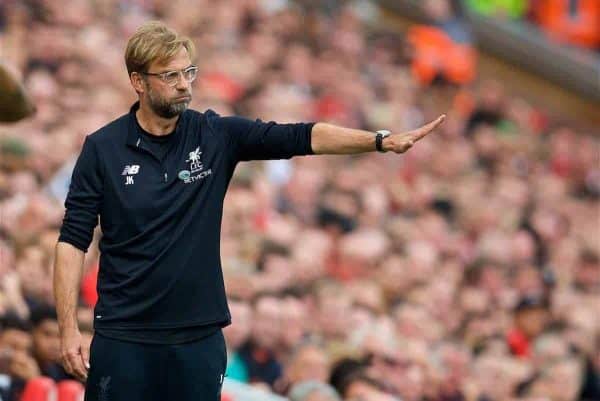 JACK: I think the current issues on the pitch are more about Klopp and his lack of pragmatism than the backing he has received from Henry and Werner.
Perhaps in an ideal world Klopp would be working within the same operation as he did at Borussia Dortmund, but he is now learning to adapt to a new way of a working, with a new set of challenges.
The hope, and expectation, is that FSG stick with Klopp even if form dips, as he is the figurehead that propelled Dortmund to success, not their owners.
And finally, are you 'FSG in' or 'FSG out'? If 'out', what would your criteria be for a new owner?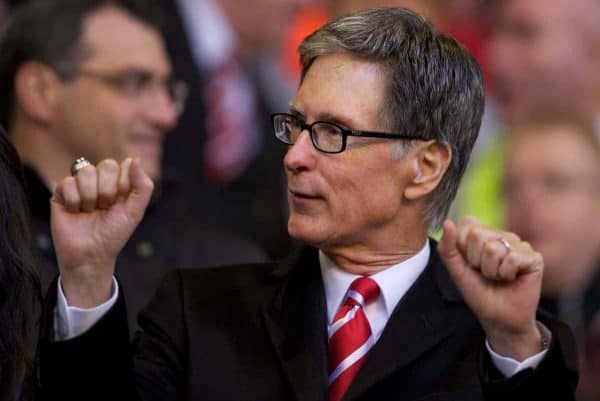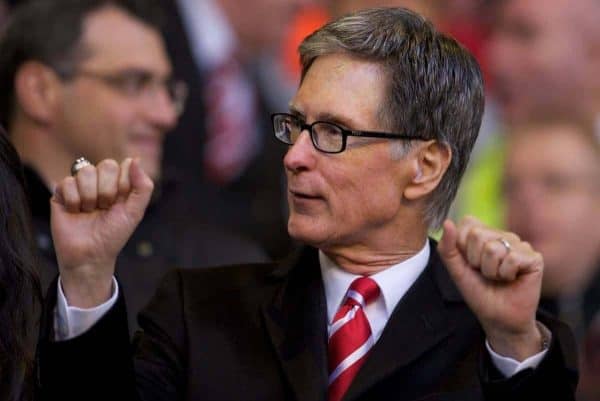 MATT: Certainly not 'FSG out' but wouldn't necessarily say 'FSG in' either (nobody supports owners, we support the club). Owners, like players and managers, should always be held to account. They are the custodians of the club.
However, those proclaiming 'FSG out' are missing a massive part of the picture (for the reasons outlined in the answers above). No owners are perfect, FSG certainly aren't.
They've done plenty wrong in my eyes (waiting too long to sack Hodgson, putting too much faith in Damien Comolli's ability to negotiate transfers, allowing Dalglish to reject Comolli's suggestions, reneging on the sporting director model at Brendan Rodgers' request and the whole £77 ticket fiasco).
But you only have to visit Anfield to see the progress being made.
We have a world-class manager, a squad with plenty of talent, an improved off-pitch structure and an academy brimming with talent.
People will point to the lack of trophies, but John Henry wasn't taking the penalties against Man City in the League Cup final, or failing to show up for the second half against Sevilla.
Had some players shown some bottle on those two occasions we'd be two trophies up. We may also have won the title had certain things played out differently in 2014.
There will always be questions, as there rightly should be, but be very careful what you wish for.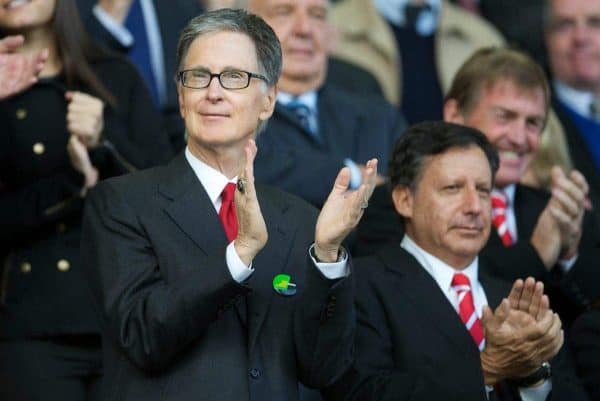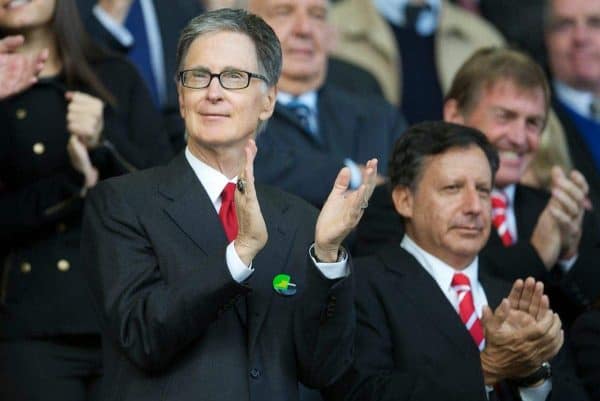 HENRY: I'm 'FSG in', but I am far from a big fan of theirs. Liverpool can definitely have better owners who can take them closer to the summit of English football, but FSG have also received some unfair press.
Their seeming lack of interest in the club frustrates me, and I expected more success than we have seen since 2010. They did claim they were winners, after all.
This is a business to them rather than a hobby, nothing more. In an ideal world, the owners would be diehard Reds willing to spend record-breaking sums of money, but that isn't going to happen.
Would I be happy if they sold the club? Yes. Am I content with them staying? Yes.
JACK: FSG are businessmen, not fans with money to burn. It is rare now that top-level clubs are backed by a balance of passion and prosperity.
They seem to have understood the ethos of the club, and are slowly getting there in terms of on-field matters, so I'd say I'm 'FSG in' to an extent.
I'm not exactly pining for another seven years of wayward optimism, but I feel FSG are doing an adequate job—as long as they keep Klopp on board.