Jose Mourinho may have set his team up with absolutely no attacking ambition, but he knew it would work against a predictable Liverpool side.
There was an air of inevitability about this game, even before a ball was kicked. Jose Mourinho's assertion that we would see a more adventurous United in this game were typical, and very obvious bluster.
The game played out like the script of a pre-rehearsed stage production. Liverpool huffed and puffed with a typical 60%+ possession. United defended with 10 men behind the ball, with no ambition whatsoever.
In fact, of all the teams in the last 12 months who have successfully parked the bus at Anfield, no team has lacked adventure to the extent United did.
Mourinho's postgame assertions that if was Liverpool's cautious approach which was responsible for United's ultra-defensive response was laughable nonsense, yet it was seized upon delightedly by the gullible media.
Mourinho's 19th Century football against the 'big clubs', while effective, is an embarrassment to a club who were once proud of their attacking traditions. This display from United was dire, cowardly and a bit embarrassing for them, really.
When Burnley, or Stoke, or West Brom use this approach at Anfield, they do so in the plausible belief their team cannot match the quality of the home team.
Conversely, United's is one of the most expensively assembled squads in world football, yet defaulted to the excuse that the lack of Fellaini and a 36-year-old Michael Carrick forced their hand.
Predictable Mourinho, but predictable Liverpool too
Having said all of that, Mourinho's tactics and approach were wholly predictable, and we failed to score or to create many clear-cut chances. Only one of the chances created required meaningful intervention from De Gea.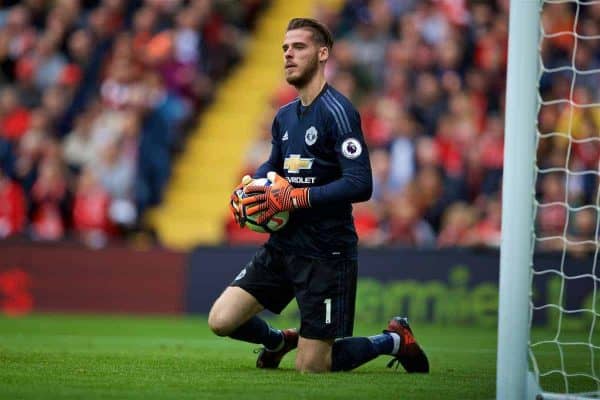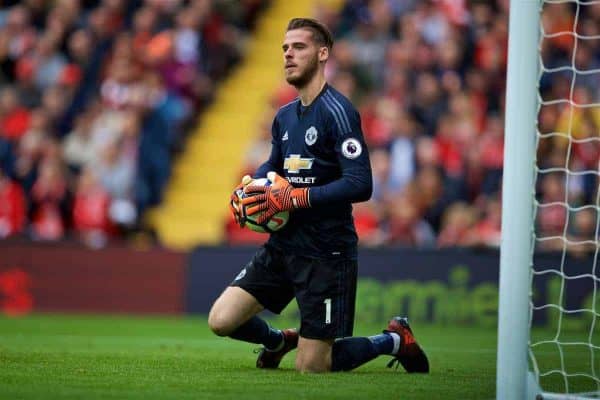 It's not a blip, there is a pattern emerging. While we can applaud and appreciate the dominance of Saturday's performance, it is now one win in eight games. Eight goals have been scored in those eight games, with five of those against Sevilla and Leicester. So, in the other six games, we have managed a total of three goals.
In five of the last six games we have scored one goal or less.
Mourinho knows this. It is exactly why he gave the Liverpool midfield – and defence – the freedom of Anfield.
Basically, he used his entire team to shackle Liverpool's front three, and cared not a jot if the other eight players in Red kept the ball all day. Why? Because of the 11 players Liverpool started with, the front three have scored eight league goals.
The other seven outfield players have exactly one goal between them. The front three have four assists between them; the other seven have a total of three; two from Emre Can, one from Joe Gomez.
In total, Liverpool's midfield trio have a total of one goal and two assists between them in eight league games. For comparative purposes, De Bruyne and Silva have 11 assists between them.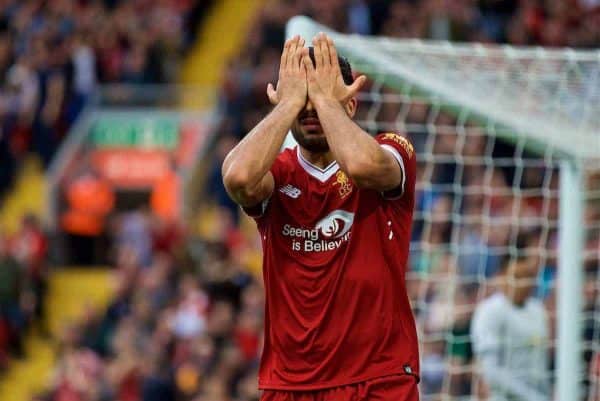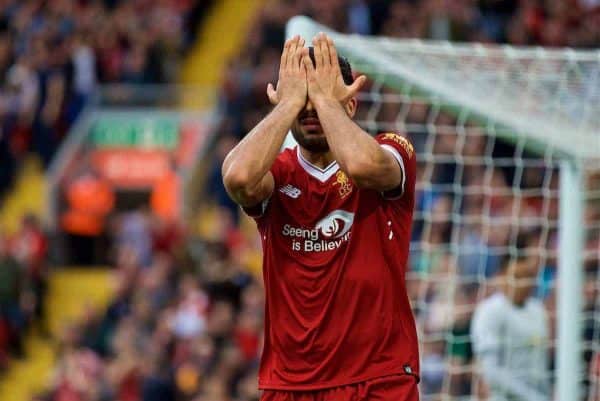 In terms of possession, passes and ball retention, we did, indeed boss the midfield. But it's easy to do so when a team has no ambition to even challenge in that area of the field. It's what you do with that possession that counts, and Can, Wijnaldum and Henderson lacked the guile to pose the necessary questions to United's disciplined back ten.
It's Liverpool's lack of creativity and firepower from midfield (and defence) upon which Mourinho built his game plan. He knew that if you shackle the front three, the rest are highly unlikely to trouble you. They did not.
Once again, the midfield three barely troubled the opposition goal. Once again Liverpool's back 4 did not trouble the opposition goal.
It's an issue, and it urgently needs addressing. A team cannot rely upon only three or four of its players to score and/or create. Right now, that's exactly the predicament we have.
Set Pieces
Mourinho was happy for his team to concede not only possession but even set pieces, clearly instructing them to disrupt by whichever means possible; legal or not.
He knew that apart from Coutinho from 25 yards, Liverpool pose virtually no set-piece threat. We had corners, we had deep free kicks, but we did not have any from 25 yards. That wasn't a coincidence, it was an instruction.
Lovren and Matip got their heads to a couple of corners, but as is frustratingly typical, they troubled the fans behind the goal rather than the goal itself.
Cleansheet
We at least restricted United to one effort on target and managed an elusive clean sheet. After all, it was eight games since our last one.
But I'm not so sure it's particularly one to celebrate. It's easy to achieve a clean sheet when the opposition's game plan is to camp out in their own half for 90 minutes.
Joe Gomez did excel, snuffing out any threat posed by Martial and Rashford, but Mourinho's tactics were self-limiting and their threat on the day was minimal. It was this same safety-first, second and third tactics that restricted his team to one solitary effort on target.
If you happened to have this game recorded, you can freeze-frame it at almost any time throughout the 90 minutes and see 10 United players camped out in their defensive third. Lukaku was left isolated throughout, with often a gap of more than 30 yards between him and any other United player.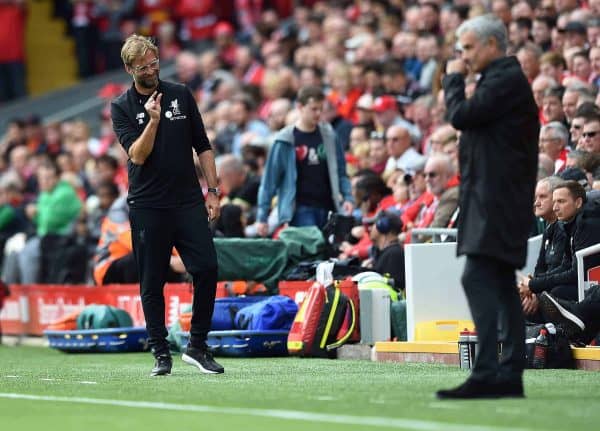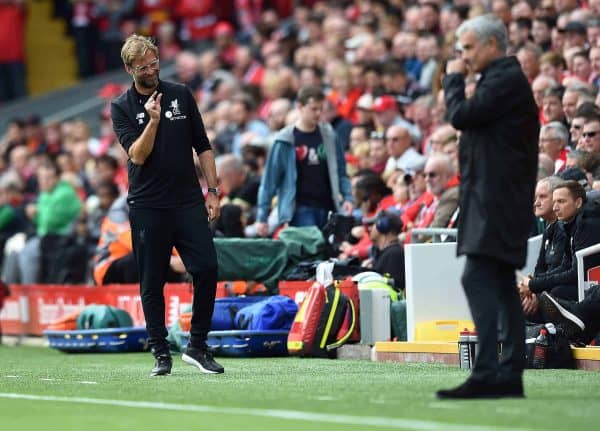 A criticism levelled at Mourinho is that he failed to utilise the goalscoring threat of Lukaku. He did, but only in order to achieve the closed-shop display he craved. (Lukaku's role was not to attack the Liverpool goal, but rather to attack the Liverpool players and the fact he made it through the game without a single yellow card is nothing short of disgraceful.)
Mourinho knows what can happen to teams who open up against Liverpool at Anfield. He wasn't in the least bit tempted to risk that eventuality. So, yes, we achieved a cleansheet, but did so against the least adventurous team to visit Anfield in many years.
Mourinho is well-known for his ability to kill games, but to be honest we made it too easy for him. His is a blueprint which many teams will copy and the remainder of the season will see more parked buses o display than on a day trip to Blackpool. It's up to Klopp to find ways of turning the usual 60, even 70% possession into goals.
To do so, he must find ways of delivering creativity, goals and assists from players outside of the front three. With Coutinho, Oxlade-Chamberlain (who had his most encouraging cameo to date) and a returning Adam Lallana soon available for selection, at least we have options to add much-needed creativity to the midfield.
Man Of The Match – Joe Gomez – although United's threat was limited, Joe was tasked with marking their two quickest and more threatening players. He had both of them so deep in his pocket they've probably got fluff in their hair.
This was by far his most accomplished game to date. If he can keep this level up, we may have found a viable solution to one of our fullback concerns.