A look away from Liverpool, at the lower-league rumblings on Merseyside, which offer a welcome break from the commercialism of top-level football.
Liverpool and the Merseyside area boasts numerous football teams from leagues throughout the football pyramid.
With the international break in full swing, and England providing the usual uninspiring performances even in victory, there is another way to get your football fix.
These breaks are an ideal time to visit and support your local lower-league sides, wherever you're based. Here we take a look at the goings-on in Liverpool's local league scene, with a focus on relative newcomers, City of Liverpool FC.
The club were only founded a couple of years ago in 2015, but already have a number of entries on their honours list from their time in the North West Counties Football League.
They won the NWCFL First Division Challenge Cup, the NWCFL Challenge Cup and triumphed in the league play-offs, earning promotion in the process.
At the start of this season they added the Champions Cup to their list of titles, defeating last season's NWCFL Premier Division winners Atherton Collieries.
We hand over to the club's chairman Paul Manning to give us an overview of their start to the season, and how everyone involved at the club rediscovered the real magic of the FA Cup first-hand, rather than being told about it by TV presenters.
"City of Liverpool FC's first season in step five of the National League pyramid has been—in keeping with the club's short history—dramatic!
We have set our seasonal goal as promotion to step four, which is a big ask considering the jump in quality from six to five, and also because there is only one guaranteed promotion place at this point in the pyramid (maybe two this season due to an FA reorganisation).
The season actually started with an FA Cup first qualifying round game away at Padiham FC. We ran out quite comfortable 2-1 winners in the end, but the game had everything; chances galore, a penalty and a sending off.
But we won and moved on to a mouthwatering away tie against local neighbours Prescot Cables.
In front of a massive 900+ crowd, there were four goals, two of them penalties, a sending off, and a 30-man brawl in the 90th minute!
The replay at 'Estadio Bootellio' saw the Purps put in their best performance to date, totally taking apart Cables 8-2 on the night, again in front of a 900+ crowd.
We were then drawn at home against Nantwich Town from the Evostik Premier League, another brilliant atmosphere and crowd—a club home record 1,024—saw us lose out 2-1 to a 94th-minute, double-deflected goal.
Our FA Cup run was over but it was boss to do so well and for everyone concerned with the club to find the true magic of the FA cup again."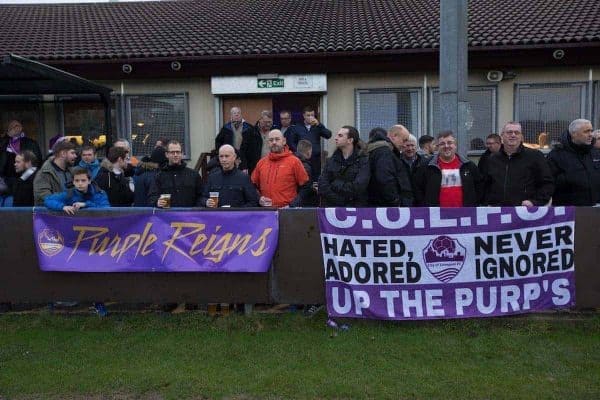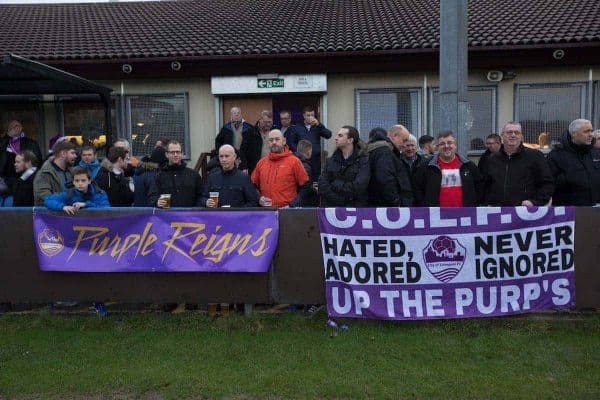 In gaining promotion City of Liverpool join AFC Liverpool in the NWCFL Premier Division, and it will be AFC's seventh consecutive season in this league.
The involvement of the likeminded pair will lead to plenty of local derbies, as they are joined by Bootle FC, as well as Widnes FC and two teams based in Runcorn.
Football fans in the area should never be short of a game to watch!
City of Liverpool and AFC Liverpool have also met in the FA Vase, and Manning is dreaming of a trip to Wembley!
"Overall its been a fairly good start to the season for us that has also saw us progress into the first round proper of the FA Vase, after beating local rivals AFC Liverpool 2-0 at the Arriva Stadium, home of Marine FC.
It was set to be a tense affair, with local pride and a place in the next round at stake, but in all honesty we dominated for most of the match.
The scoreline did not reflect that domination, but AFC have a young side currently, and they look like they can come good as they pick up more experience.
There are only 10 rounds of the FA Vase in total, and if we win the next tie against Dronfield Town, we are then just five games away from a trip to Wembley for non-league finals day.
Whilst this is still very much in the 'dream' category, it doesn't feel completely untouchable.
The Vase is only for teams in steps five, six and seven. We are a step five team and of all the clubs competing we have the second highest average attendance (only Bromsgrove Sporting draw bigger crowds).
And as evidenced by last season, we have a great cup history already. So why not dream?
Also coming up in October is yet another mouthwatering cup tie against local rivals, as we face Marine in the first round of the Liverpool Senior Cup."
The games come thick and fast at this level of the football pyramid, and given the local nature of the leagues and cups, there should be a game within a bus or train ride away every week. And it'll probably be a local derby!
Elsewhere in the region, Tranmere Rovers, who count ex-Liverpool striker Jack Dunn among their number, lie 14th in the National League, a level below League Two.
But Micky Mellon's side recently won two on the bounce, against Bromley and in a televised game at home to Leyton Orient.
Prescot Cables sit sixth in the Evo Stick North, which is the division City of Liverpool FC will be hoping to gain promotion to, while Marine are working hard to get out of the bottom end of the division above that.
If you're looking to catch a game in the coming week, here are some of the games taking place on Saturday, October 7, which also happens to be #NonLeagueDay. Kickoffs are 3pm:
Tranmere Rovers vs. Chester FC
Southport vs. Spennymoor Town
Prescot Cables vs. Trafford
AFC Liverpool vs. Maine Road
Bootle vs. Abbey Hey
Litherland REMYCA vs. New Mills
St Helens Town vs. Chadderton
Warrington Town vs. Whitby Town
The following fixtures take place on Tuesday, October 10:
Marine vs. Stalybridge Celtic
City of Liverpool FC vs. Runcorn Town
And by the time you return from watching your local club in an evening fixture, maybe a South American World Cup qualifier will just be about to kick off on an online stream near you.
They're much more entertaining than the drab affairs served up by the Gareth Southgate's side, but whether there's an international break or not, it may be worth paying a visit to the Estadio Bootellio.