Steven Scragg warned about dangers of being too open away to Tottenham. He doesn't want to say he told you so, but…
SOMETIMES LIVERPOOL JUST DON'T HELP THEMSELVES
Domestically at least, this was the first time that Spurs have really looked at home at Wembley this season. The. First. Time.
We facilitated that, through a series of totally unnecessary actions. If that doesn't anger you, then you aren't paying enough attention.
Football related anger is a grey area. It's OK to be angry, yet not desire to see the manager sacked. Football isn't always in or out, black or white, yes or no, stay or go.
When I wrote about the frustrations of not being able to put a goal past a largely self-protective Manchester United, I was accused in some quarters of being over-the-top in my perceived criticism.
When I wrote about the positives of scoring seven goals away in the Champions League, I was accused in some quarters of being over-the-top in my perceived effusiveness.
Over-the-top condescension it is this time then.
Dejan Lovren, hooked after just half hour is hopefully symbolic, but I wouldn't count on it. Focus wasn't magically gained in the wake of his removal at Wembley on Sunday. Those defensive issues are endemic ones. Sign a £70-80m central defender by-all-means, yet it will not be the answer to the multiple ills within our first third.
IN THE FINAL THIRD WE'VE RARELY HAD IT SO GOOD
We know we can sweep forward with impunity, throwing out artist shapes, terrorising opposing defences whenever the mojo rises.
The one goal we did score at Wembley, was a work of great beauty.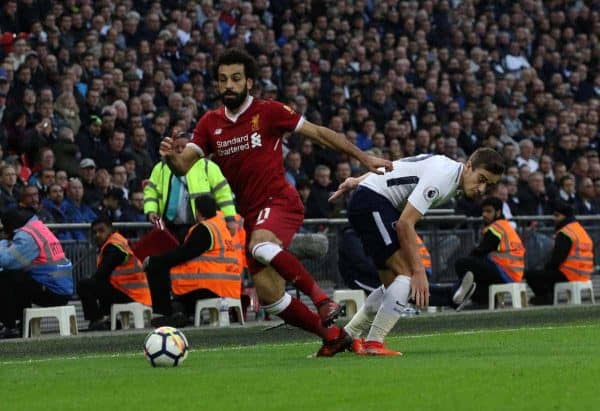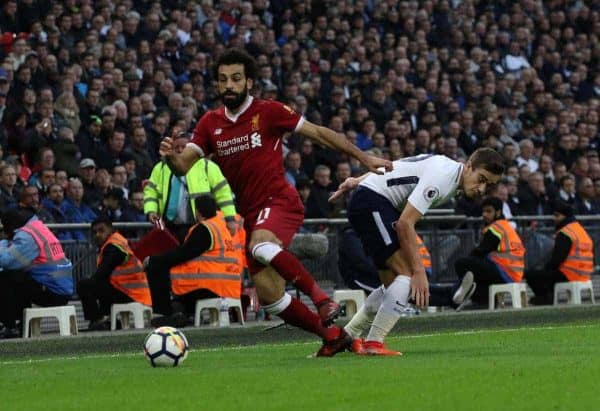 After a number of weeks spent mildly complaining about his profligacy, it now seems churlish to point out that Mohamed Salah occasionally misses a golden opportunity here or there. This has been his only flaw, in a team in which some of his team-mates brain fart with an unerring regularity.
Given the summer want-away issues with Philippe Coutinho, which postponed his involvement in this campaign, plus the suspension and then injury of Sadio Mane, added to by the extended absence of Adam Lallana and the fluctuating effectiveness of Roberto Firmino, who seems to be offering either all, or nothing, with very little in-between, then it has undeniably been Salah who has carried the flag for us so far, this season.
As things are, we need to wrap Salah in cotton wool between games. He has been the consistent conductor, offset by the peaks and troughs of his partners in attacking crimes.
When we click, we play as well on the front foot as any Liverpool side I've had the privilege to watch. I don't say that lightly. I'm old enough to remember the great sides of the 1980s, and I'd throw the Luis Suarez inspired 2013/14 vintage into that ring too.
The Liverpool of Salah, Coutinho, Firmino and Mane is as arguable a case as Barnes, Beardsley, Aldridge, as arguable a case as Dalglish and Rush, as arguable as McManaman, Fowler and Collymore, as arguable as Suarez, Sturridge, Coutinho and Sterling.
This is what make the defensive capitulations all the more difficult to stomach.
IN THE MIDDLE THIRD WE'VE RARELY HAD IT SO BIPOLAR
Our midfield continues to insist upon being all, or nothing. A wondrous through ball from Jordan Henderson set up Salah's goal. This from a player who was easily subdued by his opponents throughout the rest of the game though. This from a player who simply isn't offering the leadership his team clearly needs at times.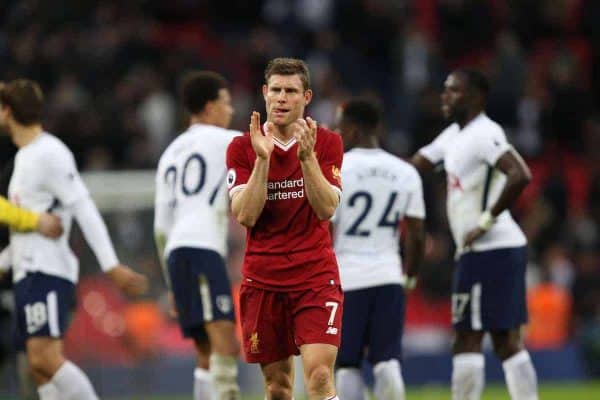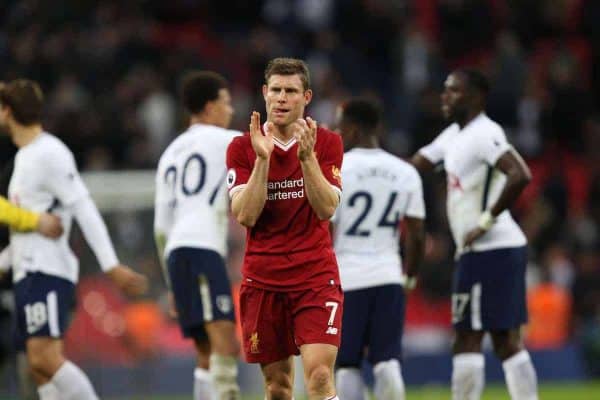 James Milner, unable to build on his fine performance in Slovenia during the week, proved another player who was all-too anonymous.
Emre Can, shifted to play an unfamiliar role at right back, probably one of the least culpable on the day, while Alex Oxlade-Chamberlain was handed another thankless task, which had overtones of being asked to play his debut at Manchester City, when down to ten men.
The importance of getting the right combination in midfield can't be stressed enough. When the defence is dragging us back, while the attack is pulling us forward, the midfield is effectively the handkerchief tied to the mid-point of the rope, in an aesthetic tug of war between our strengths and weaknesses.
IN THE FIRST THIRD WE'VE RARELY HAD IT SO BAD
A quick after-match glance at Twitter is usually enough for me to be reassured that I'm quite level-headed in the great scheme of things, when it comes to Liverpool FC.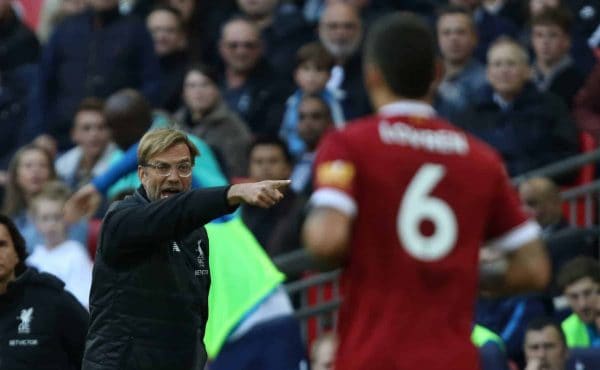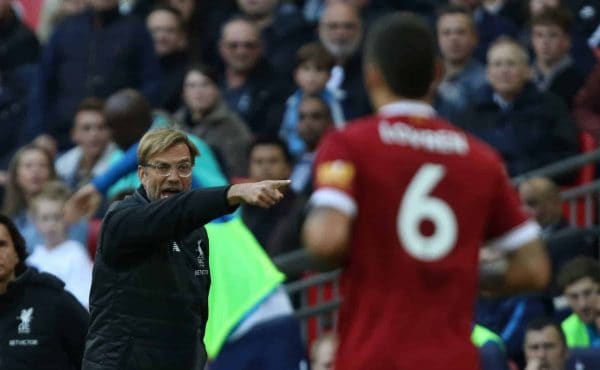 Knee-jerk reactionaries aren't everybody's cup of brown unpalatable liquid (I don't like tea) but I find them relatively therapeutic. Their rants will often help me locate the correct middle-ground.
Hyder Jawád – once of the Liverpool Echo – made an eye-catching tweet however, on how the Liverpool of 2017/18 had conceded 16 goals in 9 games, in comparison to the 16 which were conceded throughout the entirety of the 42 fixture 1978/79 season.
Sobering thought. One which had me reaching to a brown paper bag, for a spot of hyperventilating.
Yes, football has changed in some respects during that period of time, but cohesive defending is still achievable in the contemporary game. Or at least for other teams it seems.
Our current defence is arguably the clubs worst since we were a Second Division outfit, in the days before the arrival of Bill Shankly.
Yes, we've had a few questionable eras of defending, and some truly terrible defenders at times, but this is a completely unique situation.
Previous eras of poor defending have gone hand-in-hand with a general over-all malaise within the team. Symptoms which have been part of a bigger, symbiotic picture. It's hard to make much sense from it this time around. We attack so well, yet defend so poorly. We can't balance the scales.
A pivotal three games now approach. Huddersfield Town, with the bounce back in their stride, arrive at Anfield on Saturday, before the Champions League return against Maribor and then a trip back to London, to potentially offer West Ham a similar confidence boost to the one we've just delivered to Spurs. What these three games will bring us, is anyone's guess, however.