This Liverpool team is too nice, too soft, too forgiving, writes Sachin Nakrani – should Jurgen Klopp be held responsible?
I've been thinking about Momo Sissoko a fair bit since Liverpool's 1-1 draw with Newcastle United a couple of weeks ago. For younger readers, Sissoko played for the Reds between July 2005 and January 2008 and was part of Rafa Benitez's best midfield in the world.
Yes, that's right, Liverpool had the best midfield in the world once. It was so good, in fact, that we sung about it, and Sissoko's name was the second one belted out, following on from Xabi Alonso and ahead of Steven Gerrard and Javier Mascherano.
It's fair to say Sissoko was the least talented of that quartet, but he was still some player.
A physically imposing, marauding presence, and while he was a little rough around the edges, liable to lunge into the odd needless tackle or two, the talent was obvious, as was the scope for improvement.
The Mali international was only 20 when he arrived at Anfield. His peak years were to come. Some even spoke of him as a possible future Liverpool captain.
But then came a sliding doors moment: Tuesday, February 21, 2006, a Champions League last-16 first-leg tie away to Benfica and Sissoko is carried off the pitch at the Estadio da Luz on a stretcher after suffering damage to the retina of his right eye having been kicked in the head by the Brazilian midfielder Beto.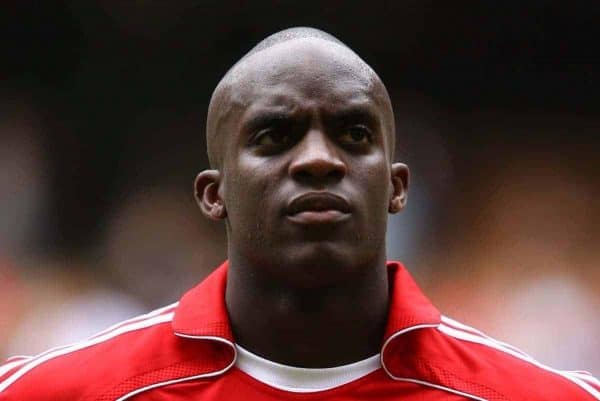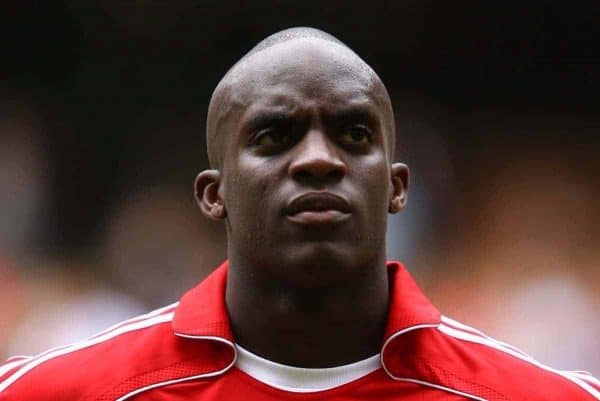 It was a serious blow, so much so doctors feared Sissoko could partially lose his sight.
He recovered, returning in the 7-0 FA Cup victory at Birmingham City in March 2006, but Sissoko was never the same player again, admitting as much in early 2007.
"I have a problem, particularly when there is a lot of sunshine," he said. "There was a moment against Manchester United when I was stood outside their area waiting for the ball.
"It had been kicked high up in the air and as it came down, the sun caught my eye and I couldn't see the ball properly. I ended up hitting it straight back up in the air when I had time to control it."
Sissoko went onto have a good career after he left Liverpool, joining Juventus for £8.2 million prior to spells at Paris Saint-Germain and Fiorentina.
Aged 32, he is now at Levante having joined the La Liga club in January 2014. But who knows what he could have achieved at Anfield had it not been for that kick to the head in Lisbon.
It set him back and, crucially, persuaded Benitez to move in the transfer market.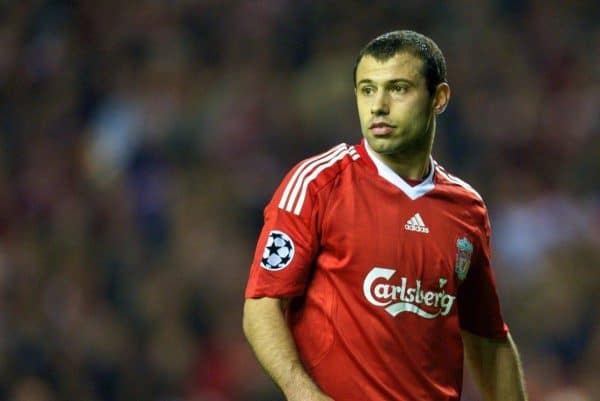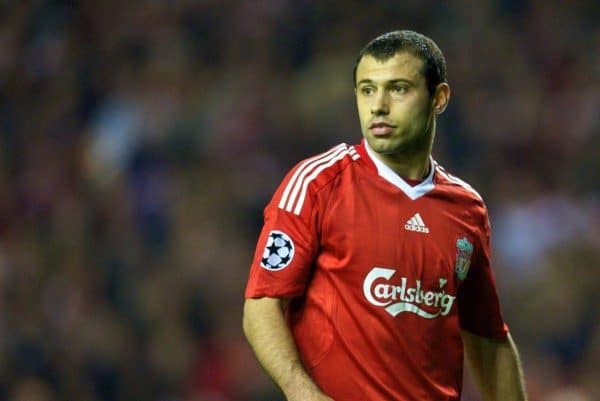 In February 2007, less than a year after Sissoko's injury, the Spaniard signed Mascherano from West Ham, initially on loan before tying the player to a four-year contract the following February.
Liverpool had a new defensive midfielder, a beast of a player who quickly become a crowd favourite and first-team regular.
Sissoko stuck around for a bit, and got his chance from time to time, but from the moment Mascherano made his first bloodthirsty tackle in a red shirt, the man from Mali was done. He was never going to be a regular again.
It's possible Benitez would have signed Mascherano even if Sissoko had not suffered his setback.
The Argentinian was struggling at West Ham having bizarrely moved to Upton Park, alongside Carlos Tevez, in the summer of 2006 but he was clearly a talented player and a big club was going to rescue him eventually.
But would that club have been Liverpool had Sissoko's progress not been disrupted? And in early 2007 specifically? Possibly and probably not.
The general consensus is that Benitez made his move because he knew it was the right time to do so—his existing defensive midfielder was, to put it bluntly, damaged, and there was an upgrade ready and available.
It was a ruthless move, but sometimes, as the man in charge, you cannot afford to show sympathy and loyalty.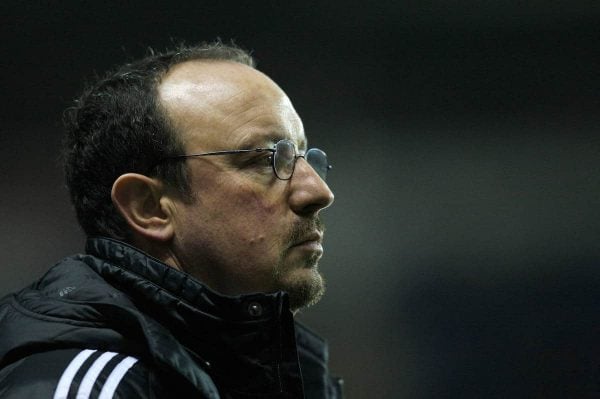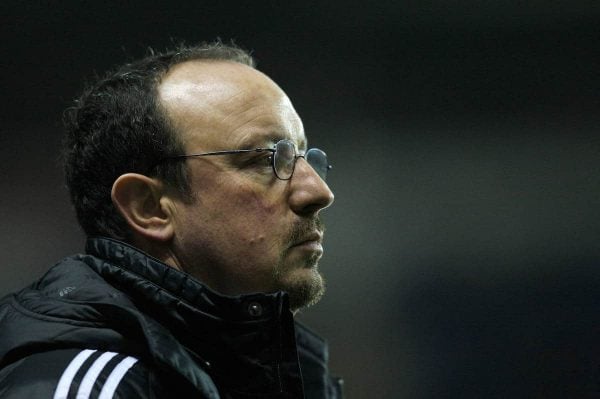 That was Benitez all over; a born winner who didn't care who he upset in the pursuit of collective improvement and success.
He still doesn't, and having frustrated his old side at St James's Park, one can only imagine what he made of Jurgen Klopp's post-match comments, specifically those relating to the manner of Newcastle's 36th-minute equaliser.
Klopp went to pains to defend Joel Matip and Dejan Lovren despite the two centre-backs creating enough of a gap for not only Joselu but his entire extended family to run through with their dozy defending.
They were too wide apart, too flat in their positioning, not fully concentrating and ultimately culpable for Liverpool yet again conceding a soft goal.
But did the manager bollock them when interviewed on TV afterwards? Did he fuck.
Instead, Klopp claimed the pair's view of the through pass played by Jonjo Shelvey to Joselu was compromised by the bodies in front of them.
Had they had a clearer sight of the delivery they would have got tighter to the eventual goalscorer. Don't blame them, blame the situation.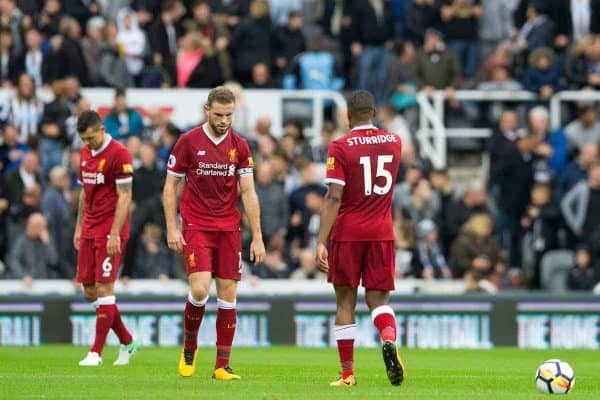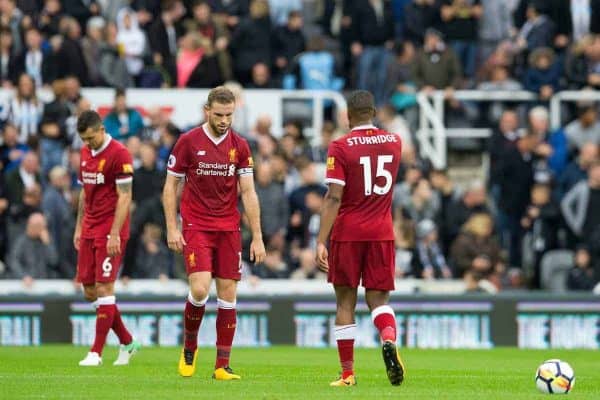 Sorry Jurgen, but no. Firstly, there are always players in front of defenders—they're called midfielders. As a defender it's your job to make sure you can see past and/or around them.
And if you can't, tell them so, or play it safe and take a few steps back. At the very least, be alert to the possibility that a delivery may be coming your way.
Secondly, blocked view or not, why was neither Matip or Lovren in the same postcode as Joselu?
The Spaniard was the clear and present danger—the only danger, in fact—and so one of them should have thought, 'you know what, I'll keep an eye on this fella'.
And as he did, the other should have taken a retreated and adjusted his body so he could catch Newcastle's No. 21 in case he latched on to a delivery and ran away from his marker.
But none of this happened and Joselu scored, albeit via a stroke of good luck as Matip charged back to take the ball away from him.
Cue groans and a maddening sense of deja vu among Liverpool supporters everywhere.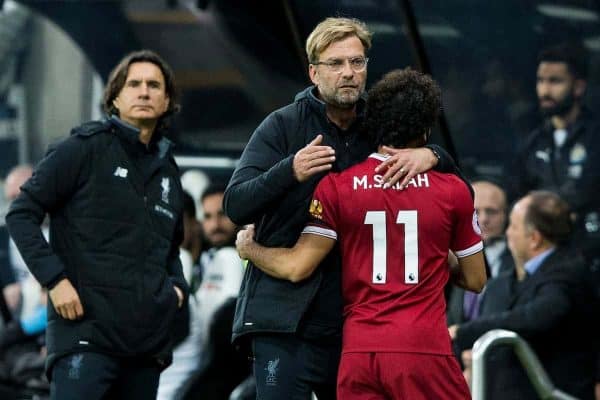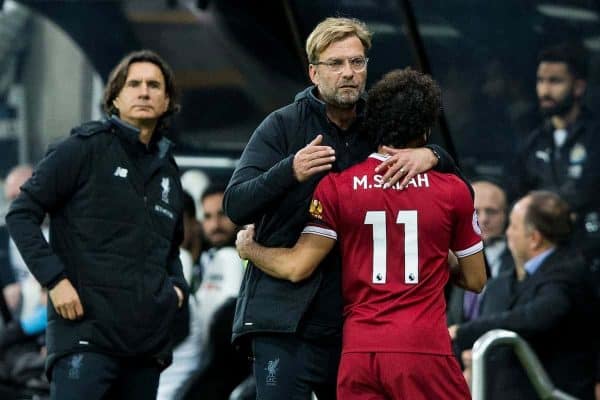 What this all points to is a lack of personal and collective responsibility at first-team level, players allowed to drop their standards and get away with rudimentary failings because the manager's got their back. Screw the critics and, more importantly, screw the consequences.
If you think that is an over-reaction to a single incident than consider some of Klopp's other utterings.
Asked about his team's lack of ruthlessness in front of goal after the Newcastle game, specifically the second-half chances missed in quick succession by Daniel Sturridge and Mohamed Salah, the manager said:
"What's my job now? To tell them 'Mo, don't do that next time' and 'Daniel, please have a look next time'? No, they know that and they will do it."
And questioned at points during the summer about signing players who could improve Liverpool's chances of being competitive in the Champions League, he spoke of showing loyalty to those who had returned the club to the competition.
In each case there is a worrying level of softness from a man whose position and power compels him to act with toughness.
It's of course possible Klopp does so behind closed doors. Maybe he did lay into Matip and Lovren, and Sturridge and Salah, in the St James's Park dressing room.
And we know from the botched pursuit of Virgil van Dijk let alone the players that were signed in the summer, including Naby Keita, that the manager is aware he needs to bolster his options.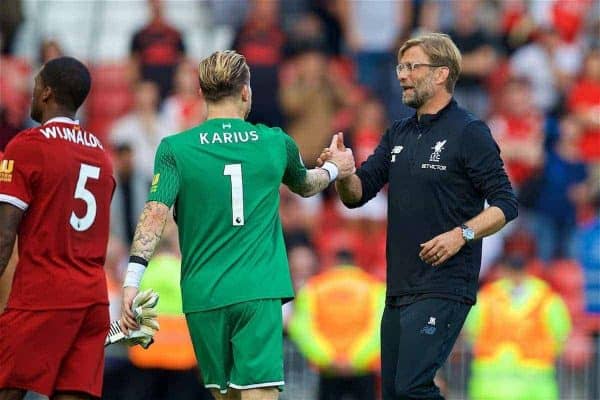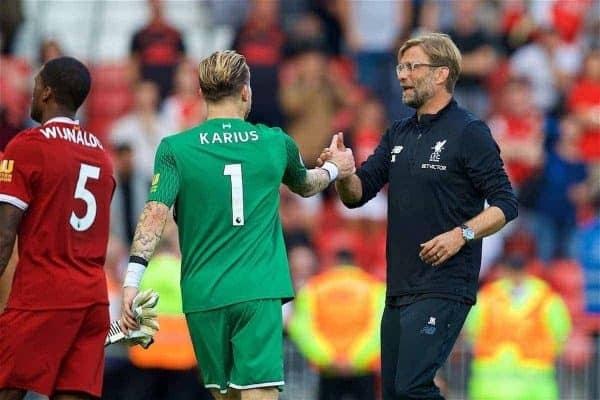 But all too often there is the sense that life is a little too cozy for the players at Liverpool, that the man in charge is not making the decisions and behaving in the way that keeps those who take to the field, and sit on the bench, every week on their toes and properly focused on the task ahead.
Take the goalkeeping situation as another example. It's a farce. Barcelona aside, which team has rotated the man between the sticks and gone on to win major honours?
It doesn't happen. Every team needs a steady, reliable 'keeper, and the better he is the better they'll do.
Klopp claims it is his intended strategy to swap Simon Mignolet and Lorius Karius on a regular basis (as well as give Danny Ward a go from time to time) but I simply don't buy it, partly because he didn't do so at Borussia Dortmund, where Roman Weidenfeller played more often than not, domestically and in Europe.
No, this situation has come through indecisiveness and over-extended loyalty on the manager's part.
He stuck with Mignolet longer than he should have done, could not bear to ditch Karius despite obvious reservations over his countryman and come this campaign, has decided to play both because the first did well at the back end of last season and the later may do well in the future.
Seriously boss, either pick one or ditch them both and get someone else.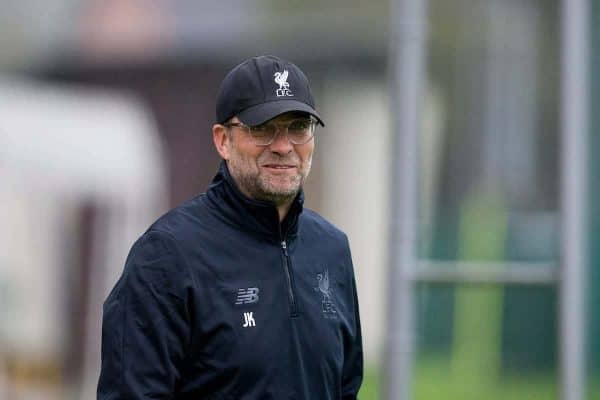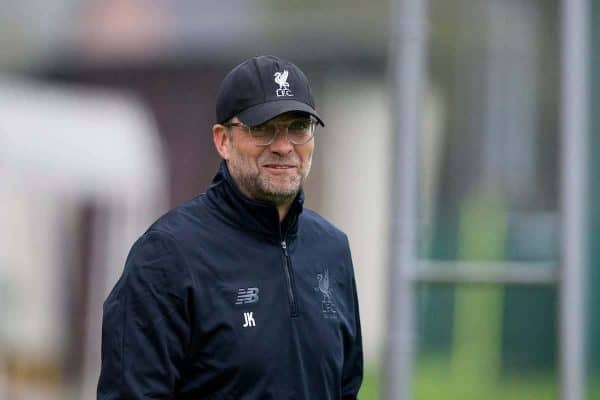 My fear is that all of this will lead to Jurgen Klopp's Liverpool becoming like Arsene Wenger's Arsenal, and not the good version.
Rather a club where the players love the manager but do not fear him and so collective competitiveness erodes away to such an extent that you can never see them winning anything significant ever again.
And lets not forget that, unlike Wenger, Klopp hugs his players. Big, tight, lovely hugs, like your favourite grandad gives.
Before the Klopp acolytes lose their shit completely, let me stress that I am not calling for his head.
The two-year anniversary of his appointment as Brendan Rodgers' successor recently came and went and I more than anyone felt it was a moment of celebration.
In the past 24 months, the manager has improved the squad—through coaching and recruitment—implemented a thrilling style of play, led the club to two finals and returned them to Europe's top table.
And when it comes to acting tough, let's not forget his handling of Mamadou Sakho, whether you agreed with it or not.
No, Klopp has been a success and we're lucky to have him.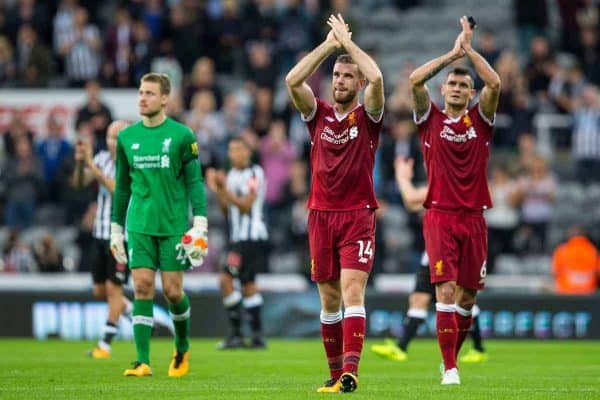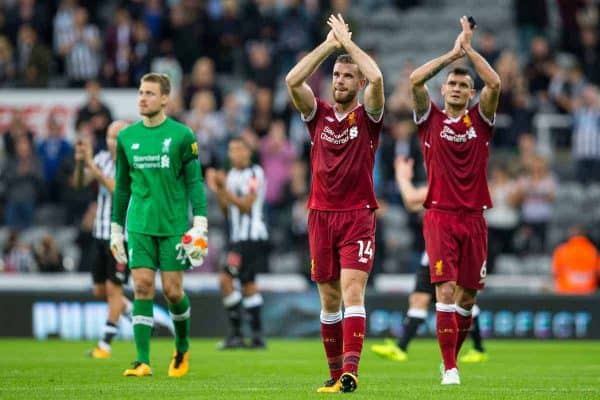 Equally, Liverpool's stature and standing means there can be no resting of laurels in the pursuit of glory.
And the simple fact is we're into a new season and even before the clocks have gone back and the Halloween decorations have come out, there are serious doubts about the team's chances of mounting a title challenge and progressing in the Champions League due to a lack of ruthlessness in attack and a lack of sturdiness in defence.
This Liverpool team is too nice, too soft, too forgiving.
That has to change if the Reds are going to be competitive, and particularly in a climate where their rivals, home and abroad, can spend £50 million on full-backs and £200 million on attackers.
European football's sharp end is more brutal than ever and there is little room, if any, for mental or physical weakness.
Liverpool appear OK on the latter front—this is a fit, energetic, relatively young group of players—but on the former there must be concerns given the number of frustrating outcomes this campaign.
Watford, Sevilla, Burnley, Leicester in the cup, Spartak Moscow and Newcastle—all games Liverpool should have won, all games they did not.
And then there was the capitulation at Manchester City. Yes, the visitors were down to 10 men, and yes, City were excellent, but 5-0? Liverpool should never be losing 5-0.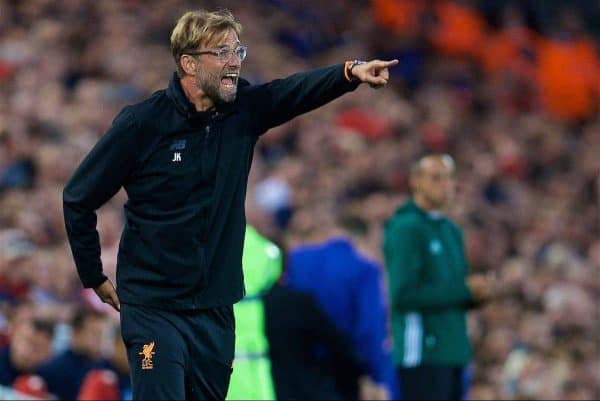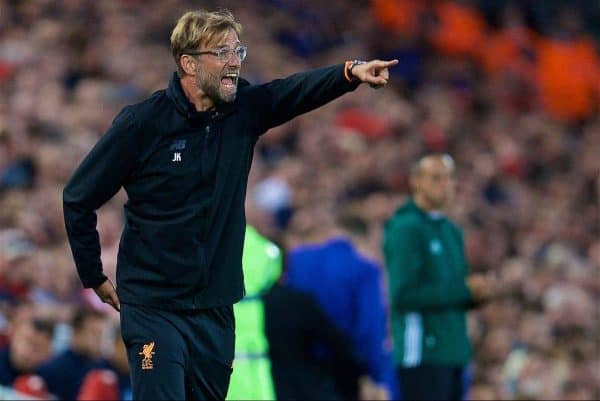 Starting with Saturday's visit of Manchester United, and with Liverpool's collective back against the wall following news of Sadio Mane's long-term hamstring injury, this team has to get tougher, stronger, more ruthless and streetwise, and while personal responsibility among those who wear the shirt is important, ultimately the tone is set by the man in charge.
We see him barking orders on the touchline but at Melwood as well as Anfield, is he doing everything he can to mentally whip his troops into shape? To instil in them the right level of fear over the consequences of not hitting Liverpool's established standards?
Put another way, is Klopp behaving like a man who would sell a player whose eyesight had been damaged while carrying out his instructions?
A hard, unforgiving bastard who will stop at nothing to bring trophies back to a club that used to gobble them up as a matter of course? I really hope so, but I have my doubts.
Prove me wrong Jurgen, prove me wrong.