The media praised Liverpool's confident display in Saturday's 0-0 draw with Man United and felt the game proved the progress made under Jurgen Klopp.
The Reds were held to a frustrating goalless draw at Anfield for the second season running by Jose Mourinho's unambitious spoilers.
Also like last season, Klopp's men dominated the entire contest as the only side seemingly interested in winning the game, but once again couldn't find a way past United's ultra-defensive set-up.
To come out with just a point only adds to current frustrations around Anfield, but encouragement from such a dominant performance must be taken into two more vital games this week.
Here's how the media assessed events at Anfield.
Post-match reports were dominated by comment on Mourinho repeating his anti-football set-up, which certain journalists felt was a compliment to Liverpool and the progress made under Klopp.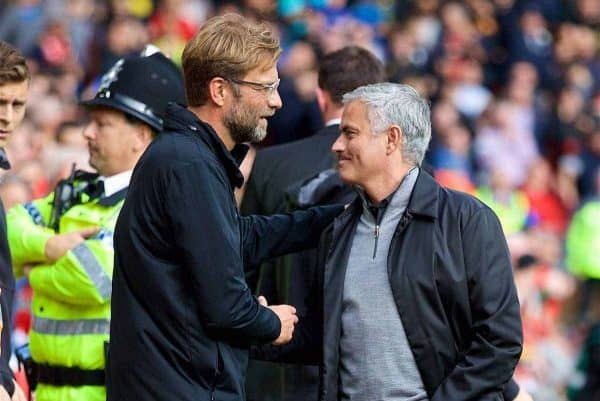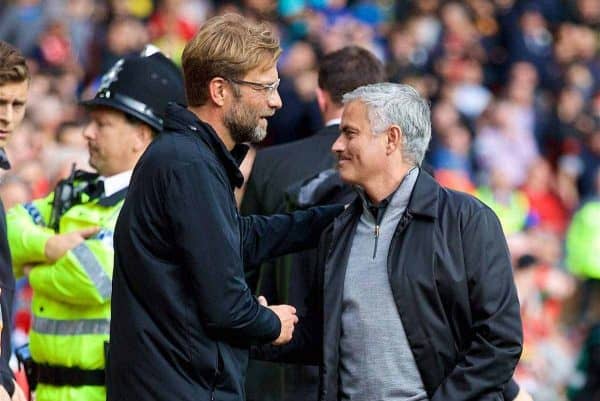 The Liverpool Echo's James Pearce felt Mourinho was "too scared" to engage in a contest with Klopp's men:
Despite the £300million Mourinho has splashed out, their game plan rarely involved venturing past the halfway line.

Once again he was too scared to go toe to toe with Klopp's side. United were set up simply to stifle and contain.
And the Guardian's Daniel Taylor felt that is why Mourinho's negativity should be taken as a compliment by the Reds:
If nothing else, Liverpool should probably take it as a compliment that Manchester United would choose to approach the game this way.
Pearce also thought United's delight at scraping a point showed the progress Klopp's side have made:
A dour stalemate wasn't the anniversary present the German wanted but the signs of progress are undeniable. Just look at how delighted United were with their point.
Meanwhile, Richard Jolly, writing for The National, thought both teams played like underdogs:
Indeed, Jordan Henderson had more of it than anyone else. Can and Gini Wijnaldum helped him run the game but the peculiarity of a meeting between two of English football's superpowers is that both displayed an underdog mentality: Liverpool like tearing into top teams with the relish of a lower-division side in a cup tie. Mourinho is willing to defend.
Reporters discussed Liverpool's general performance and inability to break United's stubborn rear-guard again, and offered various reasons as to why the Reds failed to do so.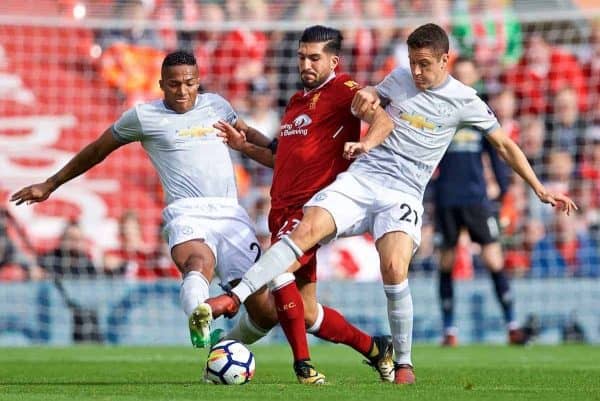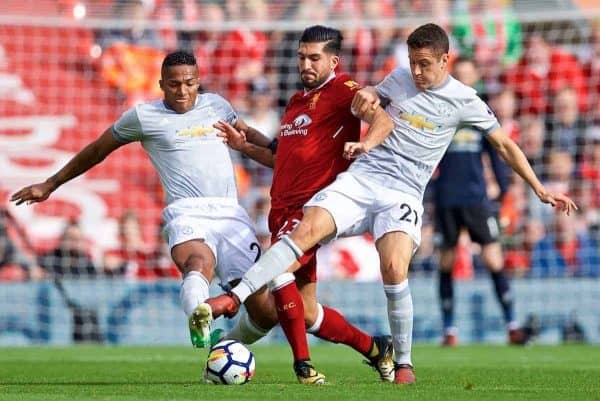 Firstly, ESPN's Dave Usher was encouraged by the Reds' confidence given recent struggles and praised the defensive display:
Considering their poor run of results it is encouraging that Liverpool's players do not seem to have allowed it to knock their confidence and their performance level remains high.

They played very well in this game and defensively they were excellent in stopping United from launching any dangerous counterattacks.
However, Pearce bemoaned the Reds again failing to get the result their play deserved:
The problem this season has been that Liverpool simply haven't got the results their dominance has merited because of familiar issues at both ends of the field.

Against United it was the lack of a potent goalscorer which cost them – someone capable of turning a scrappy draw into a priceless win.
Taylor felt the Reds lacked creativity in the decisive areas:
Instead, the home side did not have the wit or creativity in decisive areas and, unfortunately for Jürgen Klopp, three points have never been awarded for moral victories.

[…]

Klopp's men played many passes, but never the killer one.
This Is Anfield's Chris Williams felt the game showed that Klopp needs a clinical, out-and-out striker:
Liverpool played well but Klopp needs to find an out-and-out striker to top this excellent midfield/attack off.
The Mirror's Andy Dunn criticised Mohamed Salah for a lack of composure at key moments:
Mo Salah never managed to convince Jose Mourinho during their time at Chelsea and while he certainly caused United a lot of trouble, there is still something missing from the Egyptian's game.

Composure. So many times, he created havoc only to select the wrong option – a pass rather than a shot, a shot rather than a pass.
On a different point, This Is Anfield's Karl Matchett thought the game showed Salah's tactical importance:
While his individual ability alone was cause to sign him, from a tactical perspective it was vital that the Reds brought in a wide forward of that style.

[…]

Naturally, the best option is to have both of them available, but it's vital that the Reds have someone in place every game to fill that role, and Salah brings exactly that.
Discussing the Reds' attack, ESPN's Mark Ogden thinks Liverpool are too easy to defend against without Sadio Mane:
But without him, Liverpool are so much easier to defend against, and Manchester United were largely untroubled at Anfield with Mane watching from the sidelines.

[…]

Liverpool are fortunate that few teams will face them with the same kind of defensive discipline that Jose Mourinho has instilled into his United team, but opponents will have watched this performance and realised that you can sit deep against Liverpool and blunt their edge without Mane.
And Ogden also believes Klopp needs a 'Plan B' to get by without the key Senegalese:
Mane's hamstring injury, sustained on international duty with Senegal, was a hammer blow for Liverpool ahead of this game, but Klopp must come up with a Plan B to avoid his anticipated six-week absence from completely derailing his team's season.
Reporters discussed Klopp's performance – questioning whether the German could have done more to swing the game in Liverpool's favour – and offered thoughts on which players impressed.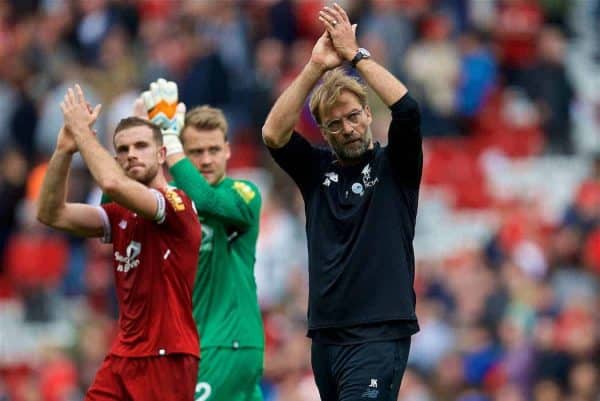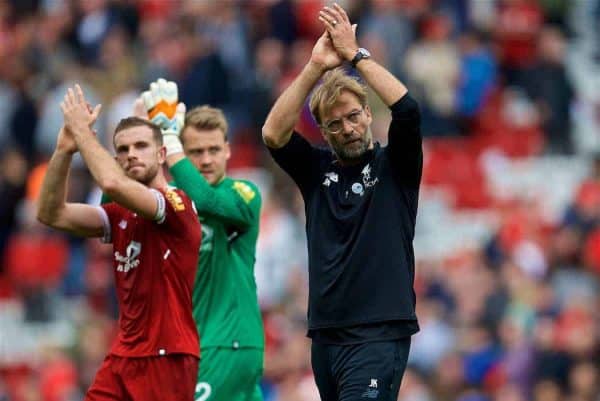 Firstly, the Liverpool Echo's Ian Doyle noted a change in Klopp's approach, and praised the German for retaining control of the contest:
Klopp, however, didn't want to surrender the initiative his midfield had gained from almost the very first whistle, especially with United short on players in the position.

It was a question of control. And Klopp outsmarted Mourinho by ensuring Liverpool kept theirs, even if the finishing touch was lacking.
Usher felt Klopp made the wrong call taking off biggest attacking threats, Philippe Coutinho and Salah:
There can be few complaints with the starting lineup or how the team was set up, but taking off Mohamed Salah and Philippe Coutinho was strange and will have gone down far better with Manchester United fans than Kopites.
However, Matchett defended Klopp's substitutes, assessing little with the performance needed to change:
Daniel Sturridge and Alex Oxlade-Chamberlain came on as a double change, and while Klopp has been criticised for waiting so long previously, was there an alternative?

Neither of the English duo have made a compelling case for more minutes with their recent form; Liverpool were dominating and playing better than United with the starting XI; and the balance, as ever is delicate: change one component of the team and another can suffer.
Turning focus to individual performances, Williams labelled Joe Gomez the "star defender" on show:
This was a big game for the youngster, showed excellent composure throughout and held a good level of concentration.

Was on the wrong end of a challenge from Lukaku which could have unnerved him, it didn't! Star defender for this fixture.
Usher was impressed with Alberto Moreno:
Combative, determined display from the little Spaniard who won far more headers than a man of his diminutive stature is entitled to. Defended well throughout, kept his concentration and provided a useful outlet on the left.
Despite Salah's impressive performance, the Independent's Miguel Delaney oddly assessed the Egyptian as "short of the standard" for a title-challenging side:
That responsibility was instead left to Mohamed Salah, but he instead provided justification as to why Mourinho sold him when Chelsea manager, why the Egyptian feels just short of the standard required to be a starter for a properly title-challenging team. He isn't the finished article, and that is so evident in his finishing.