Roberto Firmino believes his chemistry within Liverpool's 'fab four' attacking unit can be key to his side achieving success in the near future.
Firmino joined the Reds in 2015, arriving to complement his Brazilian compatriot, Philippe Coutinho, in Brendan Rodgers' forward line.
The South American duo have since been joined by a pair of speedy wingers in Sadio Mane and Mohamed Salah, with the quartet dubbed Merseyside's new 'fab four'.
While recent games has seen the Reds' attack fail to fire consistently, they have already proved their ability to devastate defences together.
And speaking to LFCTV, Firmino assessed his growing understanding with Coutinho, Mane and Salah, attesting to their potential up front.
"They're giving us quite a lot of chances on goal. They're very quick and we're enjoying playing with these two and the speed they give us," he said of Mane and Salah.
"They're giving us a lot of chances to create goals, which is really important for the team.
"It's excellent. To play with these guys, it's very important for me and for everyone.
"It's very good for the team and I enjoy playing with the three of them.
"They're really nice lads, good people, and I hope that we can help Liverpool to the absolute maximum to play well."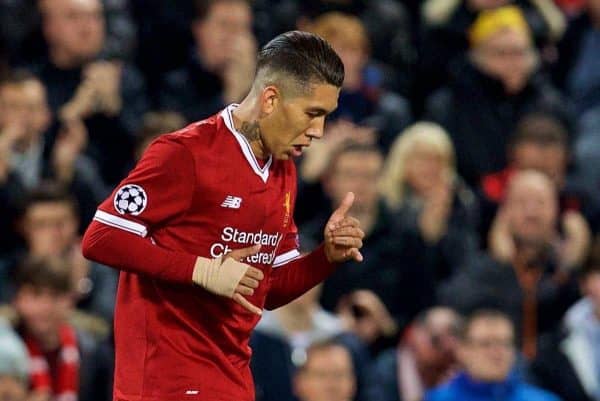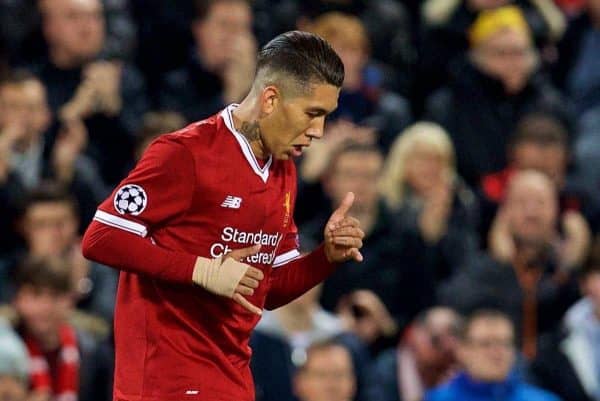 Firmino made his 100th appearance for Liverpool in the 1-1 draw with Spartak Moscow in the Champions League at the end of September, having settled into a key role under Jurgen Klopp.
This was promptly followed by speculation over a new contract for the No. 9, and Firmino said he is "very happy" to stay with the Reds.
"It's great for me. Ever since I received the proposal to come to Liverpool, I've been very happy," he explained.
"I never thought twice about coming to Liverpool. I'm very happy; it's a very good club at a very high level.
"I enjoy playing here and I'm pleased to have reached my 100th game.
"I'm pretty content because I'm a person who demands a lot of himself; I always want more and nothing is ever 'perfect' for me.
"Things are great but they could still be better. That's always kind of thinking: to keep wanting more.
"I go very much game-to-game, I think about my own performance and the team's performance.
"I hope I can get another 100 games for Liverpool, do a lot of good things, win as much as possible and achieve success."
While Firmino has endured a drop in form in recent weeks, it must not be forgotten that the 26-year-old was performing at such a high level at the start of the season.
There are few players capable of leading the line like Firmino, and Klopp should continue to build around his first-choice striker moving forward.