Liverpool's final match before the November international break marked a stark difference to their final game before the October international break five weeks earlier.
The 1-1 draw at Newcastle at the start of October was fairly disappointing – and it capped a miserable spell between the September and October international breaks, having won just one of the six games played in all competitions.
This past month has seen improved results and, perhaps most importantly, more defensive solidity – especially since the defeat at Tottenham.
The image below shows Liverpool's average positions against West Ham on Saturday compared with the Newcastle game. It's clear to see the more structured shape against West Ham, with far more protection for the centre backs.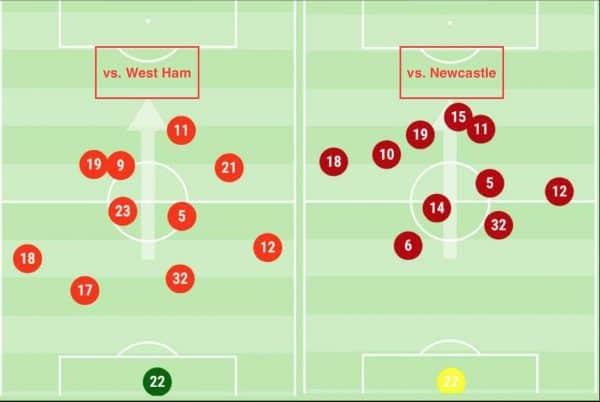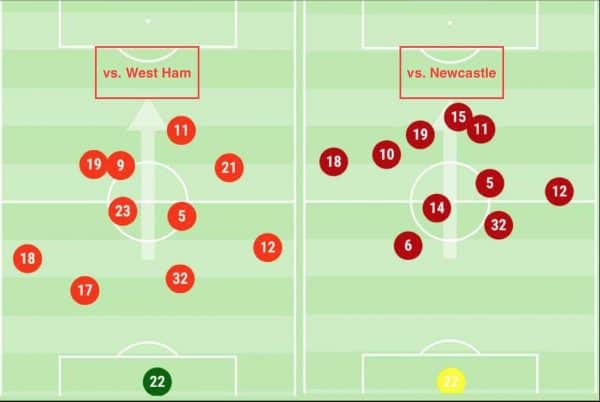 The Newcastle image shows Alberto Moreno especially further forward, as well as Joe Gomez compared to at West Ham. Of course, part of this is the increased possession against Newcastle and Rafa Benitez's side sitting deeper than Slaven Bilic's, but it's clear to see the structure of Jurgen Klopp's side changed.
What's also clear is the 'two number sixes' against West Ham, as Klopp put it post-match, with Emre Can and Gini Wijnaldum playing in midfield, rather than just Jordan Henderson holding.

The image above here shows the average positions in the 4-1 defeat at Wembley, with a disjointed defence and huge gaps. Compare that to the last home match against Huddersfield (below), where there is – like against West Ham – a much better and clearly defined back four shape.

It certainly seems like the defeat at Spurs has signalled a shift in approach from Klopp defensively, and indeed further forward with more protection from midfield.
The Huddersfield and West Ham images show an almost 'perfect' back four shape, and two deeper midfielders rather than just the one.
A pragmatic move from Klopp, which appears to have stemmed the defensive problems for now at least.
* Images via the SofaScore App.