With four wins from four following the 4-1 loss to Tottenham, Liverpool have again show their ability to "strike back" under Jurgen Klopp.
Taking on Southampton at Anfield on Saturday, the Reds produced a comprehensive, comfortable performance that saw a brace from Mohamed Salah and a goal from Philippe Coutinho seal victory.
Defeating Mauricio Pellegrino's struggling Saints 3-0, Klopp's side extended their winning run to four games; their longest streak since the German arrived in 2015 is five.
That this solid stretch of form comes after one of their most miserable results of Klopp's reign so far, a mauling at the hands of Spurs, provides an encouraging contrast.
Speaking after that frustrating afternoon at Wembley, Klopp delivered a familiar quote on the need to bounce back, saying "we have to prove we will fix it."
It was familiar because the last time the Reds lost at Wembley, in the League Cup final, Klopp spoke again of the need to strike back: "Only silly idiots stay on the floor and wait for the next defeat.
"We will strike back. We have felt how it is to lose. It is not the best moment but on Monday morning maybe we can change everything."
And with victory over Southampton following convincing wins against Huddersfield Town, Maribor and West Ham, Liverpool are certainly proving that ability again.
Dominant Wins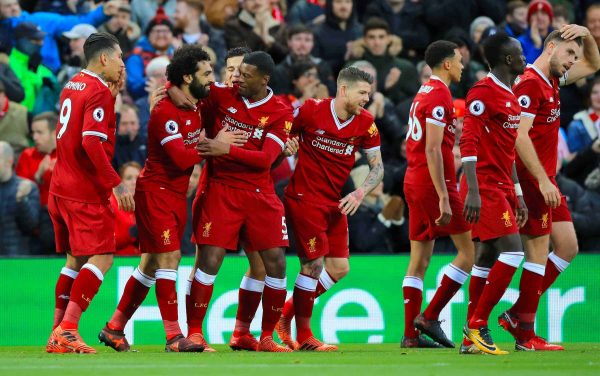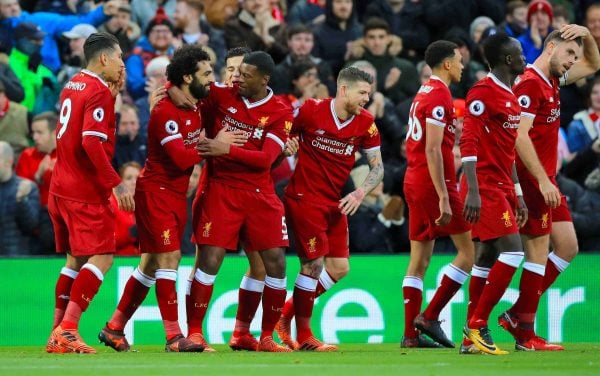 In the last four games, Liverpool have scored 13 goals and conceded just one, keeping three clean sheets at Anfield as their excellent defensive form at home contrasts the nightmare away displays at Watford, Man City and Wembley.
These basic statistics highlight just how dominant the Reds have been since losing to Spurs, putting four comparatively lowly sides to the sword.
They have played with a swagger and determination, with Salah's ruthlessness in front of goal providing the cutting edge Klopp's side need to thrive.
Salah has scored five goals and assisted one in the last four games, with the Egyptian benefiting from an international break at Melwood to ensure he remained fresh throughout.
But while the 25-year-old has been the star of the show for Liverpool, Klopp was right to describe Saturday's win as "an all-round good performance," and "a really deserved win."
Since that day at Wembley, the Reds have been more incisive, more economical and more controlling.

In three of those four wins, Liverpool enjoyed more than 60 percent of the possession, higher than the season's average of 58.1 percent.
Two of those also saw the Reds create more chances than the season's average, with this leading to a significant increase in the amount of shots fired on goal.
Naturally, they scored more (3.25) and conceded fewer (0.25) per game than their average over the course of the season, but the most telling statistics showcase their clinical approach.
In each of their victories in the league, at home to Huddersfield and Southampton and away to West Ham, the Reds required fewer shots and fewer chances to find the back of the net.
While the 3-0 win over Maribor serves as something of an anomaly in this sense, witnessing their grip on the contest at Anfield that night highlighted a superiority, building on their previous 7-0 triumph.
"Quality is obviously a mix of potential, attitude, mentality and all that stuff and we don't show it consistently enough, that's the truth," Klopp added after the loss at Spurs.
Having followed up their 5-0 loss away to Man City with five draws, two wins and a loss in their next eight games, their four-game winning streak since October 22 is a stark contrast.
And this mesh of qualities have been on show both on and off the pitch.
The Pragmatic Approach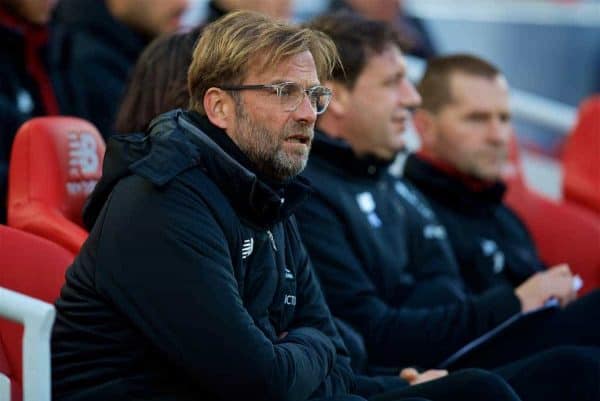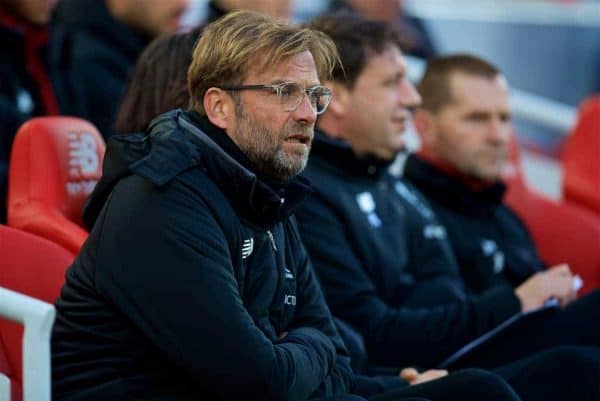 Klopp's comments after the humiliation in north London saw the German look to the training ground for solutions, saying "the only way to fix it is to stay strong and work on it."
With five days between that loss and the visit of Huddersfield on October 28, the Reds clearly set to task at Melwood.
They were certainly aided by the abject nature of their opposition, with David Wagner's Terriers failing to build on their previous, stubborn 2-1 win at home to Man United.
But it was clear that Liverpool made it impossible for them to do so, too, with a series of minor tactical tweaks from Klopp providing his side with the stability to do so.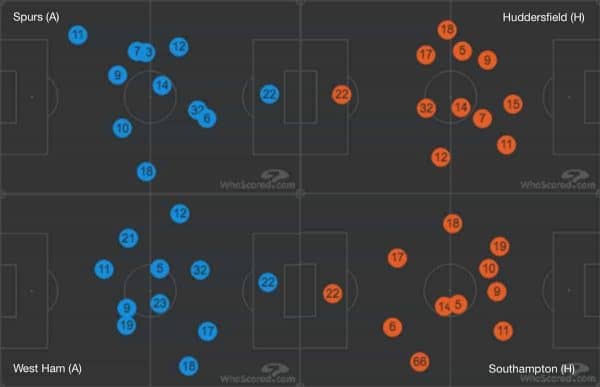 Comparing the Reds' average positions in the loss to Spurs and their three subsequent victories in the Premier League, there are two major differences in shape.
It has been previously noted by This is Anfield's James Nalton how Liverpool adopted something of a back-three defensive system out of possession against Huddersfield.
And this is also clear in the wins over both West Ham and Southampton, with one of Klopp's full-backs typically closer to the centre-back pairing than the other.
But the biggest difference in the Reds' formation at Wembley and those games since is the added protection from midfield.
Against Spurs, there is a clear gulf in the middle of the park, with James Milner and Emre Can vacating the space to leave Jordan Henderson as the only shield for Joel Matip and Dejan Lovren.
Since then, the return of Georginio Wijnaldum to the fold, partnering either Can or Henderson, has seen a more rigid shape emerge, with Klopp attesting to his "two clear No. 6s" after the win at West Ham.

The victory over the Hammers is arguably the most interesting, and showcases Klopp's pragmatic approach over the past four games.
Comparing Spurs' absorb-and-strike approach at Wembley with the Reds' performance at the London Stadium, there are clear similarities in how they set up.
That game saw Klopp change his formation to be closer to a 4-4-2, with his two No. 6s given further support by the use of Alex Oxlade-Chamberlain and Sadio Mane as more reserved wingers.
The Reds conceded more possession to their opponent than they typically would, had fewer shots and created fewer chances, but were significantly more clinical when they did attack.
Klopp certainly learned from the loss at Wembley, and he has tailored his side since to great effect.
The Challenge Ahead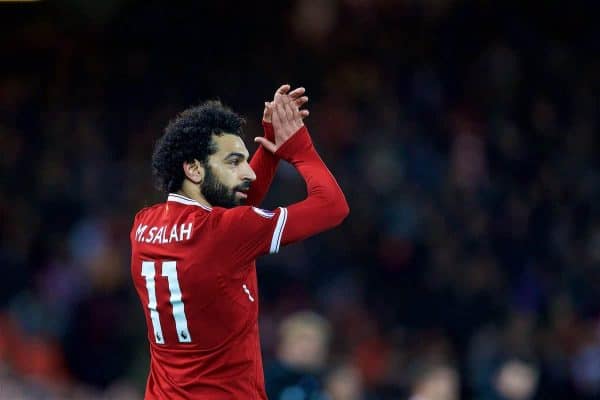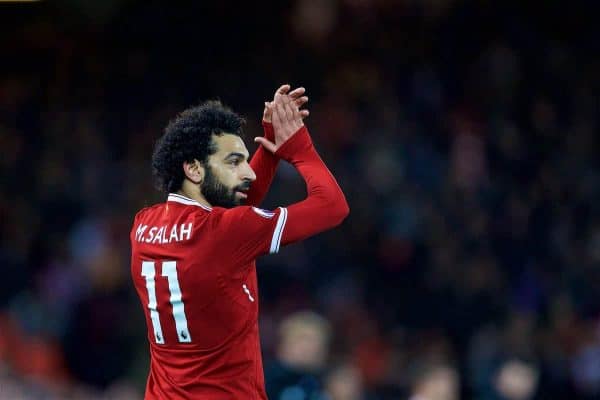 Closing in on his record winning streak at Liverpool is a hugely positive development for Klopp, and one that was barely conceivable heading into the last week of October.
But Saturday's win over Southampton marked the first of 13 games over the space of just 45 days, and the challenge is for the Reds to maintain their consistency.
They are thrown up a series of tough clashes before the end of the year, with the upcoming double-header away to Sevilla and at home to Chelsea evidence of that.
After that come trips to Stoke City and Brighton, then against Spartak Moscow, Everton and West Brom at Anfield, then Bournemouth (A), Arsenal (A), Swansea City (H), Leicester City (H) and Burnley (A).
These will be wildly varying encounters, and the Reds cannot afford to let complacency creep in after four confidence-boosting wins.
Fortunately, Klopp is blessed with an increasingly competitive squad, with Nathaniel Clyne his only long-term absentee as Adam Lallana returns from injury this month.
The strength of Liverpool's bench at Anfield on Saturday, and Klopp's use of his substitutes—bringing on Milner, Can and Oxlade-Chamberlain—proves the ability to shuffle his pack.
The hope is that the Reds use this congested run to keep up their rhythm, and extend their winning run further.