Liverpool should be celebrating reaching the last 16 of the Champions League, but instead let a 3-0 lead slip to draw 3-3 at Sevilla on Tuesday.
Jurgen Klopp named a strong side for the trip to Sevilla, making just two changes to the weekend team, and it looked to be paying off in style as Liverpool roared into a 3-0 lead at the break.
A goal in 82 seconds from Roberto Firmino set the Reds on the right path, before Sadio Mane scored almost a carbon copy for 2-0.
Mane's shot was then saved and Firmino finished for a third before the break and it seemed as though the points would be wrapped up in style, but a second-half collapse meant the Reds had to settle for a point.
Wissam Ben Yedder scored twice, the second from the penalty spot, before Guido Pizarro scuffed home an injury-time equaliser.
Here are five talking points from the match at the Ramon Sanchez Pizjuan.
Alberto Moreno and the need for consistency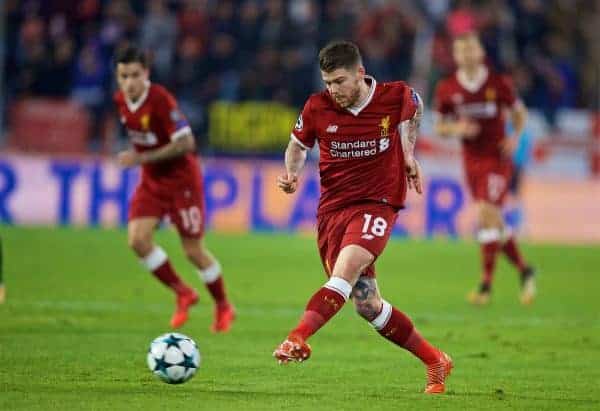 Of course, we're going to have to note Alberto Moreno's performance.
The left-back was solid and decent in the first half but suffered a 15-minute meltdown after the break reminiscent of his performance in the Europa League final.
He gave away a needless free-kick, was beaten on the delivery for Sevilla's first goal, then lost control of the ball and conceded a penalty for the second goal.
Klopp subbed him soon afterwards, and of course it was his shambolic performance which partly contributed to Liverpool's collapse – but there are two points to note: one for the player, one for the fans.
For Moreno, he needs to acknowledge that the better form he has shown this term needs to be replicated, not just for a month or two at a time but for the best part of an entire season. That's what a first-choice player in any particular position does, particularly in big matches.
Headlines about Moreno's story of redemption have been far too early. Maybe after a season they'd work.
For the fans, all players have bad games—and this performance doesn't wipe out the good that Moreno has done this term already.
Writing him off as back to his old tricks would be ignorant and stupid.
It was a poor display, yes, and a costly one, but it's now up to the left-back to bounce back quickly and show the form which earned him his place back in the team.
Firmino, V_poacher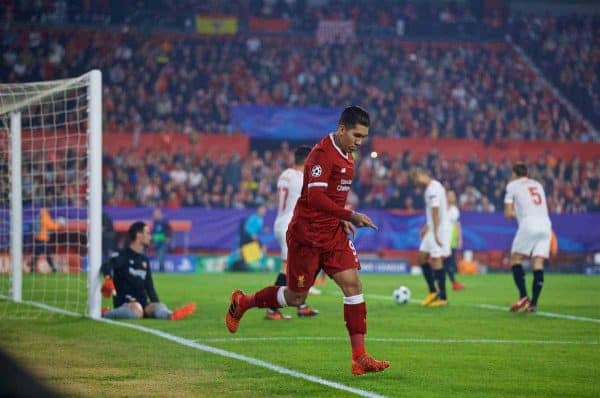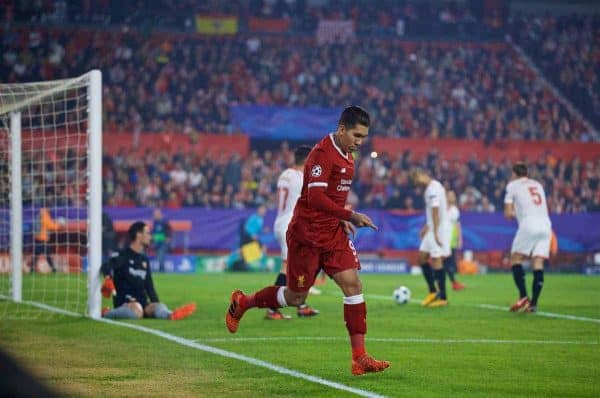 Firmino has been described as every kind of attacker: a supporting forward, a false nine, a complete, modern striker.
At Sevilla he showed the altogether more ruthless side of his game, a real poacher's instinct to score twice and claim one assist as the Reds ran riot in the first half.
Tremendous movement saw him peel off at the far post to react quickly and open the scoring from a narrow angle, before the next corner saw the Brazilian get across his man to flick the ball on—Mane scoring this time.
For Firmino's second it was again about the movement and anticipation in his game, keeping pace and a clever line to stay with Mane's run—and be on hand to tap home when the rebound fell his way.
We know about Firmino's strength outside the box, his link play and his work rate, but inside the area he's also a big threat and at Sevilla he showcased just how important he is in that regard, too.
Sliding doors in midfield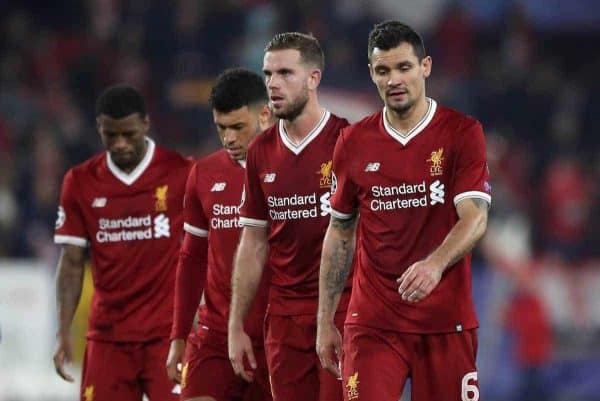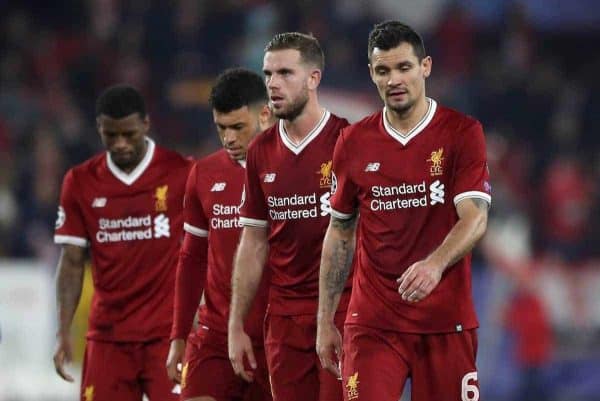 Liverpool went from comfortable to calamitous in next to no time after the break, and as they grew more ragged and desperate until around the 70th minute mark it would have been extremely nice to see a controlling, calming force in midfield.
That imposing presence should have come from captain Jordan Henderson, but the skipper was nowhere to be seen as Sevilla scythed through the Reds' soft centre over and over.
Misplaced passes, chasing out of position to win the ball, a succession of free-kicks conceded and no real protection of the defence whatsoever: once more Henderson simply didn't do a good enough job as the shield.
By contrast, Ever Banega simply ran the game after the break.
The Sevilla man was influential in both halves, finding time and space on the ball and dictating the tempo of his team.
He also, tellingly, made a critical intervention in his own penalty box; as the Reds countered off a Sevilla corner with Mohamed Salah and Mane, it was Banega who tracked back Emre Can to make a vital tackle and prevent a Liverpool fourth.
That, of course, kept Sevilla in the running for a point, which they snared late on.
Karius taking his chance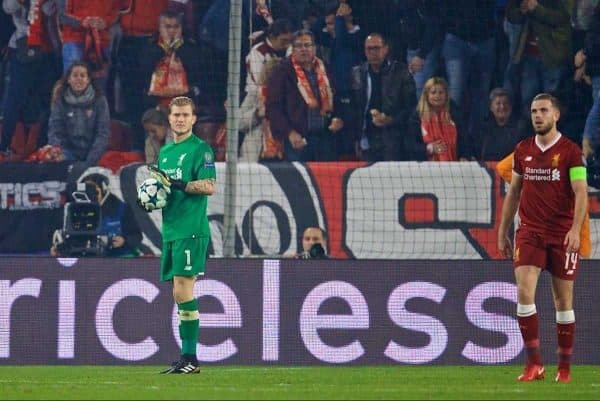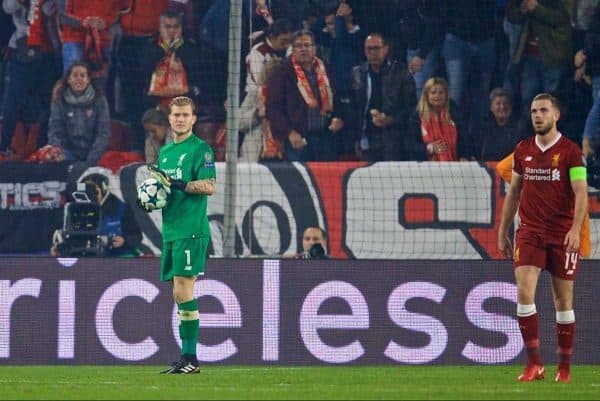 Amid all the madness of the 90 minutes, it shouldn't be forgotten that Karius has to see these European games as a chance to stake his claim to be the regular No. 1.
The German was beaten three times but can still be largely very happy with his performance; he made big saves and was brave when called upon, a much better display than he has offered at times.
With the Reds only 1-0 up he produced a great save onto the post to deny an early equaliser, then made another tremendous reflex stop as the Spanish side sought to make it 3-3 in the second half.
Aside from those spectacular interventions, Karius also came out to claim high balls and punched one dangerous delivery clear under pressure near the edge of his penalty box.
A good performance, and the goals certainly weren't his fault for conceding.
Lacking composure, leadership, resilience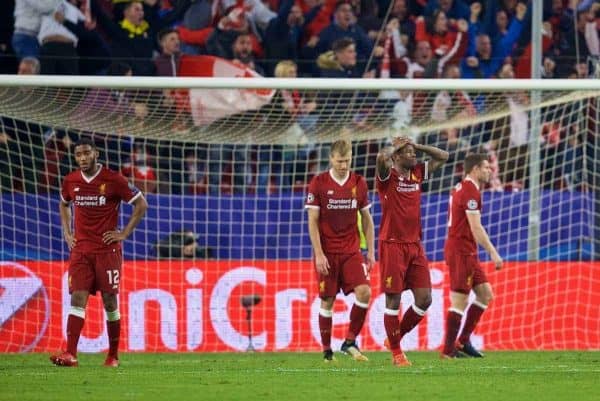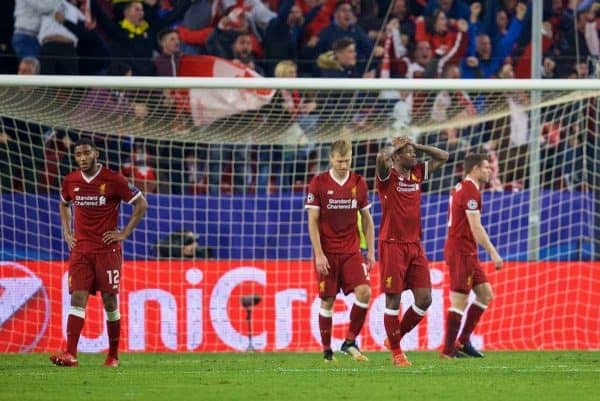 It's hard to know where to point the finger when this sort of display happens in such big matches: the manager, for not reacting quickly enough; the players, for not controlling play and managing their own performances; or the club overall, for not adding more steel to the squad.
Simply put, aside from the fact the defenders are much-maligned for a variety of reasons, the entire squad lacks resilience.
They lack the spirit, the unyielding determination, the absolute refusal to lose a tackle, never mind a match, of a Javier Mascherano, a Dirk Kuyt, a Jamie Carragher.
Too often the midfield is passive, the forwards—yes, they can share a part too—are awaiting a chance to counter instead of making the shape impossible to break down, and the defenders simply don't do their job.
The team lacks leadership, lacks a formidable spine.
That must change before Liverpool are to win trophies. The Reds should now go through to the last 16, needing only a draw at home to Spartak, but the chance to rest players in a key run of fixtures is gone.
It should have been a win in Sevilla, but once again, a weaker mentality and a predictable penchant to wilt at vital moments has cost Liverpool a big result.