Liverpool served up a strong showing but couldn't hold onto a lead once more as they drew 1-1 against Chelsea in the Premier League on Saturday.
The Reds came into the match making a number of surprising changes, with Alex Oxlade-Chamberlain, Daniel Sturridge and James Milner all coming into the side.
Despite a bright start as the Reds dominated possession, chances were hard to come by thanks to Chelsea's packed defensive and midfield lines.
Eden Hazard and Mohamed Salah traded efforts and were comfortably the most threatening two players on show in the first half, but the scores remained locked at 0-0 at the break.
In the second half it was unsurprisingly the Egyptian who managed to break the deadlock, poking home after Alex Oxlade-Chamberlain won the ball back, but Chelsea's onslaught brought a fortuitous late equaliser from Willian.
Here are five talking points from the 1-1 at Anfield.
Contrasting midfields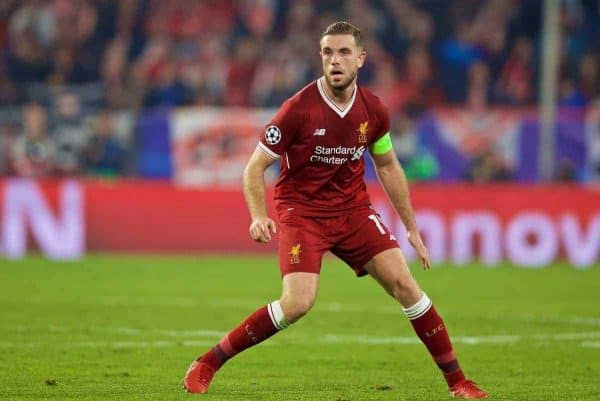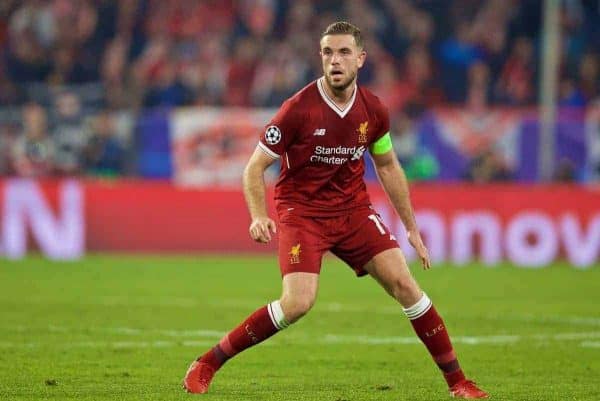 Both teams featured a three-man central midfield from the start at Anfield, but both operated in very different ways.
While Jurgen Klopp again asked his middle trio to play, pass around the pitch and try to combine to open up chances, Chelsea's worked as a solid unit to deny space and exploit counter opportunities.
There's nothing wrong with either approach when they work—but Liverpool's overall midfield contribution can learn two particular points from Chelsea's.
One is the runners from deep; Tiemoue Bakayoko and (in particular on the day) Danny Drinkwater made huge volumes of surges from deep, unmarked and untracked, into the opposition penalty box. It doesn't happen often enough with the Reds' central options, which can leave a sole centre-forward to attack the ball.
Secondly, the off-the-ball shape of Liverpool's midfield zone continues to be a shambles at times, struggling to defend against through-passes or counter-attacks.
There's no such lack of cohesion for Chelsea, which in part contributed to making it difficult for Liverpool to create chances.
Personnel, tactics or simple managerial preference? One looks more rounded than the other, in any case.
The Irregulars

The changes by the manager meant three rotational changes giving non-regular starters their opportunity, as opposed to Ragnar Klavan who continued to deputise in defence due to injuries elsewhere.
It was a mixed afternoon for the three incoming players, with Oxlade-Chamberlain making the best case for future inclusion.
He showed great work rate tracking back in the first half, was quick to challenge high upfield and looked to get past his man whenever possible, with varied success.
At the other end of the scale was James Milner, who had a real shocker. His time was split between the centre and drifting wide to cover the channel, a difficult enough tactical role, but on the ball he really suffered.
Poor control, badly timed or directed passes and a general lack of sharpness about his play really made him a liability at times.
Sturridge was somewhere in between.
His movement was good and one second-half snapshot almost saw him seize a rare sight of goal in the best way possible, but some of his first touches sent him the wrong way and he didn't link at the speed which the Reds habitually try to in the final third.
The No. 15 will be frustrated to have been subbed off reasonably early, but it would have been tactical—with Liverpool just ahead—as much as anything else.
On that note, with the Reds not making further changes until much later in the game, it's worth noting that Klopp suggested it was partly down to the officials.
Late substitutions and not reacting in matches quickly enough has been an unfortunate theme this term.
Moreno bounces back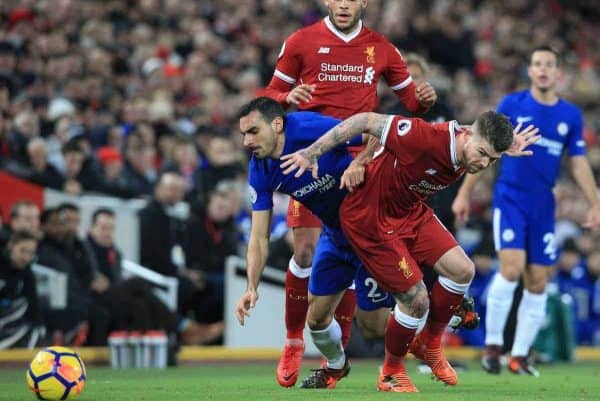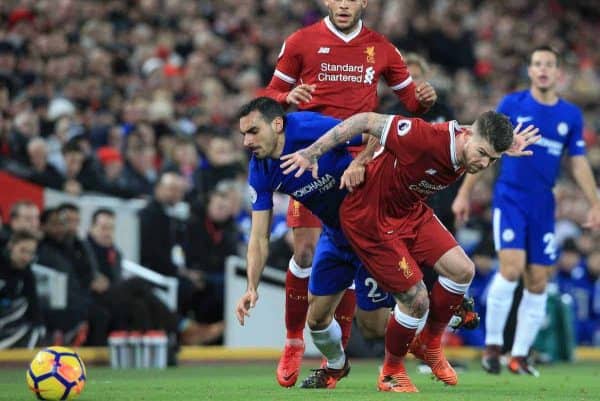 After an extremely difficult midweek performance where he was one of those to blame for the collapse against Sevilla, it was encouraging to see Alberto Moreno produce a very solid display.
The left-back was strong in the challenge, consistently on the front foot to get the Reds moving forward and diligent about tracking runs.
One or two moments might have had fans wondering if there was impending danger as he slid into a tackle or attempted to dribble away from his box, but Moreno had matters under control for the vast majority of the match.
Chelsea's wing-backs are often an important outlet but he did well in shackling Davide Zappacosta, only allowing a few wayward crosses from that side, and Moreno looked assured and confident throughout.
Klopp still trusts him, and the trust was repaid against Chelsea.
Improved defence, no reward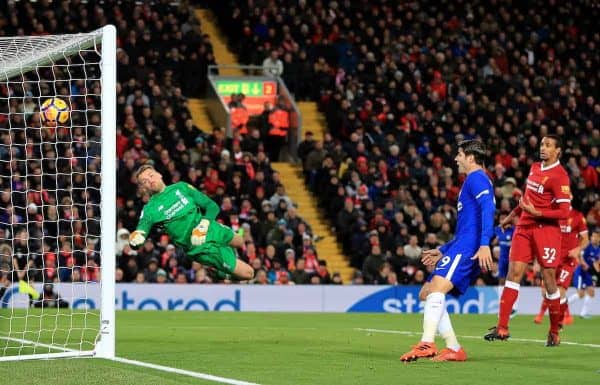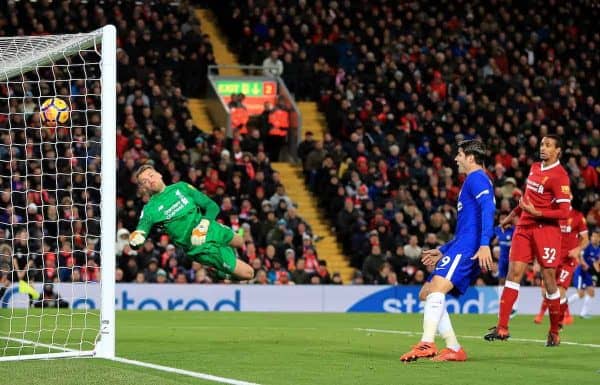 Ok, the Reds surrendered a lead for the second time in less than a week, and have one point in each competition where it might have been three.
But this was no Sevilla-esque collapse, nor a point thrown away because of a shambolic back line—even if there were a few calamity moments in trying to clear set pieces or crosses.
In general, the back four was more organised, individually impressive and worked well as a unit.
Moreno we've already mentioned, but Joe Gomez was excellent once more and Ragnar Klavan put in one of his best performances in a Reds shirt.
It's unfortunate that the equalising goal came from what was more than likely a mis-hit cross, clipped in from between Moreno and Klavan—a rare occasion they didn't quite get close enough to the man on the ball.
The few other chances invariably came though from the midfield not closing down or protecting the spaces in front of the defence, while the back four themselves repelled everything in turn.
Salah can't stop scoring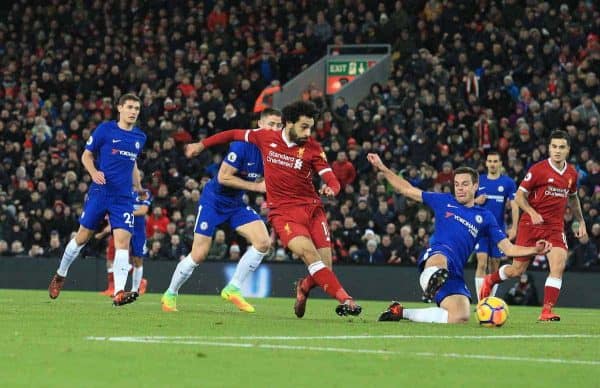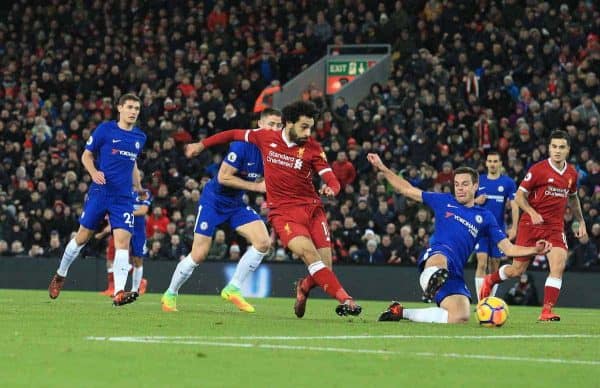 A final word for the Egyptian goal machine, Mohamed Salah.
It's 15 now for the season, an excellent haul which leaves him as the Premier League's top scorer and the most prolific Liverpool player since the Sturridge-Luis Suarez combination.
Salah had a few half-chances, a few moments of looking the most exciting player on the pitch for the home team and a few opportunities to use his pace on the counter.
Not everything came off, not every moment saw him make the right decision, but he's one of the few in the team who is always looking to get into the penalty box and get a shot away.
It's that mentality and consistency which sees him get chances, and breaking the 20-goal barrier won't be too long in the waiting.