Trent Alexander-Arnold is honing his game as a right-back for Liverpool, saying he expects to stay there "for the next couple of years or so."
Alexander-Arnold made the step up from the Reds' academy to the first team last season, and this term has established himself as a regular starter under Jurgen Klopp.
Without Nathaniel Clyne absent through injury, the 19-year-old has alternated with Joe Gomez as Klopp's right-back, making nine appearances so far.
His most recent outing came in the 3-0 win at home to Southampton, after which Klopp praised "one of his best performances over 90 minutes in defending."
This marked a stepped forward for the West Derby native, and speaking to the Liverpool Echo, Alexander-Arnold explained how he is working on improving his defensive game.
"I think for the next couple of years or so right-back will definitely be my position so that's what I've got to focus on improving," he told Andy Kelly.
"First and foremost you are a defender and if you're in the back four when that squad is announced then you've got to defend, you're not a winger.
"You go out there to defend first and foremost and if you can bring something to the attack then that's what you try to do.
"I think that was definitely in my mindset going into the Southampton game and I was happy to hear the manager's kind words afterwards for me.
"But again I tried not to dwell on it too long and tried to go into training for the next couple of days and show it wasn't just a one-off.
"I've tried to carry it on and to show that I'm learning and improving every day."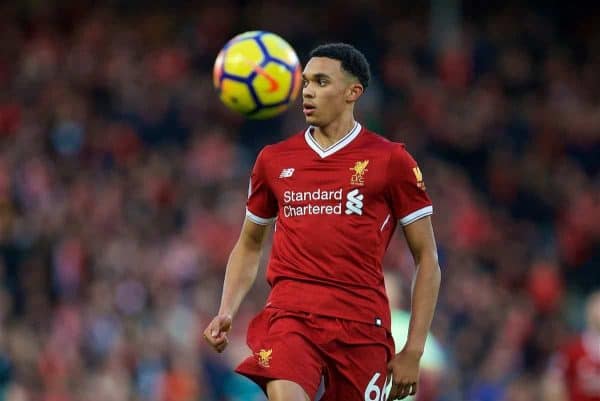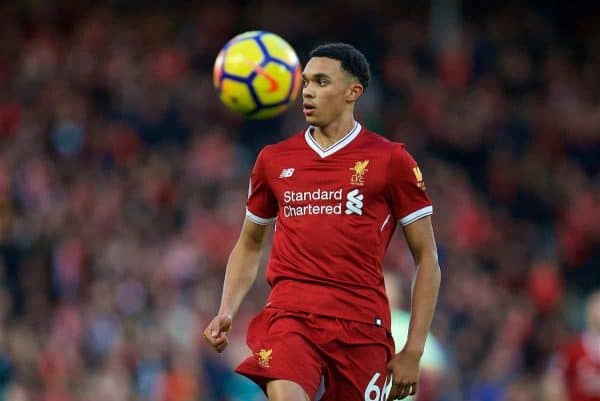 With Clyne expected to return to the fold in February, this could facilitate Gomez's much-vaunted switch into his natural role at centre-back.
This would leave Alexander-Arnold competing for the starting role with Liverpool's No. 2, which would present another major challenge, after hurdling everything that has come his way so far.
Alexander-Arnold his formative years in the academy in midfield, but made the switch to right-back with the U18s and U23s, though he believes he is still learning on the job.
"From my point of view I'm a lot better going forward than defensively but I'm a defender first and foremost," he added.
"And the most important part of that is not going forward but how you can defend.
"The staff and the players around Melwood are helping me in every way they can, the sports scientists, the fitness coaches, the manager.
"Training every day against top-quality opposition is tough and you get those tough decisions you find yourself in in games.
"Growing up in the academy I didn't really have that but once you make that step up, every day is hard and you've got to stay concentrated and it really helps come match day."
Alexander-Arnold is likely to start in Wednesday night's Premier League clash away to Stoke City, and Klopp can hope for another strong defensive showing at the Britannia Stadium.