Jurgen Klopp has moved to defend Liverpool captain Jordan Henderson from "shit stories" about his place in the team, after being rested for the Reds' last game.
Henderson spent the night on the substitutes' bench as Klopp's side tore Spartak Moscow apart at Anfield on Wednesday, sealing a 7-0 victory.
After the game Klopp insisted the midfielder would "100 percent" return to his starting lineup for Sunday's derby with Everton.
But this did not deter suggestions that as Henderson is not untouchable in this sense his long-term future under Klopp may be up in the air, prompting the German to defend his captain on Friday.
"I'm not sure if it's English or old-fashioned, even the captain can't play all the time. You can't bring him only because of the armband," he told reporters at his pre-match press conference.
"I thought it made real sense, in these weeks. You need these players on the pitch that know 100 percent what the derby is about. That makes sense.
"I made the decision for last week and only spoke about it because I knew people would [say] 'Jordan didn't play' and make a shit story about it. They are shit stories, I can't change that!
"He's such an important player for us, I don't get it why I have to say that but I live in this city, I live here and I get how people sometimes talk about it.
"Being the skipper of Liverpool is the hardest job in world football because the man who had the armband before is Steven Gerrard.
"Sorry, he finished playing football. We can't get him back.
"I want everyone to respect that Jordan Henderson is our skipper, he deserves it, he's the right man for the job.
"That doesn't mean he can play all the games until he's injured.
"It's not a story, but in Liverpool it's a story. Story done."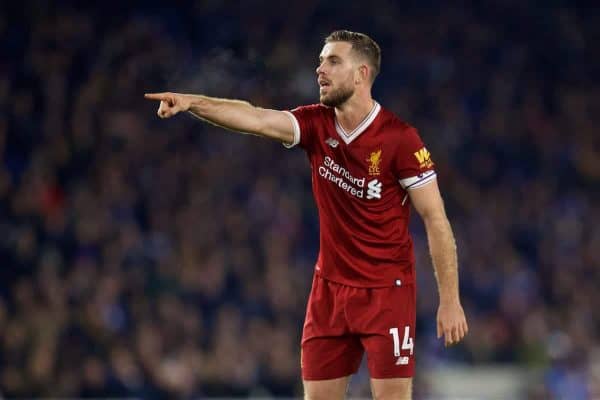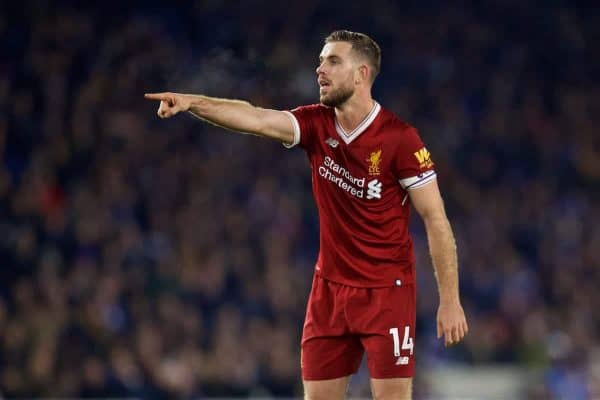 Klopp fielded a two-man midfield in both of Liverpool's last two games, firstly with Henderson and James Milner at Brighton and then in midweek with Emre Can and Georginio Wijnaldum.
It can certainly be argued that the latter pair provide more defensive stability, inferring that retaining the European duo would be favourable on Sunday.
But Klopp has claimed that an understanding of the immensity of the derby is of paramount importance and Henderson has more experience than any other Liverpool player in that regard, with 10 outing.
It could be that the captain joins Can and Wijnaldum in a three-man unit, with Milner likely required to fill in for the injured Alberto Moreno at left-back.
One thing is for certain, however, in that while question marks remain for supporters over Henderson's suitability, there is little doubt in Klopp's mind.