Andrew Robertson has been a victim of Alberto Moreno's return to form this season, but the Scottish full-back has proven his worth of late.
When Robertson joined form Hull City in the summer, the expectation was that he'd be coming straight in as first choice.
It was understandable: the Reds had been seeking a left-back for years, it felt like, and James Milner—while often serviceable—wasn't a long-term option.
Pre-season suggested Robertson looked a good fit, offering traits the Reds had previously lacked: an ability to cross on the run, left-footed, and more to the point intelligent crossing.
Low, dangerous deliveries, seeking out those rushing into the centre of the penalty box. They looked good, they were effective; Robertson looked a fine, reasonably low-cost addition.
But then Alberto Moreno had a wonder game in Munich, and didn't look back. Jurgen Klopp gave him his chance, and the Spaniard has been impressive.
Sure, the odd mistake remains, a few halves of football here and there to serve as a reminder that Moreno isn't the complete package just yet, but they have been few and far between.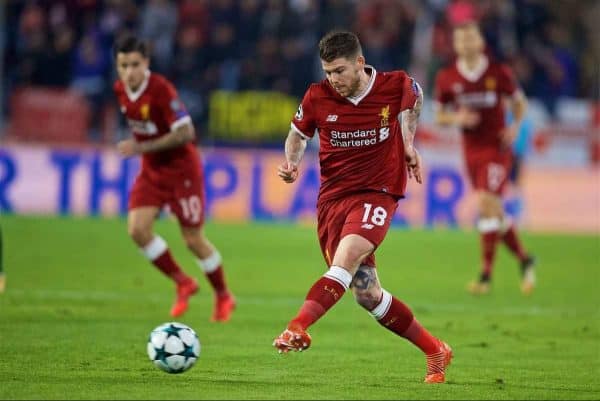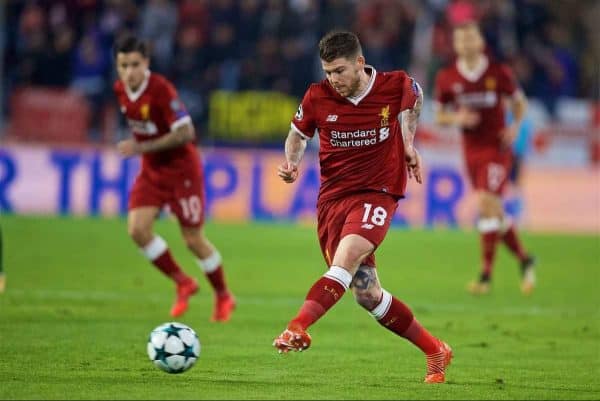 Robertson, reduced to a watching brief more often than not, would have been understandably frustrated given his infrequent on-pitch showings seemed to yield similarly impressive performances.
But, as Moreno had to last year, Robertson simply had to bide his time. In football there's always a period—other than for the absolutely elite—when the subs bench beckons.
And, following that, always an opportunity arising sooner or later.
Robertson has now played every minute of the last four league games, while others around him are rotated and rested. He's getting stronger as he goes, too, shaking off some rustiness and finding his rhythm.
Change "Robertson" for "Alex Oxlade-Chamberlain" in that sentence and the same applies. Give it another few weeks and so too could "Adam Lallana."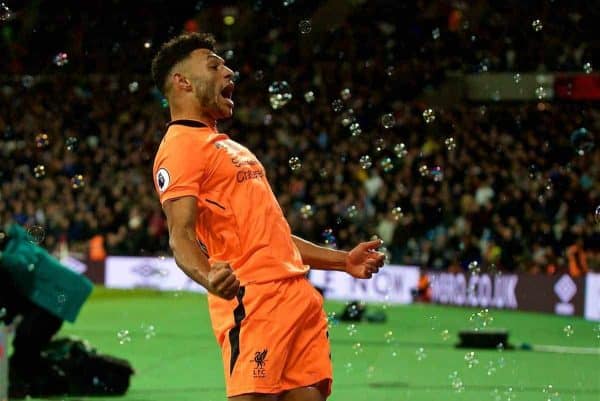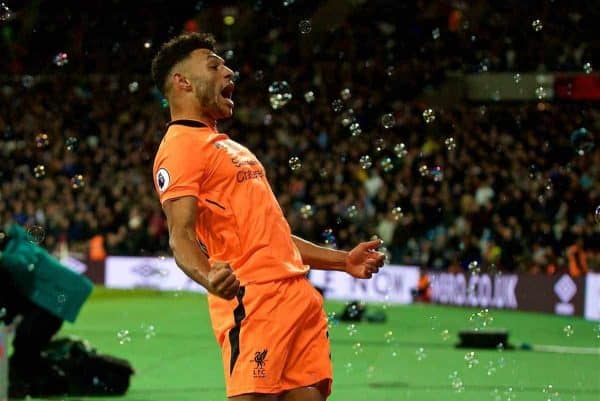 It's almost as if rest, getting to know the team style better and then coming into the side has benefits.
Robertson barely touched the ball in the build-up to Liverpool's opener at Bournemouth on Sunday, yet he played a hugely important role.
In attack, off-the-ball movement is the single most important trait of any player, of any team. How often have we seen the Reds dominate possession but create little, when the tempo is low? It's because movement isn't there, not ability.
The No. 26 busted a gut to get alongside and beyond Philippe Coutinho, knowing he wasn't likely to receive the pass but doing it anyway.
He left one defender for dead and, crucially, drew another away from the Brazilian to leave a gap to exploit—and it wasn't lost on the manager.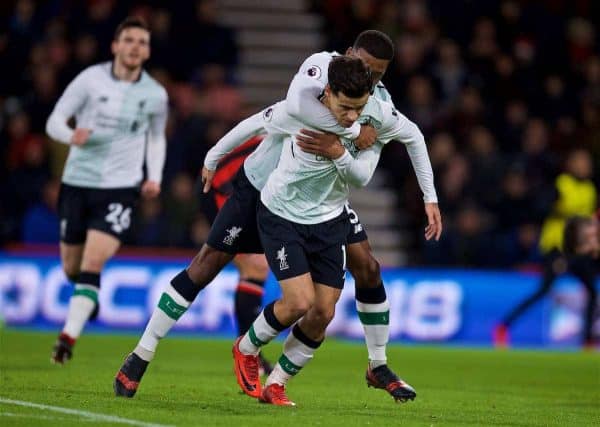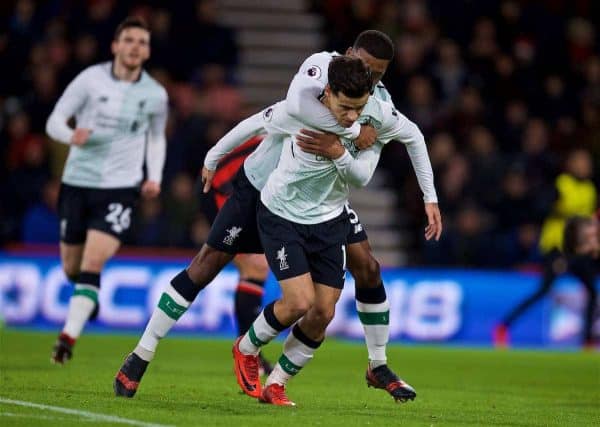 "We scored a fantastic first goal, which I would like to give 40 per cent to Andy Robertson because if he doesn't make the run in Phil's back then I think this version is completely different, but of course it was fantastic of Phil."
So spoke the manager immediately after the game, even though no questioning of the full-back had been immediately apparent.
Later, Klopp was asked of Robertson, of how the defender had reacted to having to wait for his chance. The boss was having none of that particular turn of phrase, either.
"He didn't have to wait, he had to train and to learn, that's a different thing. Only because everyone is asking it looks like he has to wait.
"I'm happy about this, he made a big step today because the first two games were all good but Robbo can do much better and he knows that, but it's normal [because] you have to gain rhythm and you need to get more confident.
"Today was a game when he really made the difference. The first pass he played in the back for Roberto, Roberto couldn't get it but that was the idea and he did really well.
"He's a fantastic football player so I am happy for him."
And rightly so. Klopp inherited a team which had, let's be frank, a terrible defence. That back line hasn't changed an awful lot in personnel, and plenty of the same mistakes have thus remained.
But the full-back positions are now a source of strength, pride and visible improvement for the Reds, and Robertson is a part of that.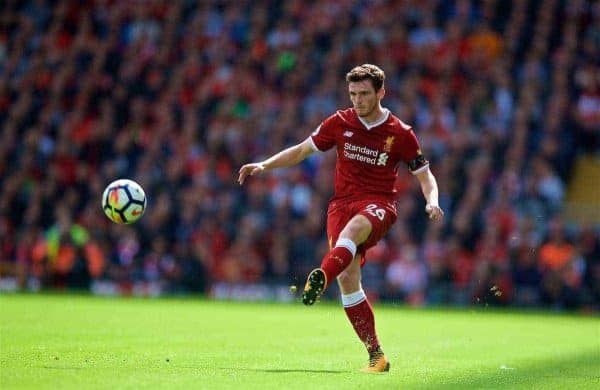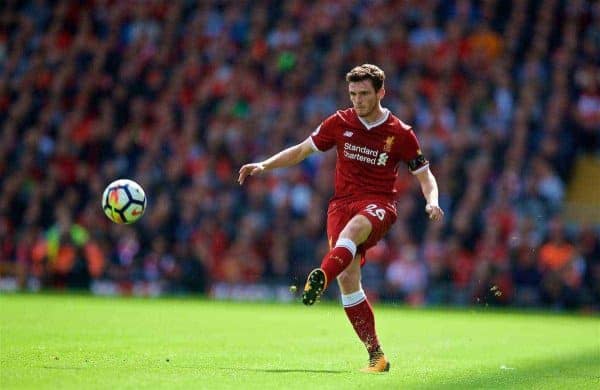 It's not always the case that every signing must be an immediate starter. Not everybody can bag 20 goals, or their positional equivalent, mere months after signing.
But that doesn't diminish what Robertson has shown so far, nor how much his style—aggressive in the tackle defensively, fleet-footed and always searching for that danger-zone delivery offensively—suits this Liverpool team.
There's no real reason why he cannot do exactly what Moreno has already: seize his opportunity and become undroppable for Klopp. Of course, the Spaniard will be thinking—and dead right he should too—the exact same thing for the second half of the campaign.
That's competition for places. That's strength in depth. That's how a team becomes a side, how an 11 becomes a squad. How, in short, Liverpool are able to rotate and still achieve the same results.
It might not be quite as flashy as giving the label to the goalscorers, but the players themselves and Klopp and his coaches deserve credit: Liverpool's so-called "fab four" this season could feasibly be talking about the full-backs, not the forwards.
Joe Gomez, Trent-Alexander Arnold. Excellent, exciting, developing on the right. Moreno, Robertson. Battling, improving, locking down the left.
It's a good time to acknowledge the improvement in this area of the squad, and a great time for Robertson to be inking his name alongside the others.