A bold, and bonkers starting line-up, patience personified, and then a blitz of beautiful goals. Steven Scragg reckons no team can do a madness quite like Liverpool.
Emre Can. Central defensive positioned Emre Can, scored the type of goal that we're meant to concede. A commanding and thudding header which left not one heavily sprayed hair out of place.
It was a work of art.
I mean. Not. One. Hair.
There must be some form of self-regeneration to Can's hair. A bit like a memory-foam pillow.
Can playing at centre back tends to bring on the cold sweats for me. That 1-6 defeat at Stoke City a couple of years ago, was self-inflicted with Can playing at centre back.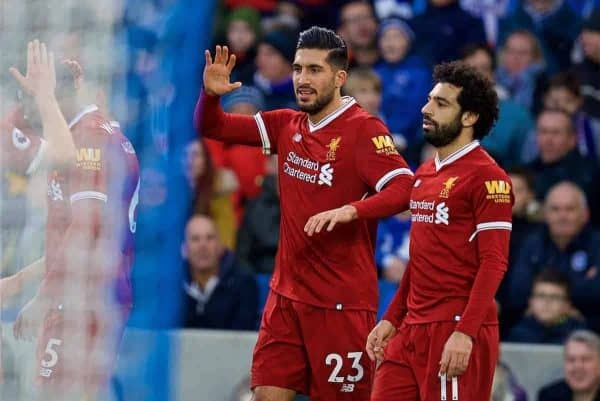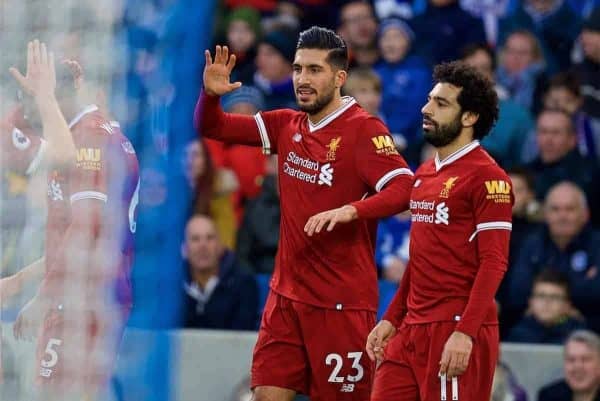 We've never fielded a defence quite like it before
The dawning of realisation that we really were playing a three-man central defensive unit, which included both Can and Georginio Wijnaldum, was an event to provoke one of those involuntary laughs when you can't decipher whether it was propelled from your body through nervous incredulity or bemused admiration.
What on earth was this madness?
It worked though.
Despite having a few issues with high balls into the penalty area, Dejan Lovren did OK alongside his unfamiliar defensive partners, in what was also a formation that is rarely used by Jurgen Klopp.
These were circumstances which were ripe for Lovren to capitulate.
He did OK though, yet, it still says everything about him, that Can and Wijnaldum arguably performed better than Lovren did.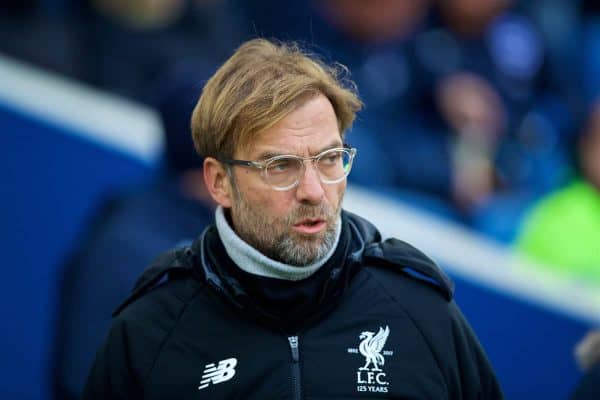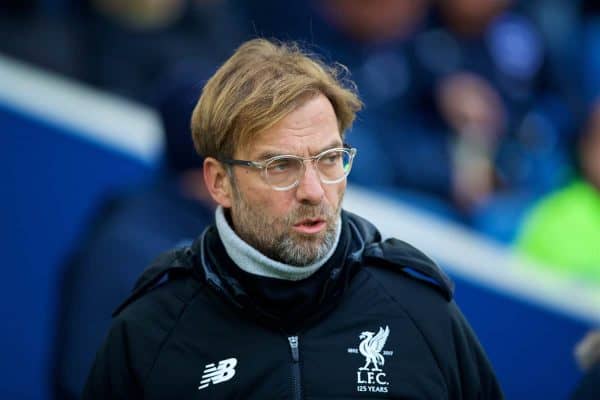 Fast and clinical in scoring the second
Mohamed Salah drew five Brighton players towards him as he advanced on goal in the build up to the second goal.
This wasn't Salah in the starring role for once, which in itself felt like an oddity.
However, it is testament to the fear Salah delivers to opposing defenders, that they are attracted to him in large numbers, like moths to a flame. They appear hypnotised, and they attempt to close on him, like farm hands gingerly trying to catch a bull which has slipped its pen. Salah waits, and he waits, then threads through a ball, to a teammate with acres of disposable space.
Roberto Firmino, Salah, Philippe Coutinho, back to Firmino, and goal.
Almost surgical in its efficiency, and certainly simple in its construction, yet moved with such assurance and confidence, that it was made to look easier than it was.
All of this, just 78 seconds after opening the scoring.
Sadio Mane watched it unfold from the bench.
No cameo role needed, as he reclined for the afternoon, in preparation of a defining week to come.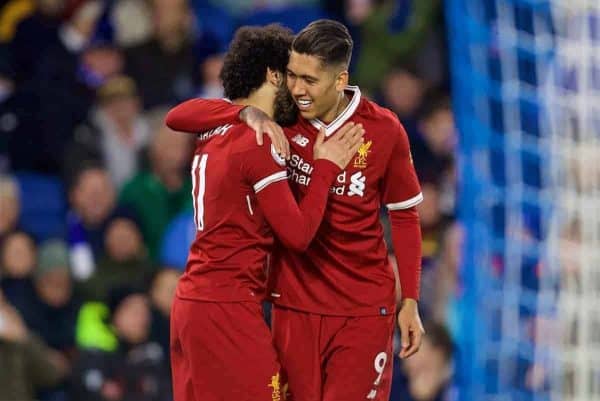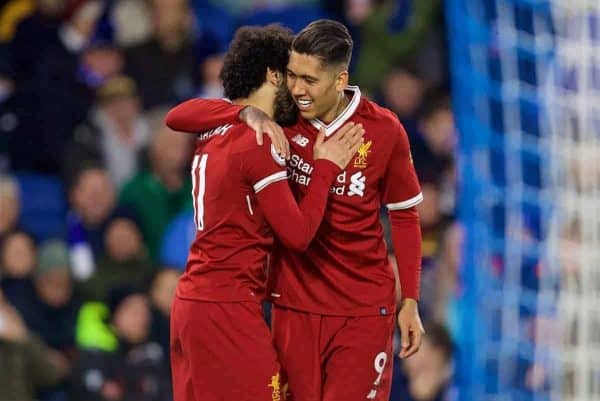 Those fine lines falling our way once again
Salah drew four Brighton players, before playing in Firmino for the third goal. It was a swift turn around, from a point-blank save by Simon Mignolet at the feet of Glenn Murray.
Majestic shot stopping, then not coming for a cross which should be his. A goalkeeping performance that simply couldn't have been more Mignolet'esqe.
From the potential of being pegged back at 2-1 to instead, suddenly extending to a 3-0 lead in the blink of an eye, all of which occurred shortly after the restart. How utterly ruthless of us.
Marred slightly by a penalty that should never have been given. This led to us being under a spell of unnecessary pressure for a while. We eventually came to within a Trent Alexander-Arnold block of the game becoming a lot closer than it had the right to do so.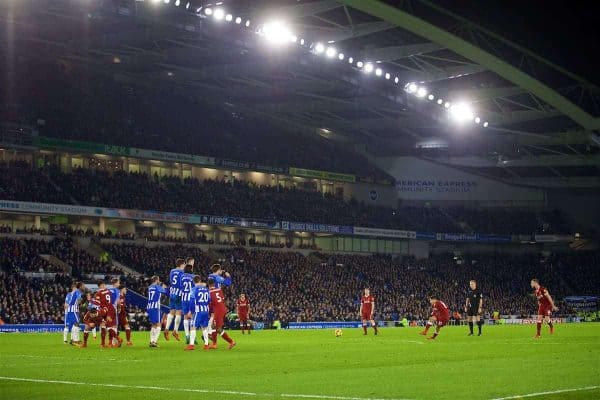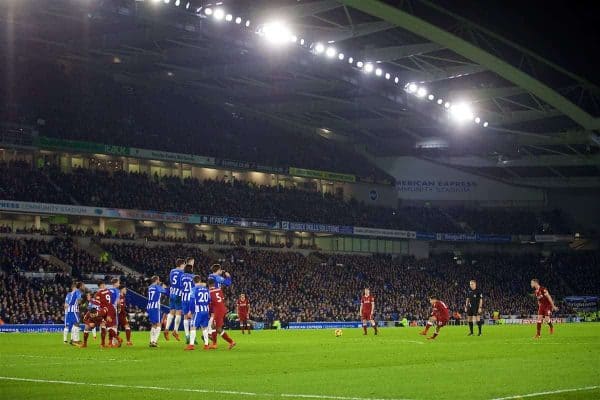 The perfect display of confident cheek
In Coutinho scoring the fourth, we were allowed closure on the game as any lingering chance Brighton had of getting something was neutralised.
The style with which this was done, was complete and utter sleight-of-hand. This was Coutinho at his dictatorial best.
He knew what he was going to do, he knew it would work, and as soon as he hit the ball, he was turning to his left to celebrate.
This was Coutinho's best performance of the season by a mile, and combined to the omnipresent Salah, the building momentum of Mane, and the whimsical brush strokes of Firmino, anything seems possible on the front foot.
A subtle glancing header from the increasingly own-goal prolific Lewis Dunk made it five. Saturday was unstated to an extent. To score five away from home and see it almost as 'business as usual' hints at a team which might just be officially on a roll.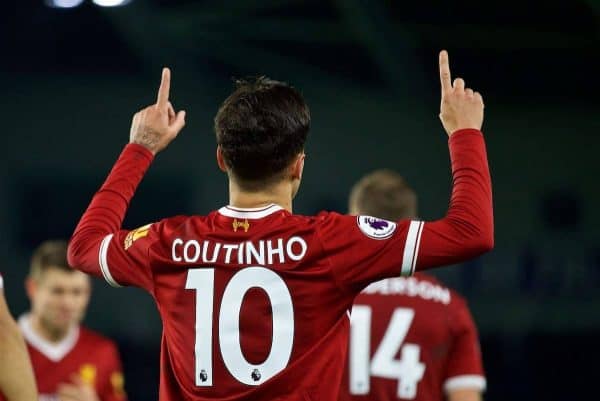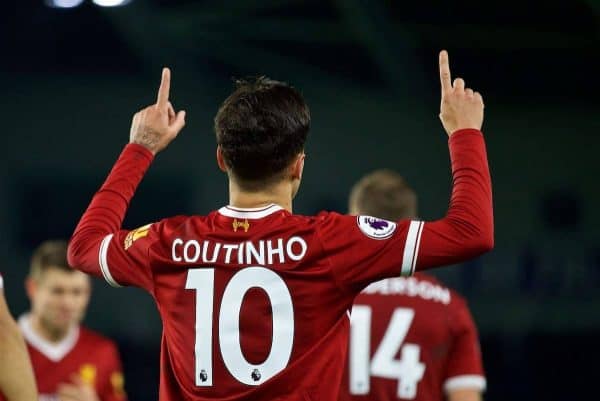 Credentials to be tested
The concept of being on a roll will be strenuously tested during the coming week.
A test of character and nerve is to be circumnavigated at home to Spartak Moscow on Wednesday evening, in the final group game of the Champions League. A slip up will be fatal.
Then we have the visit of Everton to Anfield for the first Merseyside derby of the season.
Two wins on the bounce for the blues, and the presence on the touchline of an awkward old foe, in the shape of Sam Allardyce, plus an old friend in Sammy Lee.
This will make for a peculiar game, as we won't really know what to expect from them. Overtones of Joe Royle's arrival at Goodison a couple of decades or so ago. From chaos, to horribly spikey in three easy training sessions.
In both instances we will need to be focused. We will need to continue being the Liverpool of recent weeks. Do that, and the rest of the season might just be our oyster.