Liverpool came from a goal behind to seal a 2-1 win over Leicester City on Saturday, lifted by Mohamed Salah and the Anfield atmosphere.
Liverpool 2-1 Leicester City
Premier League, Anfield
December 30, 2017
Goals: Salah 52′, 76′; Vardy 2′
---
Salah Finally Takes His Chances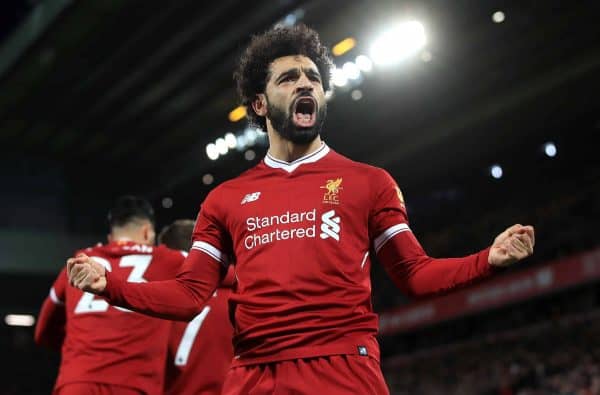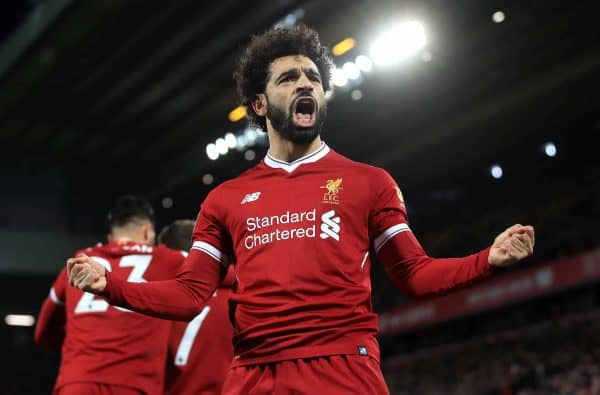 It looked like it was going to be one of those days for Liverpool. They created numerous chances in attack but in the first half were unable to take any, despite dominating the game after conceding an early goal.
This performance in front of goal was epitomised by Salah, but the ability to constantly put himself in positions to score means he is always likely to get one eventually.
He missed three good opportunities in the first half, one after his great first touch from Sadio Mane's pass put him on the edge of the six-yard box before he sent his shot wide.
He found himself behind the opposition defence and through on goal on another occasion, but waited too long before shooting, giving Harry Maguire the chance to make a recovering tackle.
But it was Maguire who was on the receiving end of some Salah magic when the Egyptian nabbed a second-half winner, having already restored parity when he latched on to Mane's neat backheel.
Liverpool's top scorer was tightly marked by the England defender, but wriggled away from him as he received the ball before bursting through to score.
Van Dijk Looks on as Defence Gifts Another Goal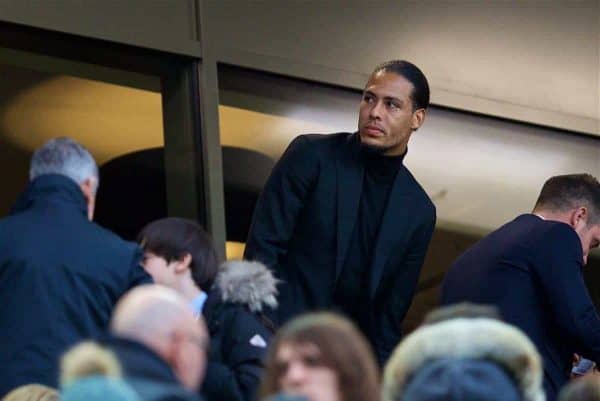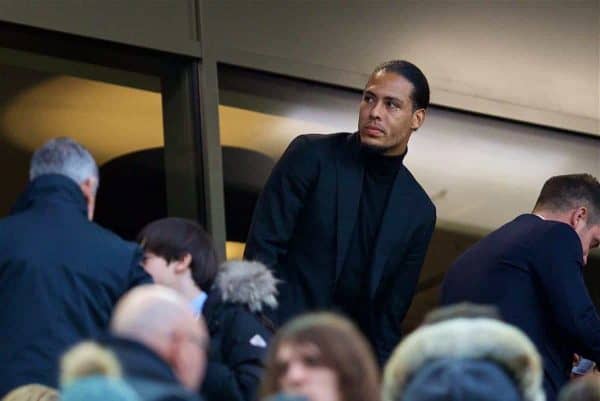 Much of the pre-match buildup was focused around 'Virgil van Dijk Watch'.
Pictures of him entering the stadium and taking to his seat before the game were prominent during the match previews, but he had barely settled when his new side gave him an indication as to why he was signed.
A poor pass out from the back by Joel Matip left Emre Can with too much to do to win the ball back, as Vicente Iborra intercepted and fed Riyad Mahrez who crossed for Jamie Vardy to tap in.
It was a gift of a goal which Liverpool fans have been used to seeing in recent times, and they'll hope that the leadership, organisational skills and ball-playing ability provided by their new Dutchman will make this a thing of the past.
It's one of the reasons Klopp was willing to wait for his man, and then to spend so much money on him, as he's a signing for the system as much as he is an upgrade in quality.
Loris Karius vs. Simon Mignolet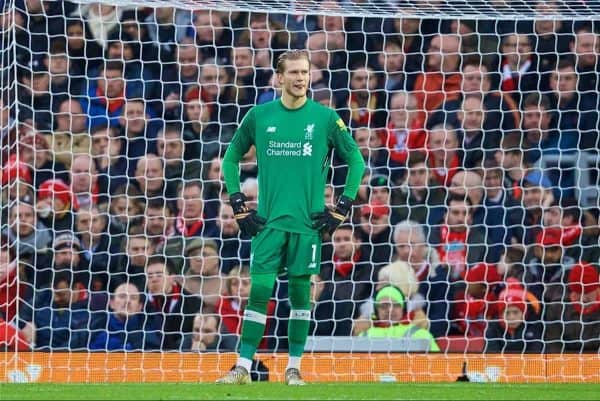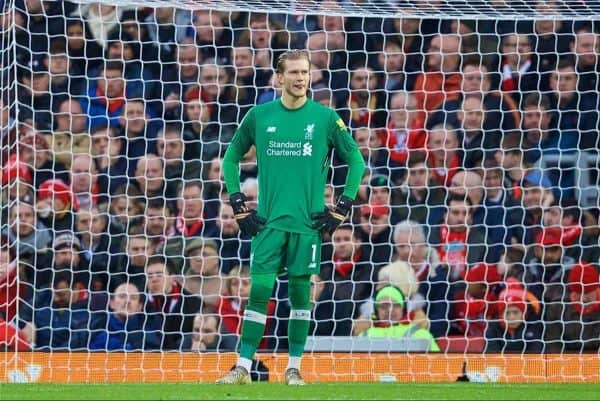 Goalkeepers aren't normally rotated for reasons other than keeping a backup 'keeper happy, but at Liverpool the manager doesn't appear to know who his first choice is, so rotates them as he does outfield players.
Even after his howlers against Arsenal Mignolet retained his place for the game against Swansea, but Klopp reinstated Karius for this game citing rotation as the reason.
While 'keepers don't need spells out of the side due to fatigue, Klopp thinks that there is a mental tiredness which creeps in, and the No. 1 needs to be alternated at certain points in the season.
While this may make some sense, there would be no doubt that if Liverpool had a top-class 'keeper as boasted by the likes of Man United, Man City and Chelsea they would be starting more often than not.
This mental tiredness, if it exists, is a weakness of both stoppers and merely shows that the club need a new face between the posts.
It will be interesting to see if Karius keeps the gloves for the next game against Burnley, as if he does, and Mignolet starts against Everton, then it could indicate that the Belgian is now Klopp's cup goalkeeper.
Anfield Responds to Klopp, and Leicester…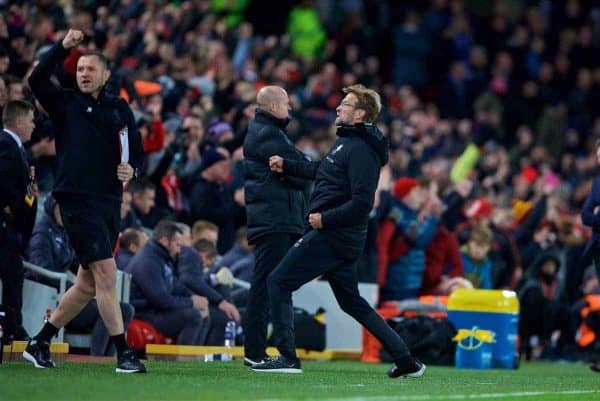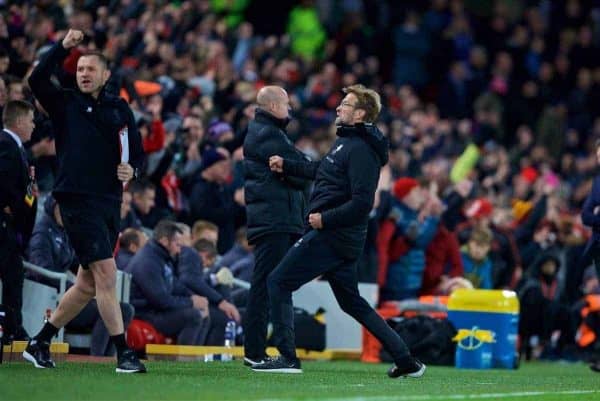 Despite going a goal down early on Anfield had plenty to shout about.
Liverpool attacked constantly after going behind, and though they were unable to claw one back before half-time the signs were there that the onslaught would continue into the second half.
This meant the supporters had attacking football to cheer, and anticipation that a goal would come.
"[We have] the backing of our incredible supporters, many of whom also dig deep financially and emotionally to keep being there for us and cheering us on," Klopp said before the game.
"I loved how Anfield felt on Boxing Day. I think we can have an even better feeling inside this wonderful place if we choose to make it happen."
The manager will have been happy with the response, and Leicester also riled the fans with their time-wasting tactics, and some unprofessional play.
The refusal of Maguire to give the ball back after Salah's first, and then the initial refusal to return the ball to Karius after the ball had been kicked out for an injury served to lift the noise and atmosphere in the stadium, which ultimately helped the team.
Burnley on the Bounce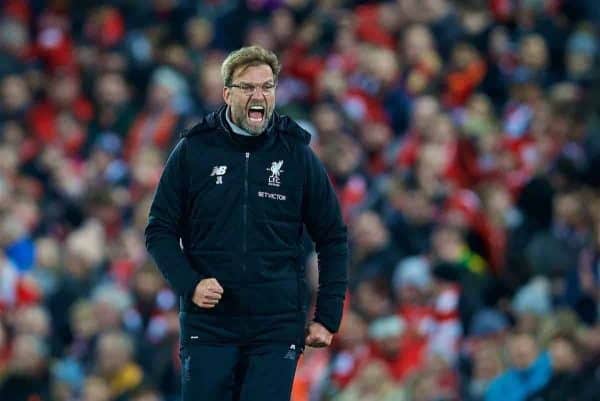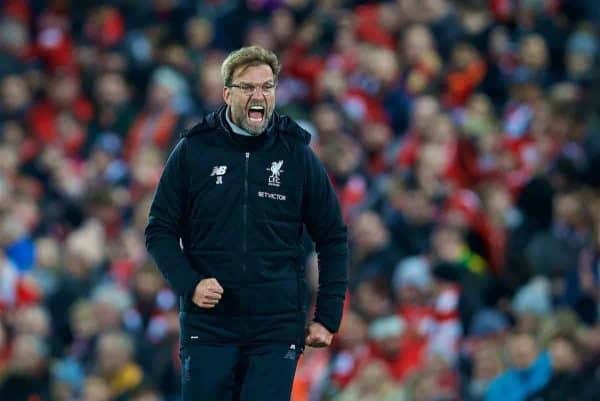 If Liverpool had been unable to come back from behind against Leicester, the Burnley game would have felt awkward and may almost have had a 'must win' type pressure attached to it.
As it is, they are now able to make the short trip across Lancashire with three points in the bag and morale on a high.
The only conundrum for Klopp now is which players to rotate on the back of a busy few weeks and ahead of an FA Cup clash with Everton on Friday.
He decided to stick with his four main attacking weapons, but an injury concern for Salah could see the Egyptian miss out at Turf Moor.
He could potentially change more than half his team, with all the players who sat on the bench being given starts.