Following a memorable night under the lights as Liverpool saw off Everton in the FA Cup last week, Sachin Nakrani runs down his top five Anfield atmospheres.
Still gutted about Philippe Coutinho joining Barcelona? I know I am. But I'm also buzzing.
Why? Because of Friday night—beating Everton with a late Virgil van Dijk winner at the Kop end.
Hard to believe it even happened given that less than 24 hours later we were all mourning the loss of our magical No. 10 to Camp Nou.
But it did, and almost a week on remains a night that has me grinning from ear to ear and, I've decided, deserves a place in my top five best-ever nights at Anfield. Yes, it was that good.
I'd thought I'd share the list with you, partly because you may be intrigued and partly to lift the mood of Reds during our current Coutinho-slump.
Enjoy and, if you wish, dispute…
5. Liverpool 2-1 Everton (January 5, 2018)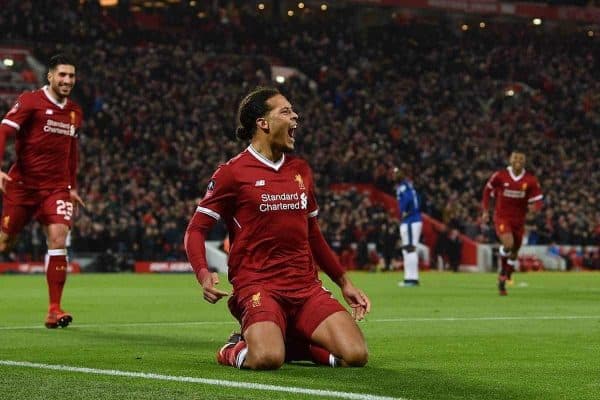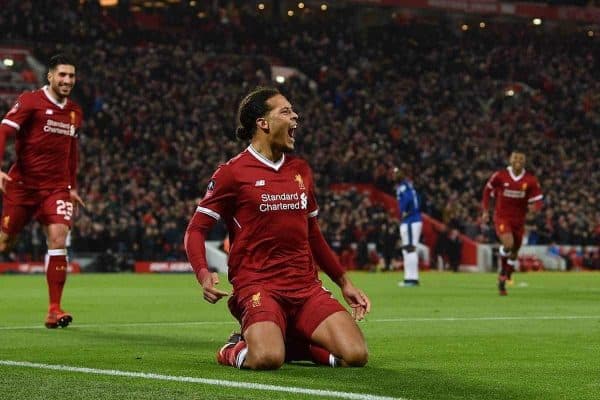 The game wasn't great—Liverpool were below par and Everton were, well…Everton.
A 1-1 draw was arguably a fair outcome and it appeared to be heading that way until the 84th minute. And then it happened.
Alex Oxlade-Chamberlain swung in a corner from the left and Van Dijk rose above Phil Jagielka and, crucially, Jordan Pickford to head the ball into the back of the net. Cue bedlam.
There was an surge behind me in the Kop—my mate went flying forward a couple of rows and I nearly joined him.
Other bodies around us dived this way and that and as a single outpouring of joy, it may be unparalleled in my 25 years of going to the match.
Partly this was because it was Van Dijk who got the goal—our £75 million man on his debut—and partly because of the opponents: the enemy from across the park who had stolen a point from Anfield less than a month earlier and couldn't stop laughing their heads off about it. Revenge was sweet.
4. Liverpool 4-0 Real Madrid (March 10, 2009)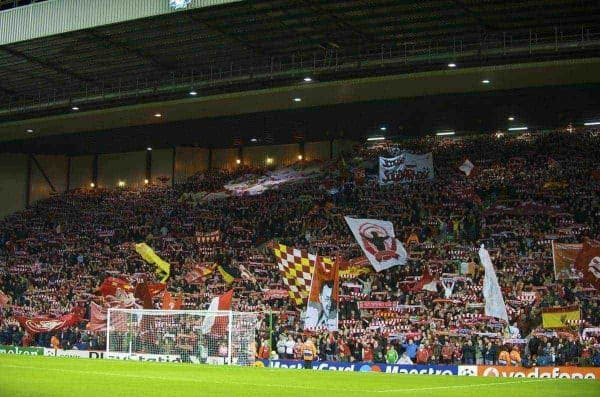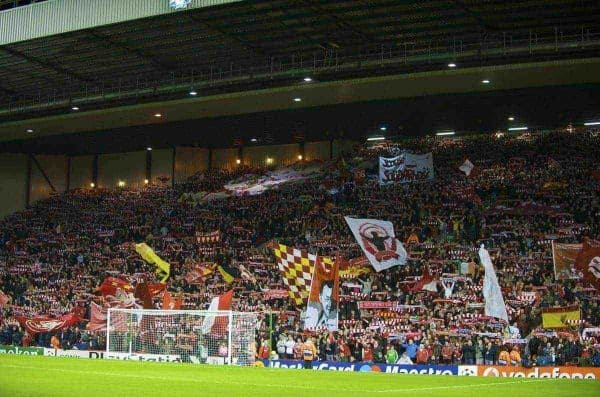 During my time as a Red I've seen a fair few Liverpool sides but none have left me feeling more satisfied than Rafa Benitez's boys of 2008/09.
This was the team of Pepe Reina in goal, Jamie Carragher in defence, Javier Mascherano, Xabi Alonso and Steven Gerrard in midfield and Fernando Torres in attack.
They had everything (including Dirk Kuyt) and peaked on a spring evening against fellow European royalty.
Liverpool were sensational against a Real Madrid side that while not the strongest in the Spanish club's history still boasted the likes of Iker Casillas, Sergio Ramos and Raul.
Torres opened the scoring on 16 minutes before Gerrard got two and Andrea Dossena, of all people, wrapped up the scoring late on.
To be at Anfield that night was a privilege—it felt like a proper European night, in terms of atmosphere, occasion and the performance delivered by those in Red.
3. Liverpool 4-3 Borussia Dortmund (April 14, 2016)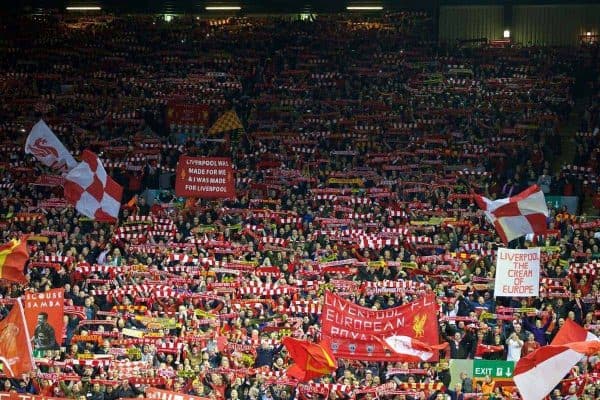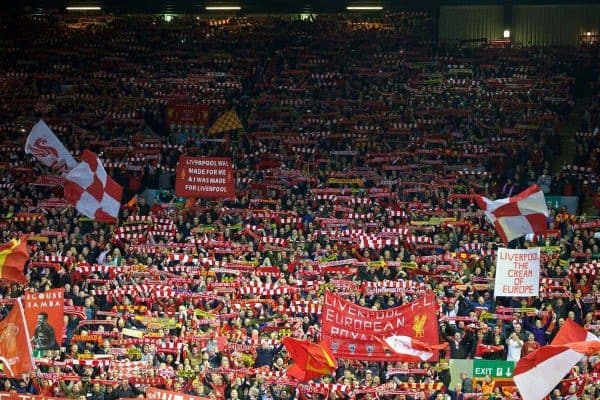 Even now, 21 months on, it's hard to believe what happened in this match.
Seven goals, enough twists to make John Lennon go hoarse and a dramatic winner that delivered the type of frenzy Anfield had arguably not witnessed since the moment Steven Gerrard's piledriver hit the back of the Olympiacos net.
My emotions when Dejan Lovren's header beat Roman Weidenfeller were like nothing I had experienced before—a mix of joy, shock, delirium and disbelief.
I celebrated but I also shook my head, unable to fully comprehend what I had just witnessed but equally delighted that I had.
That spring evening may not be the best European night in Liverpool's history, given the competition and the fact we didn't go on to win it.
But it was arguably the maddest, and all topped off with people in the Kop, myself included, hugging strangers on their way out of the ground as Three Little Birds blared out of the PA system. Magic.
2. Liverpool 2-1 Blackburn Rovers (December 13, 1992)
https://www.youtube.com/watch?v=2XQ1mOoGV24
Technically an afternoon and not a night but it gets in because this was my first ever trip to Anfield.
I was 11 years old and will never forget the excitement I felt as I sat in the back of my uncle's Nissan Sunny and headed up the motorway.
I was going to see Ian Rush, Steve McManaman, my hero John Barnes and the mighty Torben Piechnik (cough) play in the flesh, at Anfield.
And it was a big deal beyond that—Kenny Dalglish back at the ground for the first time since resigning as manager the previous year. And we won, thanks to two goals from Mark Walters (ask your dad, kids) either side of a belting volley from Alan Shearer.
A perfect occasion with my only regret being that we were in the Anfield Road end and not the all-standing Kop.
But no matter—I still got to witness it in its full, swaying glory and became, there and then, hooked on going to the match.
1. Liverpool 1-0 Chelsea (May 3, 2005)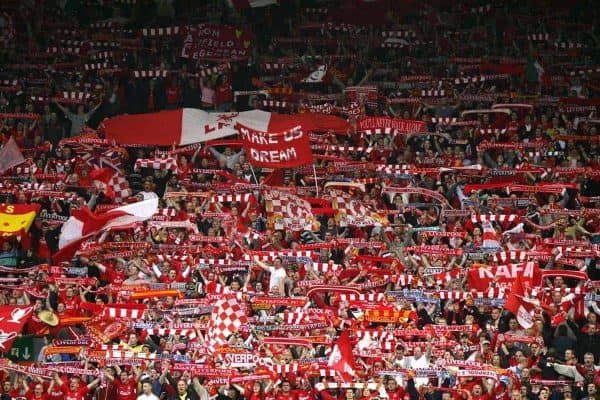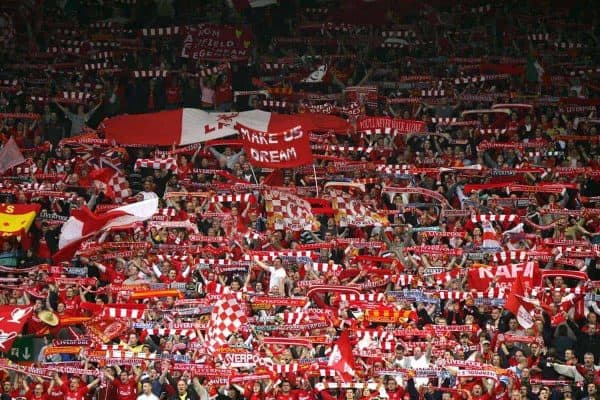 So much has been written and said about this Champions League semi-final second leg that it's hard for me to add any more.
All I can do is confirm the reports—yes, the atmosphere was utterly incredible; like nothing I had experienced before or since.
It started way before kickoff, carried on during the game and hit a peak when the referee blew for time and we could all celebrate reaching a first European Cup final in 20 years.
The moment that truly sticks out for me—aside from Luis Garcia's goal and the final whistle—is when I felt the Kop literally shake under my feet during the second half.
I nearly fell over and, having regained my balance, took a second to pause and reflect on what I was witnessing, what I was part of.
The noise, colour, passion and unrelenting drive for destiny that only Liverpool supporters can create on nights like this one.
It was my generation's St Etienne and I for one will never forget it.