A shambolic night at Anfield as Liverpool suffered back-to-back defeats for the first time in 12 months, losing to 19th-placed West Brom in the same week they lost to 20th-placed Swansea.
Jurgen Klopp's side were woeful, lacking energy and organisation, poor in the fundamentals and nowhere near the side that blitzed Man City at Anfield just a fortnight earlier. Two weeks in football is a long time.
Our post-match debate pieces discuss the good, the bad and a topical question, with the use of VAR the obvious one here.
We spoke to Matt Ladson (@mattladson), Alex Malone, Jack Lusby (@jacklusby_) and David Rawcliffe of Propaganda Photos (@propagandaphoto) for their opinions as Liverpool exited the FA Cup at the fourth round stage for the third consecutive season under Klopp.
THE GOOD: Was there anything good to come out of this game?!
ALEX: There was nothing at all 'good' about the performance, but there was one "positive" to take from it; the acceptance of mediocre players at some point must stop, and if ever there was a performance to put nails in the coffin of several players, it is this one.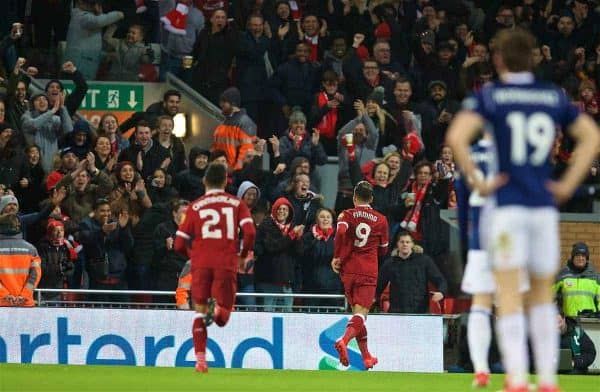 Mignolet, Moreno, Can & Wijnaldum, to name but four, are simply not good enough at this level and each proved it again. The worry is, that too many others are putting in performances just as poor at the moment. But hey, if this shambolic display wakes Klopp up to the fact some of these players must be moved on, that's a positive, right?
Oh, and Salah and Firmino both scored again, so that's good.
MATT: Quite simply, no. You couldn't even say at least someone like Woodburn got playing time as Klopp opted for pretty much the best 11.
There's now a 10 day break without a game in February, which some may see as being a good thing.
JACK: There's little good to have come from that game, so perhaps the only thing we can cling to is the hope that losing to Swansea and West Brom back-to-back will jolt Klopp into pushing for signings before Wednesday's deadline.
It's so clear the need for attacking variation and a wider range of options in midfield—that triple substitution was tragic—and I'd hope at least one new face comes in over the next three days.
DAVE: Like most people I'm struggling to come up with anything positive to say about that result. Perhaps only the vegan sandwiches in the press lounge at half time (thanks to the super Danielle in catering).
It didn't rain. I didn't get wet. So that's the only good thing to come out of the game. Oh, and maybe the purple pre-match sunset.
THE BAD: Take your pick… what particularly irked you from this match?
ALEX: The age old problem, and one that seems to be getting even worse. Shambolic, appalling defending. No matter who we play in defence, it remains a constant train wreck waiting to happen. It was the entire back five, with important calamitous cameos from Can and Wijnaldum.
I am now beginning to wonder have I been in denial? Does Jurgen Klopp simply not have what it takes to build a team with any semblance of defensive stability?
I find it really frustrating that so many fans continue to defend limited players like Moreno and Mignolet as if it's sacrilege to admit that certain Liverpool players aren't of the required quality. It's nothing personal, it's just that they're just a million miles away from ever being good enough.
The other 'bad' was another recurring theme. When things aren't going our way, Klopp seems to make irrational, head-scratching decisions when he has to come up with a Plan B. Wijnaldum should have been pulled, not Ox (Ox offers at least the CHANCE of a goal threat). Mane should have stayed on. Solanke should have been utilised up top in the last 15 if the plan was to swing hopeful crosses into the box (which we did).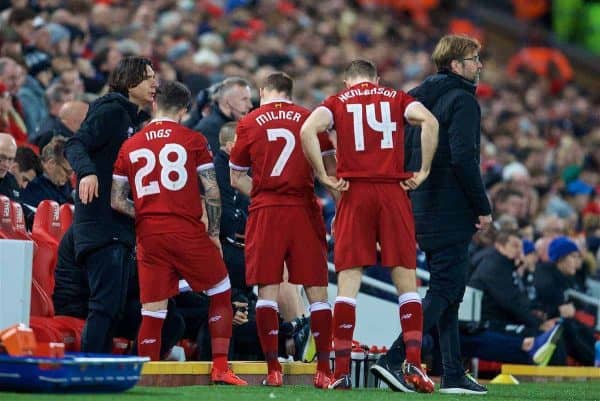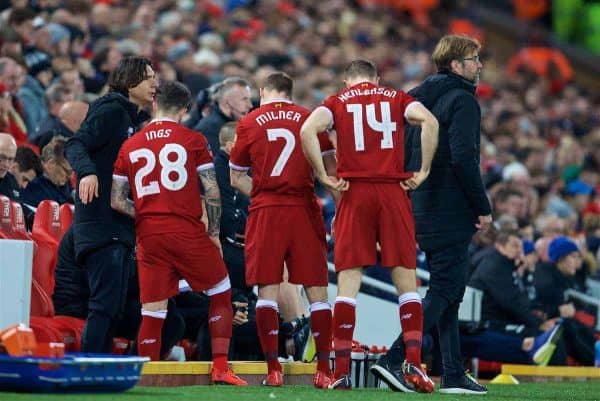 Henderson and Ings have barely played in the last few months, yet were thrown on, along with Milner to try to save the game. Goalscorers were removed, and replaced by players who virtually never score.
Klopp's muted body language, where he looked devoid of ideas and resigned to defeat was telling, and concerning. He looked more a doubter than a believer.
DAVE: Okay, where to start. A disaster from start to finish. Why was there no minute's silence/applause for Cyril Regis? Why start Mingolet instead of Danny Ward? Why 7:45pm on a Saturday? If we're going to have an evening kick off on a weekend, then why not make it a more comfortable 6:45 or 7pm?
Where was Sturridge? Klopp's response in the post-match press conference was he wasn't in the squad because he could only pick 18 players. Make of that what you will.
MATT: Where do you even begin? The defending; absolutely shambolic. The decision to play Mignolet when the manager has already decided he's not good enough; nonsensical. The midfield; in solidarity with Wijnaldum disappeared.
The subs bench; laughable again (three goals between them this season in all competitions) given that Klopp has said he believes the squad is strong enough.
Alexander-Arnold had a terrible game but Klopp instructed him to take a free-kick on the edge of the box and kept wildly gesturing for everyone to give him the ball when his confidence was clearly shot. Perhaps he's not ready for first-team football, like Solanke isn't either yet. That these are squad members now shows that planning for 2, 3 and 4 years down the line isn't helping the here and now. Rinse and repeat; tomorrow never comes.
JACK: Where to start? It was a shambles. Genuinely embarrassing at the back, completely abject in midfield and only sporadically impressive in attack; from Mignolet to Mane they were all poor.
The decision to start Mignolet, having clearly decided he's not capable of being Liverpool's No. 1 goalkeeper, was bizarre. If Klopp isn't confident in his abilities, why start him over Ward in the FA Cup? Or even just Karius, who would benefit from a consistent run of games?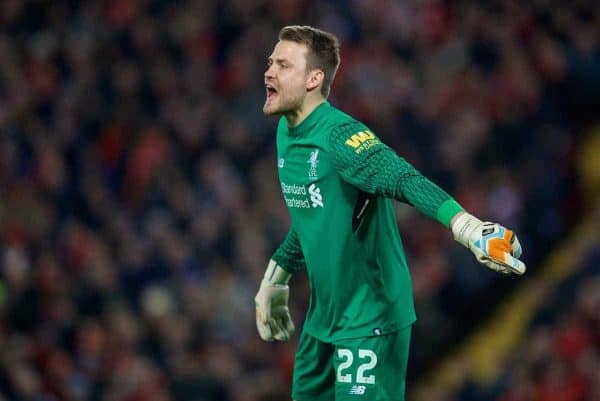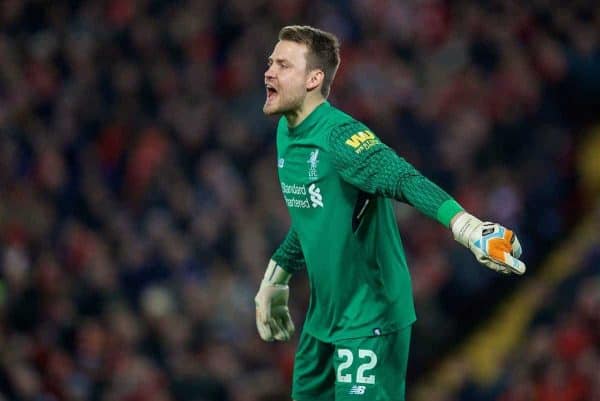 I'm not convinced rushing Moreno back—after he admitted his ankle was "not quite right," and "you don't want to not live up to what you can do when you're fully fit"—was the right choice either; and turning attention away from Klopp, the performances of Alexander-Arnold, Matip and Wijnaldum were particularly shocking.
And then there's the whole VAR fiasco…
THE VAR: Contrasting opinions from the two managers post-match, but what's your thoughts on the system in general, how might it be improved, and ultimately are you in favour of it or not?
ALEX: Yes, very much in favour. Every VAR decision was correct.
At the moment it's clumsy and confusing in its implementation and utilisation between the referee and the VAR, and it's confusing the hell out of everyone in the stadium. But in the end it's designed to help get the big calls right and it most certainly does that.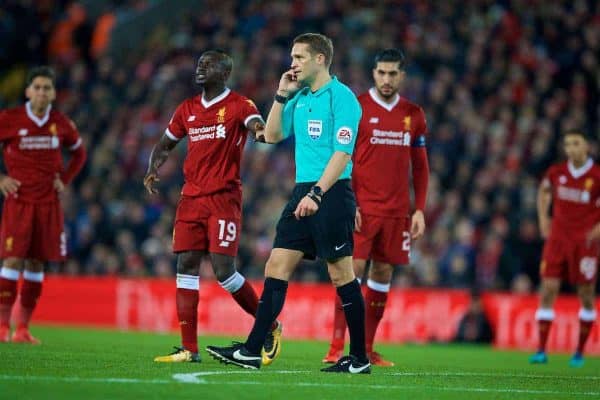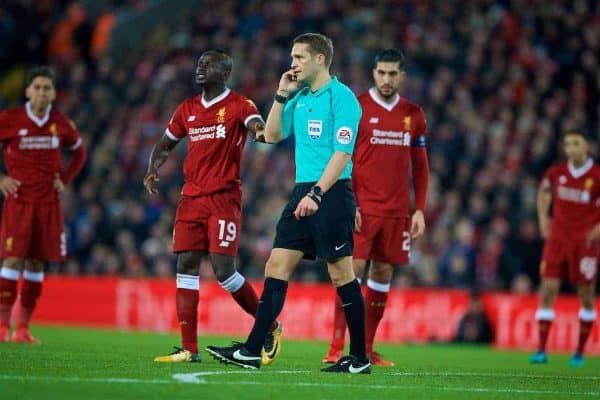 It will also stop the shirt tuggers and the divers from continually getting away with blatant disregard for the laws of the game. There will be more controversies and teething problems with it for a while yet, but eventually it will become more efficient & streamlined and be an accepted part of the game.
MATT: Pardew's points are somewhat interesting but a bit odd given all the decisions from VAR were correct, which is the whole point.
Change it to two or three appeals per team per game, with captains making appeals – that means the stoppages cannot be too often. Bin off the TV camera at the side of the pitch and have the VARs opinion as final on decisions that are referred to him, working as a team of officials.
Oh, and actually make sure time is added on for VAR decisions; how the f**K did the ref only add four minutes in the first half when one VAR itself took that long, there were two more VARs, two injuries, two subs and three goals. Absolutely bizarre.
Overall it's a positive step for football but it can be improved.
JACK: I'm really not a fan of VAR in its current incarnation.
While it worked in Liverpool's favour, it so clearly doesn't work fluently enough to be implemented in a top-level clash. Despite its intention being to relieve pressure on the referee, it actually works to put more spotlight on his decisions; all eyes were on Craig Pawson, and he used VAR like a crutch.
The biggest issue at this stage was how much time it took to make a decision—which I struggle to comprehend given the resources made available—and this impacts both on the spectacle for supporters and any momentum built by the players.
I think Pardew made a really interesting point after the game on the physical toll of going from high-intensity performance to a four-minute lull and back again, and I'd side with him in his view of a farcical attempt at bringing football into the modern era.
VAR is a necessary step forward, but there are clear kinks that need to be ironed out.
DAVE: The VAR was the talk of the press lounge at half time, it was most amusing to see all the seasoned hacks looking utterly confused and bewildered by the events of the first half. Matt told me that the offside decision on the VAR was black and white. Which left me wondering why they couldn't afford a colour TV for the replays. Sorry.
The thing that struck me was that there seemed to be no formal parameters for it. It felt like it could be called upon for every single decision, and it left everyone in the ground confused as to what was happening.
Watching another hapless (I usually use stronger words) English referee stand in the middle of the pitch with his fingers stuck in his ear for what seems like an eternity, then see him chatting away as if he's just made a FaceTime audio call on his airpods, before finally drawing an air square like he's playing Charades was all very comical.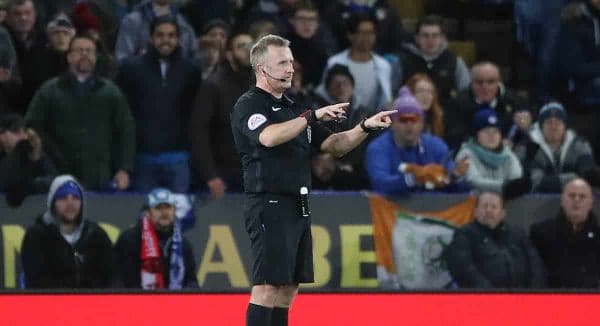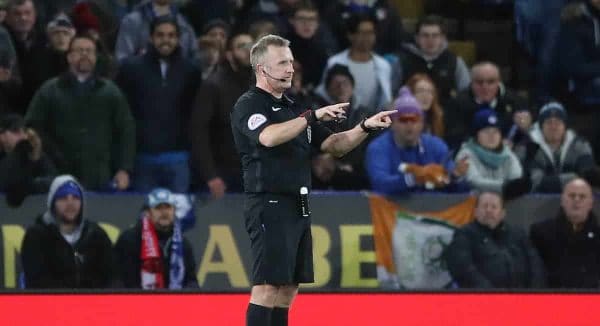 My questions about VAR.
1. Why can't we hear the communications between the referees? It should be broadcast on something the fans can listen into in the stadium and on TV, just like in the Six Nations rugby. I've been saying for years this should be standard practice for games away.
2. Why isn't it controlled by the captains? Each team having a number of 'challenges' per half just like in Tennis. The Captain can then ask the referee for a VAR Challenge if he disputes an important decision.
3. Why isn't the replay televised and the resulting decision shown to everyone.
Actually I know the answer to one and three. The authorities have utter contempt for the fans. That's why you can't see a clock tick past 45 or 90 minutes and you're not allowed to see 'controversial' replays on big screens. Because you'll all start rioting. Another hang over from the Thatcher era when all football supporters were considered the enemy.
I'm not against bringing in video technology, but it seems to me the current implementation is half-baked and not fit for purpose. And I'm sure someone's been paid millions to come up with this awfully implemented solution. Another example of the football gravy train. Fans lose out again. Same as it ever was.