Liverpool's battling 2-1 win away to Burnley on New Year's Day capped a character-building festive period for Jurgen Klopp's unbeaten side.
Christmas has been character building.
First, we run in five goals past Swansea City on Boxing Day, when arguably meandering through the game in third gear.
Then we refuse to let our shoulders drop when conceding a needless opener against Leicester City, going on to win the game through sheer force of will.
At Anfield, we shook off the annoyances of an opposing team who were intent on time-wasting from the third minute, and the vagaries of a referee who seemed intent on doing a poor job.
Then we had Burnley away.
These Are Signs of the Liverpool of Old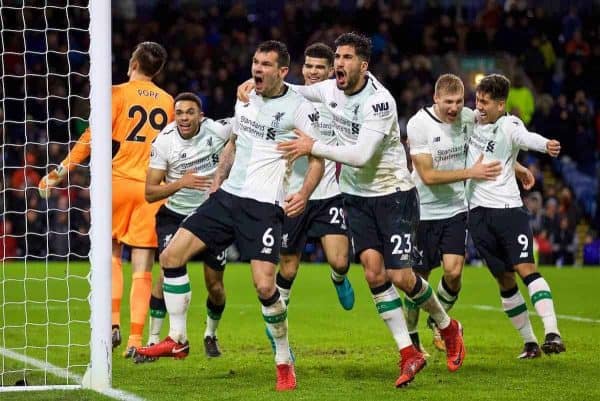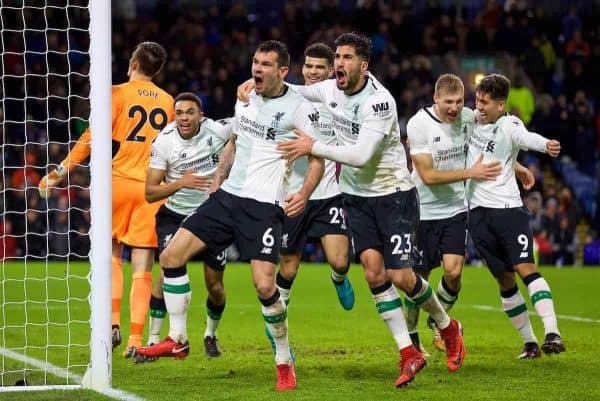 Not being fazed by what should be viewed as minor setbacks.
We built an empire on not giving a shit about anyone else. We built an empire on not giving a shit about minor setbacks.
We just brushed past trifling instances to go on and achieve whatever the hell we wanted to.
Jurgen Klopp, when asked post-match if he felt his side deserved to beat Burnley, stated that he didn't care if the win was deserved.
This is exactly the type of thing I want to hear from the man who guides the football club I love.
Emre Can hitting the ball long for a throw-in deep in the Leicester half, late in the game, with an air of 'have some of your own' when handing them back the ball after a stoppage.
This is exactly the type of thing I want to see from the players who go out onto the pitch in a Liverpool shirt.
Three-and-a-half minutes into injury time at Burnley, Dejan Lovren and Ragnar Klavan are the two Liverpool players highest up the pitch.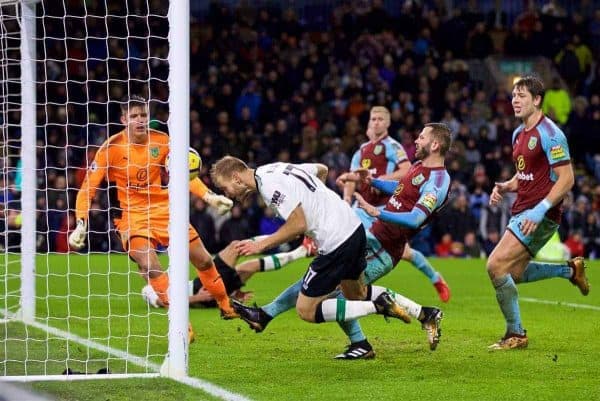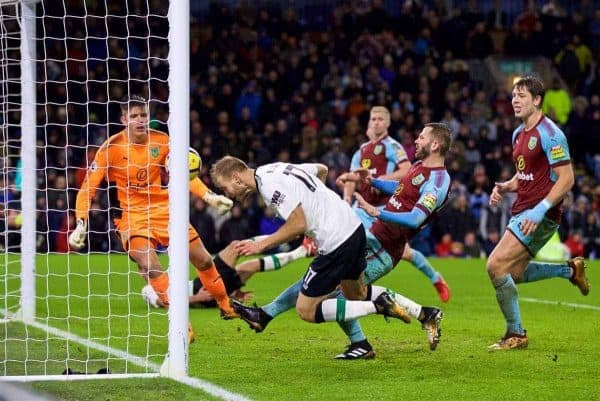 Lovren, Klavan, 2-1.
This is exactly the type of caution I want to see thrown to the wind in a bid to win a match, rather than settle for a draw which has been grasped from the jaws of victory.
You can't help but admire this version of Liverpool. The trick is making it prosper over the course of a full season.
Man City might well clinch this title in record time, but something special can still be achieved if this vibe proves to be an elongated one.
Virgil van Dijk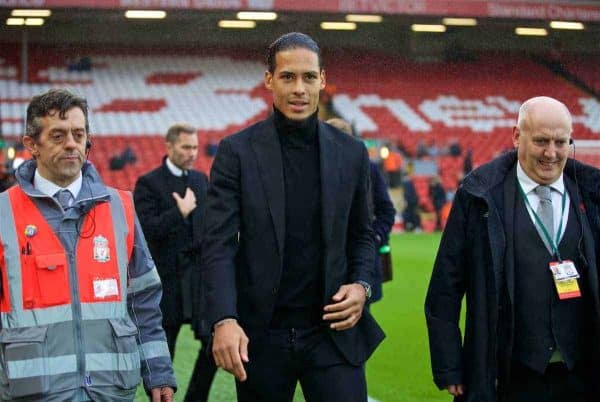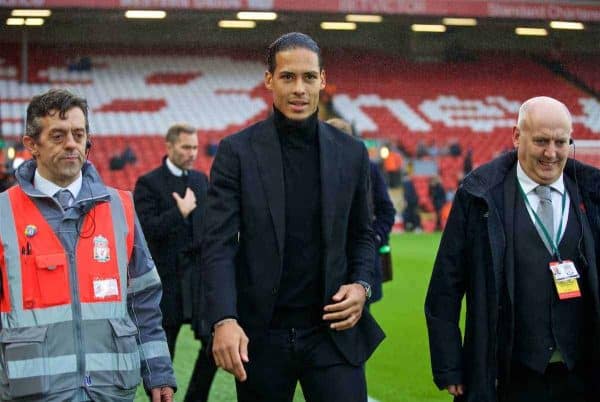 Too much money? Yes.
Obscene transfer fee? Certainly.
The lines of decency when it comes to transfer fees is long gone however. The last vestiges of that were blown away when Man United paid £89 million for a player they virtually gave away for free just four years earlier.
PSG then danced on the remains when buying Neymar.
The fume over Liverpool buying Virgil van Dijk has nothing to do with the transfer fee, and has everything to do with the purchasing club in question. Liverpool are meant to be sellers, rather than buyers.
It is because it is Liverpool who have flexed their muscles that it has successfully upset people.
This is exactly the type of thing I want Liverpool to do. Let's upset people.
Liverpool have upset people over the Christmas period, both on and off the pitch. How glorious.
The Lovren and Klavan Double Act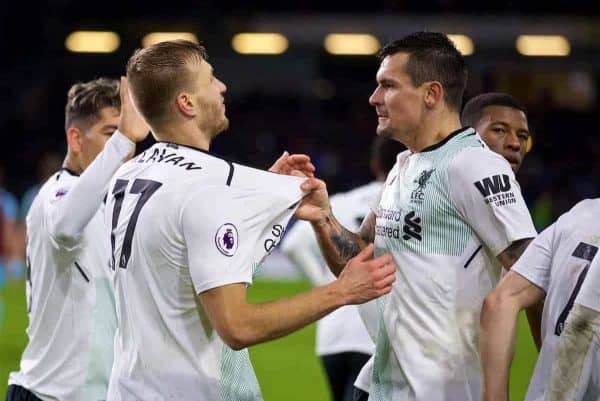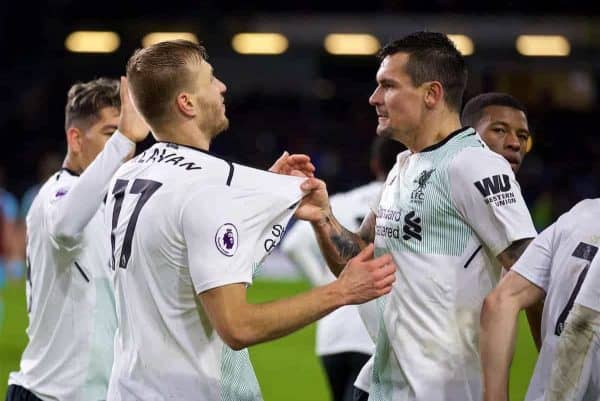 I've enjoyed the Lovren and Klavan double act over the course of the last month or so. They might have offered up a false sense of security, but hey, a false sense of security is better than no security at all.
Klavan nodding home the winning goal at Turf Moor might well prove to be the abiding image of the season. He has entered cult hero territory.
The celebration told a story in itself. An outburst of joy where the scene was stolen by Lovren.
Kicking the electronic advertising hoarding in a Temur Ketsbaia-ish manner, face distorted to a 'have that' setting of defiance, then literally spitting out his distaste at the near prospect of having dropped two points.
Massively slated, deservedly so at times, exaggeratedly so on other occasions, he has had to show a huge amount of character to navigate this season. Character is building for individuals and the collective alike.
I'd laugh my feet off if Lovren were to go on to become a world beater alongside Van Dijk.
Joel Matip, creator of Leicester's goal last Saturday, not exactly missed when out injured, is in need of a long hard look at himself in the way that Lovren has possibly undertaken.
Mane's Scoring

Spectacular first touch, unerring turn and a thunderous finish. Mane meant that one, and you could feel the frustration bristle out of him.
On a day when there was no Mohamed Salah, on a day when Philippe Coutinho didn't travel, on a day when Roberto Firmino was left on the bench, it meant that Mane was implored to rise to the occasion.
Mane didn't own this game by any means, but the goal he scored will give him impetus.
A start for Adam Lallana with what now appear to be his refreshingly subtle basics when compared to the shapes thrown out by Salah, Firmino, Coutinho and Mane. This was a big plus.
Dominic Solanke with another run-out. Intelligent runs, fine movement. He needs a goal.
Given that Burnley could have been classed as a top-four rival going into this game, there is an argument to say that Klopp showed a lack of respect for them when it came to his lineup.
This is exactly the type of thing that I want to see from Liverpool. Less respect, and more self-belief. Keep this momentum going.
Friday Evening, Then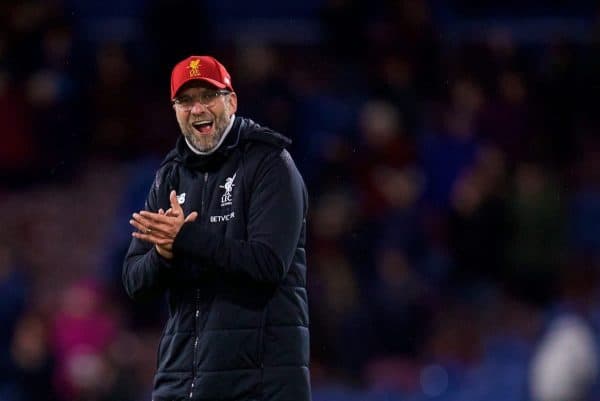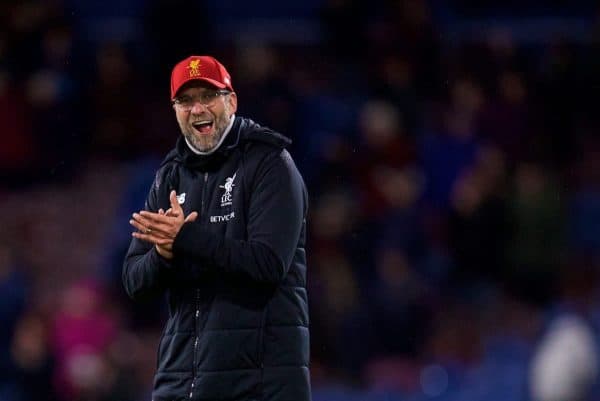 What to expect is once again anyone's guess.
Everton will likely arrive at Anfield with the same tactics as the ones they used for the league encounter. Stifle. Defend what they have, even if they fall behind early on.
The question is how seriously Klopp is willing to take the game. I hope he takes it very seriously. I hope that we show more of the character which says we don't give a shit about anyone else.
I hope an interviewer is asking Klopp if he thinks we deserved to beat Everton, and I hope he says he doesn't care if we deserve it or not.
Let's extend the Christmas spirit a little bit further.