Continuing his series of Liverpool's Scouse captains, Jeff Goulding pays tribute to Robbie Fowler: a leader who encapsulated the city's spirit.
Born on April 9, 1975, in the Toxteth area of Liverpool, Robbie Fowler would go on to become one of the greatest strikers in Liverpool Football Club's history.
His 183 goals in 369 appearances is impressive, as is his FA Cup, League Cup and UEFA Cup winners' medals, but these mere statistics don't tell the whole story.
The boy who would become 'God' to his team-mates, a name that eventually found its way onto the Kop, was idolised by a generation of Liverpool supporters.
However, Kopites adored Fowler not simply because he scored goals in a red shirt, but because in him it felt like they had a representative on the pitch.
This was a Scouse kid, born in a working-class area of the city, unpretentious, proud of his roots and supremely gifted. Fowler joined Liverpool on a YTS (Youth Training Scheme) earning £29.50 per week in 1991.
His lifestyle at the time would have been instantly identifiable to any youngster growing up in the city in the '90s. It revolved around football and trying to extract as much fun from life as possible.
In the years that followed, even after becoming become the first teenager to earn a £1 million deal, Fowler never changed.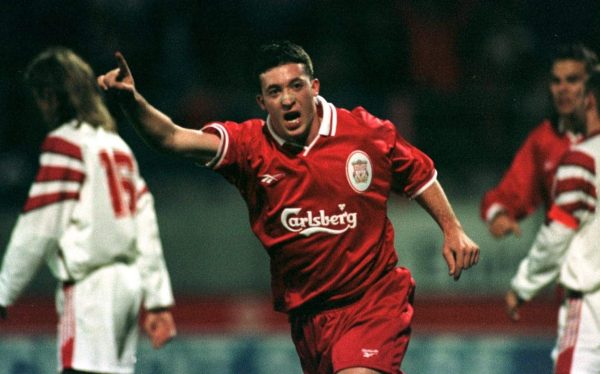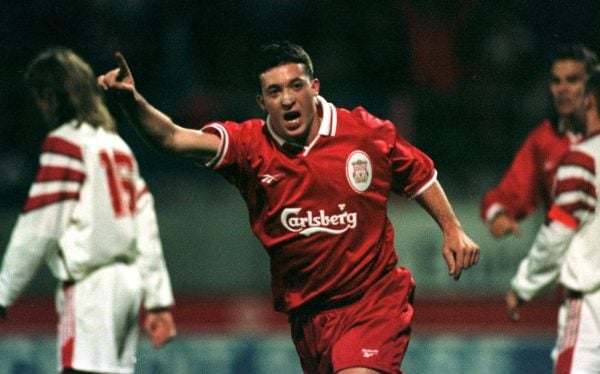 In his autobiography, Robbie talks about the day he signed his first big contract with the club. He never even looked at the document, before he said "thanks a lot" and signed it.
Club officials told him to enjoy the moment, after all he had just done the equivalent of winning the lottery. To him, that day had already occurred back when he signed on as a trainee. His new-found wealth wasn't about to change him as a person or a player.
Fowler sums up exactly who he was, with this excerpt from his book:
"I'd like to say that I had a rich and varied life as a kid, that my enquiring mind gave me many hobbies and interests, which I pursued enthusiastically. I can't though, can I? In the words of my mum, my life was football, football, football."
You could use those words to describe any kid on any council estate in Liverpool.
Those struggling to understand why an equally prolific and gifted striker, who emerged from the same stable as Fowler, Michael Owen, is not held in the same regard by Kopites fail to see that Fowler always felt like 'one of us'. Owen, for all his gifts, never did.
Fowler would cement his status as 'working class hero' in 1997, when Liverpool played SK Brann Bergen in a Cup Winners' Cup tie at Anfield. The game took place against the backdrop of a bitter dock strike on Merseyside that had started in 1995.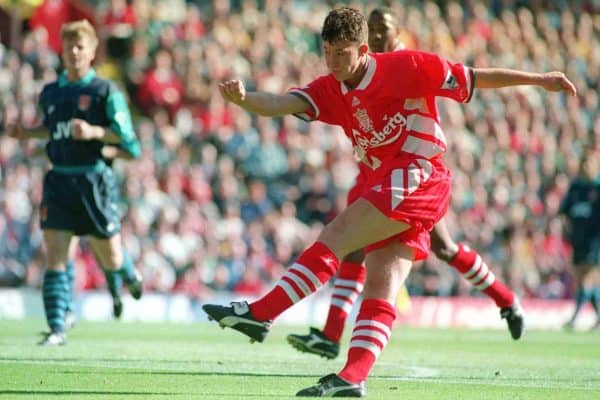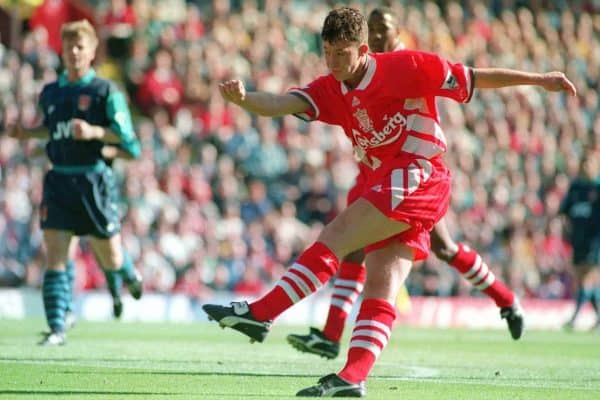 Liverpool dockers were fighting for reinstatement after being sacked for refusing to cross a picket line. Their plight was a desperate one and they enjoyed huge support in the city, with many families having ties to the port.
Liverpool had just beaten Arsenal at Highbury in the league and had effectively ended the Gunners' title aspirations. Robbie had earned praise after the game for trying to persuade the referee not to award him a penalty.
David Seaman had been harshly judged to have fouled him, but Robbie's appeals fell on deaf ears. He missed the resultant penalty, some say on purpose, but thankfully Jason McAteer scored the rebound.
Fowler's sense of fair play was rightly praised by the footballing world.
However, those who had lauded his sportsmanship against Arsenal would then punish him for showing his support for those less fortunate than himself.
Before the following game against Bergan, Steve McManaman's uncle had given him some t-shirts with a message of support for the dockers on the front.
The word 'dockers' was spelt with the C and the K in capitals, imitating the Calvin Klein logo. It was designed to maximise attention and raise awareness about the strike.
The plan had been for McManaman and Fowler to wear them under their kits and reveal them after the game while swapping shirts. Doing so in this way would avoid a fine, but still raise the profile of the cause.
However, after Fowler grabbed a goal and immediately ran towards a bank of photographers and lifted his shirt to reveal the slogan. The image was broadcast across the globe and was a much-needed boost to the strikers.
Fowler was fined £900 for the gesture by UEFA. He didn't protest and handed over even more money to the cause in the months that followed.
Only a player in tune with the supporters and the city would have thought to behave in this way.
This closeness to the streets meant that Fowler was also acutely aware of every rumour and accusation flying around Liverpool about him. One such story, circulated by Evertonians, was that Robbie enjoyed partying with cocaine.
It was absurd and, given the goldfish bowl of modern football, it was inconceivable that any player of his profile could be regularly snorting drugs in the city's nightclubs without any tabloid photographer snapping the evidence.
When it comes to football rivalry though, logic rarely gets in the way of an opportunity to have a go at an opponent.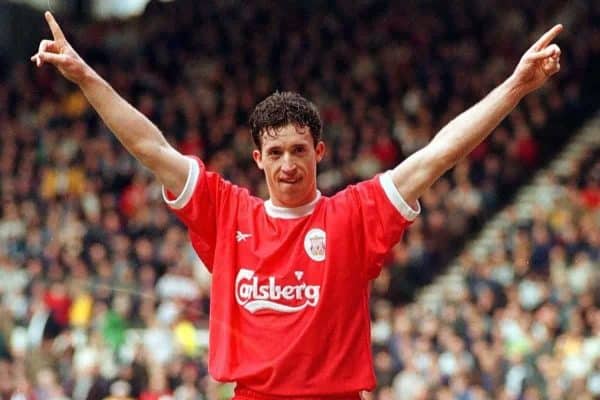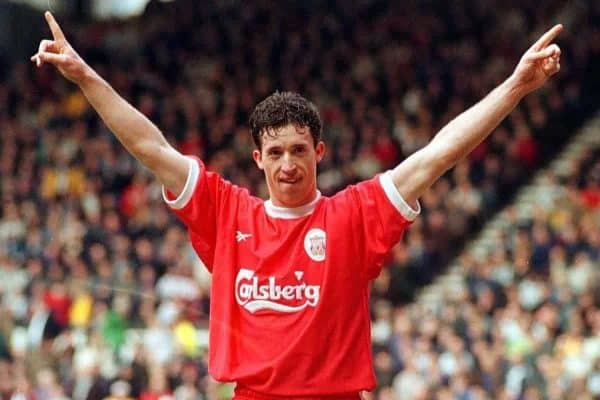 Fowler would respond like any Scouser would, like any Evertonian would, if the fake drugs stories were up the other nostril, so to speak. He took their lies, owned them and then rammed them right back down the Bluenoses' throats.
The result was both spectacular and hilarious. During a derby match at Anfield, in 1999, Liverpool won a penalty. Fowler grabbed the ball and dispatched it into the net at the Anfield Road end, right in front of the Everton fans.
Their disappointment was about to turn to rage though, as the striker immediately dropped to his knees, placed a finger next to his nose, and began pretending to snort the white chalk line.
The scenes in the away end were reminiscent of a 1970s zombie movie. After the game allegedly 'outraged' Blues, displaying spectacular hypocrisy, immediately took the moral high ground.
There were complaints that the player was glorifying drug use, and Fowler was forced to issue an apology, which made his manager look foolish.
Gerard Houllier had tried valiantly and unsuccessfully to claim that Robbie was pretending to imitate Rigobert Song's "eating the grass goal celebration."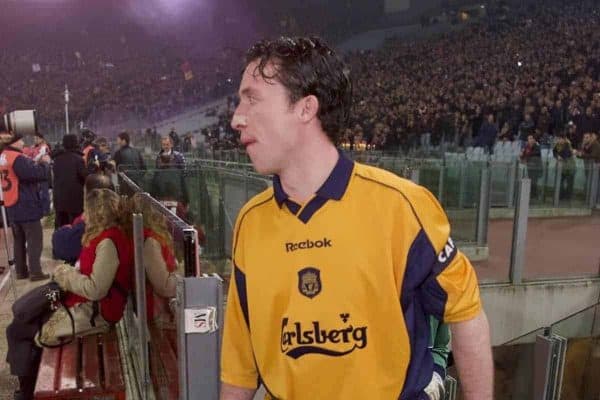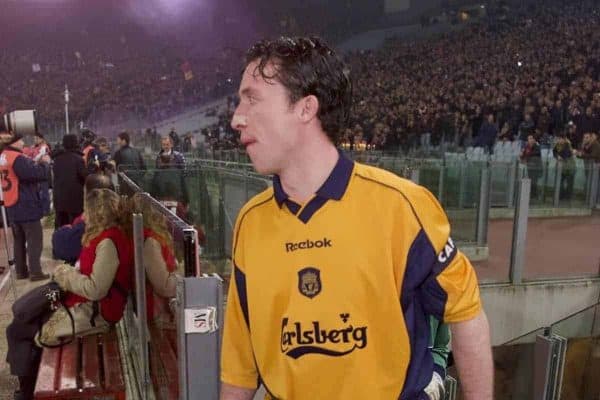 For all their faux outrage, my guess is at least a few Blues would have recognised it for what it was: this was just a Scouse lad, who'd taken more than his fair share of stick, giving a little of it back to his tormentors.
Fowler's Reds career continued to be an eventful one. It would see him fall out with another legend and Scouse captain, Phil Thompson, who had become Houllier's assistant, but not before Robbie would captain the Reds in the Worthington Cup final in 2001.
He scored early in the game, with a blistering strike from distance. Birmingham City would equalise late on, but Liverpool eventually won the tie on penalties.
It would be the club's first piece of silverware since 1995, and the first of five they would win during the amazing calendar year that was 2001.
Robbie eventually left the club in November 2001 season, joining Leeds United.
It was a move that broke Kopite hearts, and it wasn't uncommon to hear Reds arguing that they'd be prepared to sell Owen to buy back Fowler.
While that never happened, 'God' was granted an unlikely second coming in 2006, when Rafa Benitez brought him back to the club for a final swansong.
He would play a further 30 games, scoring eight times during his second spell.
The opportunity to come back one last time was an emotional one for Fowler. In a beautiful piece of symmetry, club CEO Rick Parry had said that the player hadn't even looked at the contract that was put in front of him, just as he hadn't that day back in 1994.
For all the goals he scored and trophies he won, it was Fowler's love of the club, its supporters and his affinity to the city of Liverpool that ultimately cemented his place as one of the most beloved working-class heroes of the Kop.
---
* Jeff is the author of Red Odyssey: Liverpool F.C. 1892-2017 available for pre-order now.