Mauricio Pellegrino knows Southampton will have to produce a "perfect" display to get the better of Liverpool at St Mary's Stadium on Sunday.
The Reds head to Anfield looking to build momentum after being denied victory against top-four rivals Tottenham last weekend with a controversial stoppage-time penalty from Harry Kane.
Mohamed Salah scored twice in the 2-2 draw, taking the Egyptian's tally to 21 Premier League goals from an impressive campaign so far.
Pellegrino, himself a former Liverpool player, knows just what challenge lies ahead of his team, aiming to continue their recent improved form following a much-needed 3-2 win at West Brom.
"When you play against a side like Liverpool, you have to do everything almost perfect to beat this type of team, a Champions League side, but we are also in a good situation to try to play against them," the Southampton manager said.
"A win would be massive for us, but the performance on the pitch has to be with improved efficiency, with a mentality which is crucial in this situation.
"We want to continue in this path, we are growing, but this is obviously a huge test for us."
Despite the form of Salah, Pellegrino warned his team not to be come fixated on stopping just the Liverpool No. 11.
"He is a top-class player, but one player alone can do nothing when you don't have a context, the connection and co-ordination with your team-mates," the Southampton manager said.
"Salah is an important player, but so is their striker, their midfielder and defenders.
"Liverpool are a really good team and have a lot of capacity to create problems."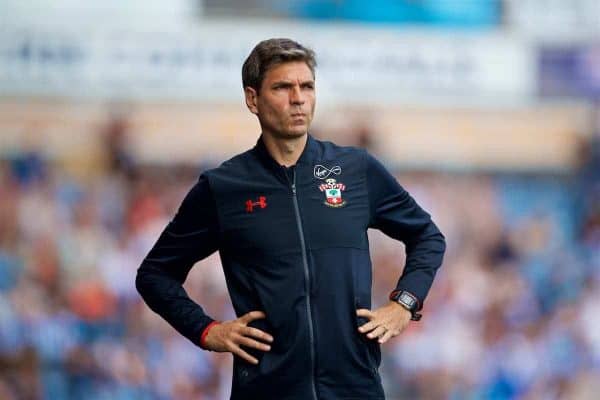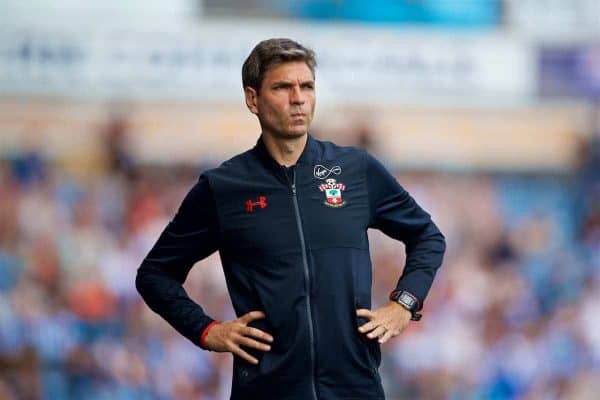 Pellegrino spent a short spell with Liverpool under Rafael Benitez towards the end of his playing career, and also later worked there with the Spaniard as a first-team coach.
Having seen the Saints well beaten 3-0 on his Anfield return earlier in the season, the Argentinian coach is hoping for a better show this time around.
"For sure it is special for me to be in Southampton and playing against this team, of the biggest clubs, not only in the Premier League, but in the world," he said.
"Now, though, I am representing Southampton and will try to do our best, to try to compete much better than we did away [against Liverpool]."
Pellegrino added: "To play one game well like the other day [at West Brom], that is important, but more so to be consistent in every single game.
"We always have to improve in some respects.
"When you don't play well, it is about the small things, being more consistent, especially in our mentality."