Liverpool easily beat West Ham 4-1 following a second-half display which will convince many Jurgen Klopp's side are the second-best side in the land.
Liverpool 4-1 West Ham
Premier League, Anfield
February 24, 2018
Goals: Can 29′, Salah 51′, Firmino 57′, Mane 77′; Antonio 59′
---
Oxlade-Chamberlain Steps Up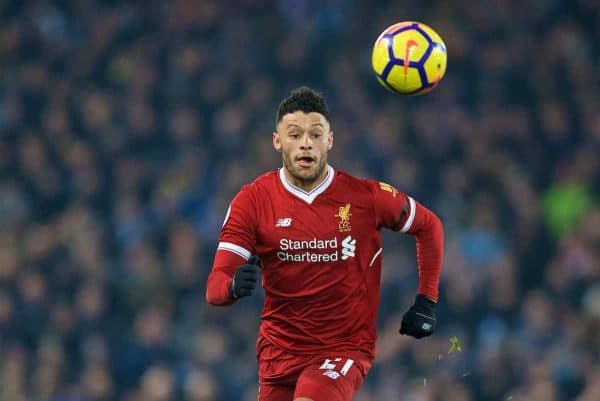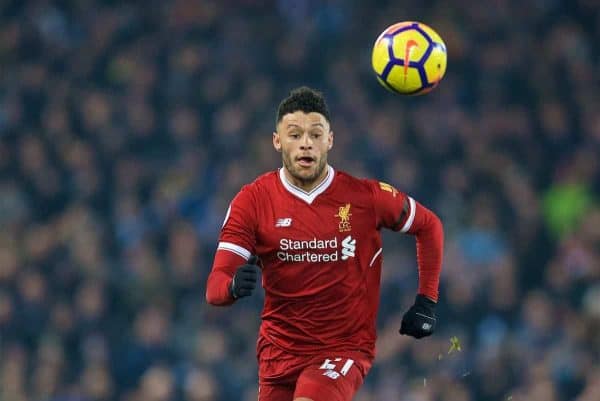 After a fairly quiet first half Alex Oxlade-Chamberlain was able to emerge in the second and really justify his inclusion in Klopp's lineup.
Having had relatively little involvement in the opening 45 minutes, particularly for a midfielder, he produced a piece of determined play which led to the important second goal.
Trying to bring the ball under control he wound up beating a number of opposition players before eventually setting up Mohamed Salah. It was the start of an impressive display, and he almost scored himself shortly after but could only hit the side-netting.
He was taking up good positions and acting decisively once in them.
The 24-year-old should have had a second assist when another charge at the opposition back line resulted in a neat pass with the outside of his boot to Sadio Mane, but the Senegalese shot wide when it was easier to score.
A cross to Salah set up another chance, and a long shot of his own forced a save from Adrian.
Not only will he be battling with Adam Lallana for a place in the Liverpool side this year, but the pair could also be competing for the same spot in the England team.
On this evidence, and depending on how Lallana comes back from his injury problems this season, Oxlade-Chamberlain could be the better and more versatile choice.
Second Heaven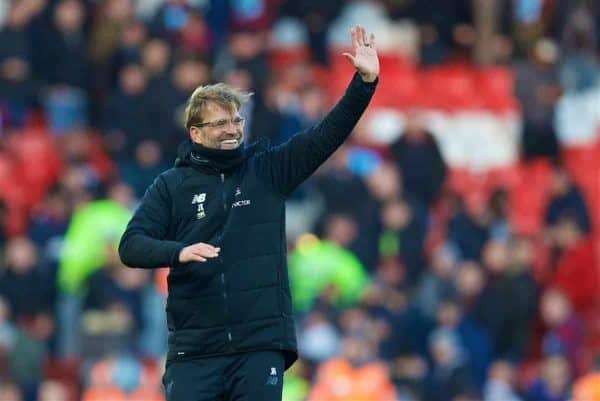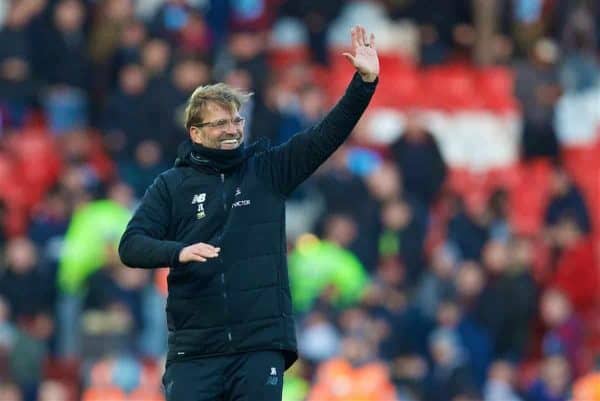 There is no doubt that Liverpool are the second-best team in the league this season, and it could even be said that their attack is the best around.
This win sees them climb ahead of Man United into second place, but they are now a game ahead of their north-west rivals who have to play third-placed Chelsea in what should be a good fixture for Liverpool at this stage of the season.
The league is now reflecting Liverpool's performances, but also highlights the area in which they've fallen down this season—as despite all the goals, their defence is the worst of the top five.
As a result they are only one ahead of United's goal difference, and Klopp will be hoping that an improved defence which now includes Virgil van Dijk, and Bundesliga Karius rather than cup 'keeper Karius, can shore things up at the back and help them become the 2017/18 Premier League runners up.
Handy Andy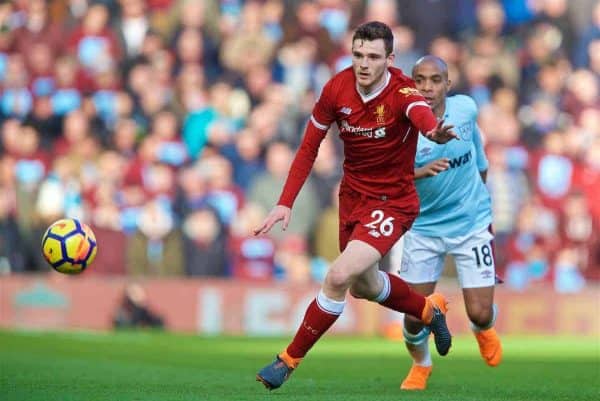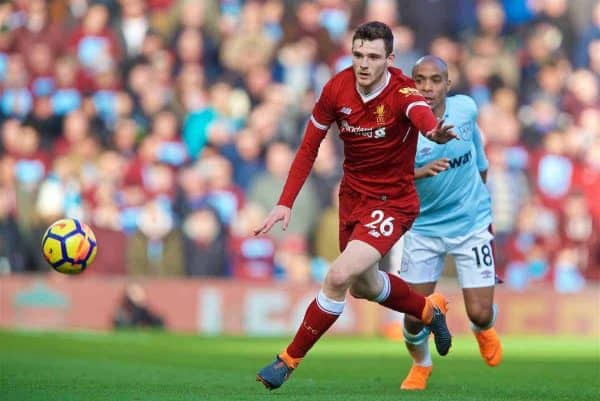 Mane had just turned home Liverpool's fourth goal in front of the Kop to restore a three-goal cushion, and after a short rendition of "Oh Mane Mane", the fans turned their attention to the Scottish provider.
Andrew Robertson was heavily involved in the game, as he always is, with only James Milner seeing more touches of the ball. But here he was also able to turn his impressive play into something more concrete for the stats websites, with his second assist of the season.
During one occasion in the first half he had found himself with nowhere to go and no options for a pass, so took it upon himself to dribble down the right wing past a number of West Ham players before eventually finding a free man in midfield.
It was a moment more akin to one of Liverpool's attacking three than their solid left-back, but he does have this ability when the situation requires he use it.
Another ability he has is good crossing, and his choices from the flank are much improved in this regard.
His cross to Mane gave the winger no choice but to score, even though he did his best not to by finding the inside of the post having just missed another easy chance.
It was a deserved moment for the Scotsman who regularly has his name sung on the Kop in recognition of his endeavour and work rate.
Even if he might not always impress Opta, he's certainly impressing everyone at Liverpool.
Anfield Exercise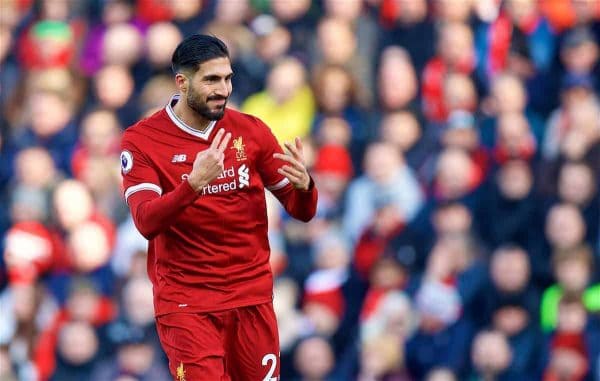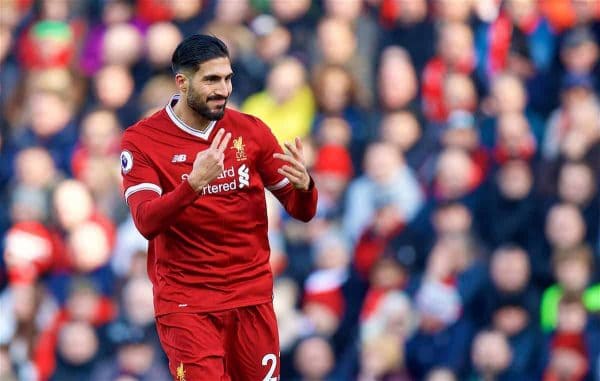 When Michail Antonio slotted home to pull a goal back for West Ham, Liverpool still had a two-goal advantage, but a second for the visitors would have had led to a tense and uncomfortable Anfield.
While past Liverpool sides have crumbled even at the thought of such a scenario, this one took control of the game and simply kept the ball from West Ham.
After the goal went in the Reds racked up 75 percent possession for the remainder of the game, and only let their opposition have one further shot, which was a tame effort from a set-piece.
They were able to turn the screw and see out the game, setting up numerous chances to score a fourth, one of which was eventually taken by Mane.
The element of control they had at this stage might help ease the nerves in Anfield when similar things happen in the future.
This will in turn will lead to a more enjoyable experience for the players and lead to more success at home, where they remain unbeaten in the league this season.
Another Week Off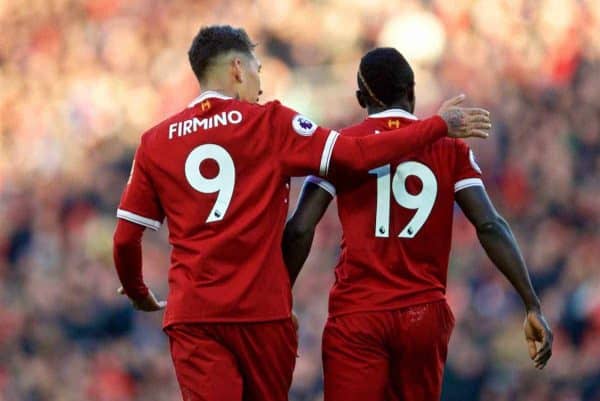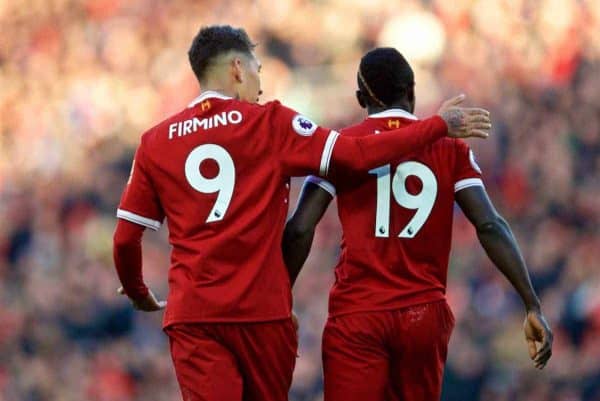 Klopp now has another full week to work with his side ahead of the visit of Rafa Benitez's Newcastle next weekend.
The training camp in Marbella appears to have allowed the team to recharge their batteries, and the squad are injury free for what seems the first time in a long time.
The next big test comes against United on March 10, with a professional job required to win the Porto tie in the week leading up to that game.
Just as United's clash with Chelsea is a good one for Liverpool, the Blues may be looking to this fixture as one where they look to regain some ground in the table.
Klopp's side need to make sure that, come their visit to Old Trafford, that they are in the position to secure second place.