Andrew Robertson wasn't the glamorous left-back many dreamed of Liverpool signing last summer, but he continues to excel at his new club.
In an era of Football Manager, FIFA and access to watching football all over the world, many like to think they're experts on every player and every league.
All it takes is to watch about 90 seconds of 'best bits' from a player the Reds have been linked with on YouTube, and suddenly you're as knowledgeable as one of the club's chief scouts.
Because of this, when Liverpool were hotly tipped to be signing Robertson last summer, an element of snobbery surrounded the news.
Why were Liverpool buying a Scottish left-back who had just been relegated with Hull City?
Why wasn't Jurgen Klopp signing one of those lads with a more exotic name, with more European pedigree and with a better highlights reel?
Robertson was always the preferred choice, but the £8 million fee was never going to catch the eye in the manner Benjamin Mendy's £52 million switch to Man City did, for example.
The Scot is proving to be a revelation, though, and at a time when Mohamed Salah's truly astonishing form is seeing him rightly labelled the bargain of the season, Robertson is not far behind.
Robbo The Revelation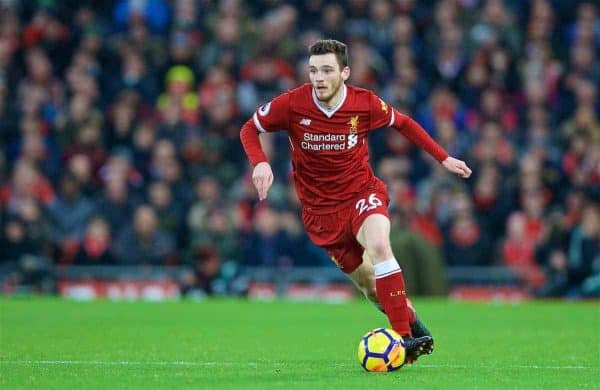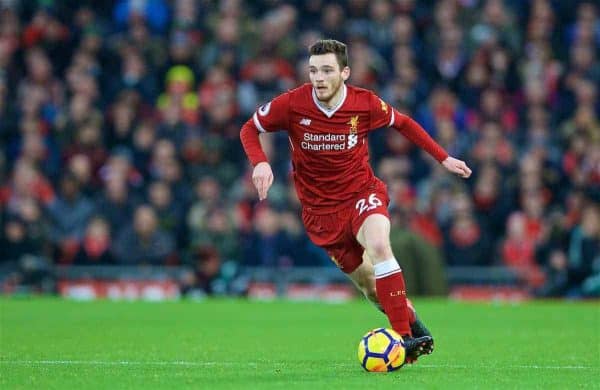 Not many players are named Man of the Match on their Liverpool debut, but Robertson added that to his CV immediately back in August.
A marauding performance in the 1-0 win at home to Crystal Palace won him admirers, with This is Anfield's James Nalton declaring that: "If Liverpool had a left-back problem, it's now been solved."
Robertson was actually struggling for playing time early on, due to acclimatising to Klopp's tactics and also the much-improved form of Alberto Moreno, who merited being first choice.
Only three starts had come his way by the time December arrived, and in an interview with the Mail's Dominic King, he admits he spoke to Klopp about this lack of game time:
"I wasn't ever going in to say, 'Why am I not playing?' or 'I'm better than him!'.

"It wasn't as if I was going in to rant and rave. I just said, 'What can I do to get closer to this team and in your thoughts for a matchday?' So he told me, honestly.

"He knew it was tough for me. He doesn't like telling you he's made the decision that you're not in his squad. I promise you I felt a lot better coming out than I did going in.

"I came out and thought, 'That's it! That's the chat I needed'. I knew then what I had to do. I used it as motivation to get better and put the time in training so, when a chance came, I'd be the most prepared I could be to go and take it."
As fate would have it, injury to Moreno allowed him an extended run, and he has never looked back.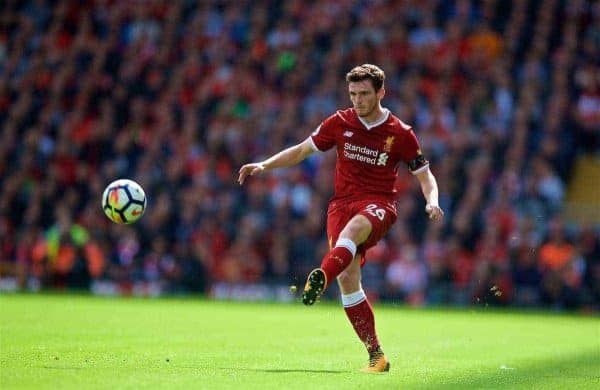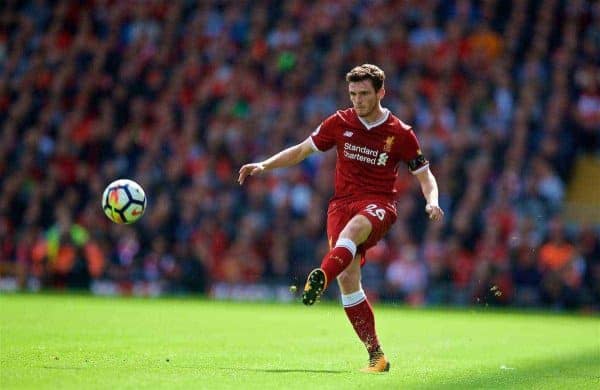 The level that the amiable 24-year-old has consistently found has exceeded expectations, and he has brought a slickness and dependability to Liverpool's play that Moreno doesn't quite possess, despite his upturn in fortunes.
In fact, few left-backs in the Premier League have impressed more this season, both in a defensive and an attacking sense.
Robertson has registered three assists, with the most recent of those a beautiful cross for Salah in Saturday's 5-0 thrashing of Watford.
In terms of out-and-out left-backs, no other player has assisted more in 2017/18, with Aaron Cresswell (six), Ben Davies (five) and Sead Kolasinac (four) adopting wing-back roles for their respective clubs.
Nineteen chances have also been created for team-mates in Robertson's 18 league appearances, with his devilish final ball improving all the time.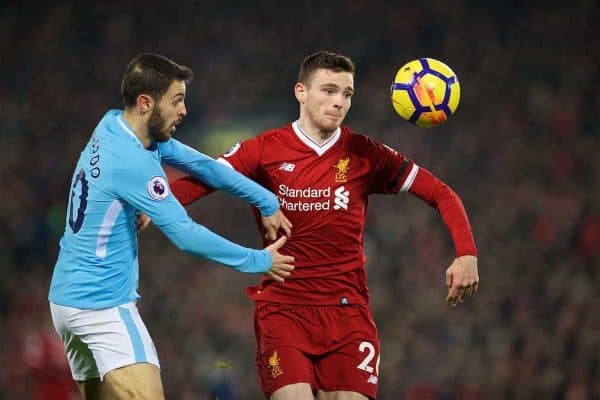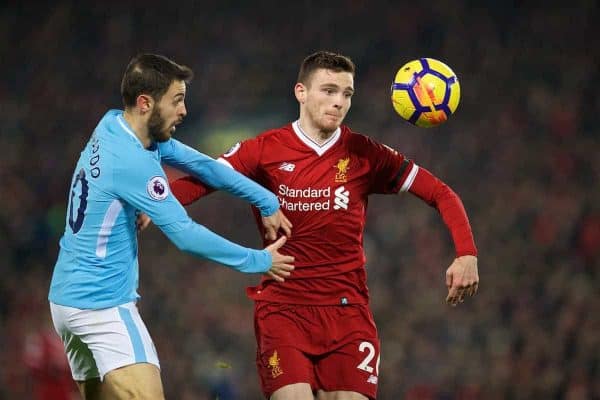 At the other end, not a single key defensive error has been made, and his focus and tenacity in that area has made a mockery of those who feel he can be got at.
Statistics will never fully do a player of Robertson's ilk justice, however.
His personality and intelligence are arguably more prominent than anything, and there is an old-school feel about him that screams 'Liverpool player'.
Great Character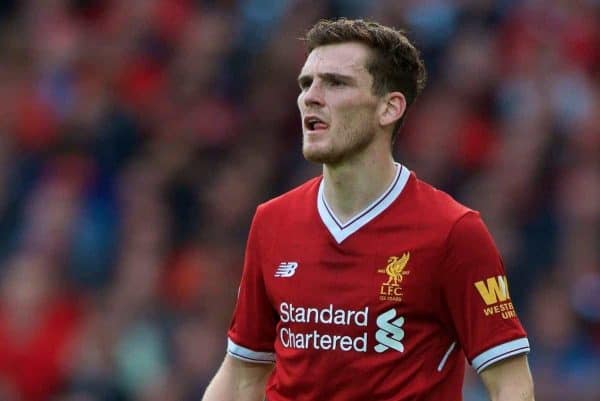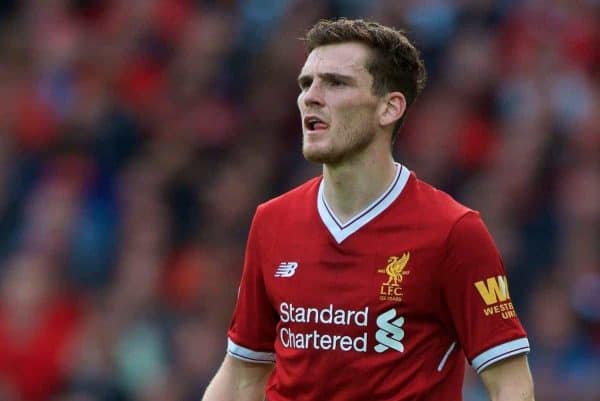 Footballers are generally cut off from reality, considering the vast wealth and celebrity that comes their way.
Every now and then, though, a player comes along that feels like he could be your best mate—someone whose feet seem firmly grounded and whose morals are sound.
Robertson fits that bill to perfection, and his likeable, down-to-earth character has made him an instant crowd favourite.
Every interview he conducts is done with poise and warmth, and perhaps most importantly, he gets exactly what playing for Liverpool means.
He knows how to get the fans on his side, as his memorable one-man press against City in January showed, and his off-field attitude is worthy of great praise.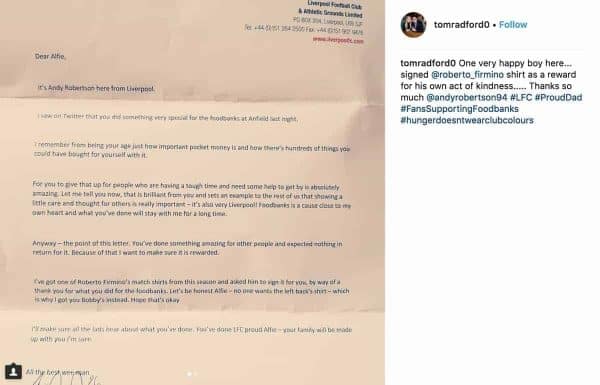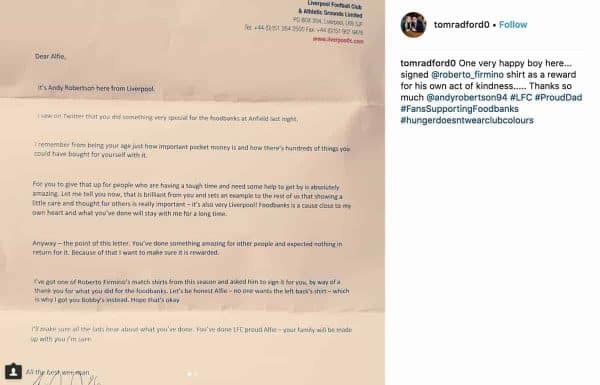 The recent letter he penned to a seven-year-old fan was a tremendous gesture that required genuine effort—the supporter had given his pocket money to Fans Supporting Foodbanks, and was rewarded with Robertson's note and a signed Roberto Firmino shirt—and it again highlighted what an admirable role model he is.
Klopp doesn't just sign excellent footballers, he signs decent human beings, and Robertson couldn't be a better symbol of this.
He is thought to have become one of the most popular players in the dressing room, and it is very easy to see why.
Big Future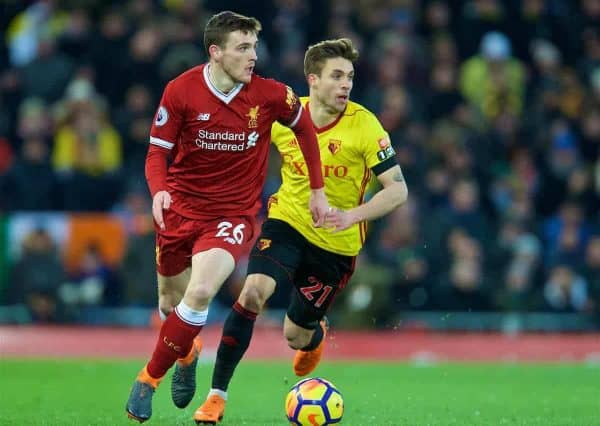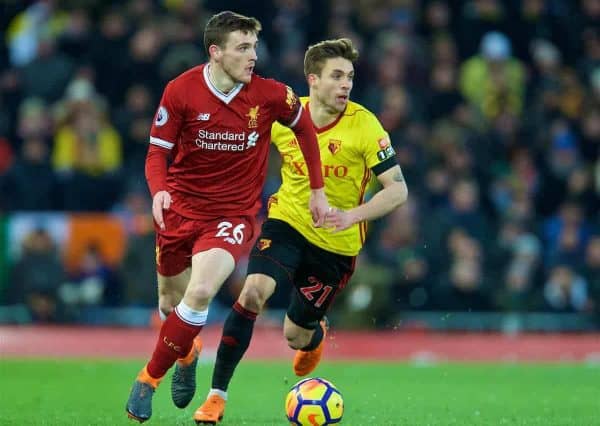 Former Newcastle United winger Hatem Ben Arfa isn't somebody Liverpool supporters would naturally listen to, but some quotes earlier in the year demanded attention.
Discussing his forgettable spell at Hull, the Frenchman launched into a brutally honest attack on his former team-mates, barring one individual.
"In fairness, they're just not very good. It's a team with Alex Bruce in it, after all," Ben Arfa told journalist Julien Laurens.
"But there's one who can be super, super good, and that's Andy Robertson."
Ben Arfa may typify the archetypal prima donna footballer—the anti-Robertson, in many ways—but he is someone who knows a top player when he sees one, having represented France, PSG, Lyon and Marseille.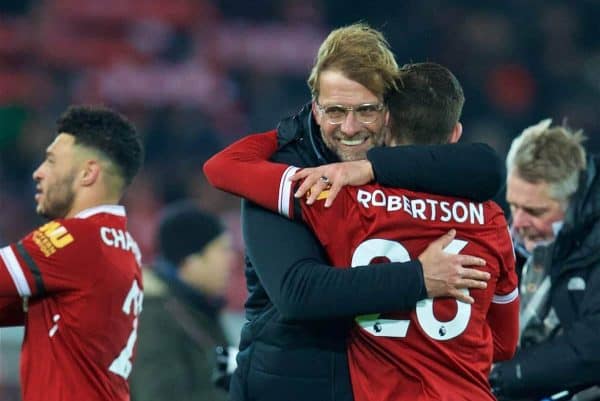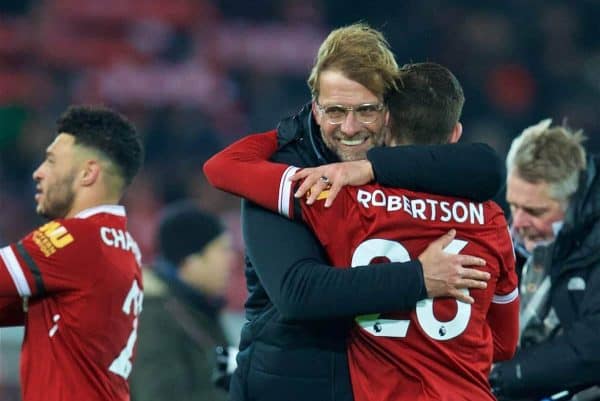 Robertson obviously stood out from the crowd, both in terms of talent and aptitude, and other clubs will be ruing not expressing the interest Liverpool did.
At 24, he should only go from strength to strength over the next three or four years, and he may well have solved a left-back issue that has existed at Anfield for a very long time.
John Arne Riise is underappreciated but was far from perfect; Fabio Aurelio was brilliant but rarely fit; Jose Enrique started well but turned into a disaster, and there are still lingering doubts surrounding Moreno.
We won't even get started on Paul Konchesky.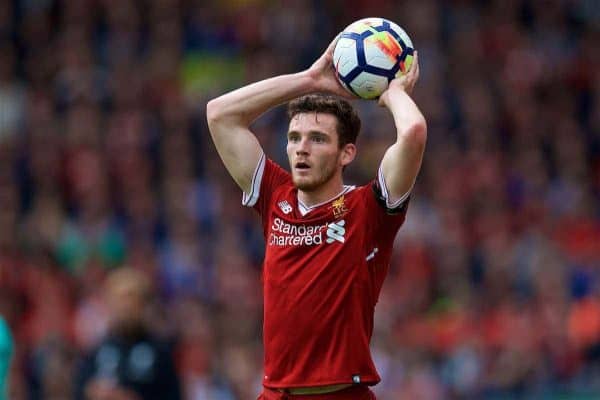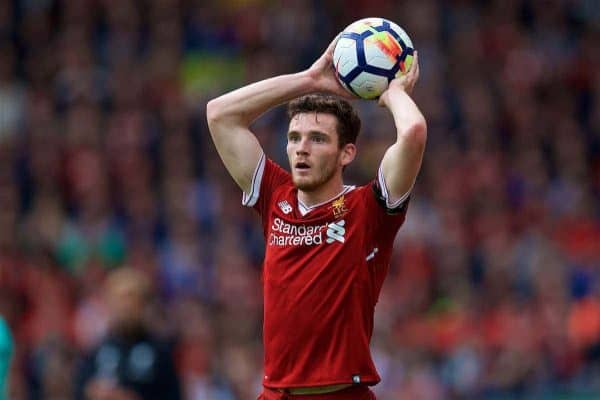 There is absolutely nothing to dislike about Robertson, whether it be on or off the pitch, and he is going to be a key man during the Klopp era.
His pace, drive, attitude and quality have already added so much to a Reds team really hitting their stride, and it will be fascinating to see what level he can reach.
Fortunately, the manager, the scouts and everyone who played a part in signing him did more than a bit of YouTube observing.