The media felt Jurgen Klopp lost the tactical battle to Jose Mourinho as Liverpool went down 2-1 to arch-rivals Man United.
It was another disappointing day at Old Trafford as Klopp's side suffered a painful defeat in the showdown for second place.
Marcus Rashford twice punished some dire defending to give United a two-goal half-time lead, before Eric Bailly's second-half own goal gave the Reds hope but unfortunately only that.
Liverpool paid the price for an extremely poor first half, and Klopp will be furious at the sloppy goals conceded as well as frustrated by his side's failure to impose their A-game.
Here's how the media assessed a disappointing afternoon in Manchester.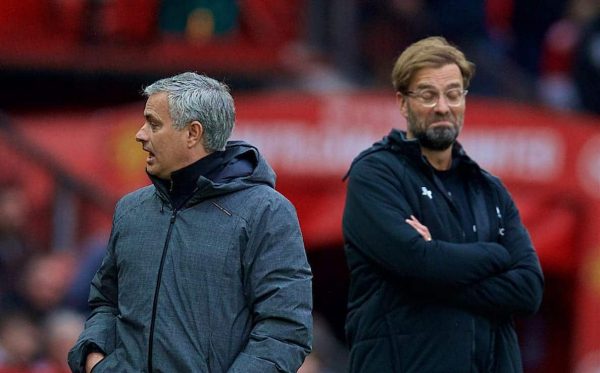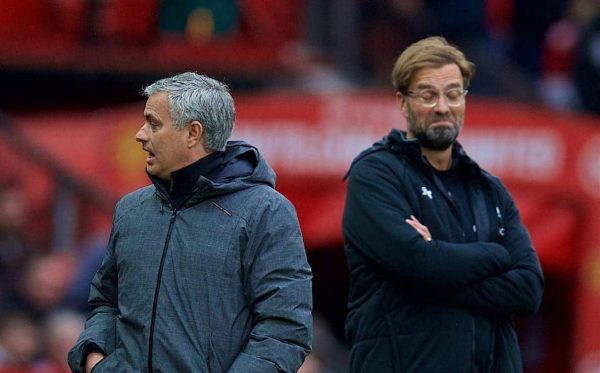 Reporters unanimously assessed Mourinho's pragmatism as crucial to edging the contest…
Wayne Farry, for JOE.co.uk, assessed how the United boss "ruthlessly exposed" Liverpool's weaknesses:
"Against Liverpool though we saw a different kind of Mourinho masterclass, one in which his team ruthlessly exposed every area of weakness in Jurgen Klopp's team."
The Telegraph's Sam Wallace believes Mourinho's pragmatism in tailoring his tactics for the opponent and occasion gives the United boss an edge in such contests:
"This is Mourinho's way, the performance that fits the opposition and the occasion and it feels unlikely he will ever deviate from the plan, no matter how long he is in charge at Old Trafford.

[…]

"These are the days the United manager thrives upon, and he feels they answer any doubt over his approach, which may well be right – as long as his team win."
Taking a similar outlook, the Guardian's Jonathan Wilson thinks defensive frailties will always undermine Liverpool while the Reds play such a style of football:
"To some extent, all those sides who play with a high press – not only Liverpool, but also Manchester City, Napoli, perhaps even Tottenham – have the same vulnerability: they can overwhelm opponents, but get at them and there is a brittleness."
Because of this Wilson softened his criticism of Dejan Lovren, assessing how the Croatian was just the inevitable fall guy in an ultimately flawed system:
"But that is not really to blame him: there will always be a Lovren. It may not always be the Croat but in a system like Liverpool's there will always be a defender who can be isolated. That is the risk Klopp takes into every game."
The Independent's Miguel Delaney was less forgiving, assessing that the game was decided by the contrasting displays – in contrasting defensive units – of two centre-backs:
"This United win essentially came down to the assurance set by Eric Bailly against the anxiety of Dejan Lovren – and that's actually only accentuated by the own goal."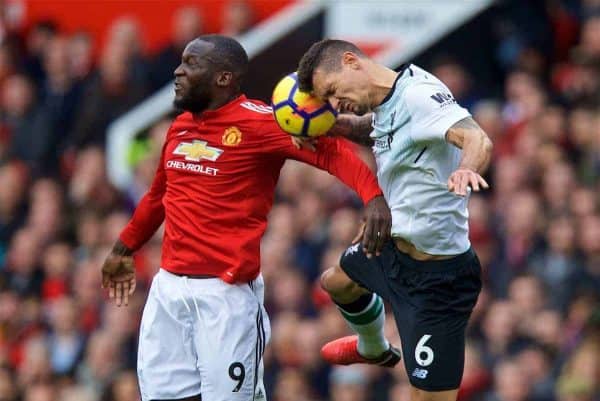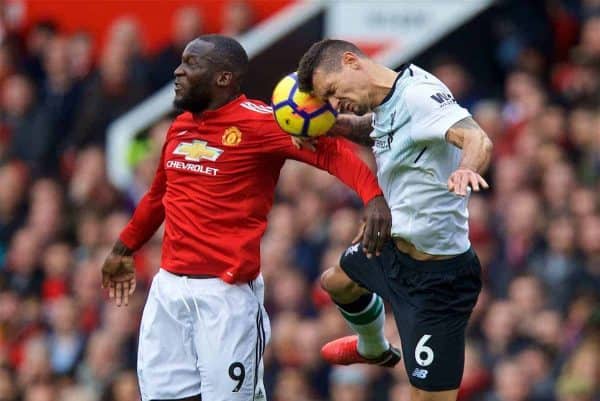 Reporters offered thoughts on where and how the Reds came unstuck…
Firstly, the Guardian's Daniel Taylor felt Liverpool didn't help themselves by the non-performances of some key players:
"Ultimately, though, Liverpool's problem was that none of their big-hitters reached their usual levels."
ESPN's Mark Ogden thought the front three made life too easy for United's defence due to a lack of unpredictability in movement and desire to assist midfield:
"Liverpool's much-vaunted forwards made it easy for United, though, because none of them was prepared to drop deep and go in search of the ball.

"If it didn't come to them, they were not willing to put the work in to bolster their midfield numbers, and that will be a concern to Klopp, especially if Liverpool have ambitions of making progress in the Champions League."
Wilson noted a key difference in how United benefitted from naturally disciplined midfielders cutting service to the forwards, also assessing how the Reds lack such options:
"On Saturday the 21 year old sat, patient and unremarkable, in front of the back four, he and Nemanja Matic forming a breakwater against which waves of Liverpool's attack fruitlessly crashed.

[…]

"Liverpool have no such player and would have no use for such a player. Theirs is a strategy that can produce devastating attacking football but one that will always be prone to this type of glitch."
Delaney thought Mourinho's decision to play with two such players was key as it gave United a platform to getting straight at Liverpool's back-line:
"Placing Nemanja Matic and Scott McTominay in front of the defence to shore up everything, the Portuguese was able to play something close to 'trivote' formation he is said to so value, while United could directly bypass midfield to most hurt that Liverpool defence."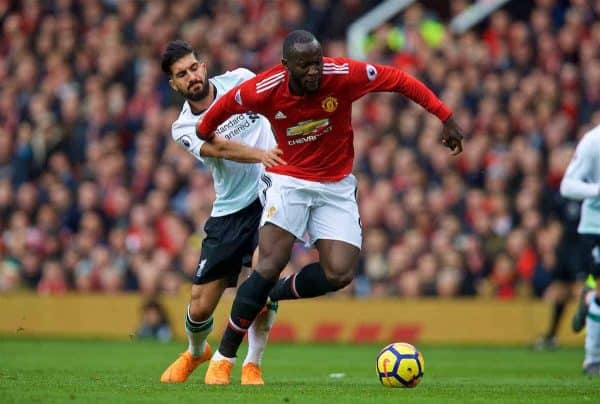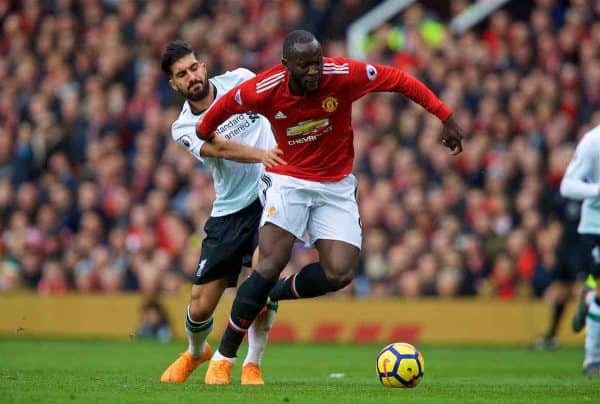 Journalists felt the game provided some lessons for Klopp and his team…
The Liverpool Echo's James Pearce felt Jordan Henderson's influence was illustrated as the Reds lacked control in midfield:
"The Reds boss had been bold with his team selection – picking Oxlade-Chamberlain ahead of captain Jordan Henderson or Gini Wijnaldum.

"But it didn't work during a first half when Liverpool failed to achieve any semblance of control in midfield against the United pairing of Nemanja Matic and Scott McTominay. The Reds missed the presence of Henderson as they repeatedly tossed up possession cheaply."
Echo colleague Kristian Walsh felt the game showed the Reds need to become less reliant on the front three, with more threat needed from midfield:
"If this Liverpool side do need to further development, if there is still something that must be added to their dynamic forward play, it is doing as the Hydra does. When their attacking trident are cut down, even more threats emerge from elsewhere."
The Mirror's Andy Dunn thought the defensive display showed Klopp's faith in his defenders is misguided and that he still has work to do in constructing an adequate back line:
"If there is a solitary certainty you can take from this curious occasion, it is that Klopp is not even close to constructing the sort of defence needed for a serious title challenge. And there is every chance it will get found out in the Champions League.

[…]

"But if top four finishes are not to be the limit of his ambition, Klopp needs to realise he has a defence that is still some way short of top class."
ESPN's Steven Kelly felt Klopp paid the price for an "almost arrogant" selection, which is unsuitable for such high-profile games:
"All the good things in the performance are also down to the manager but it was an overly attacking, almost arrogant team selection for the second-placed opposition on a ground where they rarely lose to Liverpool."
Daniel Storey, for Football365, pulled no punches on Lovren's display and thought Klopp's decision to play the Croatian over Joel Matip cost Liverpool:
"Yet we must also assess that Lovren has moments in matches – and sometimes entire matches – when he is completely off the radar. The concentration, positional sense and discipline all drain away. It is as if he is a computer that has been un-programmed.

[…]

"If Lovren must take some blame, so too must Klopp. I understand the theory in picking two physical central defenders against a striker like Lukaku, but Matip is the better player. It was the wrong call to pick Lovren, and it cost Liverpool the game."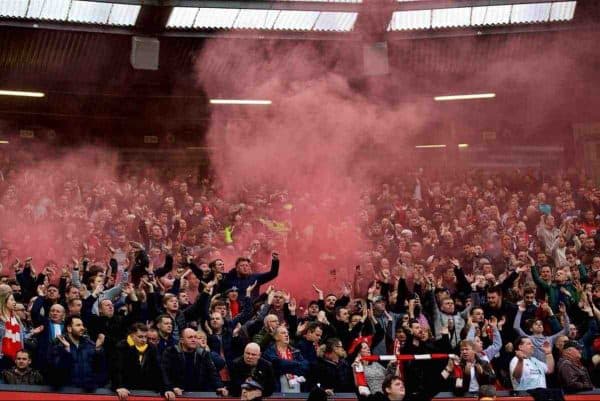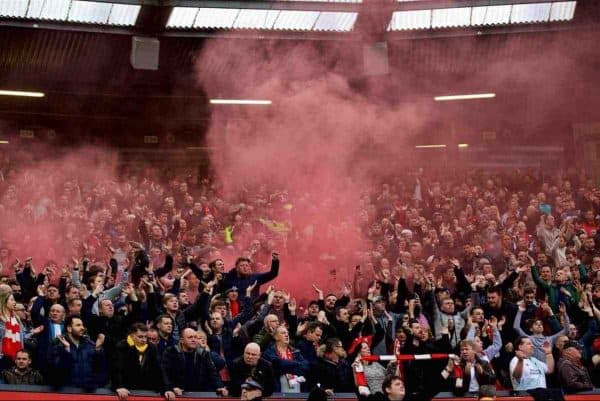 Finally, some reporters retained perspective by assessing defeat as a 'bump in the road' and challenged the Reds to ensure it proves only that…
The Mirror's David McDonnell rightly pointed out how the Reds retain full control of their destiny:
"A top-four place may still not be certain after this defeat, with Chelsea lurking behind Liverpool and Tottenham, but Jurgen Klopp's side have their destiny in their own hands and can see the job out with a favourable run-in, with only Chelsea to face of the sides in the top half of the table."
And Walsh rightly said how the loss must not be blown out of proportion or allowed to derail what could still be an impressive season:
"A bad afternoon and one which deserves forensic examination – both the team and its individuals – but 90 minutes does not negate what has gone before.

"Liverpool remain in the top four and, at worst, four points ahead of Chelsea. Providing this game does not knock their confidence, does not send their season off-course, then this side remain on track for a season of impressive progression."